Are you an HR leader competing for scarce talent?  A senior manager in a company in growth mode?  A founder or entrepreneur looking to build a better team?  The CEO of an established organization worrying about how to become a more sustainable, "Good to Great" company in a chaotic marketplace?
Or are you simply curious about how the best companies became the legends they are?
If you are any of these things, Laszlo Bock's "Work Rules", published in 2015, is a great read you should get your hands on, if you haven't already read it. Or re-read it, if you haven't yet made some of his insights a part of the fabric of your organizational design.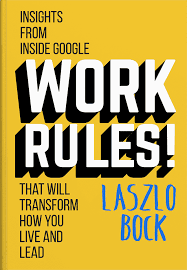 As we have noted in past blogs, Organimi is a simple, powerful and affordable tool for experimenting with organizational designs, whether you are working on reorganizing a company, creating an org chart for your not for profit or faith based organization, or building a virtual team to tackle a new opportunity.
But what organizational design is "right"?  And what does your organizational design say about your organization?
If you are looking for inspiration, the longer title, "Work Rules! Insights From Inside Google That Will Transform How You Live and Lead" says it all.  Published in 2015, well written and engaging, it describes Bock's experiences – both personal and company successes and failures – as the head of People Operations at Google as it grew from 6,000 to 60,000 employees with locations spanning the globe, garnering hundreds of "Best of" employer awards in the process.
His book provides unique insights into the "whys" and "hows" that helped shaped Google's People Operations organization into the force it has become for forward thinking organizational designs, policies and best practices.
Another Word for "HR"
The journey starts from the simple but revealing….such as the company's choice (not his) of "People Operations" rather than HR for his title:
At Google, conventional business language isn't well regarded.  "HR" [as a title] would be viewed as administrative and bureaucratic.  In contrast, "operations" was viewed by engineers as a credible title, connoting some actual ability to get things done".
For the skeptical ("Google is a unique story we can't possibly replicate or learn from") the book provides a perspective that is both humble and powerful.  Bock's take?
Freedom is free…All it takes is a belief that people are fundamentally good – and enough courage to treat your people like owners instead of machines…The secrets of Google's people success can be replicated in organizations large and small, by individuals and CEOs.    
Why should you care?  Why should you want to change the "work rules" underpinning your organizational design?  As Bock notes in detailing Google's shift away from managerial power and authority over subordinates to a "manager serving the team" model based on more extensive use of experimentation, data analytics and fact based decision making:
Command-oriented, low-freedom management is common because it is profitable, it requires less effort, and most managers are terrified of the alternative….[But it's] wrong.  The most talented people on the planet are increasingly physically mobile, increasingly connected through technology, and – importantly – increasingly discoverable by employers.  This global cadre want to be in high-freedom companies, and talent will flow to those companies.
Even Google Needs Luck
On the humble side, Laszlo freely acknowledges the role of luck in Google's success:
One of the great lessons of Google's history is that you need to have a brilliant idea, great timing, exceptional people…and luck….It would be easy to claim our success was due to being somehow smarter or working harder, but that's just not true….Smarts and hard work are necessary but not sufficient conditions for success.  We got lucky too.
Mistakes are admitted candidly and discussed as much for their insights as the successes he reports.
Perks at a Low Cost
On the powerful side, one of the many surprising insights from Work Rules! (another being the comment that newly hired Google engineers get access to the company's entire body of source code on their first day at work) is that the widely reported and much envied "perks" of the Google workplace – the programs, the benefits – are largely low to no cost to Google.  Bock comments in detail on everything from the quiet introduction of death benefits, as well as the promotion of enhanced retirement savings programs, and extended maternity leaves, to their experiences dealing with cafeteria food hoarders and other perk abusers.  His key point:
Most people assume Google spends a fortune on doing special things for our employees.  Apart from [food and transport] we don't.  Most of the programs we use to delight and care for Googlers are free, or very close to it.  And most would be easy for almost anyone to duplicate….All of these programs [also] work to create efficiency, community, or innovation. 
10 Takeaways
We'll come back in future blogs to a few of the key insights behind Work Rules!  For now, Bock's own summary [and some explanatory context] provides a useful place to start:
Give your work meaning [help your people see and experience the calling of their work, not the job].
Trust your people [if you aren't nervous you haven't given enough trust, freedom and authority].
Hire only people who are better than you [hiring better will have a higher return than any training program].
Don't confuse development with performance management [split rewards and development processes]
Focus on the two tails [help those most in need – your bottom – and carefully analyze – your top – performers].
Be frugal and generous [make life easier for your team, say yes, be there when bad stuff happens]
Pay unfairly [use the power law for comp, celebrate accomplishment, reward thoughtful failure].
Nudge [encourage better angels behavior – remember "what is versus what ought", run experiments, don't shove].
Manage rising expectations [gather input broadly, admit and act on mistakes, find the moral and teach it].
Enjoy! Repeat.
In his Afterword for HR Geeks Only, Laszlo offers both plain talk on what isn't working in HR and a prescription for larger organizations that want to do better:
Let's face it, the HR profession is not held in the highest regard….My diagnosis, in part, is that the profession does not have the right mix of talent in it, which creates a vicious cycle where the most talented people, who want to work with other talented people, shy away from the field.  In too many companies, HR is where you park the nice people who aren't delivering elsewhere. 
His description of "Laszlo's hierarchy" as a best practise for operating a people-centric HR organization, and the "three-thirds" model of building a great HR team to execute on it (one-third HR professionals, one-third strategic and consulting hires, and one-third analytics professionals, all mixed together) is worth thinking about.  As he notes, "we started with just a handful of people…you can too…it's up to you whom you hire next".
One thing you might think about, after digesting Work Rules! is to look at your Organimi org chart, and start thinking about what your "people operations team" might look like if you start to bring some of these skill sets from other parts of your organization together with HR.  You can experiment with roles and individuals, by creating that new organizational design here:
Login to your Organimi Account
With thousands of organizations now using Organimi, we'll be interested to listen and learn where you feel these insights take you…and where you think we need to go with our product and people to keep up!
On that note, we've completed the design for Organimi Version 5.  Thanks to everyone for extensive, largely positive, feedback on what we can do to better serve your needs.  We're excited about our next release, and we hope you will be too.  Stay tuned for more details in the weeks to come.
As always, thanks for reading.  We hope you enjoy Work Rules! as much as we did.
The Organimi Team