Organimi is Now Available At Google Chrome Web Store!
Organimi as the Google Chrome Org Chart App to make and share org charts without any hassle.
As you might have heard, Google's stock price recently shot through the $1,000 barrier.
To put that number in perspective, Google now has a market capitalization of $330 billion, the third largest publicly traded company in the world, behind Exxon Mobile and Apple.
The recent increase in Google's market capitalization ($40 billion) triggered by its quarterly results release exceeded the entire market capitalization of Yahoo, a company founded four years earlier than Google, one of the Internet era's early great business successes, and earlier this year much in the news as employees reacted to changes in HR policies implemented by a new turnaround CEO.
That's what we call Ka-Ching – and we don't mean Las Vegas star (and Timmins, Ontario born) Shania Twain's hit single!
Google's stock price jolt is only one of many examples of an organization clearly on a roll.  The "unobtrusive measures" of its success as a colleague of mine once referred to them, are everywhere.
Google's market capitalization also now exceeds that of Microsoft – another milestone reflecting in a decade long ascendancy of Google.  An interesting contrast to the now leaderless Microsoft with its core Windows / Office business in decline.  Microsof't's Internet Explorer, once the most significant web browser by far, with an overwhelming 85% dominant market position, has now been relegated to a peripheral role outside the enterprise, while Google's Chrome browser now represents over 54% of a more dynamic market.
Organimi is now available on the Google Chrome web store by the way.  You can check it out there,
Please spread the word.  
Download Chrome (if you don't have it already it is terrific web browser), go theChrome  web store, and load the Organimi app.  You're only a few clicks away from creating awesome org charts, for all the organizations you belong to, at work and play.
Org Charts, Organizational Design and the Diversity Agenda
As we discussed in recent blogs, Google's achievements are as evident in the HR domain as they are everywhere else these days.
The latest crop of "best employer to work for in the world" awards are out.  According to Fortune, Google is once again number 1, globally, and has had a lock on the top spot for several years.
My personal favourite recent example of the Google pendulum swing in full motion is the movie The Internship, a 119 minute promotional HR recruiting video for Google, cleverly concealed in plain sight as a family friendly feel good movie.  Google has billions in cash, and yet havehas still managed to score multi-millions in free HR advertising for themselves with viewers of that movie.  Must be nice!
Written and produced by Vince Vaughn, who also plays a starring role alongside his Wedding Crashers buddy Owen Wilson, The Internship tells the story of two middle-aged, and technologically challenged, sales guys.
With their employment as watch salesmen vaporized by changing times and tastes (compliments of smart phones) Vince and Owen land positions in a coveted internship program at Google, where they must compete with a group of young, tech-savvy geniuses for a shot at employment, while navigating the subtle and sometimes not so subtle anti-elder biases of the young, hip Google crew.
While the film has received mixed reviews and offers a fairly predictable story arc, it does offer some interesting insights (in addition to a couple of neat guest spots a la Alfred Hitchcock by Google co-founder Sergei Brin).
We're Getting Older; But Are We Getting Better?
Watching The Internship got me thinking about today's workplace, organizational design and the diversity agenda.
Workplace diversity based on gender, race, religion, culture and language is already an established fact.  It just seems to be happening. Sure we can likely all do better in all these areas, but a couple of generations after the 1960s, and with a global talent shortage and mass migrations in full flight around the world, we seem to be doing a fairly good job at integrating people of all backgrounds and regions into workplaces, across North America and in many other areas of the world.
I wonder a bit more about age, a dimension that cuts across all others.  The premise of age diversity, and the exploration of the contributions young and old can make to enrich the workforce, is what stood out in this movie for me.  And These are issues that are clearly relevant in today's workplace.
In a recent study Career Thought Leaders noted that there will be 37% more workers ages 55-64 in the workplace in 2016 when compared with 2006 (U.S. Bureau of Labor Statistics).  Even more dramatic increases (80% growth) are forecasted for those ages 65-74 and those 75 and up.  By 2016, 6.1% of the U.S. labor force will be age 65 and older, an increase of 100%+ from 2006.
We've all read the studies and anecdotal stories about inter-generational conflict in the workplace.  As one recent commentator noted "the popular press paints a picture of generational divide at work.  Mature workers (Traditionalists and Baby Boomers) are portrayed as loyal and hardworking, but dinosaurs when it comes to innovation and technology.  Younger employees (Generation Xers and Millennials) are viewed as innovative, but disrespectful, lazy, and egocentric.  Taken at face value, these stereotypes can lead to conflict and turmoil in the workplace."
Without playing the spoiler, one scene in particular from The Internship stood out for me, as a generation of intelligent, high achieving young "Nooglers" (aka new Google recruits) spoke about the "death of the American dream", the pressures of trying to get meaningful jobs while so many young are unemployed or underemployed in America, deep in debt, weighed down by stress and family expectations, and having a general sense of resignation.  Another version of the Hunger Games, or at least The Waiting Game.
At the same time, Owen and Vince were wondering about whether they even belonged in this particular workplace, lacking the technical literacy of the young that is too typical of those 40 and over, as they tried to navigate unfathomable social references (to Harry Potter and X Men characters).  "Use your Muggle words".
The stereotypes were humourous, but revealed some underlying truths we all see and feel every day in our  workplaces.  They are experiences we'll also see more and more, as the numbers show.
Can Better Org Charts Help Bridge The Generation Gap?
The reality of intergenerational interactions at work, according to research, is that similarities far outnumber and outweigh the differences
More gap than chasm, generational differences have subtle impact, not the dramatic conflict portrayed in the popular press.  Productivity research shows older workers not only remain productive but in general are better educated than they used to be.  Research by Jennifer Deal, author of Retiring the Generation Gap, points to the similarities between generations.   Workers of all generations will need to be sensitive to differing perspectives across age cohorts, but also find ways to connect.
Of course it was through meaningfully connecting, communicating and collaborating that the team on The Internship began to form, and ultimately achieved its Hollywood ending.
And there you have it.
Connecting, communicating and collaborating are the underlying themes at Organimi.  Enabling this in the workplace is central to our product vision.  That's what we do.
Google's diversity program is well publicized, and includes an annual report, a video channel and a blog.
As with so many other things at Google, clearly demonstrated throughout The Internship, Google has tremendous resources to devote to a variety of business initiatives, social causes and staff recreational pursuits.
But most organizations don't have that.  Can't dream of ever having that, in fact.  So what can they do?
Our answer is to start with your org chart.  Make it open, accessible and make it a forum for people to connect and collaborate through, rather than being a piece of paper in a drawer or a schematic created by the few, for the few, and not accessible to the many.
Organimi is free to use for up to 500 members, so there is really no excuse not to give it a try. 
Make your organizational design – expressed through your Organimi org charts and photoboards –  an interactive, dynamic system that speaks to the needs of younger workers (learning online about who they work with, their interests, strengths, projects and career development and mentoring opportunities).
Make it as fun and engaging as org charts can be — make it a continuing learning tool creating an opportunity for older workers to get online, and get social, marketing themselves inside the organization for projects, mentoring roles, and interests, in a trusting, supportive environment. 
Let's leave Hollywood aside for the moment.  How can people — young or old – meaningfully connect in the real workplace and how can collaboration really happen if people don't even really know anything about the other people they are working with?  How easy are you making it for staff to have easy unobtrusive ways to reach out to each other, start conversations, and get to know each other, without making it a complex "diversity initiative".
What Do Your Org Chart and Photoboard Tell You About Diversity In Your Workforce
Apple has announced appointments intended to address gender imbalance in its senior executive ranks, an issue which has embarassingly revealed itself in the company's own online presence and which made it the subject of considerable media commentary in recent times.  Some think this is inevitable, at least for tech companies.
What do you think?
And what about your organization?
Organimi offers org charts that automatically convert, with one click, into team photoboards.
What would your Organimi photoboard say about your organization, and its commitment to diversity, by any of the dimensions of age, creed, colour, gender or other measures?
This may sound overly simplistic, and it clearly is.  But it is a good starting point for HR analysis, and a foundation your organization can work on to start planning and launching the best practises you need to achieve success in implementign a diversity agenda. Let the data smack you in the face.
In Workplace Diversity: Changing The Way You Do Business, Rob McInnes highlights several factors that motivate companies, large and small, to diversify their workforces.  These include:
As a Social Responsibility
Because many of the beneficiaries of good diversity practices are from groups of people that are "disadvantaged" in our communities, there is certainly good reason to consider workforce diversity as an exercise in good corporate responsibility. By diversifying our workforces, we can give individuals the "break" they need to earn a living and achieve their dreams.
As an Economic Payback
Many groups of people who have been excluded from workplaces are consequently reliant on tax-supported social service programs. Diversifying the workforce, particularly through initiatives like welfare-to-work, can effectively turn tax users into tax payers.
As a Resource Imperative
The changing demographics in the workforce, that were heralded a decade ago, are now upon us. Today's labor pool is dramatically different than in the past. No longer dominated by a homogenous group of white males, available talent is now overwhelmingly represented by people from a vast array of backgrounds and life experiences.  Competitive companies cannot allow discriminatory preferences and practices to impede them from attracting the best available talent within that pool.
As a Legal Requirement
Many companies are under legislative mandates to be non-discriminatory in their employment practices. Non-compliance with Equal Employment Opportunity or Affirmative Action legislation can result in fines and/or loss of contracts with government agencies. In the context of such legislation, it makes good business sense to utilize a diverse workforce.
As a Marketing Strategy
Buying power, particularly in today's global economy, is represented by people from all walks of life (ethnicities, races, ages, abilities, genders, sexual orientations, etc.) To ensure that their products and services are designed to appeal to this diverse customer base, "smart" companies, are hiring people, from those walks of life – for their specialized insights and knowledge. Similarly, companies who interact directly with the public are finding increasingly important to have the makeup of their workforces reflect the makeup of their customer base.
As a Business Communications Strategy
All companies are seeing a growing diversity in the workforces around them – their vendors, partners and customers. Companies that choose to retain homogenous workforces will likely find themselves increasingly ineffective in their external interactions and communications.
As a Capacity-building Strategy
Tumultuous change is the norm in the business climate of the 21stcentury. Companies that prosper have the capacity to effectively solve problems, rapidly adapt to new situations, readily identify new opportunities and quickly capitalize on them. This capacity can be measured by the range of talent, experience, knowledge, insight, and imagination available in their workforces. In recruiting employees, successful companies recognize conformity to the status quo as a distinct disadvantage. In addition to their job-specific abilities, employees are increasingly valued for the unique qualities and perspectives that they can also bring to the table.
Best Practises In Implementing Diversity Programs: (Hint) Org Charts Matter
So if some of these reasons resonate, and if there is indeed a need for organizations to get more proactive on this issue, what organizational diversity best practises can other businesses follow, and how does this relate to your org charts and organizational design activities?
The topic of diversity is increasingly important in the workplace. Services organizations such as Diversity Best Practises describe in their HR Diversity Planner  the demographic shifts that are transforming the workforce as well as best practises organizations need to considered.
Diversity Officer Magazine offers the following top 10 list:
* top management buy-in and support
* linking diversity to strategic planning, mission and vision
* identifying diversity as a core organizational value
* management systems allow for tracking and analysis of representativeness and representation in key organizational functions
* making diversity training an important part of orientation and onboarding programs
* ensuring diversity in "share of voice" in terms of speakers at meetings
* encourage presenters to address aspects of diversity where relevant in all organizational presentations
* accessibility of meetings for all groups
* understanding the make-up of the membership in the organization
* mentorship, scholarship and similar programs for underpresented
* diversity awareness training
* advertise employment opportunities with diversity goals in mind and using politically correct language
* promote your business, trade or occupation to minority groups through internships and similar initiatives
* provide members with resources for exploring cultural diversity issues
A similar list produced by Patricia Kreitz the Director of Technical information services at the Stanford Linear Accelerator Center at Stanford University.  In her paper She draws analogies between lack of diversity to the mono-culture approaches in agriculture and other ecosystems that make them vulnerable.  She comments that "bringing about the changes needed to build and sustain diversity requires commitment, strategy, communication, and concrete changes in organizational structure and processes".
Wrapping Up: Connecting The Dots On Org Charts, Organizational Design & Diversity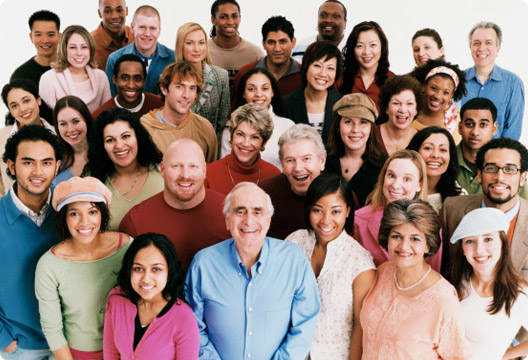 Successful diversity initiatives begin and end with acceptance and non-judgment, an area (by the way) where younger workers seem to excel. Acceptance of the contributions of others regardless of creed or color, and – increasingly – regardless of age is on of the touchstones of modern education now finding its way into the workplace.
But this is a two way street.  For all their "no judgement" attitude, acceptance of older workers among the young often feels like it has its limits.  We've all been there.  It was more than ironic that Vince and Owen, two stars who many of us might think of as relatively young actors, portrayed (accurately) the reality of the over 40 worker already beginning to feel marginalized in the workplace.
It was interesting as well to see the way these two characters were able to successfully blend their strengths (interpersonal communication and the experience resulting mostly from their experiences of their own prior failures) with those of their younger, more agile team members to help their team succeed. Hopefully this is more than a Hollywood fantasy in your workplace.
One recent commentator has provided the following tips on bridging differences and building on commonalities across the generations.
Rethink what loyalty means.  Mature workers value company loyalty, and often view younger workers as lacking company allegiance. Younger workers are loyal, but more so to a project, a boss, or a team, not necessarily a company.  Loyalty is expressed differently, and needs to be valued and understood through this lens.
Understand core values.  Generational groups share common core values, especially when it comes to family. Young workers are more interested in results than face time, and value balance. Flexibility, whether to care for young children, aging parents, or to pursue adventure is increasingly of value to all generations.
Expand communication approaches.  Members of the Millennial generation view technology as essential to their lives.  They rely extensively on electronic methods of communication.  Strengthen communication through technology AND direct communication.
Foster respect, and respect differences.  All employees crave respect, but the way it is expressed can differ.  Mature workers feel respected when their opinions have weight.  Younger workers want to be heard and respected for their talent and ideas.
Age diversity is a reality in today's workplace, and as we noted above will only increase in the future.
Transferring knowledge across generations will depend on building relationships and communication approaches that work for all employee groups.  Workers of all ages add tremendous value to our organizations, and will be important components in the diverse workforce of the future.
Organimi can be an indispensable tool to help in that process – everywhere from providing the simple benefits (of helping memory challenged older workers remember names and match them to faces accessible at any time from any device) to the more complex integration of values, alignment, strategies and relationships that encompass a progressive approach, based on organizational transparency, to demonstrate commitment to the diversity agenda, in all its forms.
Thanks for reading.  Hope you see benefits from Organimi for your organization.
The Organimi Team