As the old saying goes, "it takes a village to raise a child".
What does it take to raise a family?
And what if that family is from a village somewhere far, far away?
Wherever this "village" quote originates from, it speaks to a system (community), a challenge (engagement), a belief (compassion) and a goal (success).  When these elements all come together, a virtuous circle results…everyone benefits.
The short answer to the question of what it takes is – lots and lots of willing hands and open minds.
Migration and resettlement projects present some unique challenges in all these areas.
This has been evident in recent months as governments, not for profit organizations, faith groups, the military and intelligence communities, and individuals have grappled with the myriad issues presented by an ongoing refugee crisis and refugee resettlement challenge, created by continuing instability in the middle east and northern Africa.
Particularly among democracies in North America and Western Europe, the headline impact of the Syrian refugee crisis has been huge, shaping popular opinion and even influencing election outcomes – in the US and Canada, in Britain, Belgium, France, Germany, Poland, Hungary.
Significant controversy and the potential for divisive debate accompanies the huge human migration and resettlement process currently under way.  As recent events in Cologne have demonstrated, this will not go away.  It will be with us for years to come.
The space between the virtuous circle and the vicious one seems quite close at times like this.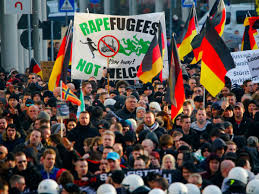 The vicious circle narrative – the "bad apples spoiling the barrel" – are the stories that tend to capture headlines and mindshare.
Human nature being what it is, the stranger outsider is almost always regarded with suspicion.  This is deeply biological.  Across western democracies, the clash of values with radical Islam make muslim resettlement a significant challenge in the best of circumstances, even for the most rational.
The "war on terror", and events as diverse as sexual assaults in Cologne, mass murder in Paris, and bombings in Indonesia – while unconnected from the resettlement problem – raise the bar even higher, because they can't be disconnected from it either.
Openness to "strangers", the compassionate impulse of the "better angels of our nature", as Abe Lincoln said, is also seriously strained in countries where people at the street level are already experiencing major economic dislocation, wage stagnation, income inequality, employment challenges, and a dismal savings and investment climate.
Meanwhile, and mostly out of sight from these day to day headlines, many thousands of people are engaged throughout western countries in the process of trying to help with resettlement efforts……despite these sentiments, this pessimism surrounding them, and the significant challenges of making resettlement efforts successfully work.
Interested in helping?
Everyone in the village can contribute and help in their own way.  And, to borrow another old saying, "many hands make light work".
So how do you find, mobilize and co-ordinate the many hands needed to engage in this effort?
It is a huge organizational effort, with a big need for co-ordination and transparency.
In past blogs we've talked about the important work being done by not-for-profit and faith based organizations, and the challenges of co-ordinating the efforts of their "virtual teams" of volunteers.
In that spirit, and with a tip of the hat to AURA,  a faith based charitable organization assisting in sponsorship and resettlement of refugees, we have constructed an Organimi org chart using an AURA "best practise" org chart structure for refugee resettlement.
It provides a sample structure for a roles based org chart of a steering committee and its teams needed to "be the village", organizing the many volunteers needed to successfully settle refugees within their communities.
We're also showing an embedded version of the org chart we have created, so viewers can experiment with it in more detail on their own.
Organimi offers a free cloud based org chart solution giving volunteer organizations interested in supporting resettlement initiatives the ability to create and share org charts, photoboards and directories for up to 75 members at no cost.  We encourage you to use it, and share it, to support your local, on the ground refugee support initiatives.
Organizing your refugee family resettlement effort, enlisting the assistance of the villagers around you to help out and make their own contributions, and mapping out the organizational design and structure to keep things moving, is a great way to help out in a tangible, concrete way.
We hope that groups dedicated to relocation and resettlement activities will find Organimi a useful addition to their toolkit.  These days, they can use all the support they can get!
As always, thanks for reading.
The Organimi team.