Introducing Our Manual Pagination Feature
At Organimi, we are always experimenting with new features that we think you will love. One feature that has been requested time and time again by our users is manual organizational chart pagination, and we are excited to announce that this has now been added to the latest version of our industry-leading organizational chart builder!
What is Pagination?
Pagination is a feature that allows larger charts to be broken down into multiple levels split across different pages. This is typically done to make it easier to print org charts or make PDFs that can be used for tasks such as onboarding.
Previously, users could only print full organizational charts or paginate based on 'department', 'level', or 'location' which isn't ideal for organizations with lots of teams and roles. However, Organimi users will soon be able to manually split their org charts according to how they would like to present them in just a matter of minutes using our new pagination feature.
For example, a user might want to use pagination to break down their organizational chart into different departments. It's now possible to do this and have org charts print-ready in just a few simple clicks.
How Does It Work?
It's very easy to split your org charts using our manual pagination feature.
By heading to the 'Print' option in Organimi, it's simply a case of adjusting a few settings and then clicking where you would like to create a new "page". Organimi will then automatically split roles that fall under where you clicked and display them on new pages.
Here's the feature in action: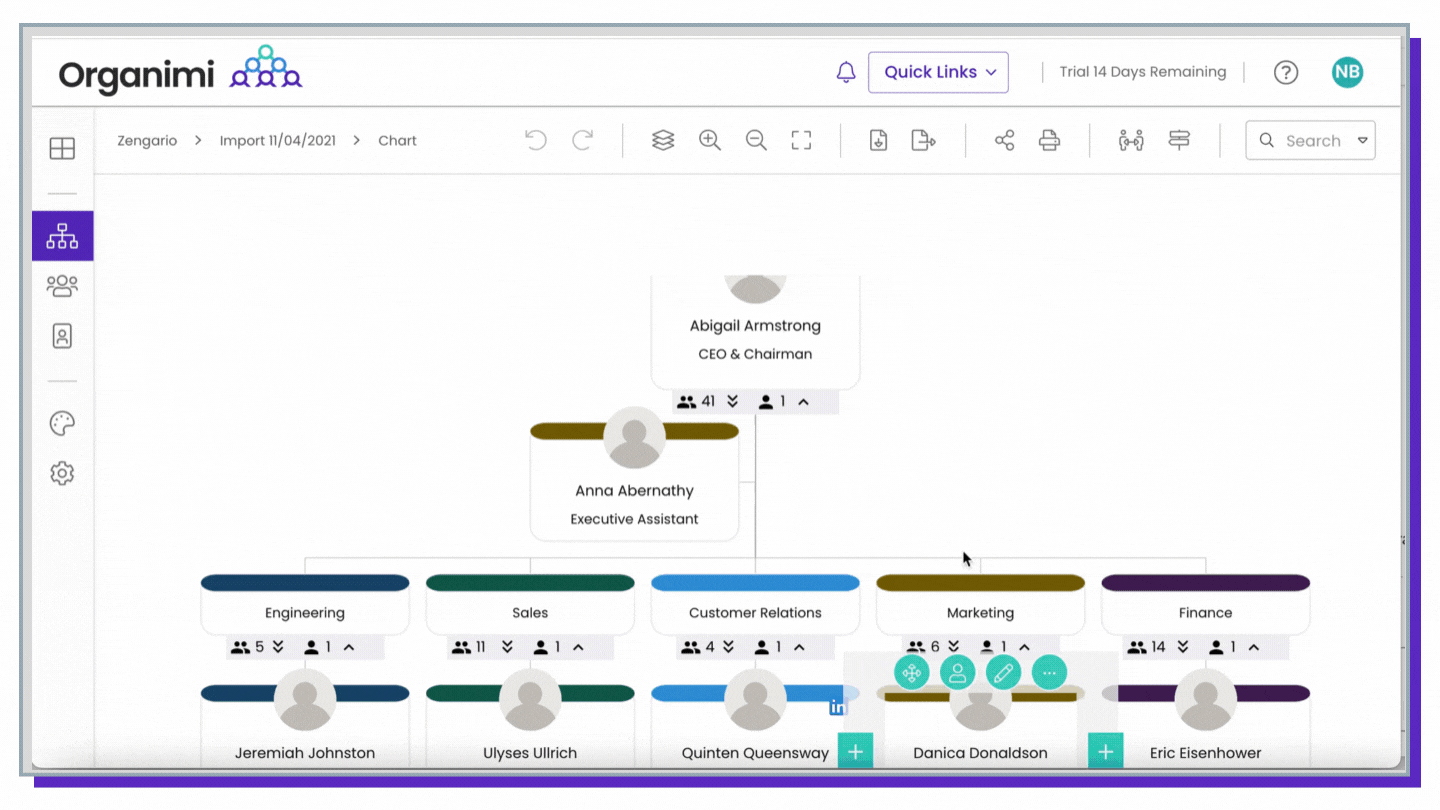 As you can see, the pagination feature is highly customisable; charts can be printed to a range of common paper sizes, as well as to PDF, image, and PowerPoint files.
Users can pagnate from any role or any person that has someone underneath them, making larger charts much easier to digest on a per-page basis. Organimi users can also reorder pages, add in custom page breaks, show pathways to managers on one page, and mix and match different levels from their org charts to appear on one page.
Why Use Manual Pagination?



Manual pagination has lots of potential use cases. One of the more common reasons an organization might want to split up their organizational chart is to make the information more user-friendly, particularly in larger organizations where there are hundreds or thousands of different individuals split across several departments. Through manual pagination, the organization can quickly create a powerful internal reference tool that can be used in things like onboarding, project management, and more.

In essence, our manual pagination feature makes it easier to break down the many levels in your organizational chart and present them in a range of different ways. Save your print settings, choose your page size, mix and match different levels, and more—this new feature will be launching very soon.
As always, we would love to hear your feedback!