HR management often requires a bit of a balancing act. You have to balance the attention that you pay to your team, the company at large, current cases, and your own workload. Many HR managers spend a sizable portion of their day sending information to others or directing them to the appropriate person. Improving HR team productivity is a huge part of their jobs, and having the proper tools on hand makes everything easier. 
Organimi was built with HR managers and teams in mind. Our software offers several features that can help HR managers improve HR team productivity through internal workflows, providing accurate information to staff, and saving time on mundane tasks.
Organimi makes it easy for HR teams to create, update, and share organizational charts with other members of their team and company. The simple drag-and-drop interface, customizable fields, and 1-click integration make it the perfect choice for growing companies with a lot of moving parts.
If you want to streamline your HR processes and save your team's, consider how these features could help you create and update existing organizational charts:
Simple Drag-and-Drop Interface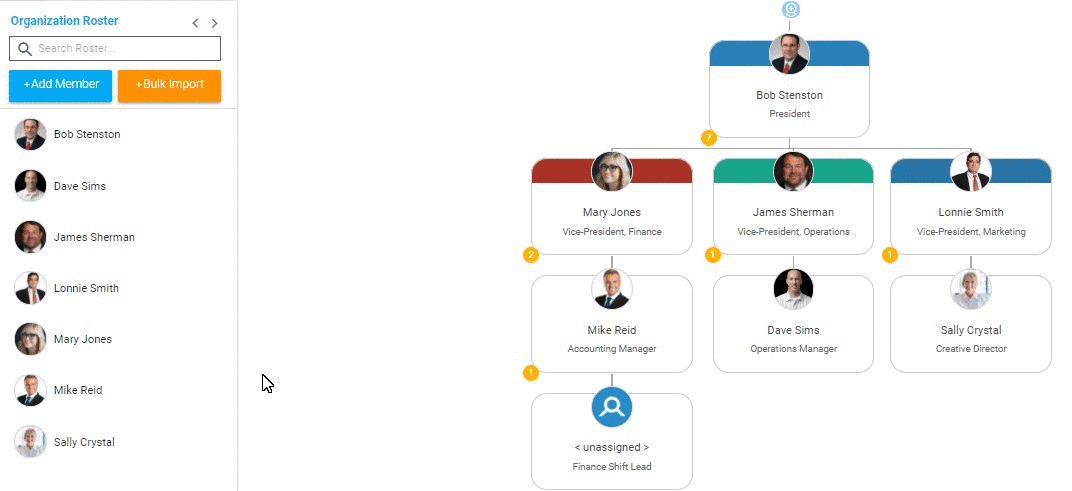 To ensure that Organimi can quickly and seamlessly be integrated into your HR processes, we've designed our platform to be easy to use. New employees won't require in-depth training to make their own org charts or make changes to an existing chart. Most features are intuitive and can be figured out without having to look at documentation.
We've baked the drag-and-drop mentality into every feature and screen within the program. Our feature set is robust, but not intimidating.
Here are two examples of how easy it is to add, update, or remove data in Organimi:
Add a New Role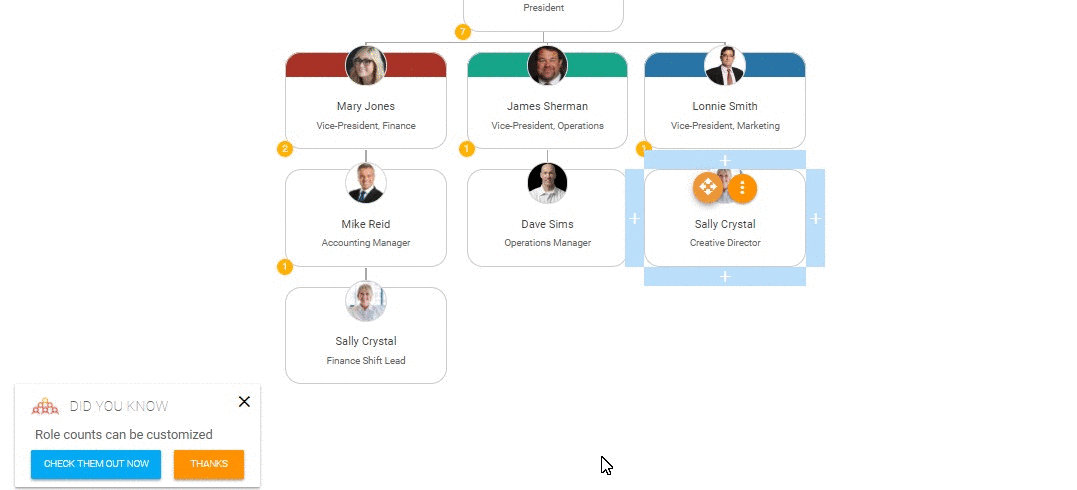 Update Roster Data

Organimi makes it easy to visually lay out your organization, update your cards with relevant information, and share it to improve HR team productivity.
Import Your Whole Organization in 1-Click
We know how hard it can be to move to a new platform. So whether you are moving from another org chart solution or creating an org-chart for the first time, we wanted to make it as simple as possible for you to get setup and begin sharing.
In Organimi, you can directly import your entire organization from a CSV file. That CSV file can be generated from a wide range of different software solutions.  
Take a look at how easy it is to import your entire organization:
First, click the "Bulk Import" button in your dashboard.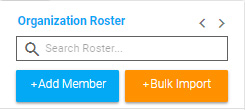 Once clicked, a new screen will appear. On this screen, you can choose what you would like to import. For this example, we are importing our organizational roster.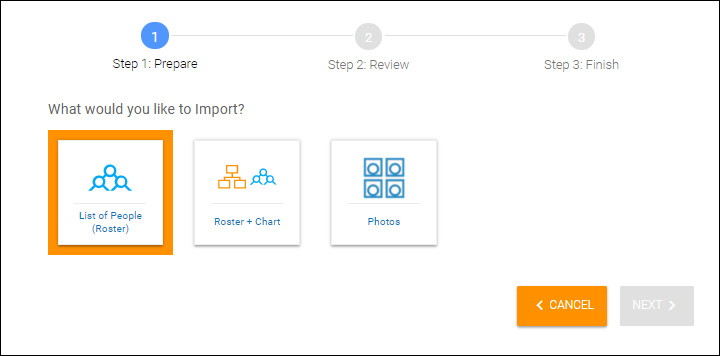 Then, you choose the .csv file that you would like to import from. Once you've chosen the file, Organimi will ask you to match up the fields within the .csv file with the different fields within Organimi. Remember, Organimi supports custom fields so that you can ensure all relevant data is imported into your account.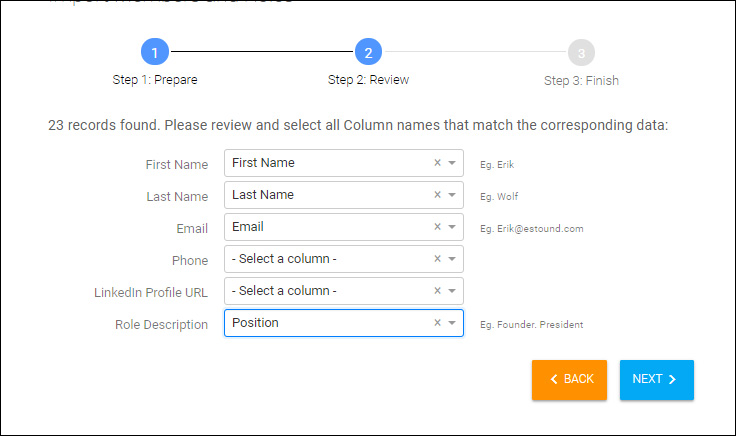 When finished, click "Next" and Organimi will provide a preview of the data that you just imported. On this screen, you can check for errors and cancel the process if you find any.
Additionally, you can mass-import both photos as well as existing org charts directly into the Organimi system. Organimi makes it easy for HR managers to import data and have a great looking org chart in just minutes.
Customize Your Data Fields
No two companies are alike. Employee data that might go unused in one company is a part of the core operations in another. For that reason, we've made it for HR teams to add custom fields to their account.
To add custom fields to your account, start by going to your main dashboard screen. There, click on the "Settings" button for the organization that you would like to add a custom field to.
On your organization settings screen, you can click "Custom Fields" on the left-side menu. Organimi also offers a long list of "suggested fields." If your custom field is commonly used, you're likely to find it on this list.
Here is an example: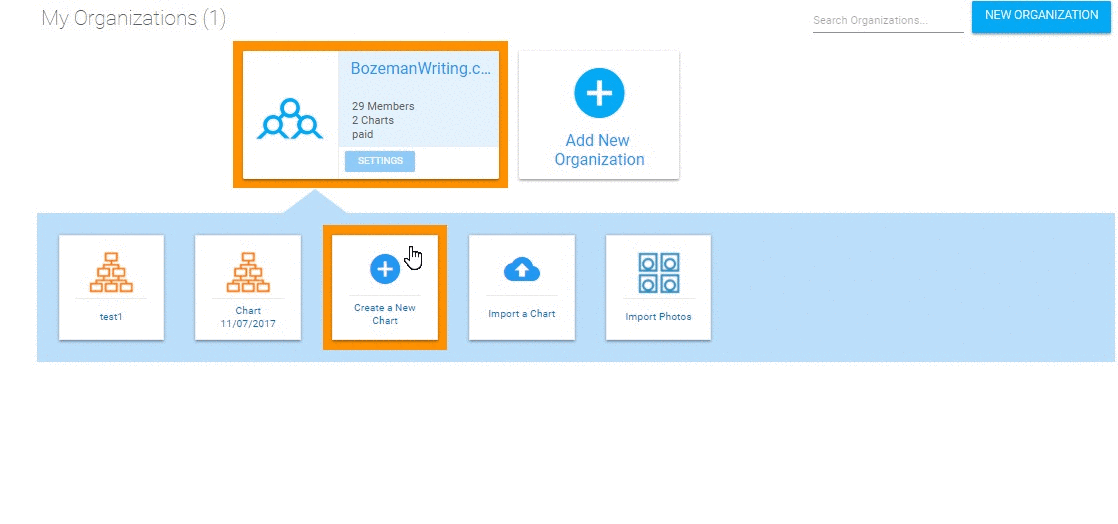 Create and Share Photoboards
Photoboards can be a great tool for helping new members of your team get familiar with your company and the people in it. Knowing who to talk to helps improve HR team productivity across the board. In Organimi, we make generating photoboards as simple as possible. The photoboard feature is directly connected to your org chart. With just two clicks, you can change the display choices and select "Photoboard" from the list.
Watch as we convert our example org chart to a photoboard in about 3 seconds: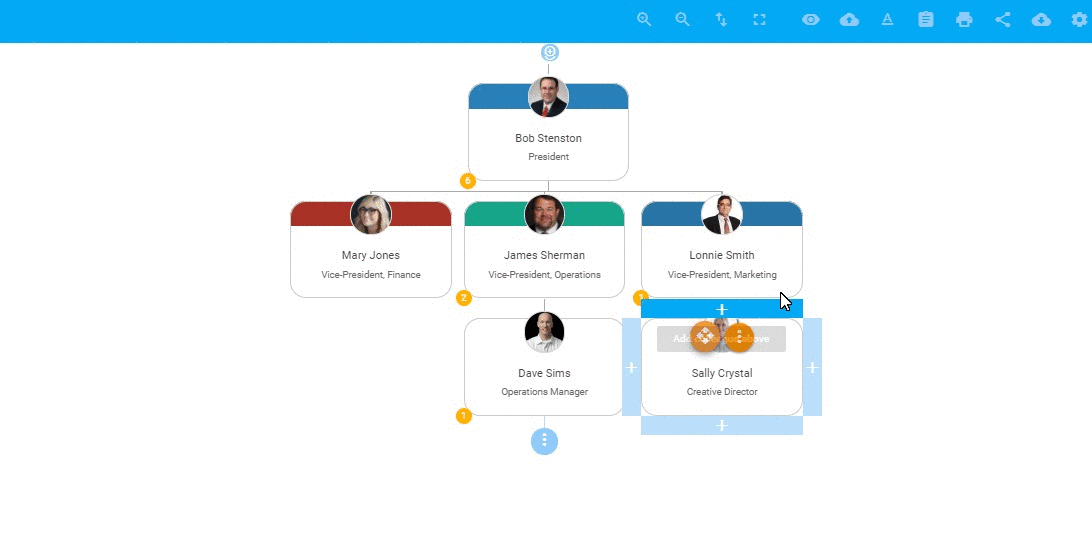 Then, you can export the photoboard to share with your team. This would be an excellent resource to include in a new hire's care package along with an org chart to help them get familiar with the people that they will be working with. Org charts can help facilitate engagement, which is important with less than half of the workforce being actively engaged in their workplace. 
Additionally, you can also change the view mode to "Directory." This is an excellent feature for large companies with lots of employees.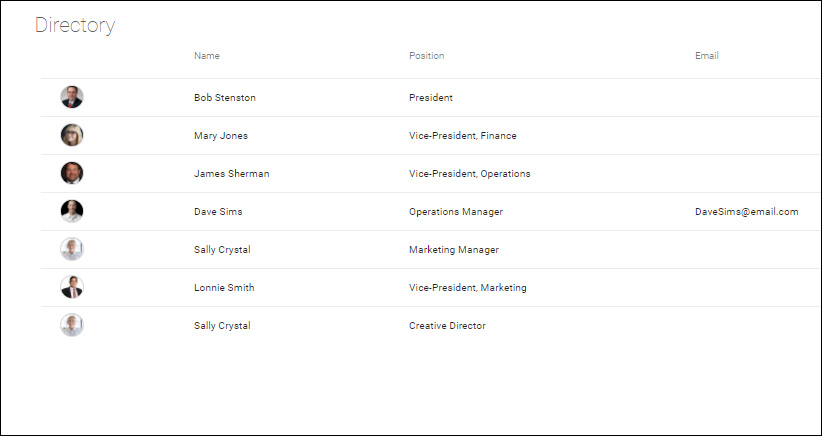 Our platform makes it easy for HR managers to share the data they want in the way that makes the most sense for them.
Advanced Sharing Through Multiple Channels
HR managers will have to share a lot of data with a lot of people. Each person may need their own customized view, of the organization. Additionally, you may want to limit the features that an individual has access to ensure the integrity of the data.
You can share your chart by clicking the "Share & Embed" button in your chart menu. Then, click "Share" from the dropdown menu.
You'll see this screen: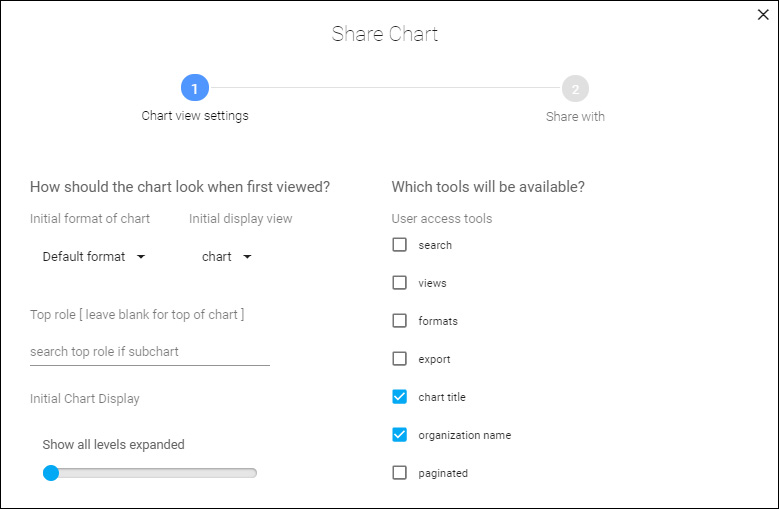 This screen provides you with a lot of options, including the tools that will be accessible when you share the chart, the number of levels that you would like to share, and the format of the chart.
Once you've clicked the "Next," button, you'll be able to share it with people by email and choose whether they are able to view the chart, or both view and edit the chart. This not only makes it easy to share the chart internally but also collaborate to ensure that it stays updated.
Alternatively, you can also choose to make the chart public. Then, you can share the same URL with everyone, while limiting their ability to edit the chart. You can also embed the chart on a webpage, allowing employees to access the chart whenever they need it.
Organimi Helps Improve HR Team Productivity
As an HR manager, it is your job to understand the structure of your company and the people that work there. An org chart is a necessary tool for keeping track of the people that work at your company, and helping employees find the right people to communicate with. Giving employees an understanding of the leadership structure helps them to better understand operations as a whole. In fact, more than 80 percent of HR managers believe that leadership is a top issue in their organization. 
Organimi has designed our platform to be as simple as possible for HR teams. Our goal is to help you improve HR team productivity and create a more connected workplace. You can import your whole organization in a few clicks, then decide how you would like the info displayed and share it with your team in less than 5 minutes.