Although the basic premise of org chart software—the building of charts that let you document the reporting hierarchy within your company—may be largely the same between different providers, the similarities stop there. 
No two org chart providers and the software offered are the same. Just like with any product, there are plenty of examples of both good and bad org chart software, with the very best ones like ours being rich in features and offering high levels of customisation.
Why Our Org Chart Tool is the Best
One word—customization. 
Organimi is widely known for being the ideal solution for businesses that want to customize the data that is displayed on their org charts, creating a variety of use cases above and beyond simple hierarchy and company structure reporting. In terms of our competitors, there are none that offer the same features and levels of customization as our software.
For example, several custom data fields can be created using the Organimi interface and used across charts as-and-when needed. These custom data fields can be used for anything, whether you want to make note of employees' birthdays, nicknames, or the type of driving license that they hold.
In terms of the other features offered by our org chart tool, there are many, including:
A dedicated interface designed specifically for building org charts.

Lots of sharing options—embed links, printing, social sharing, PDF, and more.

Integrations with third-party apps like Office 365 and AzureAD. 

Compatibility with any system that provides an Excel or CSV output. 

Dedicated account management on selected plans.

An initial consultation and personalized onboarding service on selected plans. 
In short, Organimi is an out-of-box org chart tool that is super-easy to use, enabling the creation of charts that provide a unified view of critical data and information. 
And with a brand-new series of plans and pricing options, there has never been a better time to get on board! 
Our Competitors
We're aware that the org chart software market has many players, and therefore it is only fair that we compare and contrast Organimi with the other options that are available.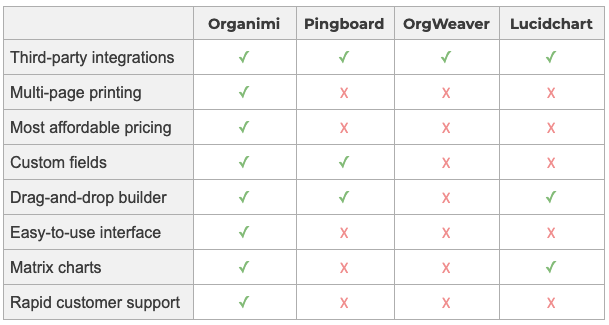 Pingboard
Pingboard is often touted as being the best org chart tool for small businesses that need to create only one org chart. To that end, Pingboard is certainly useful for creating a simple hierarchical org chart… but its usefulness beyond this is limited, even on the two premium plans. 
These plans start quite high at $99 per month and top-out at $199 per month when paid annually, but a free plan is available which offers limited functionality. And although data imports and integrations are available with Pingboard, these can only be accessed on the paid-for plans. They are not a feature that comes with the free plan that Pingboard is famous for. 
OrgWeaver
OrgWeaver is a popular initial choice for businesses that are looking for something free and simple to try out org charts with. With the free plan, users can import their employee list, change themes and colours to match branding, and print and export org charts to presentation software such as Microsoft PowerPoint.
Pricing starts at $9 per month and can go up to $82 per month, paid annually. That being said, their free version provides many of the basic features that a smaller business would need. 
In terms of features, this org chart software is a good option for businesses that want to hit the ground running because it allows you to get started quickly by importing data. It also has a drag-and-drop interface like Organimi that makes it easier to update charts, make changes, and shift things around. Organimi's drag-and-drop functionality is far more intuitive, however. OrgWeaver is also missing the high level of customization seen with Organimi—you can't do much beyond changing colours.
Lucidchart
Many of Lucidchart's users were drawn to their tool because of the many free org chart templates that come with it—this is also something we offer with Organimi. Lucidchart also comes with other features and options for other types of org chart for the charting and diagramming of different things, such as projects and department restructures. 
When building an org chart with Lucidchart, the template system can feel quite restrictive despite the fact that the software itself is very flexible. This is because there is no drag-and-drop functionality for chart building—instead, you have to customize existing templates. In addition, there are no automatic updates. Each time you hire, terminate, or change a job role, the data and chart must be manually changed. With Organimi, this is handled automatically.
Lucidchart is slightly different in terms of its pricing structure. It starts at $4.99 per month for one user, with team pricing that starts at $27 per month for three. As more users are added, the price per user drops.