As we all know, the COVID-19 coronavirus pandemic has had an unprecedented and indelible impact on the way many of us live, and on the customs and processes that underpin countries worldwide. One area that has seen some of the highest levels of disruption is the workplace. At the time of writing, millions of us are confined to our homes where we are now working for the foreseeable future, toiling to maintain an illusion of "business as usual."
However, when the pandemic is over and a sense of normality begins to be restored, how many will return to the office? This is a question on the minds of many, and what the experts are saying may just surprise you.
Remote Working After COVID-19
For many companies who have had to send their employees home and facilitate home-based working, this is the first time they have ever seen teams collaborate, operate, and communicate virtually by utilizing technology. And for a majority, things appear to have gone smoothly. In response to a study into the attitudes of employees who are usually not allowed to work remotely, 77% of respondents said that they feel their employers have done a good job of handling the transition to remote work. In contrast, only 9% said they felt their employer has handled the transition poorly.
Here are three potential outcomes for remote working after COVID-19.
Outcome 1: Remote work remains
Many commentators and spectators believe that this move towards working from home will lead to a more permanent change, rather than a temporary one.
Global research company Gartner recently conducted a survey of 317 CFOs and other business finance leaders and found that 74% plan to move their on-site workforce to permanently remote positions once COVID-19 has passed. By far, the biggest factor driving this permanent change are the cost-saving benefits of having a remote workforce because of the reduction of both real estate and on-site capital expenses, much of which is eaten up by technology and equipment. "This data is an example of the lasting impact the current coronavirus crisis will have on the way companies do business," said Alexander Bant, practice vice president, research for the Gartner Finance Practice.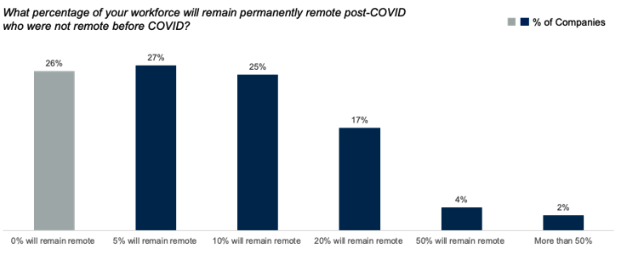 Source: Gartner (April 2020)
Outcome 2: A general return to work, but strengthened work from home policies
Although many employees enjoy working from home, we must be mindful that some do not. Whether it is due to distractions in their households or their preferences of having a solid, defined home-work life separation and the balance that comes with it, there are many reasons why some prefer to commute to a physical workspace.
This consideration has got many people thinking that rather than a carte blanche approach to working models, organizations will instead adopt a hybrid one where employees can opt to work in the office or work from home. This does, however, create the potential for some disruption in teams where collaboration is necessary, so a far more likely hybrid model would be rotating entire teams between office-based and home-based working. For example, Team A may spend a week in the office and then a week at home. When Team A is at home, Team B is in the office and vice-versa.
Outcome 3: Collaborative technology continues to be utilized
During the pandemic, companies are relying more on technology, tools, and clever solutions to facilitate seamless remote working. Solutions like org chart tools, conference call platforms, and workflow software are ensuring that dispersed employees are able to work cohesively and continue to collaborate just like they would in an in-house working environment. As such, there is currently a soaring demand for workplace solutions that enable the workforce to operate as close as possible to what's considered "normal."
As many companies move their project management boards to org charts and meetings to conference calls, they are starting to see the huge benefit in efficiency, convenience, and transparency that digitally backed remote working brings. Whether the workforce returns to a pre-COVID structure or remains largely remote, organizations will continue to rely on collaborative tools and technology and be more receptive of them in general.
The Value of Remote Working After COVID-19
For all the disruption it has caused, COVID-19 presents an unprecedented and unique opportunity for organizations to assess and potentially change their ways of working permanently.
When COVID-19 is behind us and the world is free of the virus, organizations should focus on applying what they have learned during the pandemic to continually improve their office- and home-based working policies. For those that do, there will be many rewards to reap in the medium- to long-term, including lower operating costs, fewer business trips, shorter employee breaks, less commuting, and a greater focus on employee wellbeing.