Mad Men, an American television period drama series and four times winner of Emmy reward, tells a fascinating story of American advertising's golden age.
The series, now in its sixth season, is set in the 1960s, initially at the fictional Sterling Cooper advertising agency on Madison Avenue in New York City, and later at the newly created firm of Sterling Cooper Draper Pryce (later Sterling Cooper & Partners). If you have been following the series from season one until now, you'll know that Sterling Cooper has undergone some major changes.
First, the agency was bought out by Puttnam, Powell, and Lowe has, which itself was in turn later acquired by McCann and Erickson.
The founding team left the SC and started Sterling Cooper Draper Pryce (SCDP), a new advertising agency. Don, Pete and Joan were promoted to partners; Peggy had decided to quit SCDP, as she accepted a job as Copy Chief at Chough's agency. So there was a lot of change going on even when SCDP was going through its birthing phase.
Do all these changes making your head buzz? Check the Organimi chart below for an easy visualization of these relationships and the changes.
The partners are at the top of the heap, running the agency Everyone else is below:

We've used the shading features of Organimi to draw attention to some of the relationships.
Personal relationships, such as Don's with his wife and kids, are highlighted in yellow. Former employees, like Peggy, are highlighted in blue. They are on their way out. The key client accounts are highlighted in green. Don can now use Organimi to start building out the account team assignments for the client accounts.
As regular viewers know, significant changes have happened in the organization over the years. Employee turnover has gone up as a result of key personnel moving on to other jobs.
You might find yourself wondering what SCDP would look like today, almost 60 years later. What would SCDP have turned into, and what challenges will it be facing in the fast paced digital media world of the 21st century?
So we decided to have some fun, and take a crack at imagining where the "golden boy" of America's Advertising Era would have taken the business in today's technology fueled world where marketing and advertising have been transformed by the digital media that surrounds us.
By now the four founders of the firm – Don Draper, Joan Holloway, Pete Campbell and Roger Sterling – are still alive, and still involved with the firm, albeit far removed from day to day operations.
With their skills, experience and networks they have grown the company to a multi-million dollar agency with hundreds of client account, and thousands of employees, worldwide.
(Take Ogilvy & Mather, the firm that apparently inspired the Mad Men story, as an example. This firm has 450 offices in 120 countries, with approximately 18,000 employees.)
Let's assume SCDP has had more modest growth. It has operations in four countries, with about 4500 personnel.
Firstly, take a look at the simplified org chart with key personnel of the imaginary SCDP in 2013.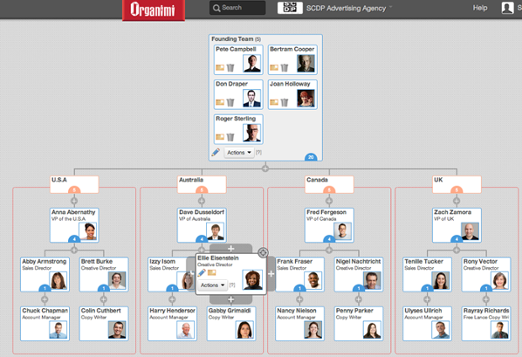 The picture above is part of the imaginary company structure, amazing isn't it? The firm that started with 4 partners and a handfull of employees has now grown into 4 countries.
Now let's take a look at a few of the challenges those elite Ad Men may face today:
Managing A Virtual Organization and Virtual Teams.
People working in the marketing services industry need to be exceptionally creative these days. As a result, marketing agencies often employee consultants and contractors, as well as allowing their employees the freedom to work wherever and whenever they can best be inspired to create.
But how would can these teams be managed and engaged? Virtual team collaboration has become a common problem for modern industries. A virtual manager's day can be a flurry of conference calls and emails.
Imagine Don Draper listening to a pitch for a new campaign from an employee in UK drink in hand at his office in Madison Avenue. Picture Joan setting up an employee performance appraisal meeting with overseas managers based on recent work conducted for a global account.
Technology enables organizations to cut overhead costs and move virtual and keep connected.  Some important tips and challenges on virtual teams can be found in our blog posts on Managing Virtual Teams.
Employee engagement
Team work is an important ingredient for the success of organizations with large and geographically dispersed operations. How would the SCDP executive team manage their 21st century team different from the approach followed in the 1960s? How do they motivate their employees when the managers cannot find where their employees located? What other factors will benefit teamwork in a virtual/cross-national environment?
The phrase "employee engagement" may sound cliché.  A more practical challenge for management is figuring out how best to communicate with employees and keep them connected, at work or maybe even in person. Having personal connections and camaraderie is one of the highlights of managing others, and when managers lose that, work can be a slog.
An important part of employee engagement is communication and transparency. Take Peggy as an example. Feeling disconnected from the team, she decided to move on. We can expect that the partners learned their lesson and now use tools like Organimi to create a more transparent and open organization. With a more transparent rganization, employees will feel ownership and empowered, whether they are in the cubicle down the hall or working remotely around the globe.
We like to sit down and imagine (in our downtime of course) the day when SCDP's staff, contractors or official employees can personally engage with other team members that are 20,000 miles away, read about their personal profiles and learn more about their achievements and interests.  Imagine the day when an employee in SCDP headquarters, where over 200 staff are working, doesn't feel awkward when he/she sees someone from another office but don't know who they are, but instead is able to learn about them and engage with them quickly and conveniently. This is the future of working together we imagine with Organimi.
As this simple example shows, Organimi makes it easy to see and track all the changes in Mad Men over 6 seasons…in one place that is easy to access, use and update.
Now imagine how Organimi help your team keep in touch and learn more about each other.
If you are interested, check out the trial here.