This week's blog focuses on the organizational structure and the organizational charts of Fédération Internationale de Football Association (FIFA).
Getting A Glance At Diversity 
Last week Google outed itself for having a workforce that skewed heavily to white, male and geeky.  
Noting that it's staff was 70% male and over 60% white Google indicated that "we're not where we want to be when it comes to diversity,"

That's one of the many benefits of using Organimi.  If you chart and examine your team online you can see at a glance where your organization lands on the issue of workplace diversity, at least as far as visible minority representation and gender balance are concerned. 
Check out our blog from last week for example on the leadership of the American Legion.
Sometimes these kind of diversity gaps are an inevitable by-product of the organizations themselves – so its no surprise that the American Legion leadership appears overwhelmingly male…but also old…and very white.  
Given all this, think about what what perspective you might bring to bear on its leadership succession planning strategies.  
Without knowing too much about the American Legion you can pretty quickly glean the potential for enhanced diversity as it heads into the 21st century.  With a new generation of soldiers – men and women – home from Afghanistan there are hopefully opportunities there.
Kicking Things Up A Notch for Rio 
Now we shift gears to something a lot more fun.
This week, we'll skew once again to male, albeit much younger, as we focus on this June's sports showcase….the beautiful game. 
The most widely played and followed sport on the planet is association football aka soccer, loved pretty much everywhere outside North America and with a growing following here as well. TV ratings are astronomical.
And the showcase event for football is the World Cup, being hosted this year by Brazil.  Last time in South Africa almost 1 billion people around the planet tuned in for the finals.  This time massive audiences are expected, with the final scheduled on July 13 for prime time evening in Europe and Africa and lunch time in the western hemisphere – make your plans now.
You can learn more about the event at the FIFA World Cup site here, and check out the schedule for matches here.  
Some commentators have noted this World Cup logo looks like a guy with his head in his hands.  
Sites Like The Bleacher Report to give you the skinny with stories covering all aspects of the run up to Brazil.  Youtube videos abound with memorable goals, misses and other highlights.
The tag line for the cup this year is "All In One Rythym".a great motto for any organization looking to get alignment and have everyone connecting and communicating at work.
If you want to learn more about FIFA the umbrella association for football globally and sponsor of the World Cup, you can go here.  
In honour of the upcoming festivities, we have done our homework at Organimi and come up with a look for you.  
To simplify things and assemble the information in a convenient location, we took things like the FIFA executive committee information and included that information in an org chart.  
We also used the quick convert tools of Organimi to generate a photoboard from the org chart.  You can check that out also.  
This photoboard looks a lot more diverse than the American Legion version, as befits a sport played and overseen by an international organization staffed by people world wide….although there appears to be only one woman on the executive committee.
Here is the org chart for the FIFA administration and executive committee which we made in a few minutes including biographical and photo information for the membership:
Here is the photoboard showing a snapshot of the Executive Committee team members.  Viewed online, you can navigate through these, read their profiles, and learn more about their past achievements (and a few controversies as well).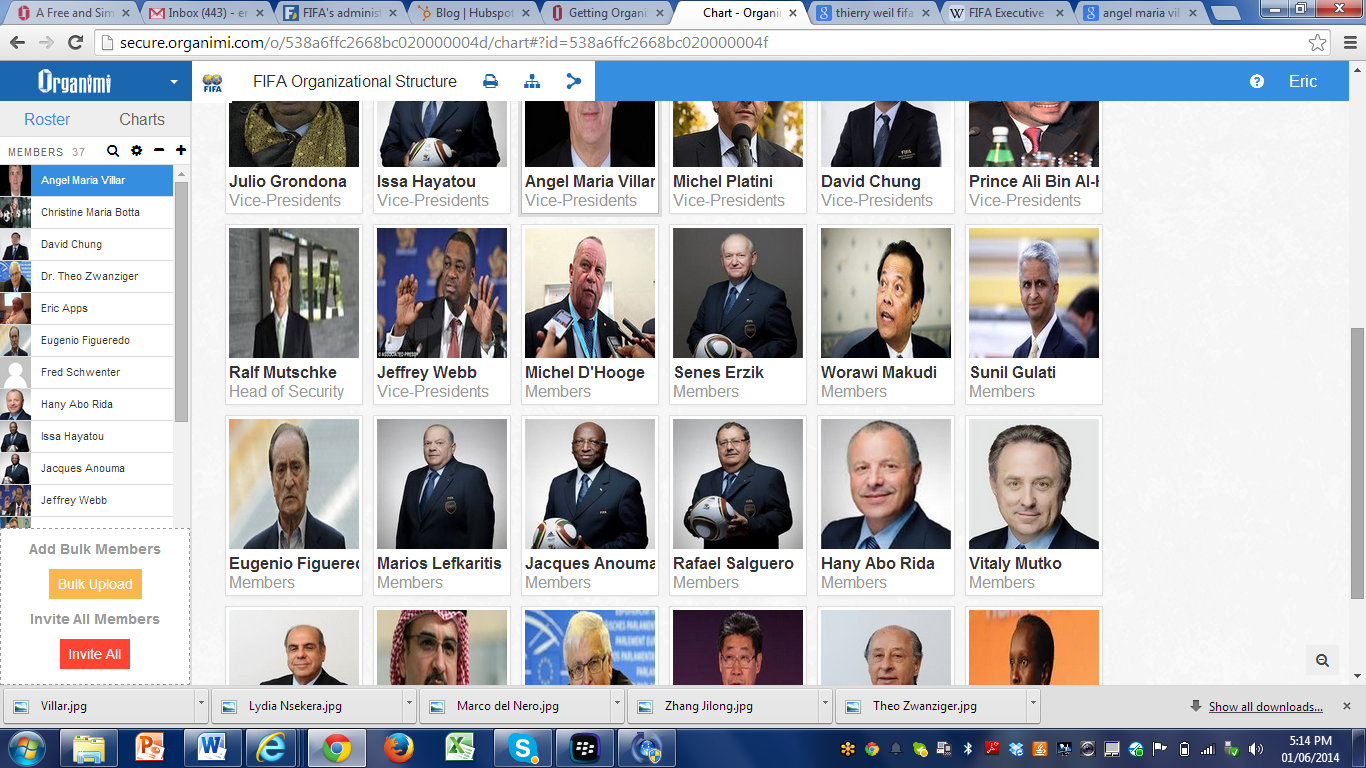 You can check out Organimi at the Google Chrome Store here.  
 So now you have the idea and you can make your own org charts for all the organizations associated with FIFA and the 2014 World Cup you care about, or want to follow…..or maybe you're own neighborhood soccer league so you can keep track of all the teams, their coaches and managers, and remember who the drivers are!
Enjoy a beautiful June, watching the beautiful game!
The Organimi team