Connecting Multiple Org Charts for a Better UX
What's better than one org chart? Two of them! Or three, or four… you get the idea. When companies and key individuals within get access to Organimi and use it for the first time, it is not too uncommon for them to go 'chart mad'—they create and share multiple org charts for everything they possibly can.
And we don't blame them, either!
Organizational charts have been a staple of market-leading businesses for decades and now, thanks to our clever org chart software, these businesses are able to take them to the next level with an easy-to-use system that is helping to manage internal teams worldwide.
Link Your Org Charts
Big and small organizations alike can benefit from this nifty feature. While it is very simple in theory, it can be deployed in several ways to help improve workflows, boost efficiency, and aid project management.
Gone are the days of using sticky notes to plan your projects' staff structure or hastily doodling it on a whiteboard with arrows flying all over the place to indicate links.
Chart links allow you to provide a larger view of your organization's structure, isolate particular parts of an existing chart—for example, a sub-chart that isolates your company's managers or directors from the full employee chart or a sub-chart that isolates a project's leaders— or let you zoom into individual sections of a particular chart.
Adding a Chart Link in Organimi
Linking your org charts with Organimi is very simple and painless. To do it, all you need are two or more charts; you can link as many charts together as you like—there is no 'limit' per se.
Before you begin, make sure you have two separate org charts.
Ready? Here's how you can create a link by embedding one chart into another.
1. Open the main org chart where you want to embed the other. For example, your main company employee overview chart.
2. Hover over a role box and click the blue plus option that appears. This opens the 'New Role'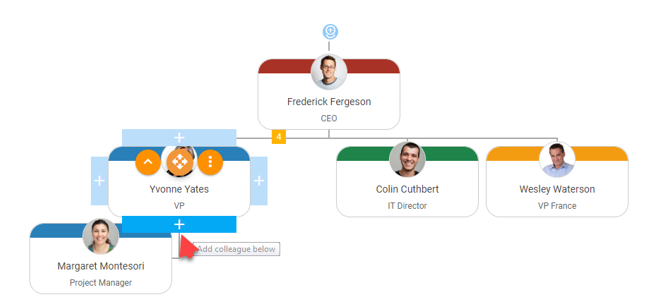 3. From the 'Role Type' list select 'Embedded'. When you have done this, the window will change and 'Role Title' will disappear.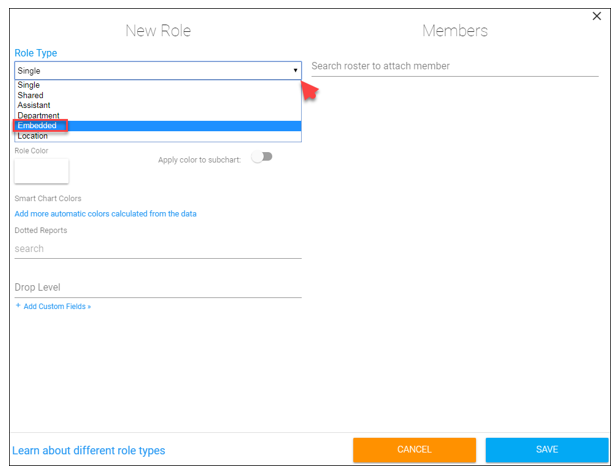 4. Under the 'Embedded Chart Name' option type the exact match name of the chart you want to embed, "Company Executives" for example. This chart must already exist.
5. That's it—click 'Save' and you're done.
You and your employees will now be able to jump directly to your embedded chart simply by hovering over it and clicking 'Go to Chart'.
Linking charts is a simple yet powerful feature with several potential use cases that further enhances Organimi's usefulness and allows companies, particularly bigger ones with more employees and projects etc., to create org charts that allow users to dip in and out of other charts where necessary.
Considering an Investment into Our Leading HR Software?
Whether you have a big project coming up or simply want to restore order within your internal teams, our org chart software may be the perfect solution.
While the premise of org charts is relatively simple, they are nifty, proven solutions that improve employee productivity, help align goals, aid long-term planning, streamline workflows, and simplify onboarding, among other things.
By giving your company's managers and project leaders the tools that they need to easily view team hierarchies, evaluate resources, and plan projects, you set it up for unparalleled success. Given that many company leaders rank disorganization highly as a major bugbear and a cause of monetary loss, among other things, the importance of remaining on track cannot be overstated.
Organimi makes it very simple for you to create effective charts that help to grow your bottom line. With a simple drag-and-drop interface, several integrations and collaboration features, and a budget-friendly price point, our tool ensures your organization and its projects remain on track through simple org charts.
If you would like to learn more, sign up for a free trial today or contact one of the team.