Does your team use Google's G Suite of productivity applications (Gmail, Google Calendar, Drive, Docs, Sheets) for work?

Do your team members have LinkedIn profiles? Does your company have a LinkedIn company page?
Are you a sales rep or account manager using Organimi to create org charts for your clients or prospects?
If you answered yes to any of these questions, we have some great news for you as you kick off 2017.
Organimi 4.3 – released last month – added new features for data importing, as well as sharing org charts and printing org charts.  We also introduced some new packaging and pricing features.
With Organimi 4.4, out this month, we're simplifying integration with third party applications, using the Organimi API, starting with LinkedIn and Google's G Suite productivity applications.
These new features are being released to beta this week and we look forward to your feedback. They will be free for customers using the Personal, Planner and Team plans.


LinkedIn Integration 
For LinkedIn integration, go to the team roster.  If you are editing the member record, you can now add in the LinkedIn profile for each team member in your org chart who has a LinkedIn account.  With hundreds of millions of LinkedIn account holders worldwide, lots of people on your team likely already do.  And if they don't, maybe it is time for them to have one.  LinkedIn has great search features to help you find out.  We make it easy for you to find and connect the LinkedIn profiles you are looking for.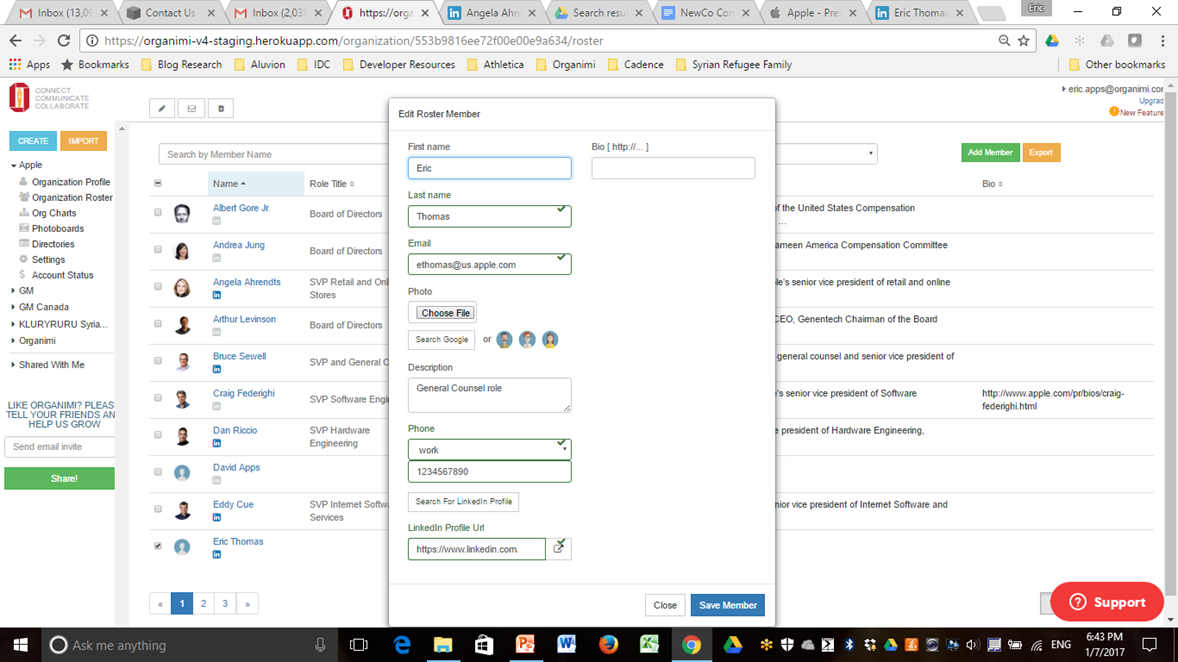 Once you have made the connection of your team members LinkedIn profiles, their LinkedIn profiles will be displayed and easily viewable in the org chart, photoboard and directory views.  This feature has been requested by a number of users and will help people on your teams get a better sense of the backgrounds of their colleagues at work.
Organization Chart
You see the connected LinkedIn profiles for some members of the Apple senior management team here: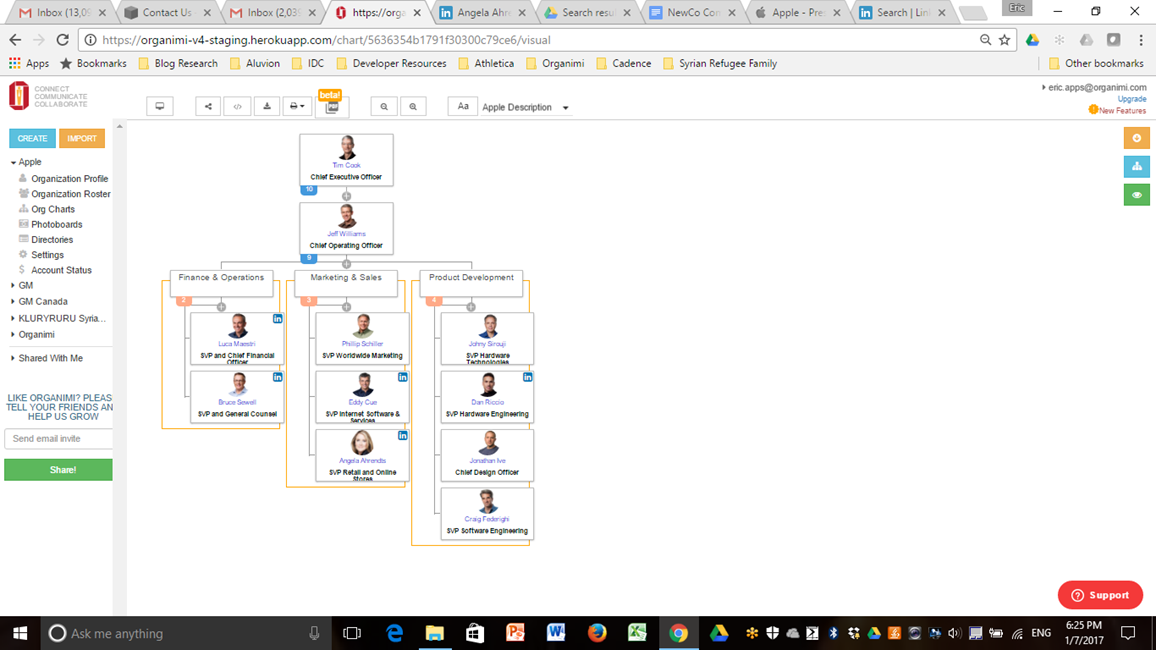 Photoboard View
And you can also seem them easily in the photoboards automatically generated by Organimi from the org charts: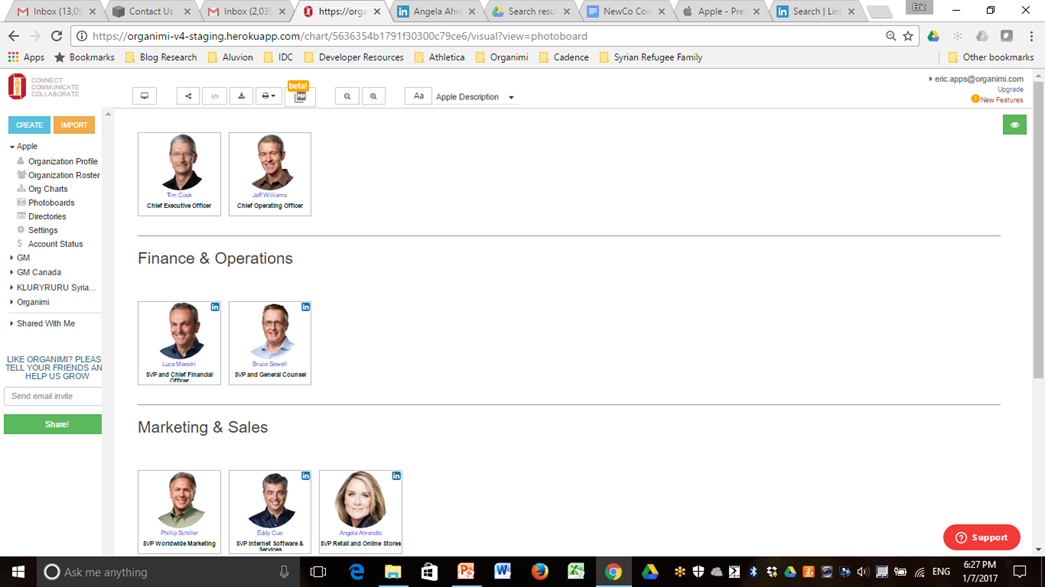 Directory View
And you can also see the LinkedIn connectors in the directory view, making their LinkedIn profiles easily accessible from everywhere in Organimi.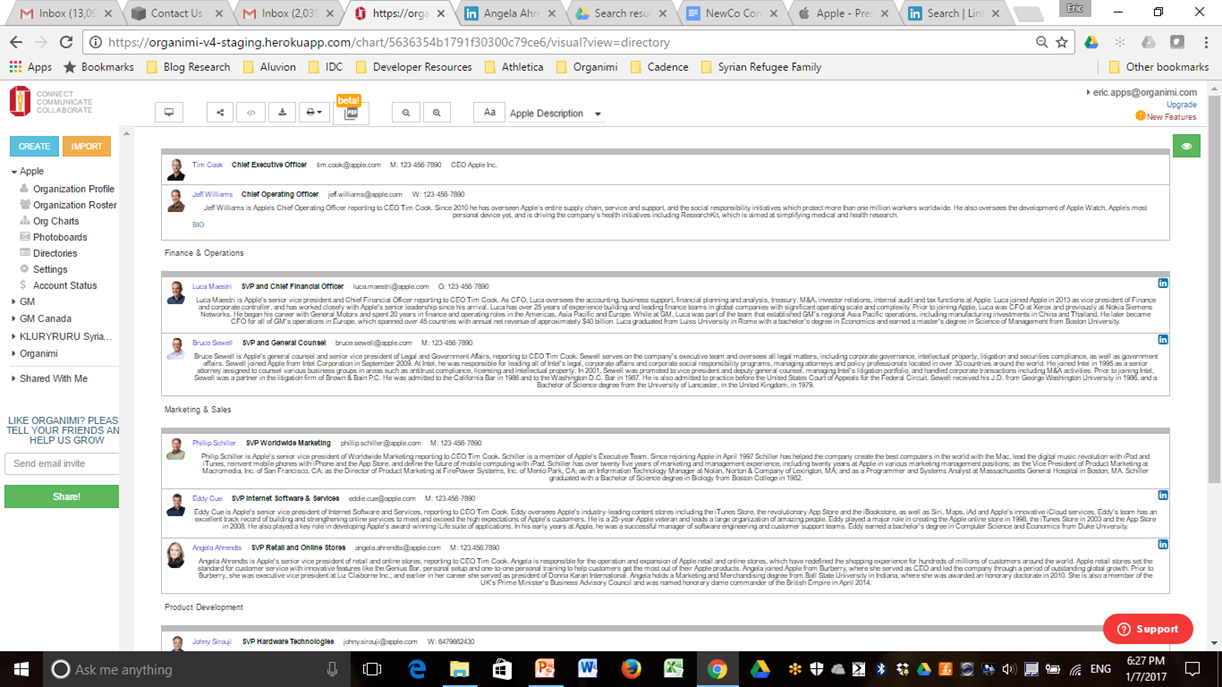 LinkedIn Company page
You can easily connect your organization's LinkedIn Company page at the Organization Profile link on the left side of your browser window.
G Suite Integration 
What about the G Suite integration?
The G Suite from Google Cloud provides organizations using Google Apps at work (Gmail, Docs, Drive and Calendar) with a platform to connect the people in your company, no matter where they are in the world.
Many small and medium sized businesses around the world – and some large ones as well – use Google's G Suite, so we figured it was a great opportunity to add some value by giving those users a simple, easy to use organizational design and org chart tool to help connect everyone on their team.
How does Organimi's G Suite connector work?
Very simple.  We simply automatically import the G Suite roster from your domain once you have connected the applications, and you are ready to go – you can start adding members from the updated roster into your org charts wherever they belong.
If you are the account administrator and want to accelerator your roster imports you can connect your Organimi account.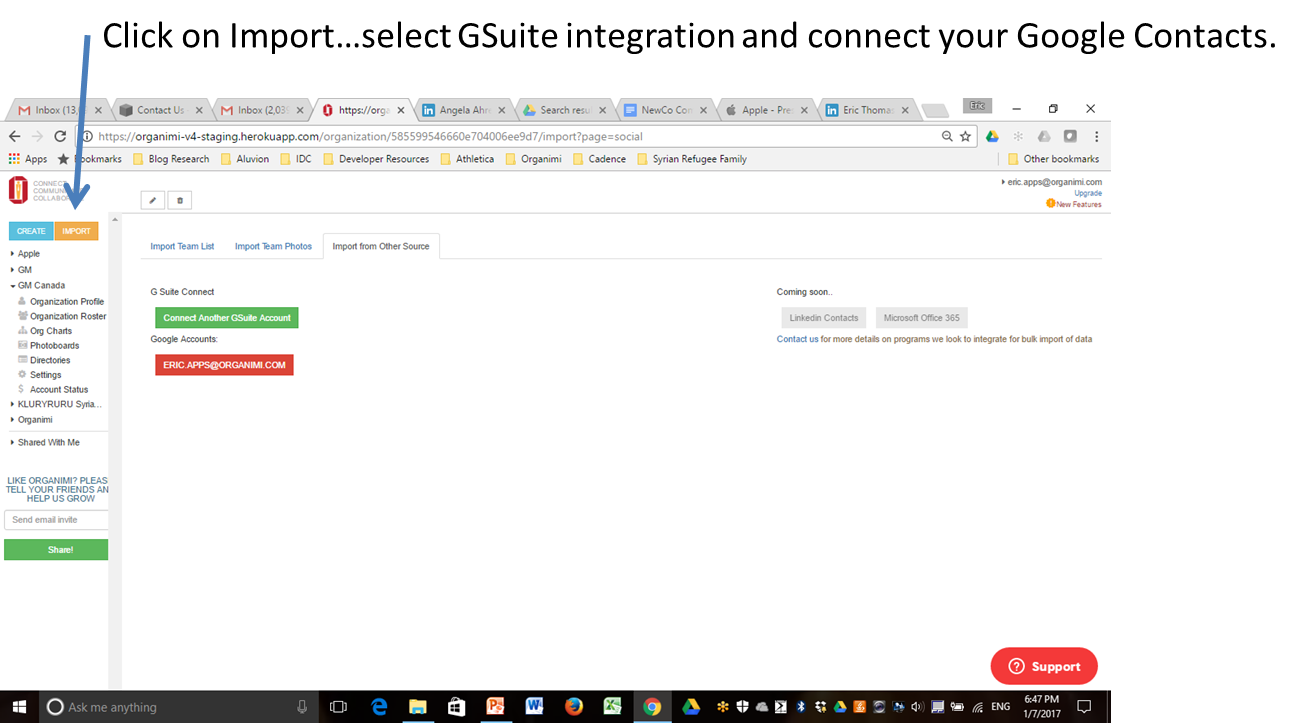 We've always seen Organimi as a simple online org charts tool our clients can use quickly and easily to accomplish their organizational design and org chart planning activities.  So we've been working from the start to make it possible for Organimi to easily integrate and connect with other popular cloud services. We'll be moving that agenda forward on several fronts in 2017.
Interested in LinkedIn integration or GSuite integration for your Organimi org charts?
Just want to give the new release a test drive?
You can check out Organimi 4.4 here.
And so what is up next on the integration track?  We welcome feedback and suggestions.  At this point, it looks like Office 365 is next on the list. But we welcome feedback.  With hundreds of customers now using Organimi there are bound to be lots of opinions and we want to hear them.
Need help getting set up?  Have other services you want us to connect to?  Send us your requests to support@organimi.com.
As always thanks for reading. And thanks to all of our customers for a great year in 2016!  We're looking forward to 2017.
The Organimi Team