In past blogs we've written about sales organizations, the sales process and using org chart design tools like Organimi to help organize and optimize your sales processes.
This was one of the reasons we introduced our Planner Version of Organimi with our Version 4 release this summer….specifically for sales and client service reps who cover many accounts, and want to focus on the key stakeholders in each of their accounts, without needing all of the "down to the ground" details of the organizational structure.
To be clear, we don't see Organimi as a magic bullet for sales reps.  As Tom, a Europe based sales rep using Organimi aptly put it when we were first discussing this use case with him earlier this year:
"Your tool could provide some time savings in terms of easier maintenance of my org charts, but please don't assume your tool is going to make me do 1 more sale….In the type of complex software sales I'm in (3M quote, 400k avg deal size), there's a lot more to a deal than drawing and looking at an orgchart. Organimi is a productivity improvement, nothing more, nothing less".
We couldn't agree more!  Sales is, as we like to say, "the hardest job to do, and the easiest one to measure".  We're trying to make it less hard for reps, and also a little easier for managers by giving them additional tools to measure how well reps understand their target accounts.
Organimi org charts are not a cure-all.  Instead, to borrow from the cereal makers, we like to see Organimi as an important part of a balanced and healthy sales process. And the nice thing about it if you are a sales rep is that your Organimi account is portable, whereever your sales travels take you, your investment in those relationships and connections goes with you.
What do we mean by a "sales process".  A couple of definitions follow:
In simple terms, a sales process is a systematic approach involving a series of steps that enables a sales force to close more deals, increase margins and make more sales through referrals.
 A set of steps aimed at initiating and supporting the identification and evaluation of likely customers (prospects), sales presentation, and successful conclusion of sales activities. It requires a close coordination of people, equipment, tools, and techniques, and includes advertising and promotion.
How does Organimi help you?
Whether you are a sales rep tasked with doing your own account research and development, a member of a sales operations team responsible for supporting the sales effort, or an account manager or service professional expanding an existing client relationship, an org chart identifying the key stakeholder groups impacted by your sales process helps you in three key ways; first, as a road map, enabling you to navigate your way through the organization as you seek support for the current sales effort you are undertaking; second, as a treasure map to ensure you understand the organization and its issues and needs, as well as uncovering opportunities where your organization can add value; and third, perhaps most importantly, as a mind map…a means of assessing how well you understand, are connected to, and are aligned with the dynamic and changing nature of your prospect or client's key decision makers and internal business operating environment.
In a recent article entitled The Four Phases of Best Practise Sales Organizations  Matt Greenstein describes the evolutionary path the sales operations function / team must follow to survive and thrive.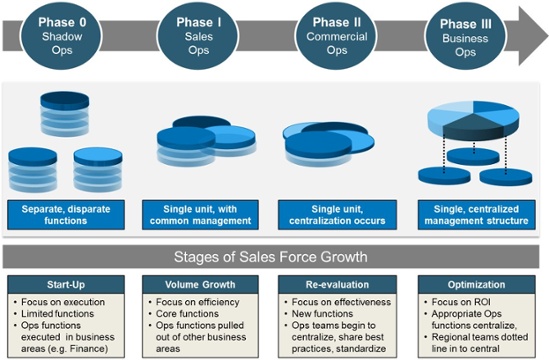 It is no accident that in sales, as elsewhere, technologies, tools and prcocesses become more complex — more scientific — as sales organizations mature.  Organimi easily fits into a complex environment, with its emphasis on cloud based capabilities supporting secure and easy-to-create, easy-to-share org charts, photoboards and directories.
But even in "start-up" mode, where sales activities are distributed across different groups in the company and productivity is primarily a function of distributing these tasks and getting them done, Organimi can be a very useful aid to help organize, focus and enhance the sales effort.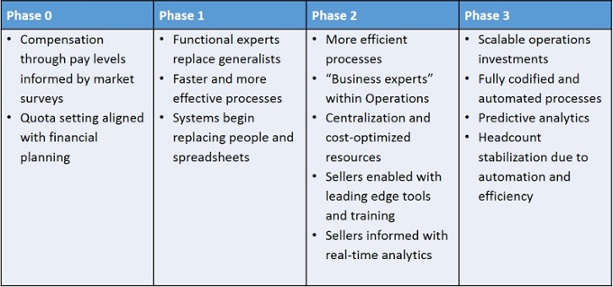 As Greenstein notes there are many productivity paths to follow in evolving your sales operations towards the destination / goal of increased revenues.  "Some groups drive more top line revenue by enabling incremental sales through slick pipeline tools, training resources, sharply crafted territories and highly motivating incentive plans. Others improve the bottom line by replacing field resources with predictive analytics that maximize the value of each sales call, or introducing sales support resources that off-load administrative tasks from core selling roles."
Regardless of what path you follow, there is no question that a sales team with more accurate understanding of the organizational structure of the clients they are dealing with is going to have an easier time travelling that path, without wasting time or getting lost.
Tom succintly put the value prop for Organimi in sales – it is a productivity tool…"nothing more, nothing less".  And in a slow to no growth global business environment where the focus increasingly is on productivity, and getting a lot more of it, that's ok with us.
Skeptical?  That's the great thing about Organimi.  You can have someone on the sales team check it out and see what they come up with in laying out "who's who in the zoo" at one of your client or prospect accounts.  Sell yourself.  Works for us.  And if you see gaps or feature ideas you would like to see incorporated to make Organimi even better…in sales or anywhere else, make sure to let us know.
As always, thanks for reading.
The Organimi Team