We all know how a traditional org chart looks. Whether it is an org chart for an entire organization, a department, or even a small team — most org charts have the same basic structure.
You have your lower entry-level employees at the bottom. Above them you might have team leads or your first layer of management. Then as you go up you get into your department managers, directors, and C-level executives. It's the standard organizational structure. It lends itself to a style where the division of labor, chain of command, and top-down decision making and communication tends to dominate within the company.
But what if we told you that perhaps the standard top-down org chart wasn't always the right choice? What if there were other options that would better convey the priorities of your organization in a way that helped your employees to feel valued and important?
What Is a Bottom-Up Org Chart?
The bottom-up org chart takes that traditional view of an org chart and flips it on its head. Instead of your CEO being at the top of the org chart, your entry-level employees are placed at the top of the organization, with the CEO and C-level executives positioned at the bottom of the org chart. While this change might be more symbolic, it does help companies to convey how they view their employees and help them to foster a sense of importance for every person within a company.
Companies that employ a bottom-up view of their organization typically empower their employees with more decision-making privileges. They are trusted to determine what work will deliver the best results for their organization and make smart choices within the bounds of their expertise. Companies that employ a bottom-up approach give their teams more freedom to collaborate across hierarchical levels to ensure that they are supported in their goals.
What are the Benefits of a Bottom-Up Org Chart?
Creating a bottom-up org chart sends a number of signals to your employees. However, taking the signals that you are sending to heart can help to foster a number of improvements within your organization leading to improved efficiency, agility, and inclusiveness within your teams. If you are considering creating a bottom-up org chart and employing some of the bottom-up organizational design principles, you can expect to enjoy these benefits and improvements:
Improved Agility
The rapidly changing digital landscape is having a huge impact on nearly every industry. It has significantly increased the pace of change in business, requiring that organizations are quicker in their decision-making and execution than ever before.
Installing bottom-up organizational design philosophies within your company can be a great way to facilitate a more agile workplace. A bottom-up approach empowers employees to make decisions more quickly, collaborating between the hierarchies within your organization to ensure that they receive the help and support that they need to finish tasks and projects in the most efficient manner possible.
A bottom-up philosophy will make your company more agile. Your decision-making will be quicker, and changes will be enacted more quickly as lower levels (or higher levels in the case of the bottom-up org chart) of employees are able to make decisions that they believe will push your organization forward.
Increased Motivation & Efficiency
With a bottom-up org chart and organizational design, you empower your employees in a way that other designs just aren't able to do. By placing so much value on the foundation of your business — the lower-level employees that make the day-to-day activities happen — you give them the motivation that they need to handle their jobs more efficiently.
Your team will feel valued for their skills and expertise. A bottom-up organizational design creates a sense of belonging and a positive workplace environment and culture. As a result, they'll be more motivated to handle their daily duties and work toward common goals. 
A Feeling of Inclusiveness
In many organizations that employ traditional organizational models, employees often feel as if they are expendable and not valued on the whole. It's a common issue. By signaling the fact that you value your lowest rungs of the ladder highly, you create a feeling of inclusiveness where your employees won't feel like they are expendable or just there to complete mundane tasks.
Facilitating inclusiveness and a positive environment within an organization is a very difficult task. A bottom-up organizational design can be a great way to begin that process and create that feeling of inclusiveness among all levels within your organization.
A Signaling of Priorities
Perhaps the biggest benefit of creating a bottom-up org chart and embracing the bottom-up organizational design is that it signals your priorities to your team. Your team will feel better about their position within the company when you go above and beyond to show them that their contributions are valued and appreciated.
The good news is that you can use Organimi to create a bottom-up org chart with the click of a button:
How Can I Create a Bottom-Up Org Chart in Organimi?
As we've added new features for a range of organizational designs, one of our most requested features has been the ability to turn a top-down org chart into a bottom-up org chart. Currently in beta, the feature allows companies to make the transition by changing a single option in their org chart settings.
Here's how you can turn your top-down org chart into a bottom-up org chart:
Step #1: Open up your org chart
Step #2: Click the "Settings" gear icon on the top-right of the menu bar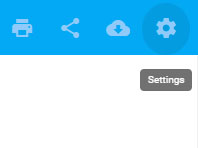 Step #3: This will bring up a pop-up box with two options. Select "Chart Settings."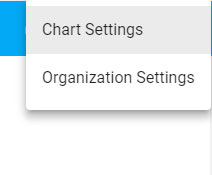 Step #4: This will open up the settings window. On the right side of the window, select "Chart Display."
Step #5: At the bottom of this screen, you'll see a "Chart Layout / Direction" drop-down menu. Select "Bottom-Up."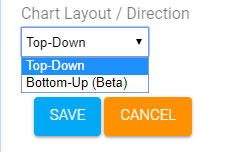 And you're done! Your org chart will automatically re-arrange itself to be a bottom-up org chart.
Want to create your own bottom-up org chart? Sign up for Organimi free today!