Over the last few years, we have seen the emergence of many trends and new technologies that have changed the way we not only work, but shop, consume, travel, and indeed live.
The rapid pace at which these changes appear is entirely unprecedented in history, as is the COVID-19 pandemic which this year has taken center-stage and changed things in its own way. It's safe to say that the boundaries between work and leisure have very much been blurred.
In the face of all these changes, organizations have stood by and embraced them while at the same time still choosing to operate with the same convoluted and outdated top-down and matrix structures, which came into existence on the backs of organizations struggling to integrate functional and geographical nuances. These structures themselves are also supported by decades-old outdated management tools and processes.
According to the management consulting firm McKinsey, these hierarchical charts with solid and dotted-line reporting relationships are complicating organizations, causing them to become slow and inflexible—the opposite of what organizations need to be today. In addition, employees are having to report to multiple supervisors and bosses which drags out day-to-day tasks and harms efficiency.
There is a new solution designed for stability and dynamism, however, which McKinsey calls the helix organization model.
The Helix Organization Model
The secret to the success of the helix model is that it disaggregates the traditional split of management tasks into two parallel lines of accountability. While they're similar and equal in power and authority, they're fundamentally and distinctly different.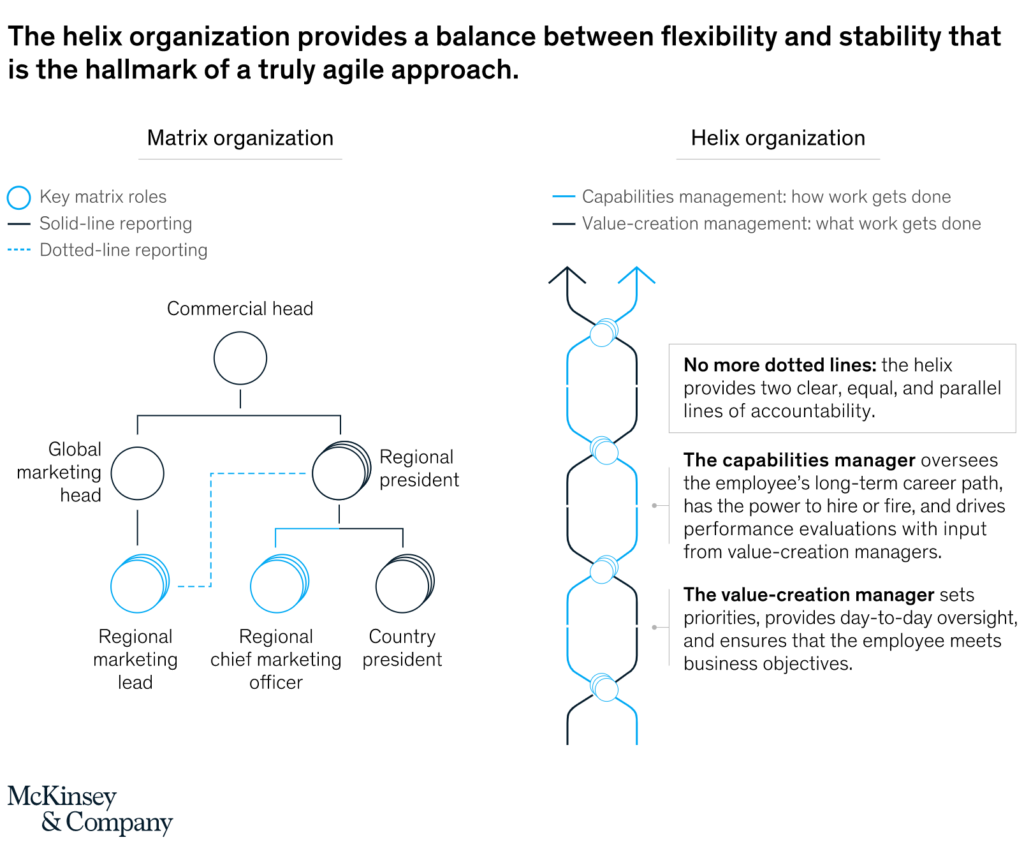 The helix organization model as described by McKinsey. Image used courtesy of McKinsey & Company.
In this model, leadership tasks handled by one manager are broken down into two sets of tasks performed by two different managers.
The first manager focuses on the things that need to get done—value creation—and steering the part of the business for which they're responsible. In contrast, the second manager is concerned with how things get done by focusing on talent, resources, and setting standards for working.
Neither of the two is considered better than or above the other. Instead, their roles are intertwined, much like the double helix structure of a DNA molecule, and are both as important and as functional as the other.
When the helix organization model is correctly planned and executed, it creates a great deal of flexibility as the people ownership on the capability side enables flexible shifts of people into the value creation side. By strengthening the business leadership of the value manager, however, it also allows for more efficiency.
Helix Model Benefits
The main benefit of the helix model is that it eliminates convoluted dotted-line reporting that, in modern organizations, has a tendency to destroy the very synergies it was designed to create. By identifying a day-to-day business leader and turning several bosses into one, employees feel more empowered to take the initiative, make decisions, carry out actions, innovate, and share with one another.
The helix model also gives employees a wider variety of opportunities to grow within the company, something which contradicts the dotted-line reporting seen in matrix structures which provide a limited variety. Naturally, a wider variety of opportunities helps nurture a good corporate culture and also has a positive effect on both talent retention and job satisfaction, with the knock-on effect of attracting new talent in the long term.
In short, it enables a great degree of flexibility in dynamic, fast-paced modern organizations while simultaneously providing a secure environment where employees can grow.
An Agile Model for Larger, Modern Organizations
The helix model will be critical for larger organizations that want to develop an agile and lean model, especially those that are currently heavy, slow, and backed by complicated and convoluted organizational structures that centralize decision making and slow down change and innovation.
It's not a plug-and-play model, though. For it to work, it's important for organizations to recognize and encourage the right visionary talent. As McKinsey puts it, no operating model is solved solely by structure, and any attempts to change reporting structures and lines can be futile when visionary and persuasive individuals move on. For it to work, new processes and different mindsets must be embedded into the fabric of the organization so as to remove obstacles.
Therefore, to say that organizations need serious commitment in order to move to a helix model is an understatement. To find success with the helix model, 'capability leaders' need to hand over decision-making over employees' day-to-day activities, and 'value-creation leaders' need to acknowledge the additional source of influence over their team members when it comes to coaching and capability building. However, both types of leader need to acknowledge that better outcomes will be achieved if they both hand over just a little bit of control.
If they're able to do this, the helix model will help integrate flexibility and allow an organization to match up with the rapid pace of external change and innovation.