A Short Guide to Making the Workplace "COVID-secure"
Although it's still too early to know when the global workforce will return to their offices and other places of work en masse, it's a good idea for organizations to start preparing for this inevitability.
Indeed, some countries are already beginning to open back up and allow employees to return to the workplace. Even in these countries, however, the pandemic is far from over, which means it's essential for organizations to have a plan in place to manage the risk and keep employees safe at work.  
To help employers with preparing their workplaces, we've prepared this short guide to provide organizations with some practical guidance on how to safely return in both the short and long term.
Form a Return to Work Team
Develop a Return to Work Plan
Prepare the Workplace for Returning Employees
  1. Engage with Employees First
  2. Give Employees a Choice
  3. Implement Basic Prevention Measures
  4. Introduce Workplace Controls
  5. Have Procedures in Place to Respond to Infections
The Workplace is More Important Than Its Ever Been
It's impossible to put together a comprehensive guide that applies to all organizations worldwide due to the huge differences between geographies and how COVID impacts and applies to different organizations.
One thing all organizations share in common when it comes to the impact of COVID-19, however, is that it has served as a reminder that we're most successful when we work together. While organizations may have benefitted from reduced overheads and employees from a greater degree of flexibility initially, the novelty of agile working turned up to the max has long since worn off for some. And for many organizations, it's not a sustainable model.
For many, returning to the workplace will be a much welcome escape as millions are struggling with home-based working due to loneliness, childcare clashes, and hastily designed, unsuitable home offices. For others, returning to a network of co-workers with whom they share a culture, the office community, and the restoration of social circles will help instill a sense of normality and help them see the light at the end of the tunnel.
It can be said that the workplace has never been more important to people than it is now, and millions are desperate to get back to it—here's how you can make this happen.
Form a Return to Work Team
Organizations should form a multi-disciplinary team that will oversee the development, implementation, and ongoing monitoring of a return to work plan.
This team should be comprised of people from all across the organization from key departments like human resources, legal, IT, operations, and health and safety. It's also a good idea to include representatives from employees' own constituent groups and associations where possible so that you can properly account for the needs of your wider team.
Depending on the type of workplace or industry, organizations may also want to consider retaining external advisors such as public health officials to provide additional, specialist guidance where it's needed.
Develop a Return to Work Plan
Each organization's return to work plan will be unique, with different plans being based on location, industry, local and sector-specific requirements, and the way COVID has an impact on the business. Other key factors to consider include:
The location of the workplace

The number of employees working from a single location

Whether social distancing can be properly implemented

Employee reliance on public transport

Vulnerable employees and whether it's possible to protect them

The company's approach to flexible working going forward
It's also important to ensure that any return to work plan is flexible enough to adapt to the ever-changing situation and the new recommendations, guidance, and restrictions that come with it.
Prepare the Workplace for Returning Employees
The pre-COVID workplace was designed to support new ways of working and human interaction to boost creativity, innovation, and efficiency. They also gave employees the choice and autonomy to work in a way that suited them and their work best.
Unfortunately, in the post-COVID workplace, this will be severely limited, and organizations will need to rise to the challenge of adapting their workplaces so that they're still functional while also being safe enough to operate. Given that many workplaces, offices especially, are designed in an open-plan, shared format with high density and mobility, pathogens can travel much more freely and have a higher chance of spreading infections.
It's therefore important to put safety first—people need to be and feel safe in order to return to the workplace.
1. Engage with Employees First
Prior to putting together and implementing any plans, you should engage with your people both collectively and individually.
Finding out how they're feeling about returning to work, how they're coping with working from home, what their concerns are, if they have any special needs, and, most importantly, what they want to do going forward is a great way to gauge opinion and develop the best strategies. Doing this also gives you the opportunity to identify common pain points so that you can support your employees going forward.
2. Give Employees a Choice
Following on from this, think about giving employees a say in where they work. While some will be raring to return to the workplace, not everyone is. In fact, lots of people are understandably still hesitant about suddenly returning to work, especially those who live with, care for, or are in regular contact with those who are vulnerable.
Lots of organizations are therefore allowing employees to return to the workplace if they choose to do so rather than beckoning everybody back in. This satisfies both sides, giving employees the choice of whether to return to the workplace or continue working from the comfort and safety of their own homes.
3. Implement Basic Prevention Measures
It goes without saying that you can't just re-open your workspace and usher everybody back in as if it were business as usual—it's not. It's vital that you implement, at the very least, basic virus prevention measures to reduce the risk of spreading COVID-19 throughout the workspace.
There are many different ways this can be approached, but good measures will involve: Educating employees on preventative measures; implementing hygiene measures and supporting good hygiene practices; establish policies for social distancing; implement one-way systems where possible; and perform routine enhanced environmental cleaning, particularly in shared spaces.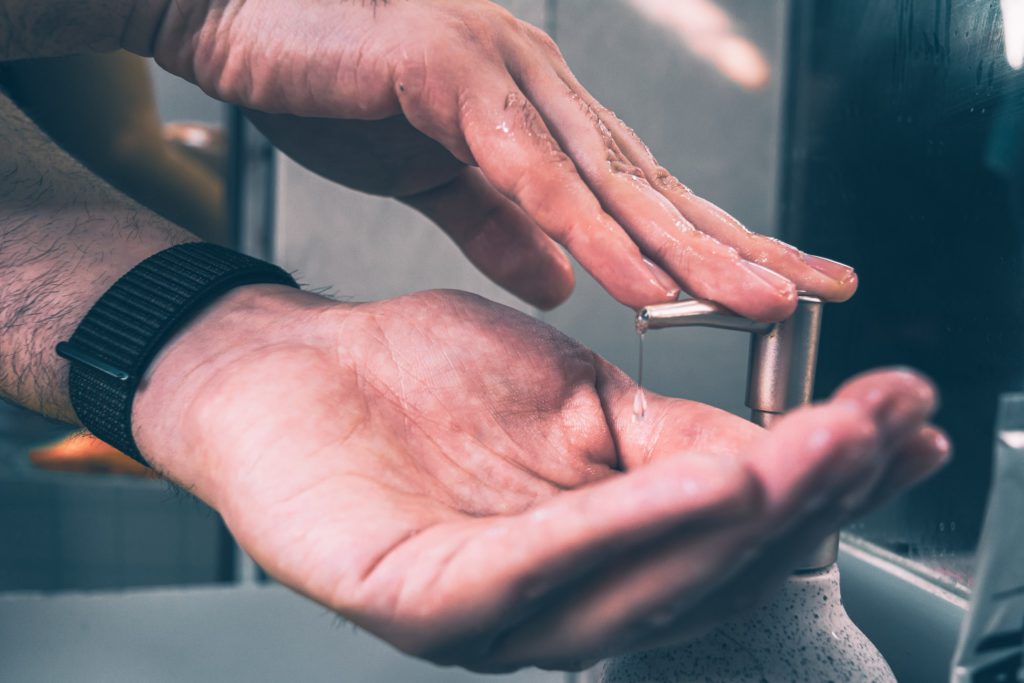 Image used courtesy of Christine Sandu via Unsplash. 
4. Introduce Workplace Controls
You can't rely solely on your employees and social distancing policies to mitigate the COVID risk; workplace controls play an important part also.
Depending on the workplace you operate, examples of controls may include: Upping ventilation rates and using advanced air filters; introducing policies to limit the number of employees in the workplace at any one time; limiting the number of people in shared spaces like meeting rooms and kitchenettes; reconfiguring desk layouts and office space to enable social distancing; installing barriers, partitions, and screens between workspaces; providing personal protective equipment; and staggering the working days of different teams.
5. Have Procedures in Place to Respond to Infections
Introduce measures that will allow you to promptly identify and respond to employees with potential cases of COVID-19.
For example, conduct daily health screenings like body temperature checks as a condition of entry to the workplace and encourage employees to monitor themselves for signs and symptoms of COVID-19. If an employee falls ill or suspects they may have the virus, have policies and procedures in place to allow the employee to report this and immediately go into self-isolation.
Final Thoughts
The current COVID-19 situation is vastly different in different parts of the world. While some countries have gone back into second national lockdowns, others are starting to re-open their towns and cities. And while this means that whether or not workplaces can re-open depends entirely on the local COVID situation, it makes sense for all organizations to begin planning and preparing for the eventual return of employees to the workplace.
Having a well-thought-out and developed plan that accounts for the local COVID situation and relevant advice from governments and health authorities will enable organizations to safely and successfully bring employees back to work. It will also allow these organizations to adapt to the ever-changing situation and the advice, guidelines, and regulatory requirements that change with it.