While it is true that organizational charts are designed to be functional tools, this doesn't mean that they need to be bland and boring.
This might have been excusable back in the day when org charts were drawn by hand or put together in Word documents, but this isn't the case any longer. Using a modern organizational chart building tool like Organimi, it's possible to do so much more, and this includes utilizing a much wider range of design elements.
In this week's feature spotlight, we are going to look at the changes to chart themes and avatars that came in our latest update to Organimi v7 and what you can do with them.
5 Things You Can Do with Chart Themes & Avatars
1. Hide or Display Specific Fields
Our goal at Organimi is to put our users in complete control of their organizational charts. One way that we have achieved this is by enabling our users to decide which existing 'default' fields (i.e., any fields that are not custom user-created fields) should and shouldn't be shown on their chart, for example email addresses and phone numbers.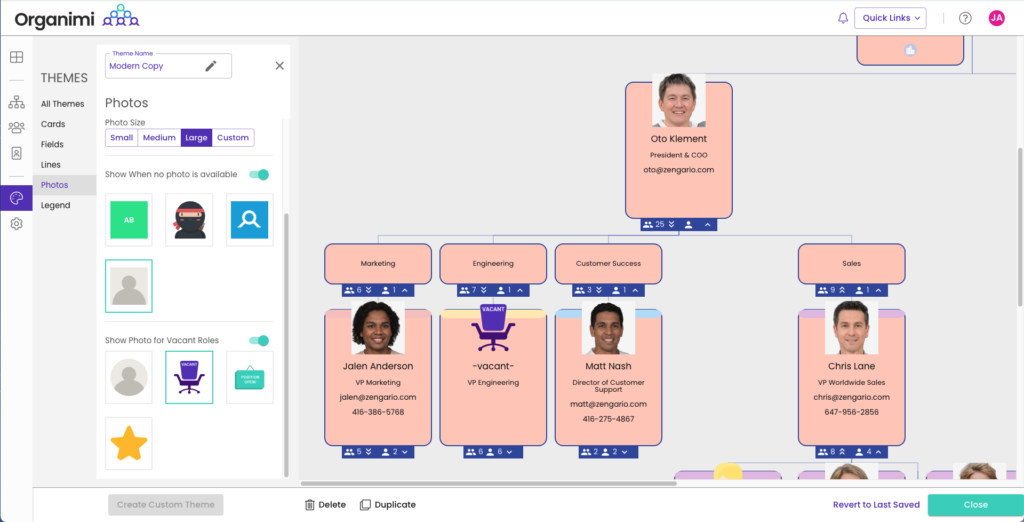 This feature is particularly useful if you want to create different organizational charts that serve different purposes, such as project planning or onboarding.
2. Customize with Theme Options
We have created a range of popular theme options that can be used out of the box. While our four default themes—Classic, Classic Dark, Modern, and Modern Dark—will fit the needs of most users, there is the option to customize each base theme and finetune it to your liking.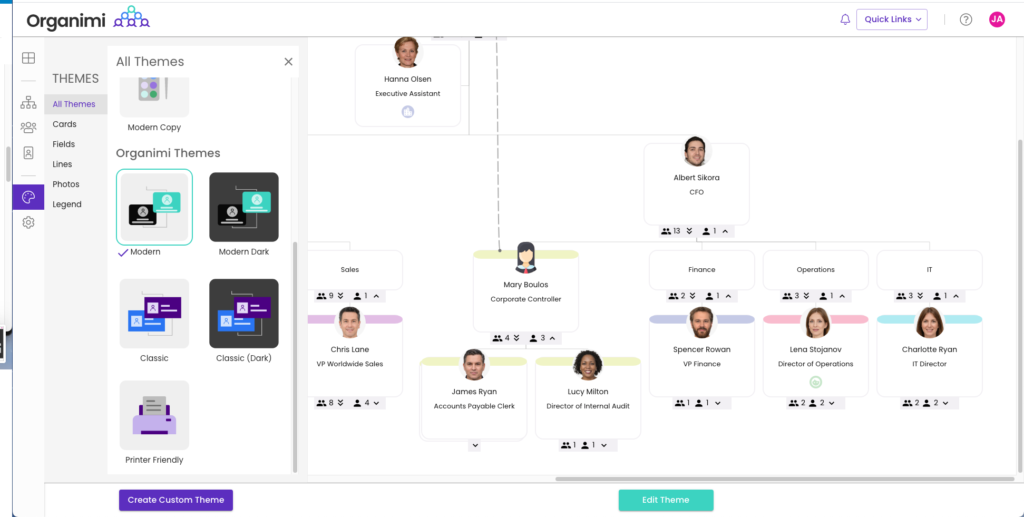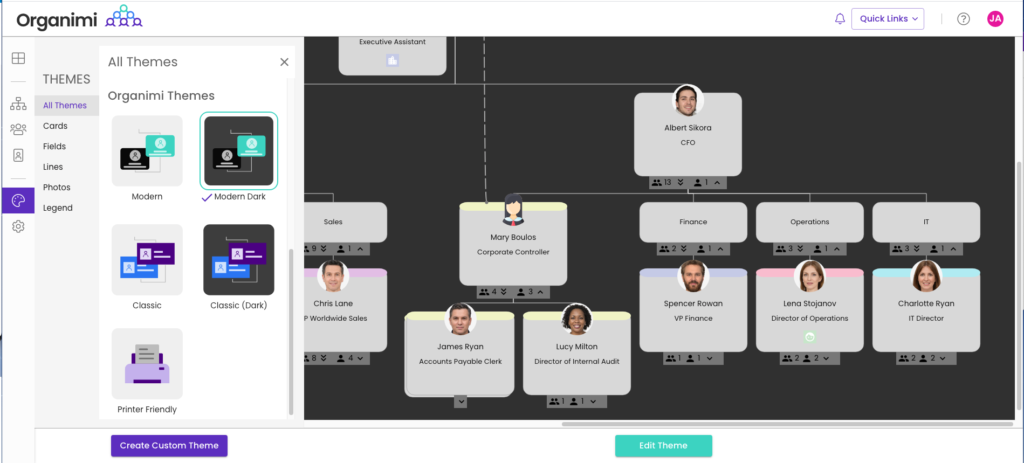 Photograph borders and size, background colors, logos, frames, custom fields, card shapes, lines, and more are all completely customizable from our powerful cloud-based platform.
3. Align with Your Branding
You can customize your Organimi organizational chart so that it matches up with your corporate branding. Colors, typography, logos, and more can all be adjusted so that your org chart is consistent with the rest of your company's branding.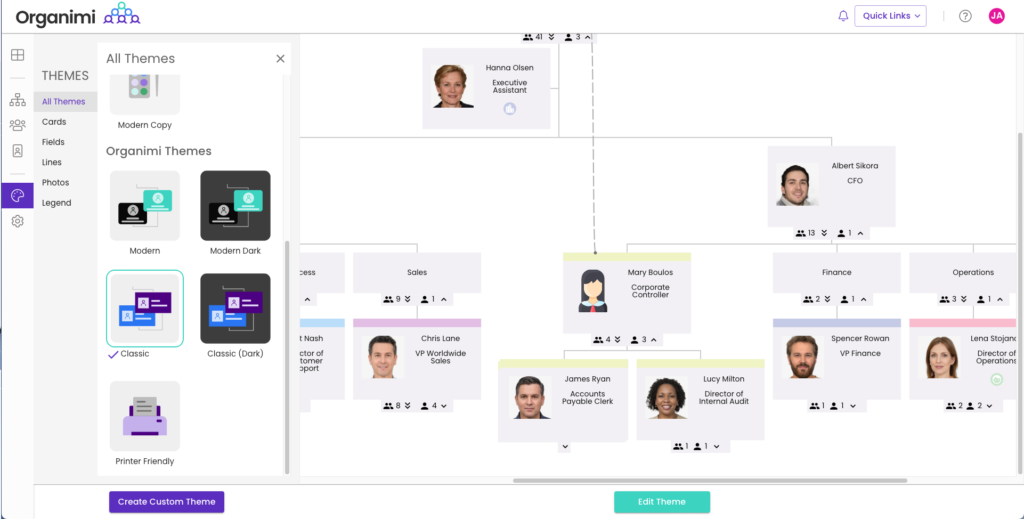 The default Organimi Classic theme gives you a blank canvas on which you can build powerful organizational charts that fit in naturally with your existing corporate messaging.
4. Show off Your Culture
Organizational culture has the power to make or break businesses both big and small. It is far more than just a buzzword and firms that have a positive culture are keen, for good reason, to do all they can to show it off.
Organizational culture captures everything, and it is how a business cultivates organic growth by giving each employee a voice, encouraging positive attitudes, and promoting strong work ethics.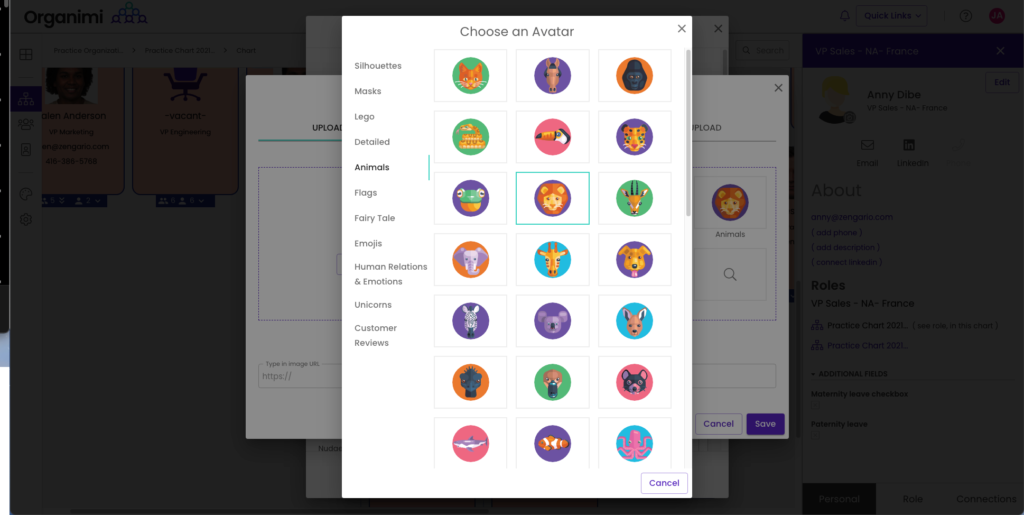 Using an Organimi org chart, it is very easy to allow your positive organizational culture to shine through by utilizing custom fields, avatars, colors, pictures, and more to let the individual personalities of your employees shine through.
5. Show Where People Are Based
You can also customize your organizational chart to include country flags to showcase where in the world your remote workers are based.
This can give employees an idea of when colleagues and teams in other parts of the world might be working. If nothing else, it's a great starting point for ice breakers and conversation between colleagues when meeting one another for the first time.
Why not try all this out and more by signing up for a 30-day, zero-obligations free trial of Organimi?