An organizational chart is a tool that exhibits the internal structure of any organization. Executives, managers, supervisors, and team leaders would have their names, photos, and positions displayed here and, some times, their contact information as well. Organizational charts also show how each department is related to each other and the hierarchy of reporting.
There are different types of organizational chart such as the mechanistic (this is the most common) and the organic (this has a more flexible approach to an organizational structure) types.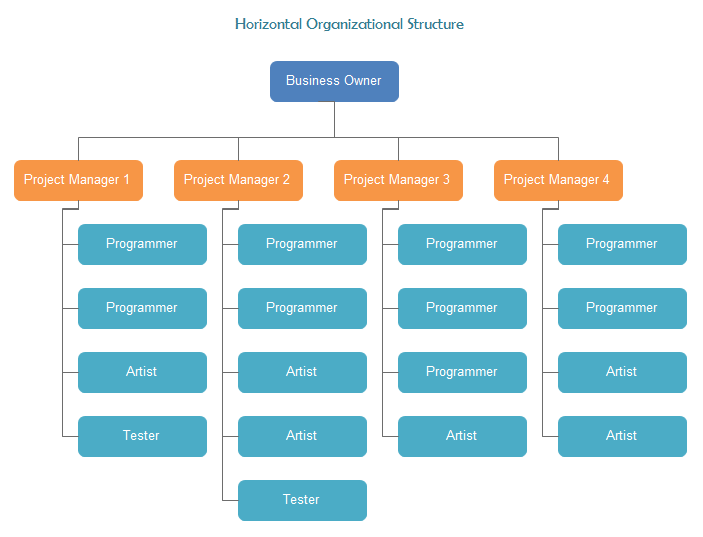 An example of an organizational structure.
Regardless of the type that is suitable for an organization, charts are important because they give a clear view of the flow of command. It can even serve as a guide to workflows. Apart from that, it can impact long-term planning, restructuring, and goal alignment. 
Organizational charts are more than boxes, photos, names, labels, lines, and arrows, though. Because if you think of it that way, it makes the process of creating an org chart easy. It may be if you have the time and the resources to arrange everything in a spreadsheet or something similar. But that has its pitfalls and limitations. If you want to avoid those, you may want to start thinking about investing in an organizational chart solution. 
Wondering what you would get out of it? Take a look below at the seven ways technology can simplify organizational charts. 
1. Easy Organizational Chart Creation
With the advent of cloud-based and mobile technologies, organizations are using many of those to simplify tasks and processes. However, there are still facets of a company that remain manual, such as the production of organizational charts. 
It starts with a paper sketch at times before names and photos are added on a spreadsheet. This is a time-consuming procedure that can also lead to errors as to who belongs where and which group should be under which department. 
But with technology like a web-based organizational chart software, the whole operation is simplified. That is because you have access to user-friendly and intuitive tools that let you add labels, names, and photos to a chart with ease. This is especially true if the editor you chose has a drag-and-drop function. This means you only have to point-and-click to arrange elements on your org chat, thus saving you a lot of effort and time. 
2. Seamless Version Tracking & Updating
Organizations are dynamic and they are ever-changing in nature. In fact, the average annual turnover rate in organizations is 15% in the United States, according to an article by the National Business Research Institute. That is why organization charts are always undergoing revisions and updates. But doing that manually is an arduous task and because it takes a lot of effort, many organizations fail to update their charts whenever a development occurs. 
Apart from that, even if the HR is proactive in ensuring that organizational shifts are reflected in the chart, they expend plenty of energy. This is because they have to make sure that details are accurate. They do this by exchanging emails with multiple people who can create workflow blockages by their late replies. 
But with an organizational chart maker to facilitate updates, concerned parties can work simultaneously on an org chart file. An administrator or a team leader can even ensure that people are editing the latest version to avoid a waste of efforts. As a result, changes are applied rapidly and are verified for accuracy speedily too!
Additionally, technology for creating org charts streamlines collaboration because new people can be looped at any time. And if necessary, other individuals can be removed and their permissions for executing actions revoked. 
3. Customized Views for Each User
People always like to arrange things to suit the way their work or their personal preferences. The same goes for viewing organizational charts. If you work with a spreadsheet, everyone is limited only to a single view: the one that you create. This can affect the productivity of workers because they would need time to familiarize themselves with the chart as well as to find the right department, group, or person. 
To remedy that, you can choose among the best org chart software that provides different views. This allows every user to tailor the way the org chart is displayed on their screens so that they can find the person they are looking for with a single glance. 
Furthermore, having alternative viewing options lets you tailor the org chart to the type and size of your organization. After all, one size does not exactly fit all and that applies to this case as well. 
4. Intelligent Legend Display
How is this person significant to the organization? What is their employment status? You can answer these questions and more effortlessly with an org chart software. This is possible because such applications enable you to add relevant information to a person's photo or name. 
But it does not mean that you have to spell it out. Instead, you can use intelligent legend displays that apprise a person regarding an individual they are looking at. This is very helpful in decision-making, such as when determining whether a person requires a contract extension, to be promoted to full-time status, and more. 
5. Effortless Organizational Chart Sharing
An organizational chart is not for internal use only. It can be beneficial to display it in a prominent space, such as the organization's website, social media accounts, or digital display boards. 
Unfortunately, if you are relying on something like Excel to create and organize your org chart, it is a difficult thing to present it to the public. You might even need the help of a graphic designer to produce a display-friendly version. And this can be expensive as well as tedious. 
An organizational chart application can change that since all you have to do is copy lines of code that you can paste on your website's HTML or CSS. You can even customize certain aspects of the chart, such as its size, before you click the publish button. Once you do, customers, vendors, and other individuals and groups only have to consult the org chart on your website to find the right person to speak with. 
6. Fast Exporting & Printing
Pamphlets and similar business materials remain popular in organizations because they are mobile–employees and executives can give them away easily. And in the case of meeting vendors and clients, these can come in handy, especially if they have org charts, because they let people get familiar with the organization and the people behind it. 
When you have a modern and robust organizational chart software, exporting your existing charts is as easy as clicking on a single button. You would even have the option to convert the chart into a PDF, a PNG, a JPEG, or into any other image format. As such, you can meet the requirements of your printer without a problem. 
7. Reserve Hypothetical Organizational Charts
If you are looking forward to expanding or to merging/acquiring another organization, having a hypothetical organizational chart could help with your planning. You could easily see where people fit in the scheme of things and ensure that groups are not displaced or misplaced. This way, you can transition new members of the organization and integrate them into the company without a hitch.
Apart from that, a hypothetical org chart helps you avert crises. This is because you can identify inefficient groupings and optimize team sizes before you implement changes. 
How to Choose the Best Organizational Chart Technology for Your Company
There are numerous org chart software in the market that choosing one for your organization can be a task in itself. However, you can make it easy by asking yourself what you want out of an organizational chart solution and how much you are willing to pay for it. After all, each application has different features and quirks that can be attractive or unpleasant to an organization. That is why before you click the buy button, you have to determine which one suits your needs best. Thus, you can be certain that later on, you are running the right software.