If you work as part of a wider team, you've probably got some experience of project management. If you've ever led a team, then you definitely do. You can probably also appreciate just how indispensable that it can be to the overall success of a project. That's why so many organizations include dedicated project manager roles in amongst their ranks; it's paramount to business.
That being said, you don't need to occupy the role of a project manager in order to end up overseeing one. Indeed, if you've found yourself reading this, you've likely also found yourself unexpectedly spearheading a new project that you feel somewhat out of your depth for and are looking for ways to get off to the best start. That's why we've put together this brief lowdown of seven project management tools that could help you do just that.
But first, what is project management?
Project management is the process of overseeing and leading the work of a team to achieve all project goals within the given constraints, from the initial stages through to completion.
Strong and effective management comes down to keeping track of all aspects of a project and ensuring that everyone involved knows their roles, what their tasks are, and when they need to complete them by. Without this information and efficient organization, any project will be doomed to fail.
Ultimately, project management boils down to managing individual steps so that the whole project becomes a success. Although this is a lot of work, it's effective project management that's enabled some of the world's leading organizations perform at their best and dominate their competition.
The importance of project management tooling
Effective project management comes down to keeping track of every aspect of the project and making sure everyone knows what their roles are and what needs to be completed by when. This is a complex undertaking.
As such, organizations need a reliable system for planning and executing all project management processes, and for communicating properly with those involved in a project. This meant that for a long time, project management involved putting pen to paper for everything, building endless spreadsheets, sending way too many emails, and using lots of disparate messaging systems and information sources, among other things.
Over time, however, modern project management tooling has been developed to make it easier for everyone involved in a project to communicate and collaborate through, typically, a web-based, interactive platform where it's possible to send messages, keep track of tasks, upload and share files, manage multiple projects, schedule meetings, and more.
7 Great Project Management Tools
The number of project management tools has exploded in recent years, making it more difficult to choose the right one for your use case.
To help you overcome this, we've compiled our quickfire overview of seven great project management tools with a brief look at their features and what they can be used for.
1. Organimi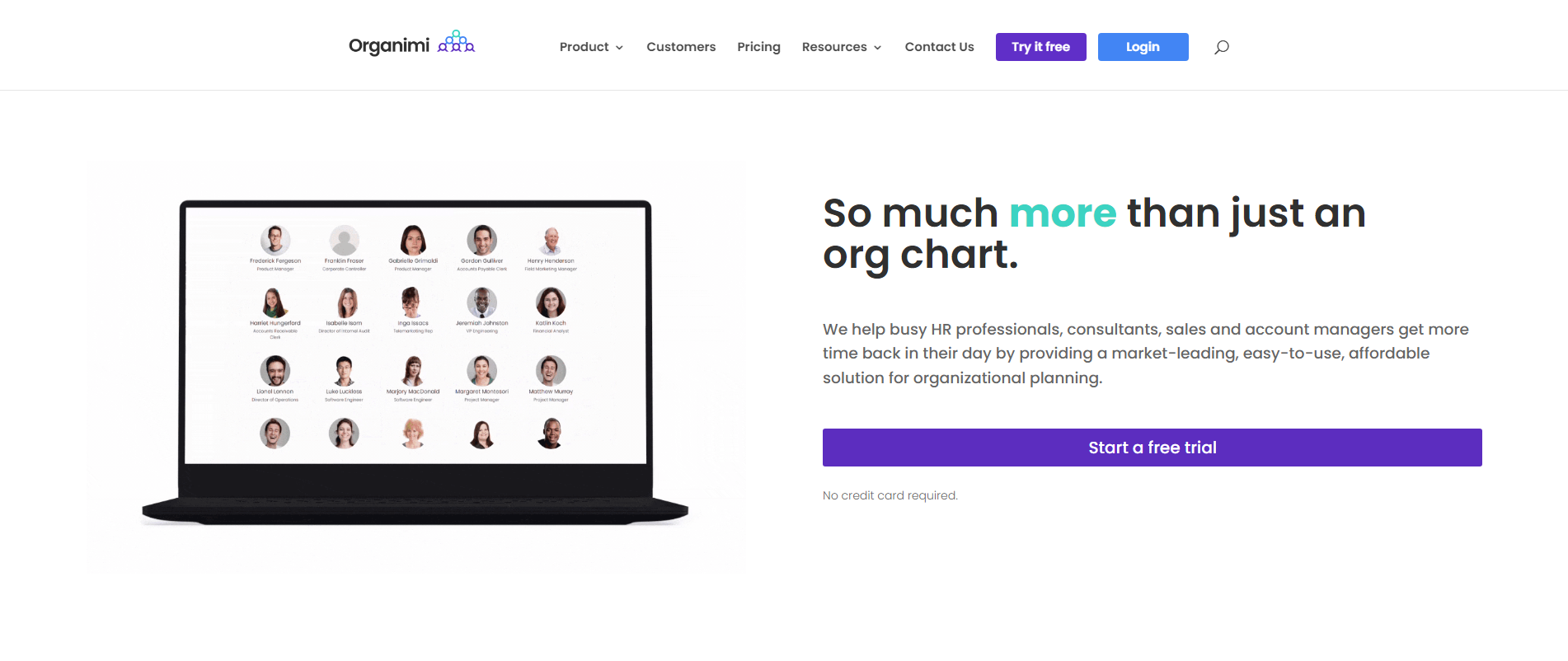 Organimi is the market-leading tool for organizational design, project planning, onboarding, and more. Our powerful, closed-based organizational chart platform makes it easier to plan, connect, and collaborate with your team, no matter where they work.
Build your own project planning chart in minutes by importing a CSV or Excel file and watch it come to life or, if you prefer, build your chart manually using our intuitive drag-and-drop interface.
Share it privately with select individuals or company-wide in a single click, choose whether to give users editing or viewing rights, and define which fields you would like to display while keeping others private.
Integrate using pre-built solutions using Microsoft (Azure, Excel, PowerPoint, SharePoint, Office 365, and Teams), Google Workspace, and Salesforce, or connect to any HRMIS, ERP, or other business productivity application using the Organimi Connect API.
Organimi Project Charts
One of Organimi's most powerful project management features is Project Charts (also known as Matrix Charts in app).
Organimi Project Charts can be used to compare two or more elements within a single group, helping project managers identify how elements and information relate to one another, and the strength of those relationships.
Here's an example of a basic Project Chart in Organimi: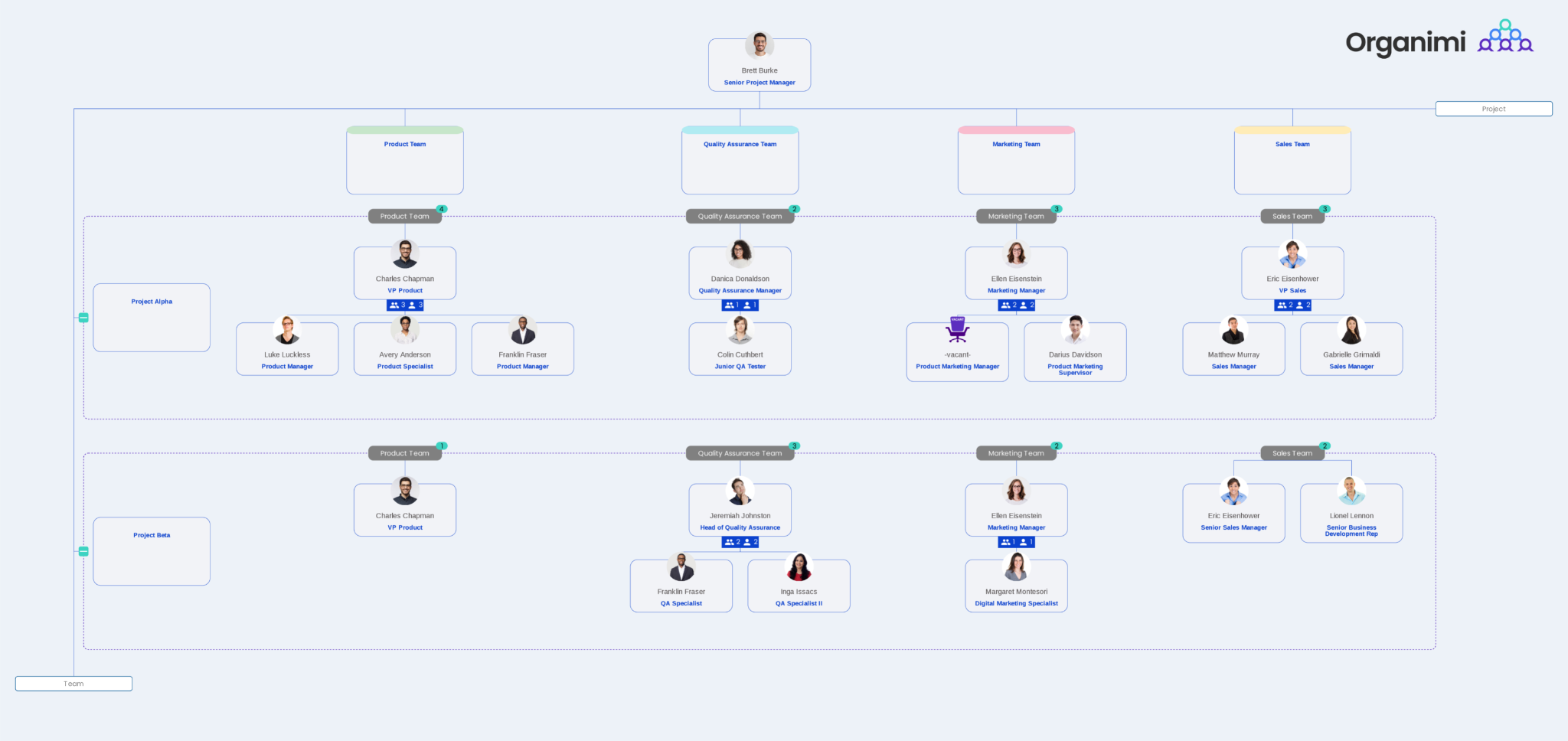 The information you include on the chart is up to you. This includes, but is not limited to, data, functions, concepts, people, equipment, tasks, and actions. The shape of your project chart will depend on the number of elements that you want to compare.
Project charts are a very effective way of visualizing complex relationships, enabling project managers to identify the different ways that elements interact and depend on each other in order to make better decisions and improve processes.
What Organimi does well:
Easy data import and direct integrations with Organimi Connect

Drag and drop functionality 

Ability to display vacant roles in teams

Custom fields to display all kinds of information (attachments, location, checkboxes, picklists, url links, dates, etc.)

Easy and robust sharing and printing options
Try Organimi now and decide later with a free trial, no commitment or credit card required.
2. Asana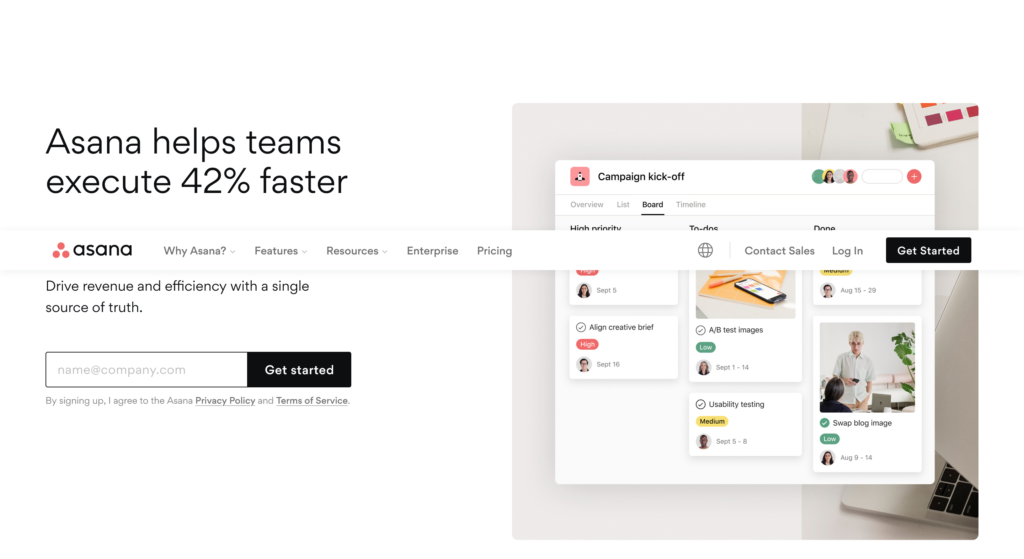 Asana is a dynamic project management tool. It's popular among organizations because of its user interface that is simple and easy to use.
Users are given lots of flexibility over how things look and can move their task lists around very easily. Users also have access to an activity feed on their dashboard to help them keep up with what their team members are up to.
Asana's visual project timeline feature is a sort-of Gantt chart builder. It highlights task due dates, assignees, and progress over time. However, if you're looking for a true Gantt chart, you'll need separate Gantt chart tool.
What Asana does well:
Project timelines for simple workflow management

Tons of helpful integrations

Drag and drop functionality for task management
3. Trello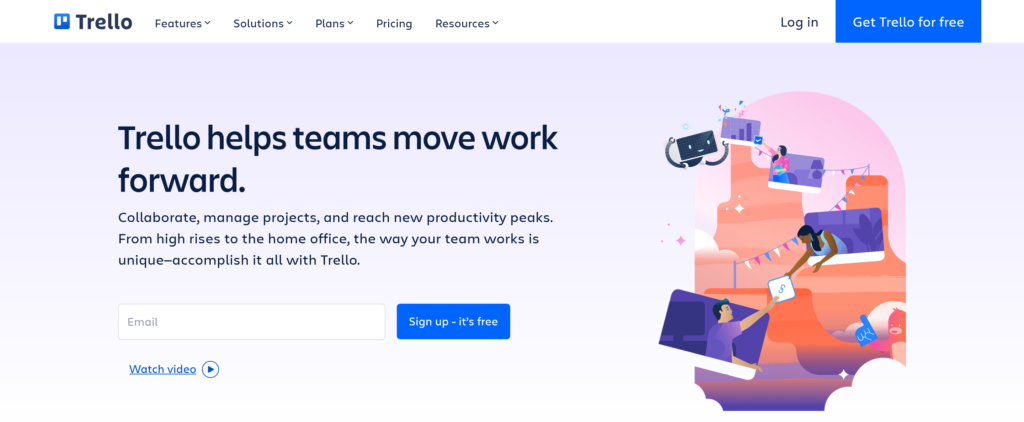 Trello is a very simple project management tool. Trello is known for its cards which work like sticky notes. And just like sticky notes, they're handy in the short-term, but if you're looking for something more robust and longer-lasting then you'll have to look elsewhere.
Trello works by assigning a 'Board' to each task. A project manager can access these boards from their dashboard and make any changes they want, adding custom fields, tags, due dates, documents, and more. Tasks can be dragged and dropped around each Board, adding an air of ease to task management.
What Trello does well:
A simple and user-friendly interface

Easy task management and scheduling

'Power ups' for added functionality
4. Monday.com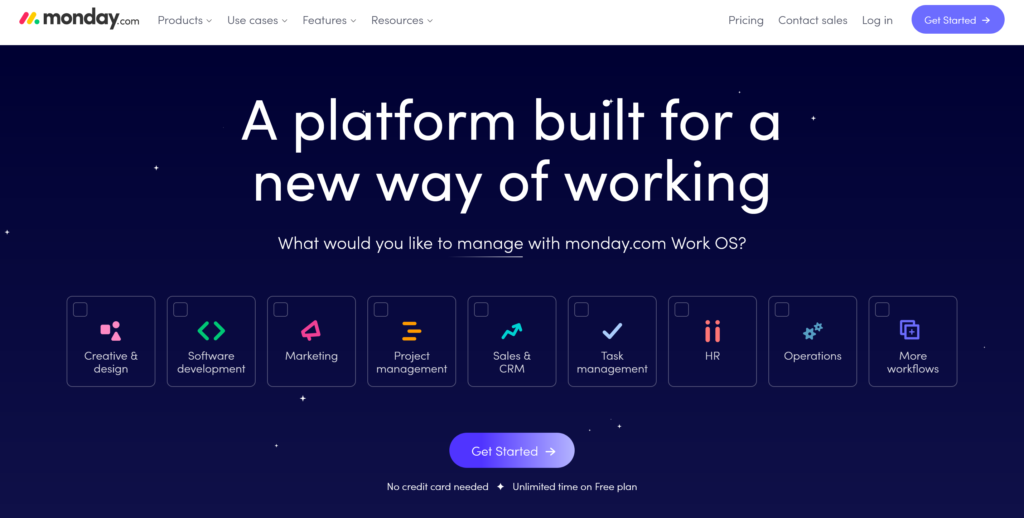 Monday.com is, despite being named after everyone's least favorite day of the week, a very popular online project management tool. One of its most lauded features is its comment sections, which teams can use to provide their ideas, discuss project tasks, and share files with ease.
You can integrate Monday.com with a wide range of products, including Dropbox, Google Drive, and Zapier. What makes Monday.com unique, however, is its open-source framework which enables developers to build and add their own custom integrations for limitless functionality.
Also unique to Monday.com is the ability for Twitter and LinkedIn threads to be followed through the app, enabling teams to stay completely up-to-date with corporate goings-on.
What Monday.com does well:
An Open API which allows custom integrations

Ability to add third-party users (e.g., freelancers)

Detailed reporting capabilities
5. Wrike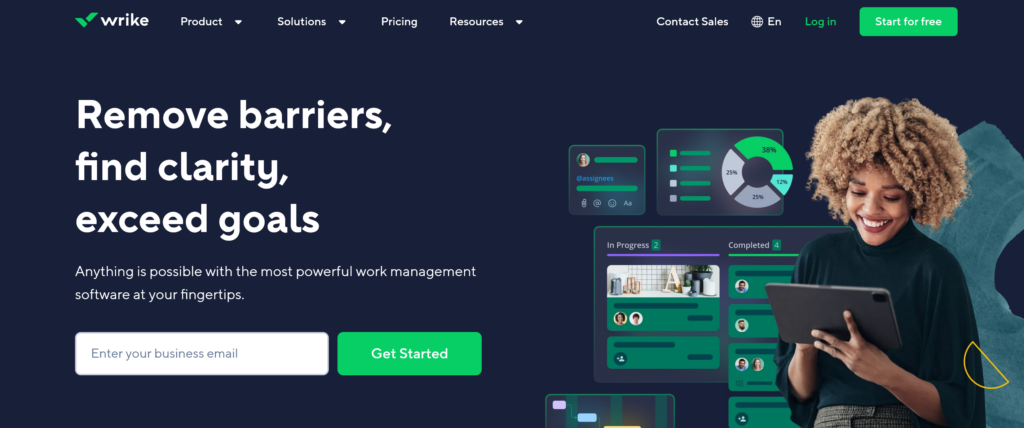 Wrike makes it easy to communicate with your team through 'best-in-class' collaboration. Wrike also comes with a document management tool and lots of different communication features, such as the ability to set up priorities for which tasks need to be completed first. If you already use Outlook, iCalendar, or Google, you can even sync your tasks or your milestones to keep everything working together.
Wrike also boasts powerful analytics that provide project managers with detailed insights into their projects and team. One of these is the global report tool, which analyses task data from past projects over eight different categories. Another is the performance chart, which provides a graphical representation of a project's progress over time.
What Wrike does well:
Provides lots of features such as time tracking and file sharing

Very detailed reports and insights

Enables collaborative team editing
6. Workzone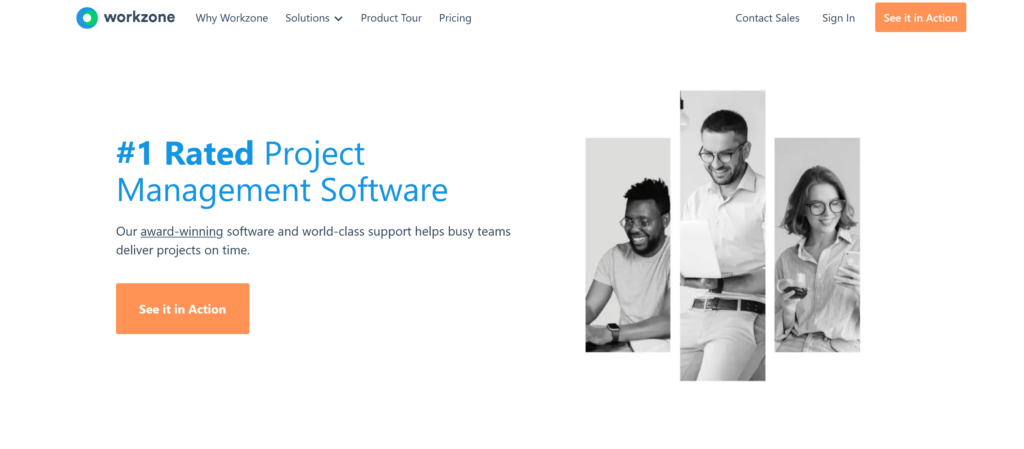 Workzone has been around for more than two decades, but that doesn't mean it's irrelevant. It's very good at what it does and is ideal for project planners who want a simple web-based software that takes care of basic project management tasks efficiently.
All projects in Workzone can be handled from a centralized project dashboard where users have an immediate overview of their status, tasks, due dates, and who's involved. For some people, that's the extent of the features and functionality that's needed—and that's OK!
What Workzone does well:
Very simple and straightforward project management

Sufficient reporting capabilities for basic use cases

Thorough to-do list functionality
7. Instagantt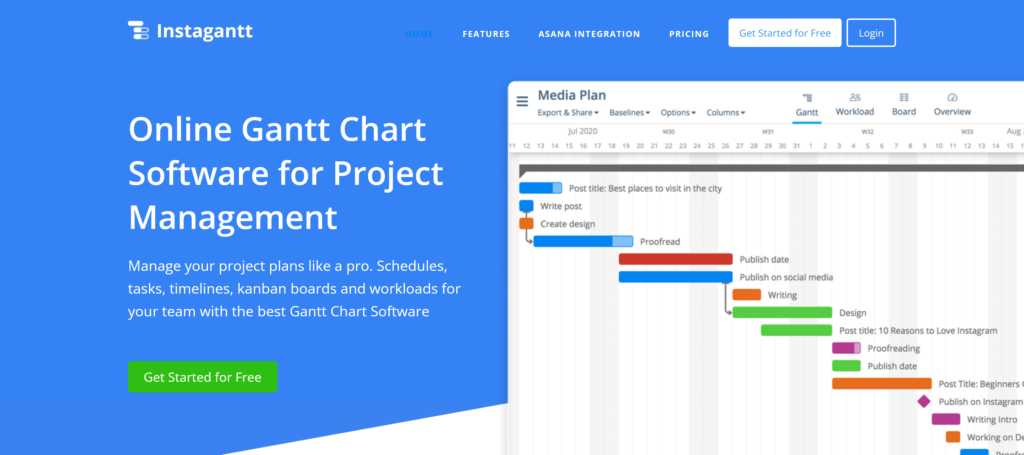 Instagantt is an online Gantt tool that is the way to go if you're looking to built Gantt charts. Instagantt makes it easy to link schedules from other sources and is designed to plug directly into Asana, although users can still get a lot out of the tool even if they're not using Asana.
Using Instagantt, you can create a variety of timelines and tasks, as well as manage and monitor your teams' workloads, and see everything in a format that works for you and your team.
What Instagantt does well:
Provides a Gantt and workload view

Public snapshot sharing options

Users can create projects and workspaces