Want to boost HR productivity within your team? If you work in human resources, you probably know how important it is to find tools that help you to do your job efficiently. Often, those that work in the HR department have a lot on their plates. They are expected to monitor employees, protect their company, and do so while providing documentation and useful materials to your teams that help them to understand the company's policies.
Often, these materials include resources for helping employees figure out who they need to contact and gain an understanding of the hierarchy within the company. But, putting together an org chart and keeping it updated with all new hires and employees that change positions can be very difficult.
Organimi has a few features that can seriously help HR teams to boost HR productivity while providing better documentation to their company. As you look for org chart solutions, take into account the features that Organimi has designed to make things easier for busy HR teams:
Collaborative Org Chart Editing
When putting together an org chart, there is a good chance that you are going to have to reach out to several other people to confirm different data points. Additionally, different departments within a company may experience rapid changes that can quickly make an org chart obsolete.
Organimi solves this by making org charting a collaborative effort. As an account administrator, you can choose who has access to editing features in each document. This is great because instead of relying on your HR team to keep the document updated for the entire company, you can get help from each individual department.
Organimi makes it easy for HR teams to turn org chart maintenance into a collaborative effort with a member of each individual team or department. This helps to ensure that your chart stays updated regularly, and doesn't rely on a single person to carve out time for making changes.
Drag-and-Drop Interface Makes Building and Editing Simple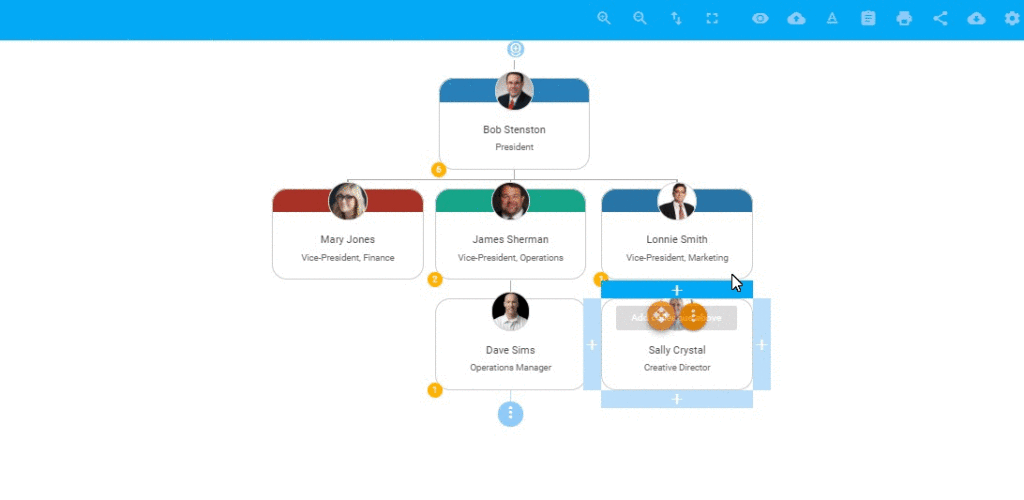 One of the best features of Organimi is our intuitive drag-and-drop interface. This makes it easy to create and edit org charts without requiring technical training to do so. You can easily move roles around or update people within the org chart to reflect changes within your organization.
This also syncs well with the collaborative features. HR team members can share editing duties for their org chart without having to worry about whether or not the person that they are sharing it with will be able to understand how to use the software. Organimi's org chart software is designed to be simple to use.
Custom Fields for Unique Organizations
Not every organization is the same. Some use unique communication channels or prioritize certain data over others. Organimi features a custom fields feature, which allows you to highlight the most important org chart data for your own organization. This also allows for you to display more data in general about the people that you work with. You can create and attach custom data fields to your member roster and display them by default on your org chart.
If you want to display specific contact information for the channels that your company prioritizes — such as Skype, email, phone numbers, or social media profiles — you can put that front and center on your org chart. Being able to customize your org chart with the most important operational data makes it easy for your employees and stakeholders to find the information that they need.
Easy Sharing With Your Teams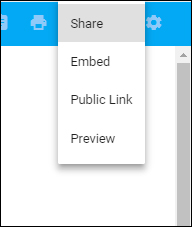 One of our most popular features is the ability to share through several different mediums with the click of a button. There is no need to load up Excel, Photoshop, or another program to put the finishing touches on your org chart before sending it out.
Organimi allows you to share your org chart through email, or create a unique URL for an online version of the org chart that you can share internally. Then, you can invite other users to view or edit the document through email. You can also allow the people that you send the org chart to, to share it with their own teams internally.
An org chart is only useful if it is accessible and freely shared among your company's internal teams. We've done our best to remove the barrier between creating, editing, and sharing an exceptional org chart by giving you a number of different options for sharing within your teams.
Automatic Imports from CSV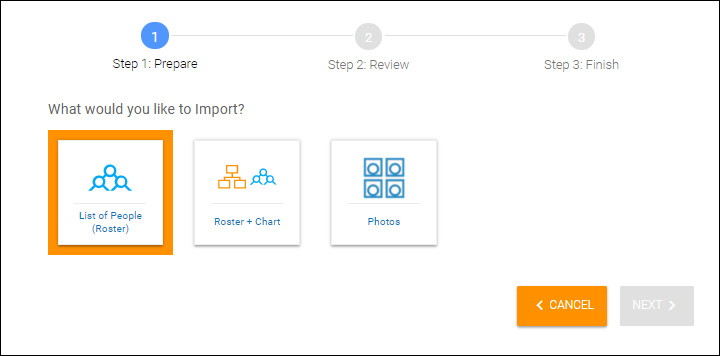 If you just have a CSV data file of your employees or internal organizational structure, it can seem like a daunting task to put together an org chart out of it by hand. It would take hours, days, or even weeks in large organizations to recreate all of that data inside your preferred org chart development software. But with Organimi, importing data files is easy.
In Organimi, you can automatically important Excel CSV files of your employee lists. Our system automatically imports all of the different columns in your CSV file, giving you access to all of the necessary data. This data includes the hierarchy within your organization. With a properly setup CSV file, your org chart can be created with just a few clicks of the mouse, helping to boost HR productivity and make the creation of org charts simple.
Boost HR Productivity Without Sacrificing Quality
Org charts can take a long time to put together, especially when you work for a large company. Large companies may even have to put org charts together for each individual department or team, which can mean that HR teams may be in charge of creating dozens of different org charts in a short period of time. Between our simple drag-and-drop interface, CSV importing, collaborative editing, and advanced sharing features, we make it easy for teams to not only create good looking org charts but keep them regularly updated to reflect the status of your company.
With Organimi, you can create excellent org charts on the fly without sacrificing quality. Or system produces great looking, high-quality documents in minutes. Normally, putting together an org chart by hand may take hours or even days. HR teams from some of the largest companies in the world use Organimi to produce consistently updated org charts that help new hires and stakeholders to connect with co-workers and understand organizational hierarchy.