Org charts are nothing new: organizations have been using them long before the invention of the computer. That said, technology has played a pivotal role in making them a more accessible and viable tool for businesses to use as a means of illustrating organizational structure to show hierarchy and the division of responsibilities.
As organizations have grown more complex, technology has allowed org chart tools and software to evolve too. Today's live and dynamic technology-backed org charts are not just used to report relationships but also track projects, house up-to-date information about individuals and teams, and other useful things that otherwise wouldn't have been possible.
Over the last few decades especially, org charts have transformed from badly drawn illustrations on a whiteboard to live, dynamic digital tools with collaboration at their core, and their potential is limitless.
Today, organizations both small and large make use of org charts in recognition of the immense benefit they can deliver, such as:
What is a 'Live' Org Chart?
By 'live' org chart, we mean any org chart that is tech-based and features characteristics like shareability, compatibility with third-party integrations, design flexibility, and collaboration. Virtually all of the org chart tools available on the market let you make live org charts. Organimi, for example, comes with features like:
Third-party Integrations
Being able to integrate org chart software with a range of platforms ensures that a live org chart is always up-to-date and reflective of the organization's current structure.
Unlike traditional paper or file-based org charts, a live org chart like Organimi can integrate with a range of platforms and tools such as Microsoft Azure, Office 365, G-Suite, BambooHR, Paycom, QuickBase, LinkedIn, and more. These integrations make the live org chart a lot more useful than a file-based chart that sits on someone's desktop and only gets updated once in a blue moon.
In addition, a live org chart is accessible from anywhere, so both management and employees can view it no matter where they're located.
Flexible Design Tools
Not every organization adopts a hierarchical structure; today, organizations can be based on geographies, business segments, product, customer, include dual reporting relationships, and more. It's therefore important for a live org chart to feature flexible design tools and options so that a company's structure can be expressed accurately and in a variety of different ways.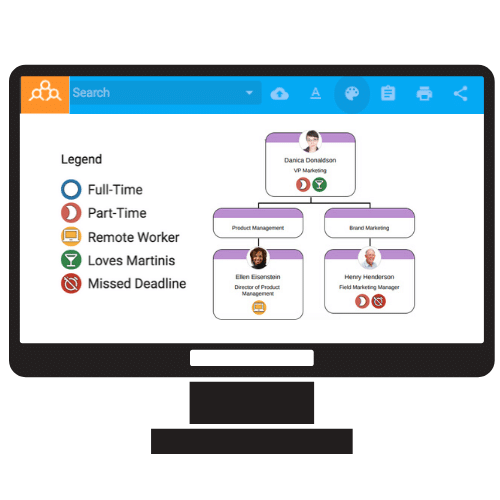 Organimi's flexible design tools allow the seamless building of org charts that reflect an organization's structure. And this can be done in a matter of minutes when importing .csv or Excel files.
Live Employee Profiles
A live employee directory with up-to-date profiles provide employees with more ways to learn about each other and find out who their colleagues and managers are. This makes it much easier to figure out where to go for information, or whom to ask.
Live org charts don't just display employees' pictures and names but also their contact details, key responsibilities, specialist skills, education level, and second languages.
In Organimi, the unique SmartChart Legend feature makes it possible to help visualize information on charts and create and attach custom fields. This is made all the more appealing with flexible formatting and branding options.
One-click Sharing
Live org charts are only as good as they are seen. If you're the only person viewing it, you're not going to get much utility out of it.
In Organimi, you can share your org charts wherever and with whomever you choose with a single click. Select individuals or distribute it company-wide with permissions that can be set on an individual, group, or company-wide basis. You can also choose who sees what and select which fields you want to remain private.
How Live Org Charts Can Benefit Your Organization
As a rich source of up-to-date and valuable information, live org charts deliver a wide range of benefits to both employees and the company itself.
1. Presents a Clear, Unambiguous Structure
Live org chart tools enable the building of clear organizational structures, providing the employees who use them with a clear reference for finding out who's who. In this way, it's a clear representation of the true, often complex structure of modern organizations.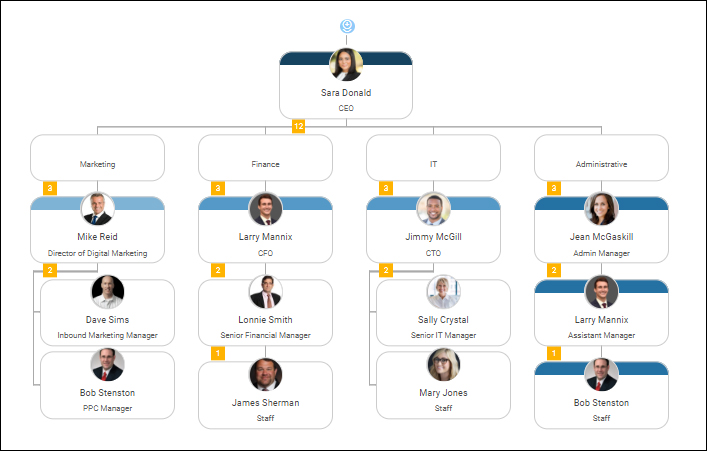 Unlike static file or paper-based org charts that are inherently limited in terms of the layouts that they can represent, live org charts can easily accommodate a range of structures. This allows organizations to not only chart their core structure but also chart ongoing projects, geographic, product, and matrix structures. Live org charts can also display other relationships like dual reporting, shared-role, and dotted-line.
2. Gives Employees the Information They Need
While org charts were once tools designed only for HR and management, this has changed over the last couple of decades. Live org charts are much broader and more powerful tools with use cases that go beyond management and HR to employees on the ground.
For example, live org charts:
Form a core part of the onboarding process for new employees, helping new hires learn names, faces, who their colleagues are, and other important information.

Can be synced with third-party apps, email, calendar, and more so that employees can easily find out when colleagues are available or when their next meeting is.

Feature advanced, searchable directories that help employees new and old find and contact the people that they need. This is especially useful in larger organizations.

Enable the visualization of workloads, such as how many employees a manager is responsible for or how many projects an employee is involved in.

Allow resources to be planned and allocated more efficiently with a live overview of manpower, individuals' competencies, and potential skills gaps.
3. Improves Engagement
Engaging employees is something that most organizations struggle with. However, a live, interactive org chart can encourage employees to share information about themselves and learn more about their colleagues. This helps to instil a sense of belonging and connectedness that naturally boosts engagement.
4. Enable Better Workforce Planning and Skills Analysis
When it's time to plan for growth or rethink an organization's structure, live org chart tools can be used to create different collaborative versions of potential successive structures. These can then be shared among leaders and, where appropriate, the wider workforce to give a larger group of people the opportunity to provide their feedback on any decisions before they're finalized and rolled out.
Live org charts also help workforce planning and the analysis of skills and skill gaps. As they provide a real-time top-down overview of organizations, live charts let management see available resources and plan for upcoming projects. They can also be used to visualize where certain teams or departments are short on talent or are suffering from skill gaps, thus informing recruitment efforts.
5. Supports Company Culture
A company's culture has many parts: vision, values, community, communication, consistency, structure, people. A live org chart supports all of these and more in many different ways by providing a live, integrated tool for better communication and collaboration between employees.
Not only can live charts be used to search for people and find out who they are and what they do, but they help employees put names to faces, find out about hobbies and interests, share information about themselves, and learn more about their colleagues. This free and easy sharing of information naturally drives culture and lets employees get to know one another in their own time.  
Learn More About Live Org Charts
We could talk all day about the things that make live org charts the powerful and priceless tools that they are, but why not find out for yourself? Sign up for a free trial of Organimi today and start putting information into the hands of your own employees.