Org Charts for the Sales Professional
Sales is the lifeblood of any business, and those tasked with making them face many challenges. One of the biggest challenges faced by today's sales professionals is being able to access comprehensive and up-to-date information that helps them better understand not only their products and customers but, in large and geographically dispersed sales teams, their colleagues too.
This is because our modern, digitally connected world moves quickly; everything is dynamic and things can change dramatically over the course of a few days or, in some cases, hours. Therefore, being able to quickly and easily access the right, up-to-date information is critical to anybody working in a mission-critical role, not least sales.
When it comes to prospecting and sales, org charts can be powerful and valuable assets for all of this and so much more. Whether you are a sales manager in a large, fast-growing organization who is challenged with overseeing and growing a high-performing sales team or are part of a small, localized sales team challenged with selling a complex product or service, org charts and org chart tools can be deployed in various ways to boost the sales process.
The Sales Org Chart Uses
A sales org chart is usually used to illustrate the inner structure of the sales department in a company. Sales org charts tend to include information about each employee, including their names, roles, and contact information. It is a dynamic tool that evolves as changes in the organizational hierarchy happen.
This is not the only use case, however.
Org charts can be used in any number of ways in sales, from mapping out internal sales team structures to mapping out the structures of prospects' own organizations, sales processes, and more. Here are three ideas for how org charts can be used in the sales process, starting with internal sales team org charts.
Using Org Charts for Internal Sales Team Structures
For larger organizations with dispersed talent, perhaps the most important sales org chart is that of their own internal teams. Organizing sales teams by their geographic location or territory enables each salesperson to develop familiarity with not only their own team but those in locations close to them.

By knowing who's on their own and neighbouring teams, especially where individual sales teams work across different offices or remotely, it becomes easier for sales talent to get to know their regional competitors and build relations with local businesses through knowledge sharing and internal contacts.
Internal sales org charts can take many forms, too. Is your team based in a single location but has different sub-teams managing different products, customer accounts, or verticals? They can be used in these scenarios, too!
Using Org Charts for Prospecting
Often in sales, it is very important to know who to approach, especially when you are making a cold sales pitch and have no prior relationship with the person or company you are approaching. Therefore, another useful way to use org charts within the sales process is to map out the organizational structure of your prospects.
This allows you to identify key stakeholders and build multi-threaded relationships so that if one person goes dark, stops responding, or leaves the company, you have somebody else to approach. Each time you identify a stakeholder, copy them into your correspondence so that if you do need to approach them, they won't be blindsided.
Other benefits of using sales org charts for prospecting include:
Being able to identify cross- and up-selling opportunities.

Having an easy point of reference of stakeholders and their contact details.

Having multiple points of contact for other prospecting opportunities.

Knowing who is in charge or who the most influential people are.
Using Org Charts for Different Industries and Verticals
If your product or service is used by differently by companies in different industries and verticals, it makes sense to use org charts to reflect this by grouping different sales representatives into the industries and verticals where they have specialist knowledge or the most experience.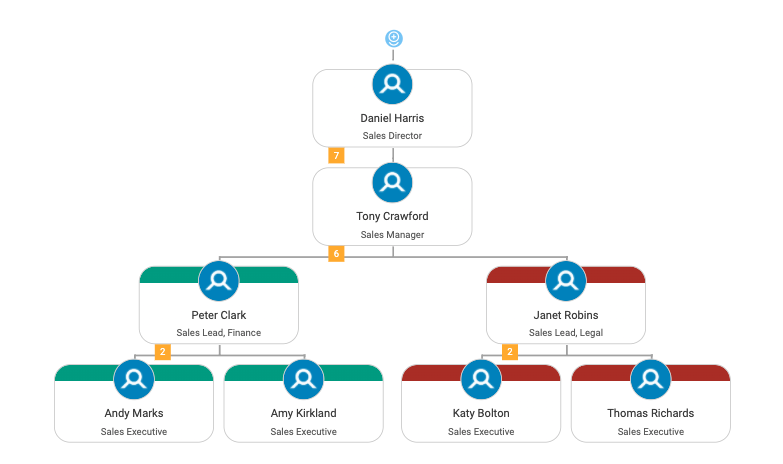 If, for example, you have a specialized product that is used by the finance and legal sectors in two distinct ways, it makes sense to split your sales team into two sub-teams, each with its own team leader with sector knowledge and a small group of sales reps dedicated to it. This will enable your sales reps to make more targeted approaches to prospects, increasing the likelihood of closing a deal.  
Ready to Create Sales Org Charts?
If you're ready to begin realising the power of org charts for your own sales processes, why not sign up for Organimi? Our solution is a seamless drag-and-drop tool, with support for bulk data importing, that can be used to create fully functional org charts populated with your own teams in a matter of minutes.