Microsoft's Organizational Structure
Create this exact chart in Organimi! Scroll below to see how. 
Introduction
Microsoft needs no introduction. The American multinational technology giant serves over 1 billion people around the world in one way or another through its line of flagship personal computers, computer software, consumer electronics products, and their related services. 
Founded by Bill Gates and Paul Allen in 1975, the company employs over 180,000 people and boasts annual revenues in excess of $US161 billion. Microsoft is one of the Big Five American information technology companies, alongside Alphabet, Amazon, Apple, and Meta.
In 2018, Microsoft overtook Apple (which previously overtook Microsoft in 2010) as the most valuable publicly traded company in the world. In April 2019, Microsoft achieved a trillion-dollar market capitalization, making it the third U.S. publicly traded company to be valued at over $US1 trillion following Apple and Amazon. Since 2020, Microsoft has the world's third-highest brand valuation.
Microsoft's Executive Leadership
Since Microsoft's founding in 1975 and until 2000, Bill Gates served as the CEO before stepping down to be replaced by Steve Ballmer who served for 14 years between 2000 and 2014. Since 2014, the position of CEO has been held by Satya Nadella. 
Despite being such a huge organization, Microsoft has a relatively small executive leadership team. This is made up of CEO Satya Nadella and: the President and Vice Chair, the Chief Marketing Officer, the Chief Human Resources Officer, the Chief Financial Officer, and the Executive Vice President for Business Development, Strategy, and Ventures.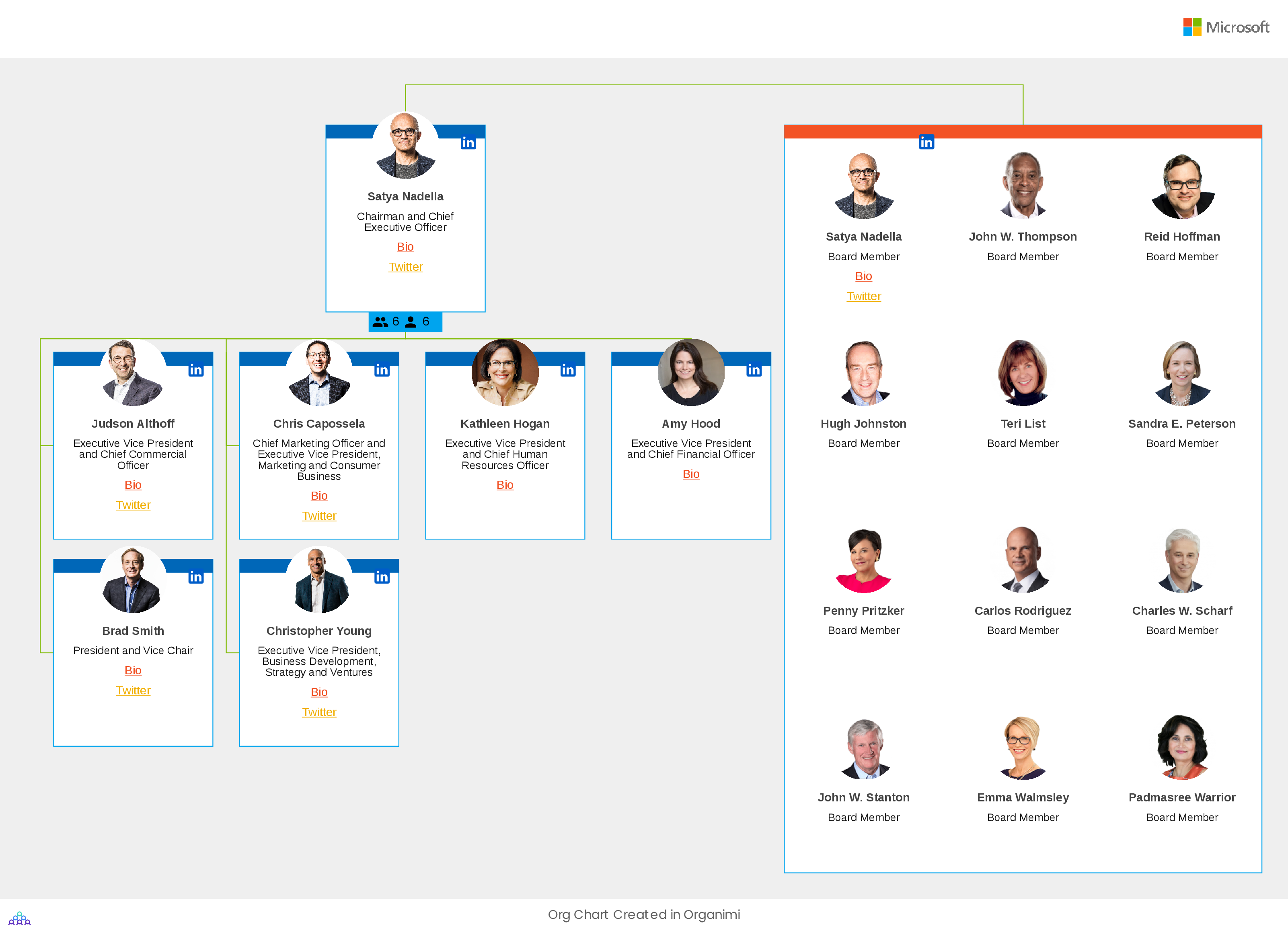 Microsoft's board of directors is mostly made up of company outsiders, which is customary for publicly traded companies. Board members are elected every year at the annual shareholders' meeting using a majority vote system. After stepping down as CEO, Bill Gates continued to serve on the board until March 2020, when he left to focus more on his philanthropic efforts.
Microsoft's Organizational Structure
Microsoft's organizational structure has been described as a divisional, product-type organizational structure based on functional business groups and engineering groups. 
As of the company's latest restructuring in June 2015, several changes were announced that would help to align the company to its strategic direction as a productivity and platform company. 
While Microsoft has become more hierarchical as the company has grown, it has managed to maintain its hybrid approach between senior management, functional business groups, and engineering groups. 
Microsoft's current business groups are divided into nine areas:
Business Development Group

Corporate, External, and Legal Affairs

Corporate Strategy and Planning

Finance Group

Global Sales, Marketing, and Operations

HR Group

LinkedIn

Marketing Group

Worldwide Commercial Business
Whereas its engineering groups are divided into three areas:
Cloud and AI Group

Experiences and Devices

Artificial Intelligence and Research
Microsoft also has two geographical divisions:
United States

International
Under the company's 2015 structure, heads of engineering groups report directly to CEO Satya Nadella. This helps new product development and innovation because it helps new products and services to get to market faster. A clear distinction between engineering and business groups also illustrates Microsoft's focus on its engineering groups which are responsible for building core products and services.
The way Microsoft's organizational structure has been designed also means that there's a wider span of control than what is typically seen at comparable tech giants such as Apple or Facebook (Meta). This means that the company is more centralized, and more subordinates fall under the supervision of individual managers – i.e., those with the most authority – as a result. 
The decision to centralize Microsoft's decision-making was initially introduced by Bill Gates in a bid to keep output standardized, remove the potential for personal biases, and create a unified company with diversified standards – Nadella's decision to keep this set up is a clear sign that it works well for Microsoft. 
If you want to learn more about org structures and the important role that they play in organizations like Microsoft, here are some resources that you can start with:
Create this chart in Organimi! 
You can download the CSV file of Microsoft's org structure, import it into Organimi and start editing this chart right away! Here's how:
 From your dashboard, select Data Import.
 Click the CSV tile.

 Click 

+Upload Your File

.  

 

Select an Excel file from your device.

 In the 

Organization

 field, click the down arrow to select an organization.

Click Create a New Chart

Click 

Next and select: Organization Chart
Select the auto-build tool to automatically build your chart.
Voila!
Download CSV file:


Microsoft (26.19 KB)
Build better org charts with
Organimi.
A powerful, cloud-based platform that helps you create, connect, and collaborate with your colleagues wherever they work.