Facebook's Organizational Structure
Create this exact chart in Organimi! Scroll below to see how. 
Introduction
Facebook—the global social media behemoth—needs no introduction. One of the Big Five technology companies alongside Amazon, Apple, Alphabet (Google), and Microsoft, Facebook is the world's largest social media platform and boasts over 2 billion monthly active users. In addition to its namesake social media website, Facebook owns and operates several other big-name companies, including Instagram, WhatsApp, and Oculus under parent company Meta (previously known as Facebook Inc.)
Facebook is also one of the world's hottest companies to work for, renowned for its strong culture where game days, weekly Q&A sessions with CEO Mark Zuckerberg, and chocolate fountains are the norm. And in 2020, despite the COVID-19 pandemic, the social media company grew its workforce by around 25 percent to more than 50,000. 
Supporting this workforce is an organizational structure that has been adapted to suit the needs of the company's varied information technology and Internet operations.
2021 Facebook Inc. Rebrands to 'Meta'
In late October 2021, Facebook Inc., the parent company of the social media website that shares the same name, announced that it would be rebranding with immediate effect to 'Meta'. 
According to Mark Zuckerberg, Meta brings together Facebook Inc's entire family of apps and technologies under a new brand. Meta will focus on bringing the so-called "metaverse" to life and help people connect within it. 
It's worth noting that this rebrand is just that–a rebrand. While Facebook Inc. has changed its name to Meta, everything else is staying the same; the company has reported that there will be no changes to its operations or organizational structure except for how its financials are reported. 
Facebook's organizational structure
Facebook's org structure is heavily influenced by the company's corporate vision and mission statement, which are translated to the features of the structure itself. 
Unlike most large organizations, Facebook uses a matrix org structure. The key characteristics of the matrix structure help to facilitate the needs of tech-orientated companies like Facebook—creativity, innovation, and the scope to expand and diversify. 
Facebook's org structure can be broken down into three different divisions:
A corporate function-based division/teams

Geographic divisions

Product divisions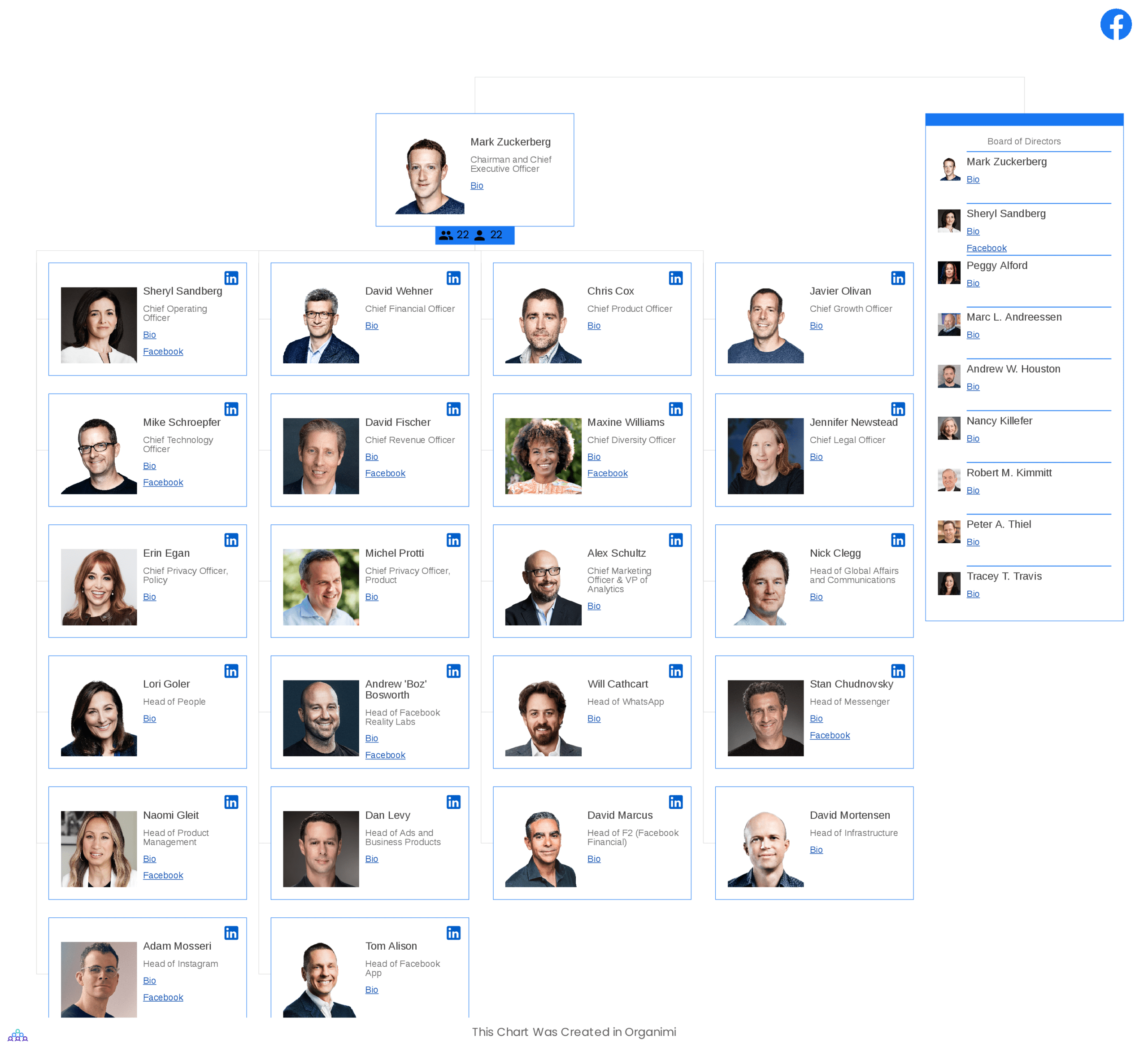 Corporate function-based divisions/teams
Facebook maintains a range of corporate divisions and teams that manage critical business functions throughout the org structure. This is based on the needs of the business as defined by its corporate vision and mission statement. 
Due to Facebook's matrix structure, however, many of the corporate function-based teams have crossovers with the company's geographic and product divisions. For example, the corporate marketing team will work closely with the product divisions and their own product marketing executives. 
The following are examples of some of Facebook's corporate function-based teams:
C-level executives

Operations

Finance

Marketing

Legal

Human resources
Geographic divisions
Geographic divisions are another major element of Facebook's org structure. The company uses four distinct geographic divisions to account for the differences in culture and attitudes to social media in different parts of the world. 
This enables Facebook to address differences in attitudes and behaviors of its diverse audience. Latin American advertisers, for example, tend to use the Facebook platform differently to advertisers in Europe and North America. Other functions, such as human resources and accounting, are also managed strategically at a geographic/regional level rather than globally. 
Due to the matrix org structure that Facebook uses, many of the geographic divisions share resources and managers with function-based teams (e.g., marketing, human resources). Facebook's org structure includes four geographic divisions:
North America

Latin America

Europe, Middle East & Africa

Asia & South Pacific
Each geographic division is headed by a regional management team which reports to the corporate operations and executive teams.
Product divisions
While most Facebook's operations are focused on its core social networking service, the company also incorporates product divisions into its org structure. This involves corporate and global teams that work on product-specific operations, e.g., projects relating to brands like Instagram or WhatsApp. 
Facebook has three product divisions:
Family of Apps (Instagram, WhatsApp, Messenger, etc.) 

New Platforms and Infrastructure (AI, virtual/augmented reality, blockchain)

Central Product Services (ads, security, growth)
Why Facebook's org chart is effective
Facebook's matrix org structure helps it to remain flexible and provide multinational operations in a range of different markets.
This is a huge advantage and gives the company leverage to respond easily to market changes and trends. Another advantage of Facebook's matrix org structure is the amount of control the corporate function-based teams can exercise over worldwide operations while simultaneously maintaining a positive culture and giving the product divisions the freedom to be creative and innovative. 
The matrix structure isn't without its drawbacks, however. 
As we mentioned, there are multiple crossovers between different divisions and teams, and variations in regional management can make it difficult to implement company-wide directives. This is a necessary evil, though; Facebook must be able to ensure that it can operate within different socioeconomic, sociocultural, and political environments.
Create this chart in Organimi! 
You can download the CSV file of Facebook's org structure, import it into Organimi and start editing this chart right away! Here's how:
 From your dashboard, select Data Import.
 Click the CSV tile.

 Click 

+Upload Your File

.  

 

Select an Excel file from your device.

 In the 

Organization

 field, click the down arrow to select an organization.

Click Create a New Chart

Click 

Next and select: Organization Chart
Select the auto-build tool to automatically build your chart.
Voila!
Download CSV file:


Facebook-Executive-Team (30.86 KB)
Build better org charts with
Organimi.
A powerful, cloud-based platform that helps you create, connect, and collaborate with your colleagues wherever they work.