Apple's Organizational Structure
Introduction
Steve Jobs and Steve Wozniak founded Apple Computer, Inc. back in April 1976. Today, the company is known as one of the most successful companies in history and offers a huge range of consumer electronics, computers, servers, software and distributes multi-media content, too.
However, for more than 30 years, Apple predominantly manufactured personal computers and, in its earlier years, didn't enjoy the greatest of success. It wasn't until the launch of the iPod in 2001 and iTunes in 2003 that Apple's fortunes began to truly turn. From this day on, Apple quickly began to establish itself as a force to be reckoned with in the consumer electronics market, quickly becoming the market leader.
A brief history of Apple
For three decades, Apple mainly manufactured personal computers, such as the Apple II and Macintosh lines. We might know Apple as a technical powerhouse today, however during this period, they faced rocky sales records and a low market share throughout the whole of the 1990s.
That being said, by the time Jobs and Wozniak looked to take the company public in 1980, the shares were in such high demand that it became the biggest stock market launch since Ford back in 1956. After the success of taking Apple public, Jobs ended up leaving the firm following a disagreement with the chief executive, John Scully.
By 1997, Apple had been losing money for 12 years, and as a result, Jobs was bought back in to save the company from bankruptcy. Steve Job's restructured Apple, scrapped projects that weren't profitable and revived employee morale. Under his hand, Apple quickly became profitable again.
Steve Jobs unveiled the first Apple iPhone in 2007. The iPhone stepped ahead of the competition with its revolutionary touchscreen; a world apart from the QWERTY keyboards of the era. Since 2007, Apple has sold more than 500 million iPhones. In the same year, Apple dropped the "Computer" from its name to better represent their new-found place as a market leader in the consumer electronics industry.
More recently, in Q2 2020, Apple overtook Microsoft as the world's largest company by market capitalization, firmly establishing itself as the world's foremost technology giant.
The secret to Apple's success
Over time, Apple has won over consumers across the world by constantly bringing out new and innovative product ranges. It might be devices such as the iPhone, iPad and Mac that are the first things that come to mind when you think of Apple, however it is their services that are the real money winners.
Apple is successful because they have a loyal consumer base. The iPhone is often seen as an entry point into Apple's product offering, and over time, their customers tend to move on and purchase other Apple devices too, such as an iPad, MacBook or smartwatch.
The structure and ideology behind Apple mean that the customer and customer experience is always at the center of any new developments. This means that Apple always manufactures consumer-friendly products that offer a great user experience and that keep their customers coming back for more.
Apple's organizational structure
In 2011, shortly after unveiling the second-generation iPad, Apple underwent a restructuring that would help the company move onwards and upwards. This companywide restructuring was intended to increase collaboration between Apple's hardware, software, and services divisions.
Under Steve Jobs, every decision had to go through him. Jobs and only Jobs made every single strategic decision that would affect the company. When Tim Cook took over in late 2011 following Job's resignation and passing, Cook restructured the company, and part of this restructuring included changing how the company's hierarchy worked. This means that Apple's VPs now have more autonomy, something which was greatly limited under Jobs.
Apple uses a company structure that is commonly known as "functional organization". This means that the company has been organized around areas of expertise, rather than individual products. The products themselves are then worked on by individuals from across the different areas of expertise.
Apple is split into focused divisions. Each division has their own upper management and vice presidents. As an example, this means that Apple has a Senior Vice President for Operations (Sabih Khan), one for Hardware Engineering (Dan Riccio) and one for Machine Learning (John Giannandrea).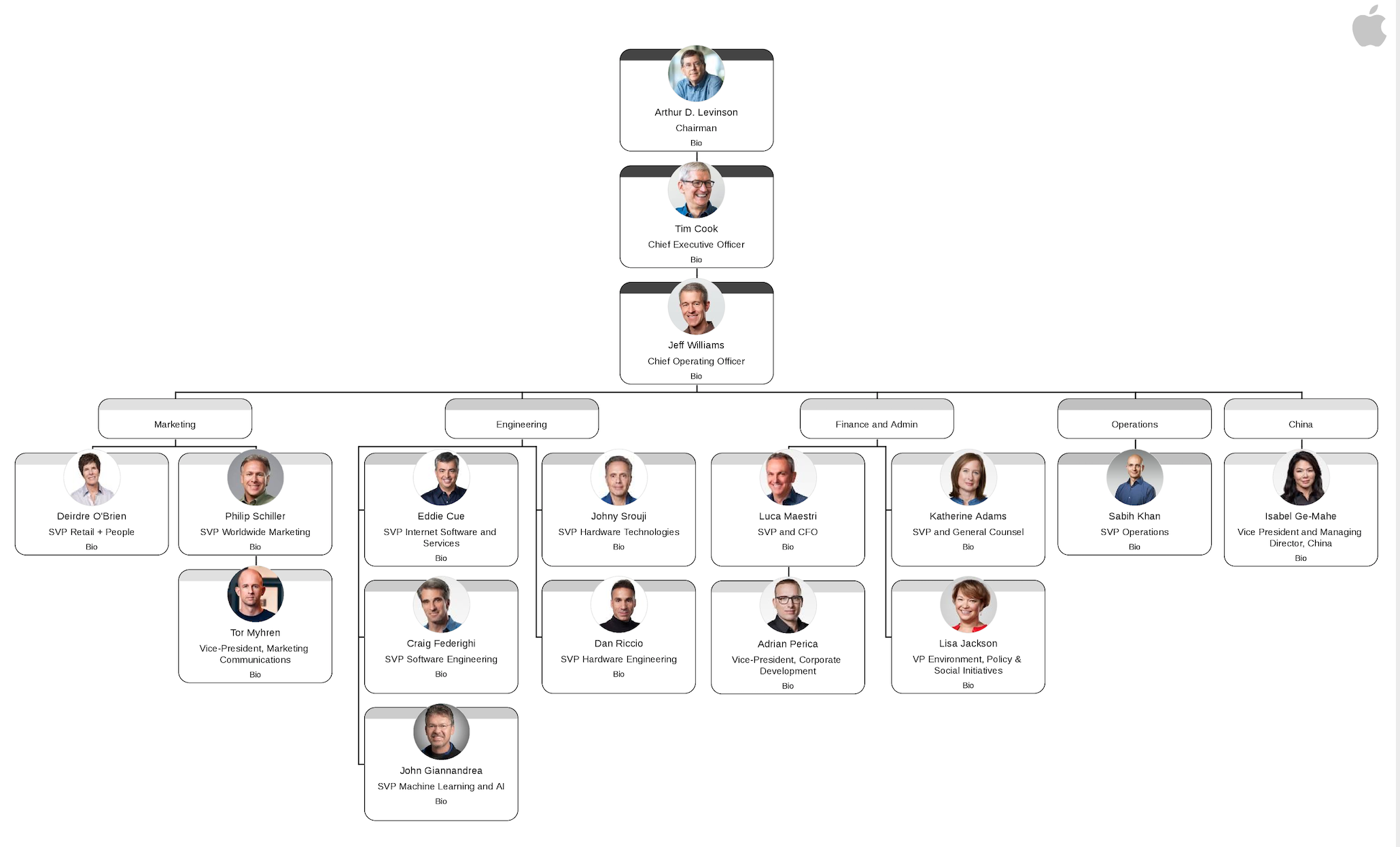 Why Apple's org chart structure is effective
The expertise-focused hierarchy system that Apple has implemented within their organization means that they enjoy strong corporate control. The individual divisions all enjoy enough autonomy to enable them to perform at their very best, leading Apple to have created some truly market-leading products over the years.
The fact that their company divisions are organized by expertise as opposed to product means that every single individual working for Apple has a specialized role with specialist duties. Every single employee is carrying out the role best suited to their skillset. This means that they have the ability to create truly integrated products with an excellent user experience that Tim Cook has always been proud of.
Create this chart in Organimi! 
You can download the CSV file of Apple's org structure, import it into Organimi and start editing this chart right away! Here's how:
 From your dashboard, select Data Import.
 Click the CSV tile.

 Click 

+Upload Your File

.  

 

Select an Excel file from your device.

 In the 

Organization

 field, click the down arrow to select an organization.

Click Create a New Chart

Click 

Next and select: Organization Chart
Select the auto-build tool to automatically build your chart.
Voila!
Download CSV file:


Apple-Organizational-Structure (3.49 KB)
Build better org charts with
Organimi.
A powerful, cloud-based platform that helps you create, connect, and collaborate with your colleagues wherever they work.