YMCA's Organizational Structure
Create this exact chart in Organimi! Scroll below to see how. 
Introduction
The YMCA of the USA, commonly known as the YMCA, is a nonprofit organization that focuses on youth development, healthy living, and social responsibility. It was founded on June 6, 1844, in London, England, and later expanded to the United States in 1851. The organization's mission is to strengthen communities by promoting physical and mental well-being, fostering social connections, and providing educational and recreational opportunities.
The YMCA of the USA has a vast network of branches throughout the country. With over 2,700 YMCA locations with 10,000 branches, it serves millions of individuals and families. The organization employs more than 19,000 staff members across its various branches, including professional staff, volunteers, and part-time employees.
The YMCA offers a wide range of programs and services for people of all ages and backgrounds. These include fitness classes, swimming lessons, youth sports leagues, summer camps, after-school programs, and community outreach initiatives. One interesting aspect of the YMCA is its commitment to inclusivity and diversity, striving to create welcoming and supportive environments for all individuals regardless of their race, gender, or socioeconomic status.
The YMCA has become an iconic institution in the United States, known for its positive impact on communities and its focus on holistic well-being.
YMCA's Organizational Leadership
YMCA of the USA is led by a diverse and experienced group of professionals. Some of its executive leaders have spent their entire careers with the Y whereas others have brought valuable perspectives from other organizations and sectors. All of them are deeply committed to advancing the Y's mission and to working to strengthen communities. 
The Y is led by a President and CEO who is supported in their role by various executive vice presidents (EVPs) with lateral C-level roles, such as the EVP and Chief Government Affairs Officer and the EVP and Chief Lega Officer.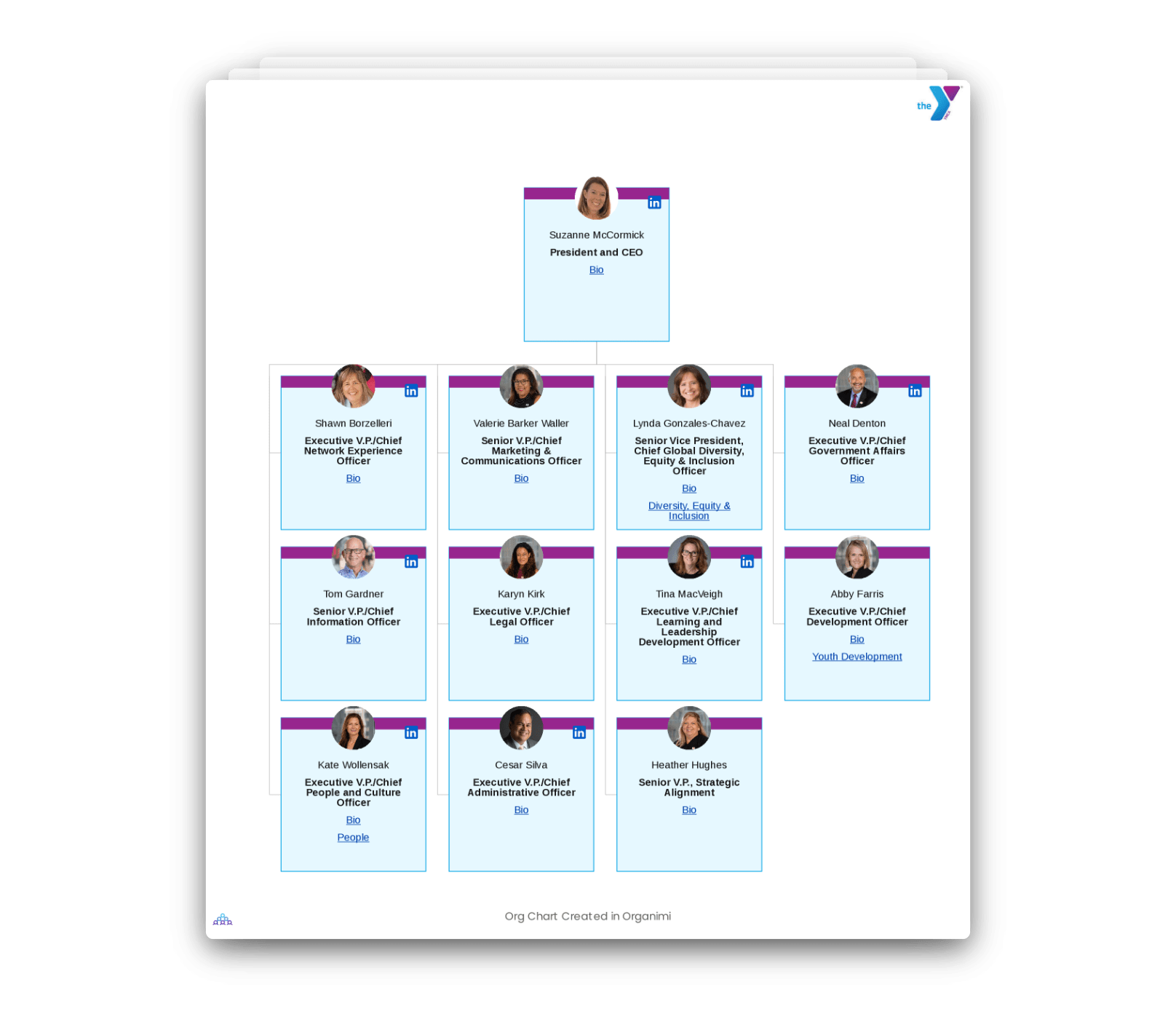 YMCA of the USA is also overseen by a board of directors, which is the governing body of the company. The board is elected by stockholders, with members often selected for their expertise in a particular area or their industry connections. 
YMCA's National Board of Directors provides critical guidance to ensure its vision and strategy align with its mission. These dedicated individuals are critical to the success of the YMCA of the USA and to Ys across the country.
As with many boards, the YMCA's National Board largely holds an advisory role, but some do have wide-reaching powers, duties, and responsibilities as stipulated by corporate law and government regulations, particularly in heavily regulated industries such as finance and pharma.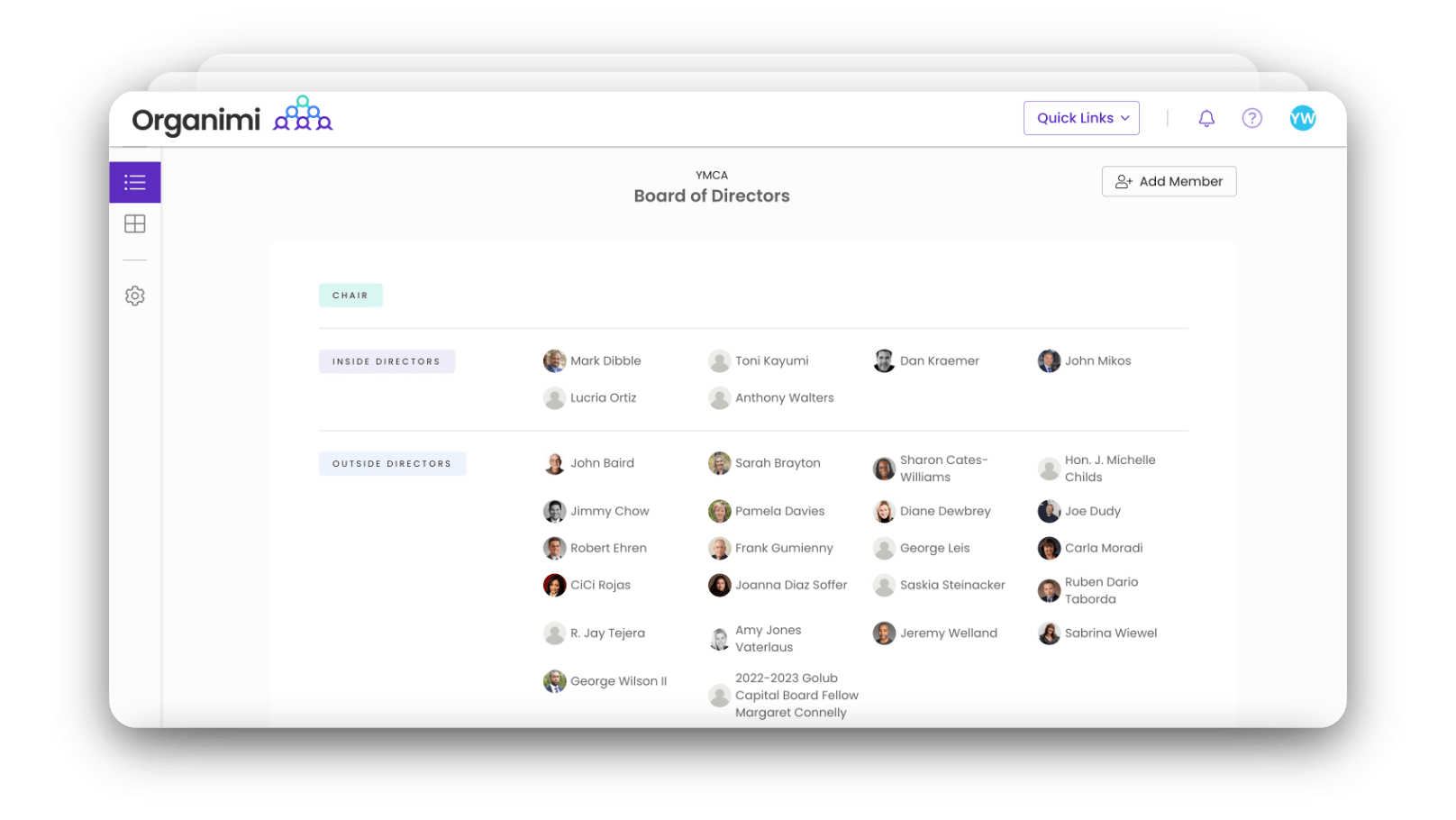 YMCA's Organizational Structure
As a charitable organization, the YMCA of the USA operates with a federated organizational structure. The federated structure is characterized by a central governing body overseeing a network of semi-autonomous local entities. These entities retain a degree of independence and have their own governance structures, while also being united under a central coordinating body.
In a federated structure, the central governing body sets overall strategic direction, policies, and standards for the entire organization. The central body provides support, guidance, and resources to the individual units but allows them to have a level of autonomy in managing their operations and making decisions based on their specific needs and circumstances.
As we've already explored, the YMCA of the USA is overseen by the Executive Leadership team which sets the strategic direction, policies, and standards for the entire organization. The national governing body is responsible for supporting and representing the collective interests of YMCA associations across the country.
There are then local YMCA associations located in different communities throughout the United States. Each local association operates independently and is responsible for the day-to-day operations of its facilities and programs. These associations have their own boards of directors, staff, and budgets.
The federated structure allows the YMCA of the USA to balance national consistency and standards with local autonomy and adaptability. While the national governing body provides guidance, resources, and support, the local associations have the flexibility to address the unique needs and priorities of their respective communities.
Want to learn more about org structures and the important role that they play in the world of business? Here are some helpful blog resources that you can get started with:
Create this chart in Organimi! 
You can download the CSV file of YMCA's org structure, import it into Organimi and start editing this chart right away! Here's how:
 From your dashboard, select Data Import.
 Click the CSV tile.

 Click 

+Upload Your File

.  

 

Select an Excel file from your device.

 In the 

Organization

 field, click the down arrow to select an organization.

Click Create a New Chart

Click 

Next and select: Organization Chart
Select the auto-build tool to automatically build your chart.
Voila!
Download CSV file:


YMCA (3.3 KB)
Build better org charts with
Organimi.
A powerful, cloud-based platform that helps you create, connect, and collaborate with your colleagues wherever they work.