Yahoo's Organizational Structure
Create this exact chart in Organimi! Scroll below to see how. 
Introduction
Yahoo! Inc. is an American technology company that was one of the pioneers of the early Internet era in the 1990s. The company is known globally for its search engine, Yahoo! search, as well as mail, news, finance, answers, advertising, video sharing, and online mapping services. It was one of the most popular sites in the United States at its height in the late 1990s until it slowly started to decline in the early 2000s. 
Yahoo! existed in its original incarnation between 1995 and 2017, when it was purchased by Verizon for US$4.5 billion. The current incarnation was formed following this acquisition, and the company maintains dual headquarters at the former AOL and Yahoo! headquarters buildings in New York and California respectively. 
Some of Yahoo's current digital media brands include AOL, Autoblog, and TechCrunch. Former and divested brands include HuffPost and Tumblr. As of 2019, Yahoo! Inc. employed around 10,300 people.
Yahoo's Organizational Leadership
Yahoo is led by a team of senior executives who are focused on the strategic growth of the company's many brands and assets in the long term.
As is typical in large tech companies, the executive leadership team at Yahoo is composed of several C-level roles. These include the chief executive officer, who is the day-to-day head of the company, and those who oversee specific areas of the business, such as finance, diversity, and communications.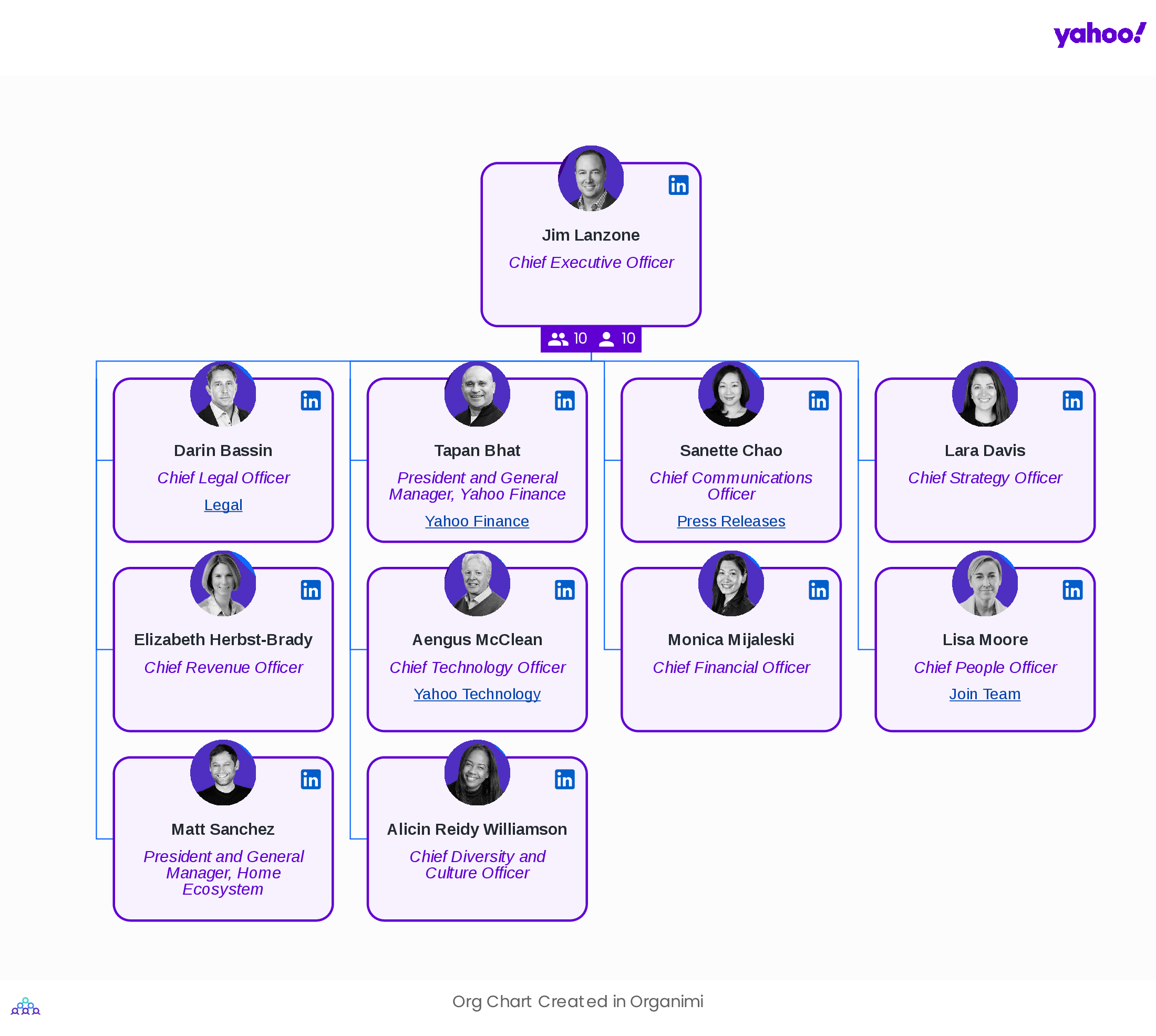 Many large organizations like Yahoo are also overseen by a board of directors. This is the governing body of a company that's elected by stockholders, with members often selected for their expertise in a particular area or their industry connections. 
A board typically holds an advisory role, but some boards do have wide-reaching powers, duties, and responsibilities as stipulated by corporate law and government regulations, particularly in heavily regulated industries such as finance and pharma. 
Yahoo reaches nearly 900 million people around the world, bringing them closer to finance, sports, shopping, gaming, and news. Its Board of Directors provides general direction and oversight of the management of the Yahoo business.
Yahoo's Organizational Structure
Yahoo's organizational structure, just like the composition of its senior leadership team, is largely the same as many other leading tech companies. 
It operates a typical organizational hierarchy with the chief executive officer at the top, providing the vision and direction for the organization, with several C-level executives reporting directly to them. 
Below these C-level executives are other senior managers, individuals occupying executive vice presidential and vice presidential roles, who oversee more specific functions such as marketing and product management. 
As you move down each level of the organizational hierarchy from top to bottom, autonomy and decision-making power are diminished. This hierarchical method for organizing power, authority, decision-making, communication, and information flow assumes that each level of the organization is directly subordinate to the one above it. 
This type of authority and information flow can be very beneficial for large organizations like Yahoo that employ thousands of people and operate a diverse range of globally available services. 
If you would like to learn more about organizational structures and the critical role they play within modern organizations, here are some helpful blog resources to get you started:
Create this chart in Organimi! 
You can download the CSV file of Yahoo's org structure, import it into Organimi and start editing this chart right away! Here's how:
 From your dashboard, select Data Import.
 Click the CSV tile.

 Click 

+Upload Your File

.  

 

Select an Excel file from your device.

 In the 

Organization

 field, click the down arrow to select an organization.

Click Create a New Chart

Click 

Next and select: Organization Chart
Select the auto-build tool to automatically build your chart.
Voila!
Download CSV file:


Yahoo (4.87 KB)
Build better org charts with
Organimi.
A powerful, cloud-based platform that helps you create, connect, and collaborate with your colleagues wherever they work.