Wyndham Hotels & Resorts' Organizational Structure
Create this exact chart in Organimi! Scroll below to see how. 
Introduction
Wyndham Hotels & Resorts is a prominent hotel franchising company that was founded on June 1, 2018, as a spin-off from Wyndham Worldwide. It operates as one of the world's largest hotel franchisors, offering a diverse portfolio of hotel brands across various market segments. With its headquarters in Parsippany, New Jersey, Wyndham Hotels & Resorts has a global presence and serves travelers in destinations worldwide.
Wyndham employs more than 9,200 employees across 24 brands as of 2022, which include the likes of AmericInn, Wingate, Ramada, and Baymont. In the same year, the company reported revenue of US$1.55 billion. 
The company is committed to sustainability and has implemented various initiatives to reduce its environmental impact, promote energy efficiency, and foster responsible practices within its operations and hotels. Additionally, the company offers a loyalty program called Wyndham Rewards, which allows members to earn and redeem points for stays, upgrades, and other benefits across the company's brands. This program enhances the guest experience and fosters customer loyalty.
Wyndham Hotels & Resorts' Organizational Leadership
Wyndham Hotels & Resorts, like many large companies, is led by a Chief Executive Officer (CEO) who is supported by a selection of senior executives who are responsible for overseeing specific operational areas within the company. 
At Wyndham, this team is composed of various C-level executives who lead operational areas of the business such as marketing, human resources, and development. Also on Wyndham's leadership team are the Presidents for the company's geographic operations: Asia Pacific, Latin America and the Caribbean, and Europe, Middle East, Eurasia, and Africa (EMEEA).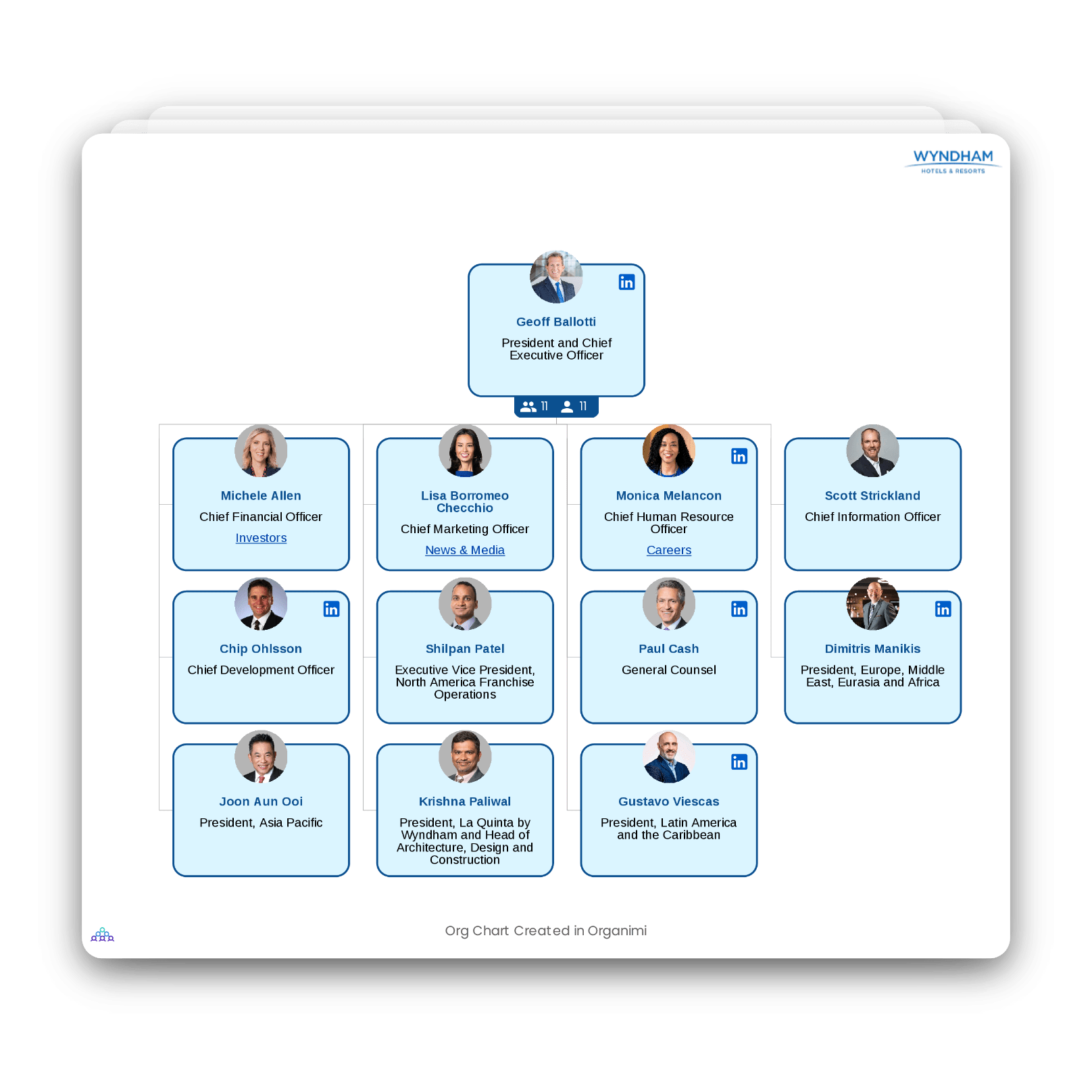 Wyndham is also overseen by a board of directors, which is the governing body of the company. The board is elected by stockholders, with members often selected for their expertise in a particular area or their industry connections. 
As with many boards, the board at Wyndham largely holds an advisory role, but some do have wide-reaching powers, duties, and responsibilities as stipulated by corporate law and government regulations, particularly in heavily regulated industries such as finance and pharma.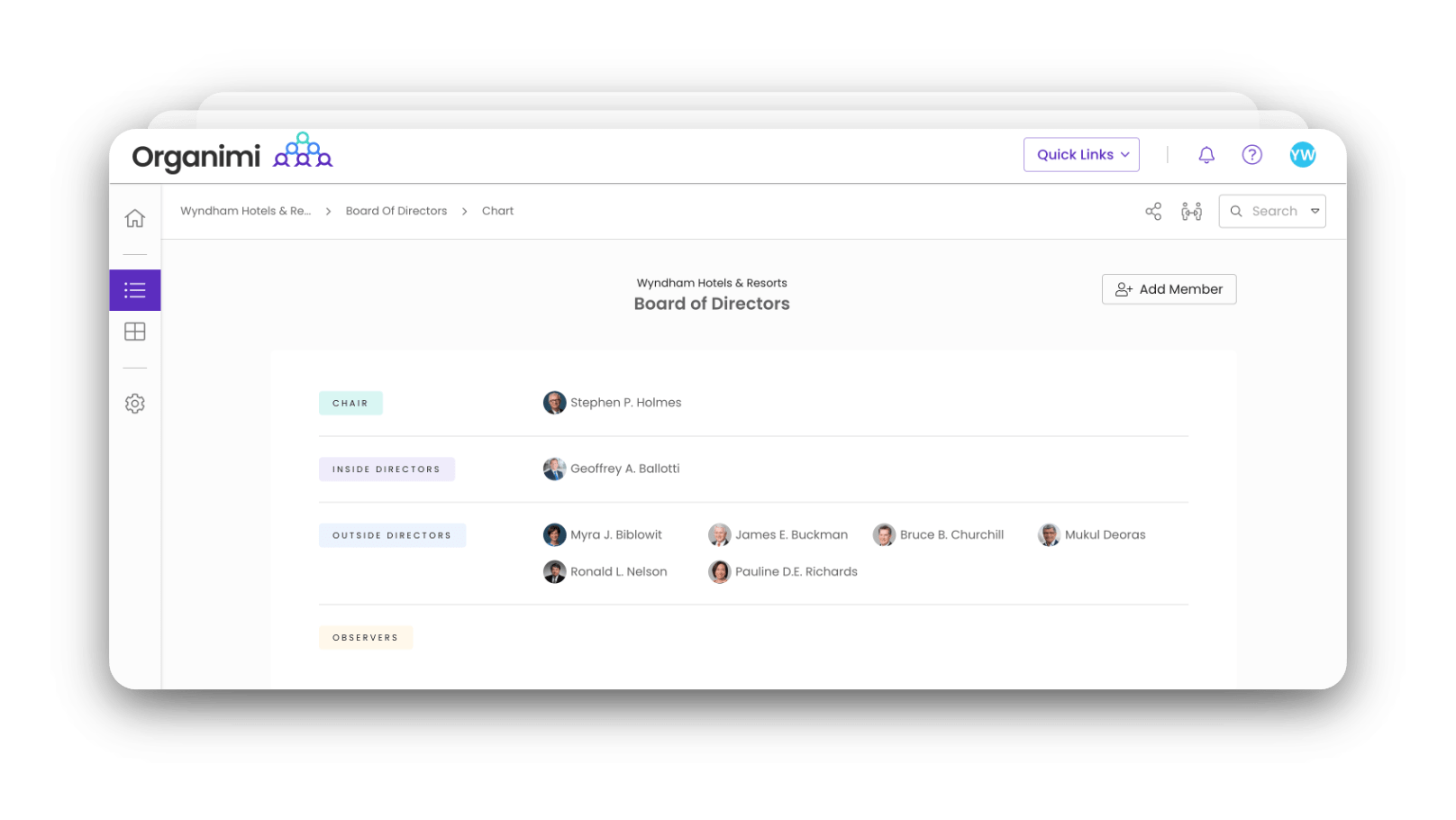 Wyndham Hotels & Resorts' Organizational Structure
Wyndham Hotels & Resorts operates with a hierarchical organizational structure that facilitates effective management and coordination across its global operations. 
At the top of Wyndham's hierarchical structure is the executive leadership team, led by the CEO. The CEO has ultimate responsibility for the company's strategic direction and overall operational performance and success. Reporting to the CEO are key executives who oversee specific areas such as operations, as is illustrated by the org chart above.
Immediately below the executive level, Wyndham is divided into various departments and divisions that focus on different aspects of hotel franchising and operations. These divisions include operations and brand management, finance and accounting, marketing and sales, human resources, and development. Each division is led by a Vice President or General Manager who oversees the respective functions and reports to the executive leadership team.
Within each division, there are further reporting relationships and managerial hierarchies. Managers and team leaders oversee different teams and departments, ensuring the execution of strategies, operational excellence, and delivering exceptional guest experiences. These managers often have responsibilities in areas such as hotel operations, franchise relations, marketing campaigns, revenue management, and talent acquisition.
Wyndham Hotels & Resorts organizational structure enables clear lines of authority, effective communication, and efficient decision-making across the company. It supports collaboration and coordination among different functions and departments to ensure the consistent delivery of quality experiences and services across its portfolio of hotels and franchise partners.
Want to learn more about them and the role that they play today? Here are some helpful blog resources that you can get started with:
Create this chart in Organimi! 
You can download the CSV file of Wyndham Hotels & Resorts' org structure, import it into Organimi and start editing this chart right away! Here's how:
 From your dashboard, select Data Import.
 Click the CSV tile.

 Click 

+Upload Your File

.  

 

Select an Excel file from your device.

 In the 

Organization

 field, click the down arrow to select an organization.

Click Create a New Chart

Click 

Next and select: Organization Chart
Select the auto-build tool to automatically build your chart.
Voila!
Download CSV file:


Wyndham Hotels & Resorts (9.31 KB)
Build better org charts with
Organimi.
A powerful, cloud-based platform that helps you create, connect, and collaborate with your colleagues wherever they work.