World Wildlife Fund's Organizational Structure
Create this exact chart in Organimi! Scroll below to see how. 
Introduction
The World Wide Fund for Nature (WWF), founded on September 11, 1961, is one of the world's largest and most influential conservation organizations. Its mission is to safeguard the planet's natural resources and wildlife. Headquartered in Gland, Switzerland, the WWF operates in over 100 countries, with offices and projects dedicated to preserving biodiversity, combatting climate change, and promoting sustainable practices.
WWF operates globally and since 1995, it has invested more than US$1 billion in over 12,000 conservation initiatives led by scientists, conservationists, policy experts, and support staff. The WWF is known for initiatives such as Earth Hour, a global event encouraging environmental awareness, and its iconic panda logo, symbolizing wildlife protection. 
WWF takes a holistic approach to its conservation efforts in a bid to protect endangered species, preserve habitats, address environmental issues, and work with governments and businesses to promote sustainable practices.
WWF's Leadership
WWF is led by both a Senior Management Team and a Board of Directors. The former is composed of several C-level executives and SVPs who are responsible for overseeing functional areas within the organization, such as Conservation, Forests, Oceans, and Freshwater & Food.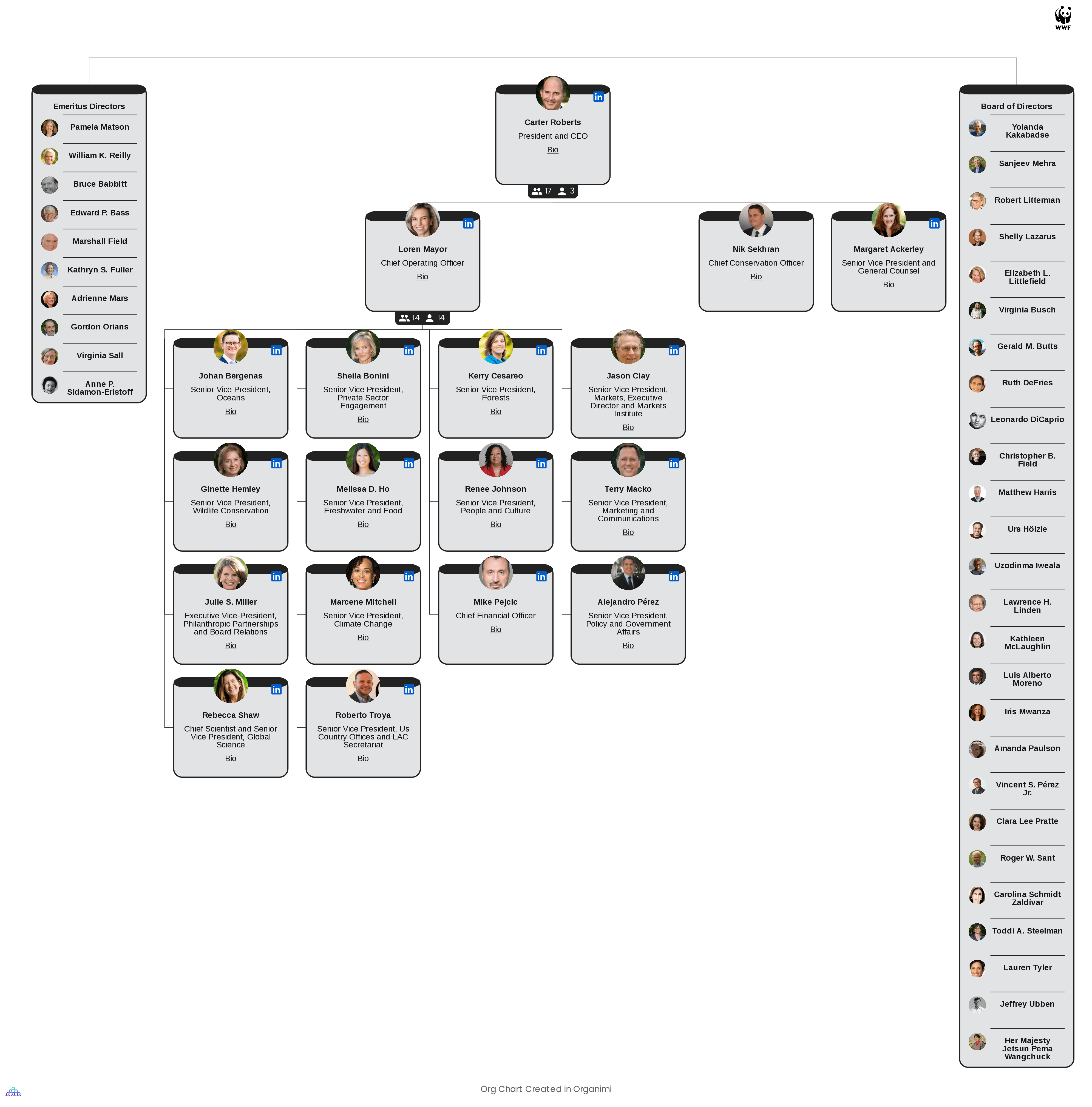 The WWF, like many large, organizations, has a Board of Directors that works closely with the company's executive officers to set its strategic direction. The Board is also responsible for ensuring that the company adheres to regulatory requirements, as well as ethical and corporate governance standards. 
WWF's Board is made up of leaders from the scientific, conservation, and business communities, and exercises overall responsibility for the policies, programs, and direction of the World Wildlife Fund. The Board also provides advice and counsel on a broad range of policy and operational matters.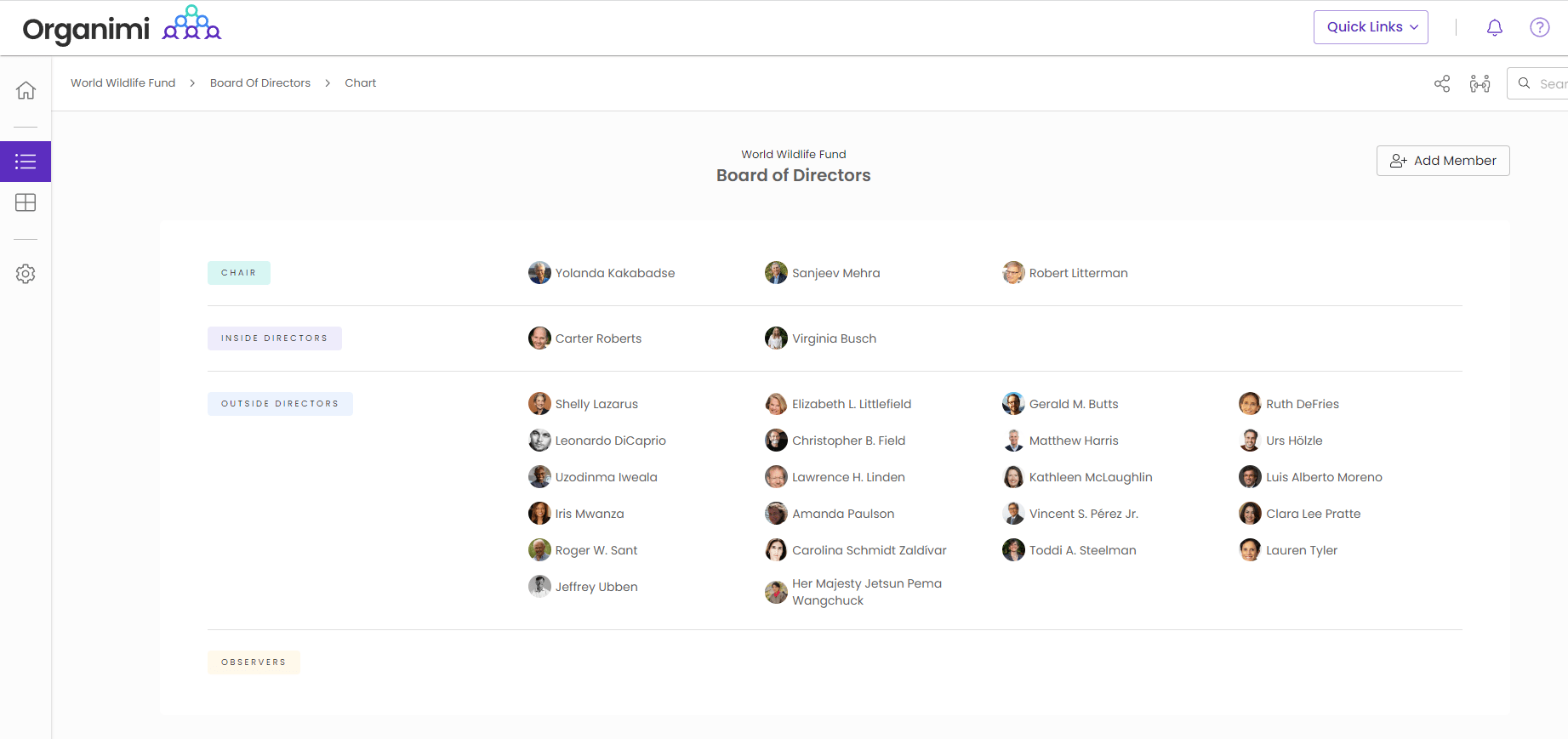 WWF's Organizational Structure
Although the WWF includes functional leaders at the top who oversee broad operational areas, its structure is relatively decentralized and designed to address its complex and global mission of conserving nature, protecting wildlife, and promoting sustainability. 
WWF is ultimately a network of independent organizations spread across the world. Each of these national or regional organizations operates autonomously, often as separate legal entities. These entities are responsible for conservation efforts within their respective regions or countries.
Each national or regional WWF organization has its own offices, staff, and management. They focus on conservation efforts that are specifically relevant to their geographic area. For example, WWF-USA concentrates on initiatives related to the United States.
While the various WWF organizations are autonomous, they maintain close coordination on global campaigns and initiatives. WWF International, headquartered in Switzerland, plays a central role in facilitating collaboration, setting overarching goals, and providing a global perspective.
This decentralized structure allows WWF to address a wide range of conservation issues on a global scale. It enables local expertise and flexibility to respond to region-specific needs, while the network can tackle broader international challenges collectively.
Want to learn more about hierarchical and other organizational structures and their role in the business world? Here are some helpful blog resources that you can get started with:
Create this chart in Organimi! 
You can download the CSV file of World Wildlife Fund's org structure, import it into Organimi and start editing this chart right away! Here's how:
 From your dashboard, select Data Import.
 Click the CSV tile.

 Click 

+Upload Your File

.  

 

Select an Excel file from your device.

 In the 

Organization

 field, click the down arrow to select an organization.

Click Create a New Chart

Click 

Next and select: Organization Chart
Select the auto-build tool to automatically build your chart.
Voila!
Download CSV file:


World Wildlife Fund (8.98 KB)
Build better org charts with
Organimi.
A powerful, cloud-based platform that helps you create, connect, and collaborate with your colleagues wherever they work.