Wesfarmers' Organizational Structure
Create this exact chart in Organimi! Scroll below to see how. 
Introduction
Wesfarmers is an Australian conglomerate that owns or has interests in a wide range of companies operating in retail, chemical, fertilizer, industrial and safety products. 
Formed in 1914 as a cooperative company by the Farmers' and Settlers' Association of Western Australia, it was listed on the Australian Securities Exchange in 1984 and grew into a major retail conglomerate. Today, Wesfarmers is one of Australia's largest companies with revenues exceeding A$30 billion in 2020. 
Wesfarmers' business interests include Australian household hardware and garden center chain Bunnings and Kmart Group, a retail company that operates 452 stores across Australia and New Zealand and employs nearly 50,000 people.
Wesfarmers' Leadership Team
Like many organizations of its size, Wesfarmers is led by a leadership team that consists of various people occupying key executive and director-level roles. 
At Wesfarmers, the organization is led by the Managing Director and Chief Executive Officer, who has several direct reports who oversee other elements of the business. These include the Chief Financial Officer, the Chief Human Resources Officer, and the Managing Directors of each of Wesfarmers' subsidiaries, including Health, Officeworks, Bunnings Group, and Kmart Group.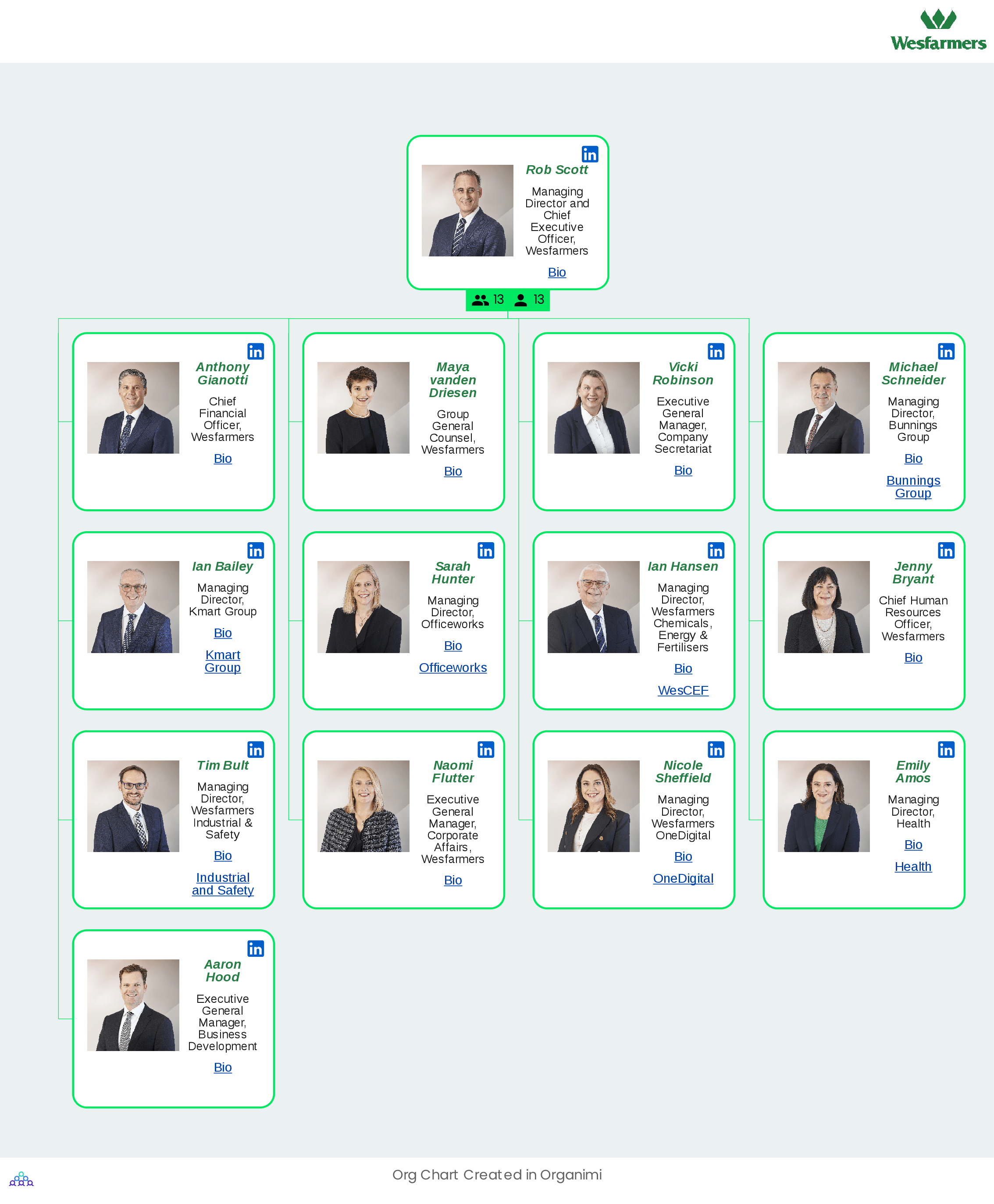 Many large organizations like Wesfarmers are also overseen by a board of directors. This is the governing body of a company that's elected by stockholders, with members often selected for their expertise in a particular area or their industry connections. 
A board typically holds an advisory role, but some boards do have wide-reaching powers, duties, and responsibilities as stipulated by corporate law and government regulations, particularly in heavily regulated industries such as finance and pharma.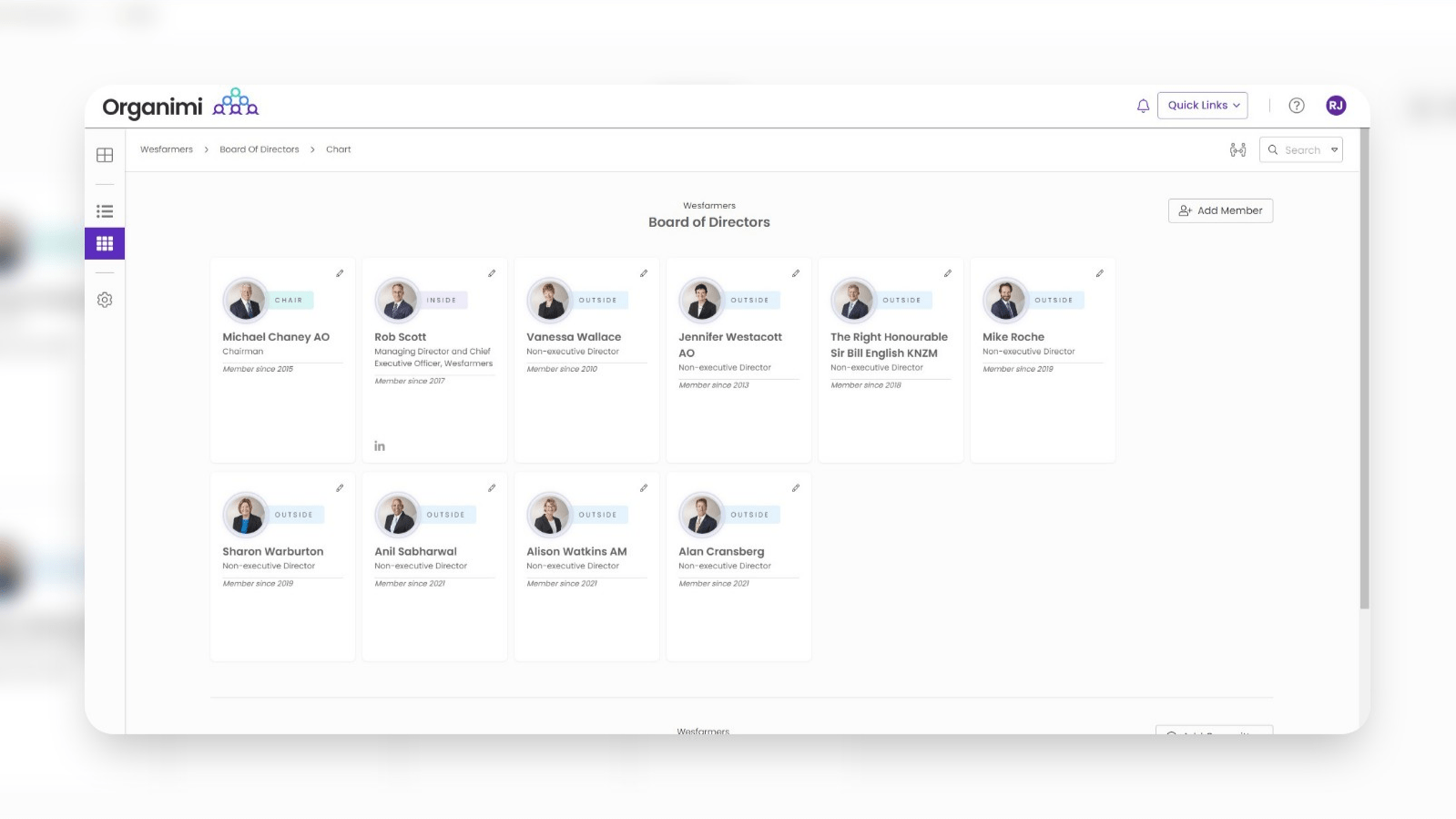 Wesfarmers' Organizational Structure
Wesfarmers appears to operate with a divisional organizational structure owing to the presence of individual directors for the conglomerate's various businesses and subsidiaries on the leadership team. 
In a divisional organizational structure, individuals are grouped together based on the product or service they provide, not the work they do. In the case of Wesfarmers, employees are grouped together according to the subsidiary they work for, with the exception of certain organizational functions such as human resources.
Wesfarmers' divisions appear to be:
Bunnings Group

Kmart Group

Officeworks

Wesfarmers Chemicals, Energy & Fertilisers

Wesfarmers Industrial & Safety

Wesfarmers OneDigital

Health

Corporate Affairs

Business Development
Organizations with diverse operations tend to use functional org structures because it makes the management of individual business functions much easier and more efficient. It also helps employees achieve their goals and work together more cohesively because the divisional org structure groups people together with similar knowledge and skills.
Wesfarmers' functional structure also enables the company to remain flexible and provide a diverse range of products and services across different markets. This is a huge advantage because it allows the company to respond more easily to market changes and trends and make high-level operational changes that only have an effect on certain divisions. 
Want to learn more about organizational structures and the role that they play within modern organizations? Here are some helpful blog resources that you can get started with:
Create this chart in Organimi! 
You can download the CSV file of Wesfarmers' org structure, import it into Organimi and start editing this chart right away! Here's how:
 From your dashboard, select Data Import.
 Click the CSV tile.

 Click 

+Upload Your File

.  

 

Select an Excel file from your device.

 In the 

Organization

 field, click the down arrow to select an organization.

Click Create a New Chart

Click 

Next and select: Organization Chart
Select the auto-build tool to automatically build your chart.
Voila!
Download CSV file:


Wesfarmers (17.56 KB)
Build better org charts with
Organimi.
A powerful, cloud-based platform that helps you create, connect, and collaborate with your colleagues wherever they work.