Walmart's Organizational Structure
Create this exact chart in Organimi! Scroll below to see how. 
Introduction
Walmart is an American multinational retail corporation known around the world for its grocery stores, department stores, and hypermarkets. 
The company was founded in 1962 by Sam Walton and as of January 2022, has 10,593 stores and clubs operating under 48 different names across 24 countries. Walmart was listed on the New York Stock Exchange in 1972 and by 1988, it was the most profitable retailer in the United States, becoming the largest in terms of revenue by 1989. While the company was initially geographically located in the South and lower Midwest, it had expanded to open stores from coast to coast by the early 1990s. 
Walmart is the world's largest company by revenue, with US$548.743 billion according to the 2020 Fortune Global 500 list. It's also the world's largest private employer with a 2.2 million-strong workforce. Over 50 percent of Walmart's revenue comes from its U.S. operations. Outside of the U.S., countries with Walmart operations and subsidiaries include the United Kingdom, Canada, China, and South America. 
Walmart is a publicly traded family-owned business, as the company is controlled by the Walton family.
Walmart's Executive Committee and Organizational Chart
Walmart is ultimately run by a nine-strong Executive Committee including President and CEO Doug McMillion, who has held this position since February 2014. Other Walmart CEOs (Walmart International, Walmart U.S., and Sam's Club) are also part of the Walmart Executive Committee, as are other C-level positions including the Chief People Officer and the Chief Technology Officer.
You can see Walmart Inc's organizational chart below showing each of the company's key decision makers and what their role is.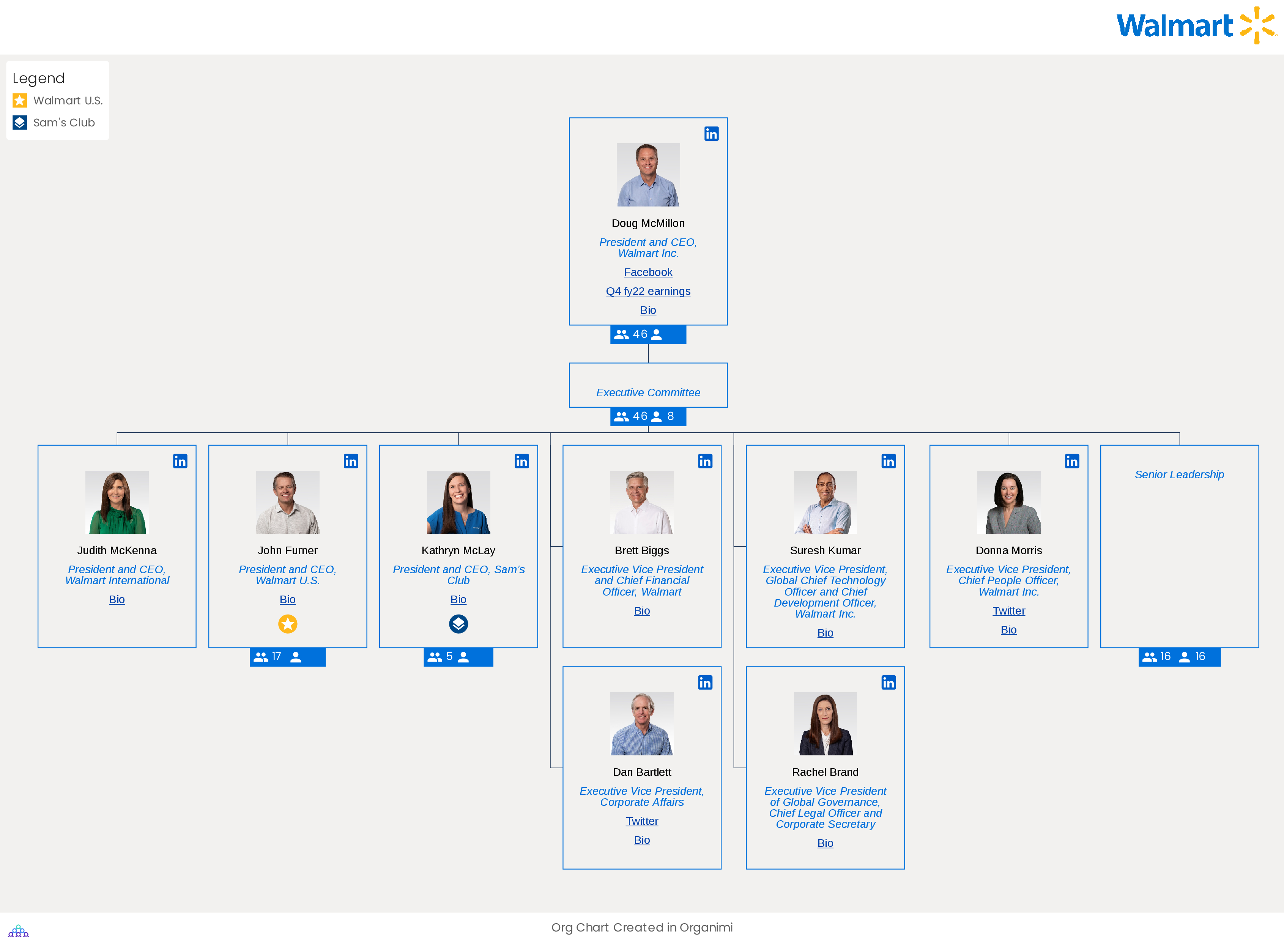 The Walmart Executive Committee is supported by a large senior leadership team of around 40 Executive and Senior Vice Presidents. These people are responsible for overseeing various functional departments and geographic regions within Walmart Inc, its commercial subsidiaries – Walmart International, Walmart U.S., and Sam's Club – and charitable foundation. 
Roles within Walmart's senior leadership team include the Chief Marketing Officer for Sam's Club, the Southwest Business Unit Leader for Walmart U.S., and the Chief Financial Officer for Walmart International.
Walmart's Organizational Structure
It goes without saying that Walmart's operations are vast. With almost 11,000 stores, operations in 24 countries, and a workforce of 2 million people, Walmart needs a strong organizational structure supporting it. 
From the organizational chart above, we can see that Walmart has what is known as a matrix structure. It is a hybrid between the company's various functional hierarchies and divisional structures, and there are many large multinational corporations that use this or a similar structure to manage their operations. 
Under the company's hierarchical structure, each Walmart store operates under a traditional hierarchy where different levels of supervision report up the chain until it eventually gets to the CEO (in Walmart's case, the CEO of Walmart U.S. or International). Under the company's functional structure, however, employees are grouped based on their skills, capabilities, and functional departments. 
Since Walmart is broken up into several subsidiaries that have operations in both retail and e-commerce, this makes sense. The company also has specialty stores, Supercenters, and Walmart Realty under the umbrella of its corporation, so utilizing a hybrid approach with different organizational structures used to manage different elements of the company makes sense. It would be impossible for Walmart to be managed under a single hierarchical structure after all — the business is too large and fast-moving for this to be viable. 
By operating with a matrix structure, Walmart benefits from the best of worlds — the hierarchy delivers clarity and aids decision-making while the functional element delivers productivity and accountability. 
Want to learn more about organizational structures and charts? Here are some helpful blog resources that you can start with:
Create this chart in Organimi! 
You can download the CSV file of Walmart's org structure, import it into Organimi and start editing this chart right away! Here's how:
 From your dashboard, select Data Import.
 Click the CSV tile.

 Click 

+Upload Your File

.  

 

Select an Excel file from your device.

 In the 

Organization

 field, click the down arrow to select an organization.

Click Create a New Chart

Click 

Next and select: Organization Chart
Select the auto-build tool to automatically build your chart.
Voila!
Download CSV file:


Walmart (80.89 KB)
Build better org charts with
Organimi.
A powerful, cloud-based platform that helps you create, connect, and collaborate with your colleagues wherever they work.