Verizon's Organizational Structure
Create this exact chart in Organimi! Scroll below to see how. 
Introduction
Verizon Communications Inc. is a major American telecommunications conglomerate founded in 1983 as Bell Atlantic and later in 2000 as Verizon Communications. Headquartered in New York City, Verizon is one of the largest telecommunications companies in the United States and provides a wide range of services, including wireless communications, high-speed internet, and digital television. A pioneer in telecommunications, Verizon currently employs in upwards of 117,100 people and in 2022 reported revenues of US$136.8 billion. 
The company has played a pivotal role in the development and deployment of the 5G wireless communications standard, and in recent years the company has made serious efforts in corporate responsibility through various sustainability initiatives, which seek to reduce the company's carbon footprint, implement eco-friendly practices, and promote environmental stewardship, aligning its operations with the broader goal of a sustainable future.
Verizon's Executive Leadership
Verizon's day-to-day operations are overseen by the Executive Leadership team. This is led by the company's Chairman and Chief Executive Officer who is supported in their role by various individuals occupying other C-level and V-level roles. 
The people in these roles are responsible for consumer and business segments, network and technology, finance, legal and regulatory affairs, and other critical functions. These executives report directly to the CEO.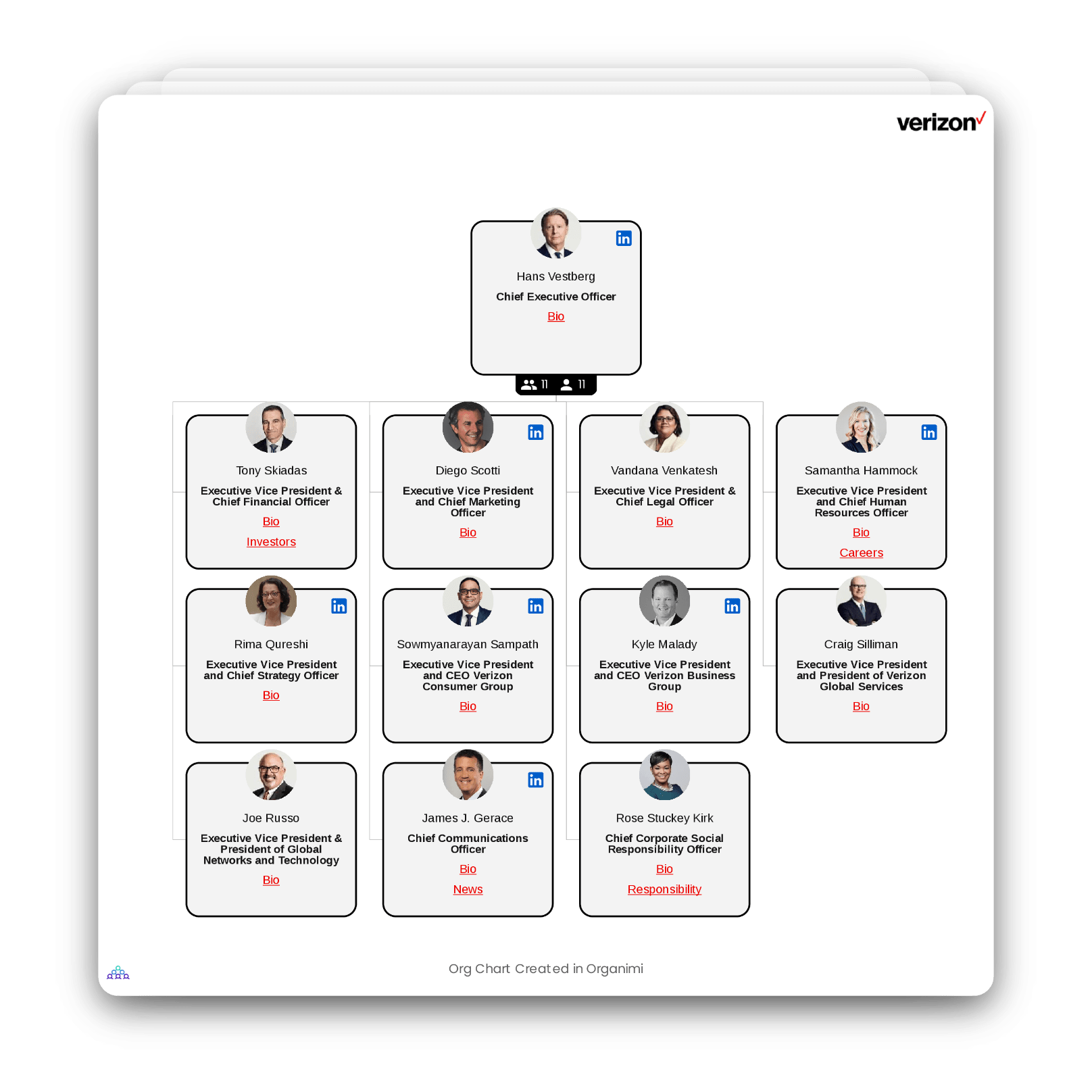 Verizon also has a Board of Directors, a critical governance body whose primary purpose is to represent the interests of the company's shareholders or stakeholders and to provide oversight and strategic guidance to the company's management.
As with many boards, the Verizon Board largely holds an advisory role. However, some do have wide-reaching powers, duties, and responsibilities as stipulated by corporate law and government regulations, particularly in heavily regulated industries such as finance and pharma.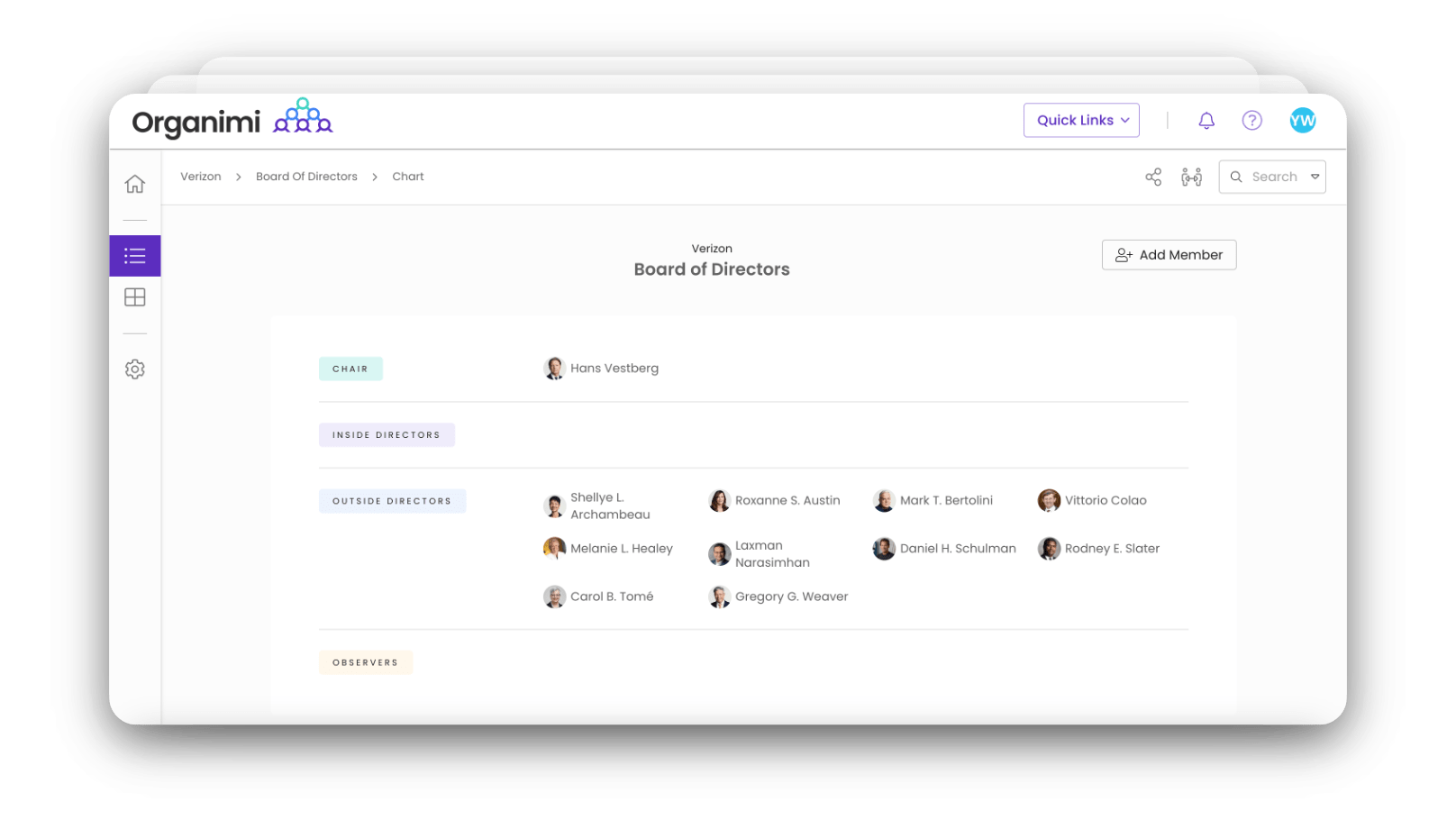 Verizon's Organizational Structure
Verizon operates with an organizational structure that's largely representative of a traditional corporate hierarchy. This structure is reflective of its diverse portfolio of telecommunications and media services. At the peak of its structure is the corporate board, responsible for the overall governance and strategic direction of the company. The CEO, who leads the executive team, reports to the board and also chairs it. 
Beneath the executive team, Verizon is divided into several operational segments, such as Verizon Consumer Group, Verizon Business Group, and Verizon Media Group. Each segment focuses on specific markets and services. These segments are further divided into divisions and departments that manage various aspects of the business, like wireless, wireline, and digital media.
Overall, Verizon's organizational structure is designed to manage its extensive range of services efficiently and provide connectivity, entertainment, and communication solutions to millions of customers. This structure fosters clear lines of authority and responsibility, enabling the company to adapt to rapidly evolving technological and market changes.
Want to learn more about hierarchical and other organizational structures and their role in the business world? Here are some helpful blog resources that you can get started with:
Create this chart in Organimi! 
You can download the CSV file of Verizon's org structure, import it into Organimi and start editing this chart right away! Here's how:
 From your dashboard, select Data Import.
 Click the CSV tile.

 Click 

+Upload Your File

.  

 

Select an Excel file from your device.

 In the 

Organization

 field, click the down arrow to select an organization.

Click Create a New Chart

Click 

Next and select: Organization Chart
Select the auto-build tool to automatically build your chart.
Voila!
Download CSV file:


Verizon ()
Build better org charts with
Organimi.
A powerful, cloud-based platform that helps you create, connect, and collaborate with your colleagues wherever they work.