Universal Music Group's Organizational Structure
Create this exact chart in Organimi! Scroll below to see how. 
Introduction
Universal Music Group (UMG) is a Dutch-American music corporation. The largest music company in the world, it is regarded as one of the "Big Three" record labels along with Sony Music and Warner Music Group and has signed agreements with more than 400 platforms worldwide. In 2019, UMG was named as the most innovative music company and one of the Top 50 most innovative companies in the world. 
Universal Music Group was founded in 1934 as the American branch of Decca Records, and its name and logo originate from Universal Pictures. Although the movie studio and the music business do share a common history, today the former is part of Comcast while Universal Music Group is an independent entity. Over the years, UMG has undergone several mergers and acquisitions including a 2004 consolidation into Vivendi and its 2012-2017 integration with EMI and subsequent reorganization.
Universal Music Group's Organizational Leadership
Universal Music Group's day-to-day operations are overseen by the company's corporate management team, which is led by the Chairman and CEO. This person is reported to and supported by various executive vice presidents responsible for overseeing key areas of the business, such as operations, people, and legal affairs. 
Interestingly, Universal Music Group makes a distinction between the administrative corporate management team and the leaders of its major business units and territories—examples being Universal Music Australia & New Zealand, Universal Music Japan, Virgin Music Group, and Republic Records—who report directly to the corporate management team.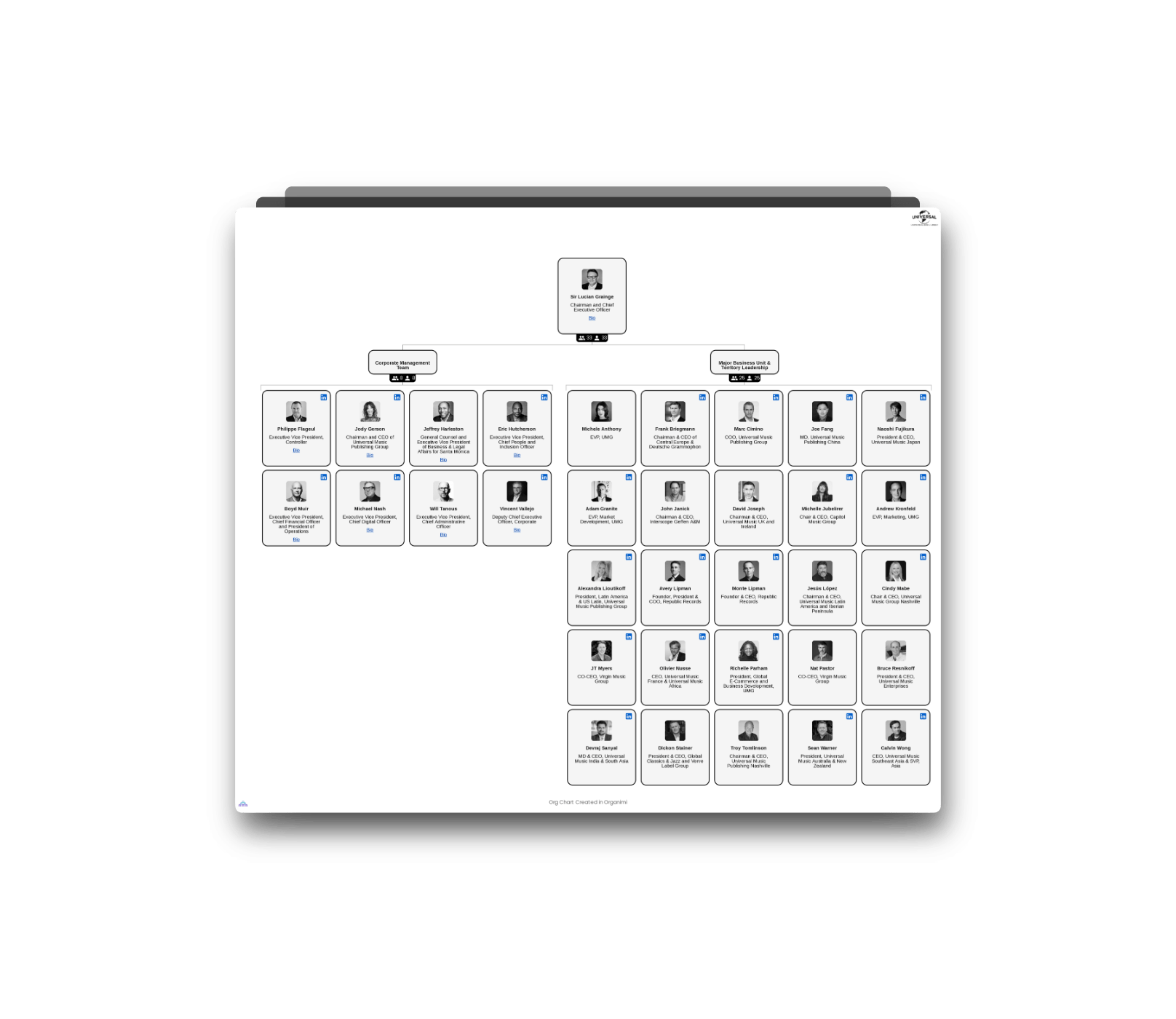 Universal Music Group's Board of Directors is the governing body of the organization that's elected by stockholders, with members often selected for their expertise in a particular area or their industry connections. 
As with many boards, Universal Music Group's board largely holds an advisory role, but some do have wide-reaching powers, duties, and responsibilities as stipulated by corporate law and government regulations, particularly in heavily regulated industries such as finance and pharma. 
An organization can also elect to give its board supervisory powers and oversight through its own constitution and by-laws.

Universal Music Group's Organizational Structure
Universal Music Group appears to operate with what is known as a functional or divisional organizational structure, which is an organization that is divided into smaller groups and divisions based on specific focus areas or subsidiary businesses, which UMG has several of, including Virgin Music and Capitol. 
The lines of authority in a functional org structure will generally flow from the teams themselves to their own senior executive or functional head, in this case, the heads of UMG's major business units and territories, and then on to the CEO. A great example of this in action is Amazon's corporate structure. 
A functional organizational structure helps organizations operate better by grouping employees based on their specialist skills and experience. It provides a clear hierarchy, minimizes confusion among employees, and gives specialists room to focus on their work and develop internally. On the other hand, a functional structure can lead to problems if not managed properly, such as breakdowns in communication and siloed working.
Want to learn more about organizational structures and the role that they play within modern organizations? Here are some helpful blog resources that you can get started with:
Create this chart in Organimi! 
You can download the CSV file of Universal Music Group's org structure, import it into Organimi and start editing this chart right away! Here's how:
 From your dashboard, select Data Import.
 Click the CSV tile.

 Click 

+Upload Your File

.  

 

Select an Excel file from your device.

 In the 

Organization

 field, click the down arrow to select an organization.

Click Create a New Chart

Click 

Next and select: Organization Chart
Select the auto-build tool to automatically build your chart.
Voila!
Download CSV file:


Universal Music Group (6.3 KB)
Build better org charts with
Organimi.
A powerful, cloud-based platform that helps you create, connect, and collaborate with your colleagues wherever they work.