United States Air Force's Organizational Structure
Create this exact chart in Organimi! Scroll below to see how. 
Introduction
The United States Air Force (USAF), established as an independent branch of the U.S. military on September 18, 1947, plays a vital role in the nation's defense. It is headquartered at the Pentagon in Arlington, Virginia, and has more than 320,000 active duty personnel, 104,000 Air National Guard personnel, and 66,406 Air Force Reserve personnel. All in all, it is made up of more than 491,000 uniformed personnel. 
USAF is organized within the Department of the Air Force, one of three military departments within the Department of Defence. Alongside its core duty of conducting air operations, the Air Force provides air support for land and naval forces and helps with the recovery of troops from field deployments. As of 2017, USAF operates more than 5,300 military aircraft and 400 ICMBs.
Since its inception, USAF has been at the forefront of developing cutting-edge aircraft, missiles, and space technologies. It's also responsible for maintaining the country's intercontinental ballistic missile arsenal, and it has a critical role in space operations, including satellite launches and space surveillance.
United States Air Force's Senior Leadership
The Air Force through the Department of the Air Force is headed by the civilian Secretary of the Air Force, who reports to the Secretary of Defense and is appointed by the President with Senate confirmation. 
The highest-ranking uniformed military member of the USAF is the Chief of Staff of the Air Force, who is responsible for supervising Air Force units and serves as one of the Joint Chiefs of Staff.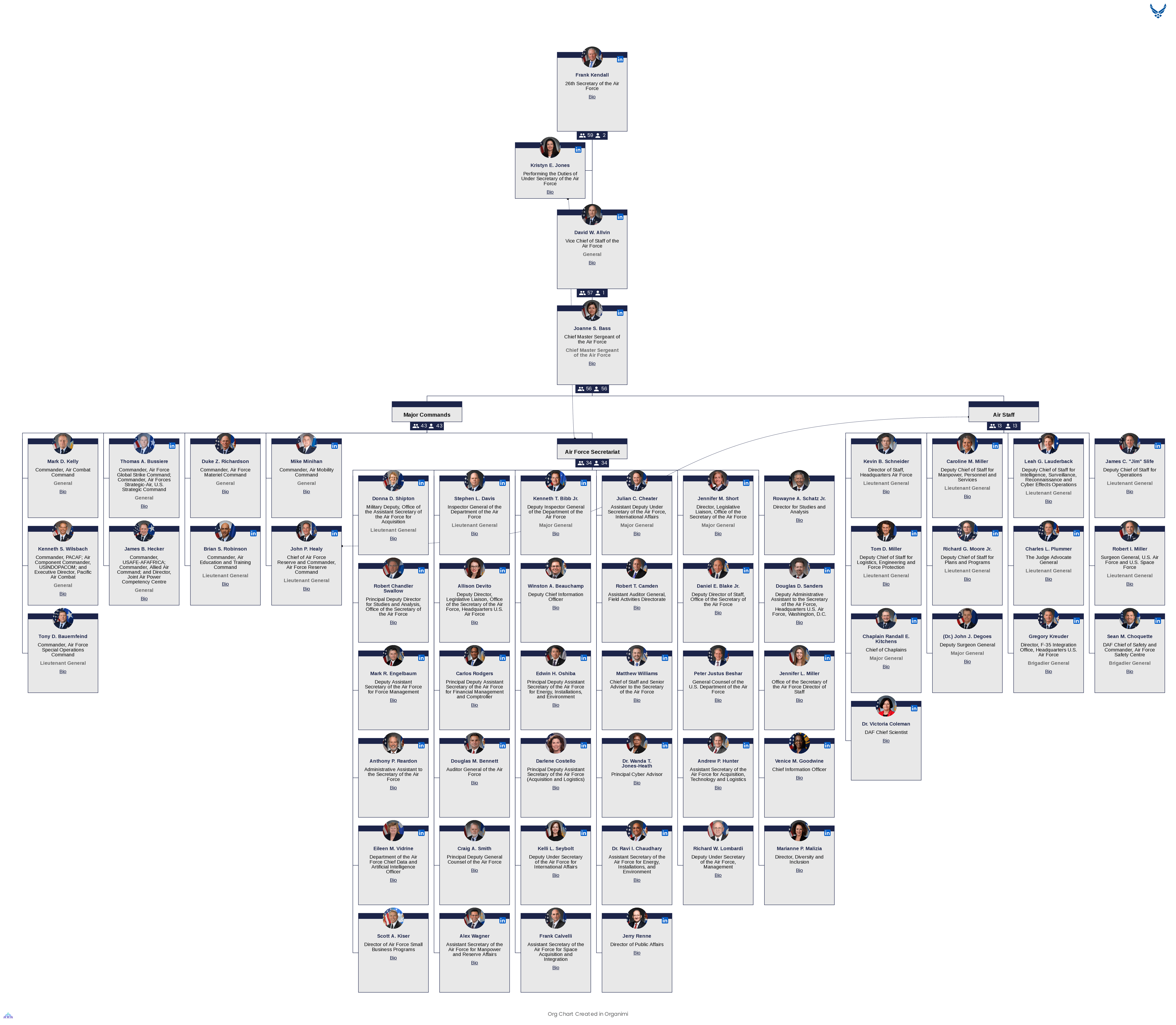 United States Air Force's Organizational Structure
The United States Air Force operates with what is known as an organizational hierarchy, also known as a chain of command. Indeed, it is militaries around the world where this structure originated from. Military hierarchies establish a clear and unambiguous chain of command. This means that every member of the military knows who they report to and who they are responsible for. This clarity is vital in high-stress, high-risk situations where quick and decisive decision-making is necessary.
At the very top of this hierarchy is USAF's senior leadership depicted in the org chart above. This team oversees the entire Air Force and works closely with the Chief of Staff. Immediately subordinate to them is the Air Staff, led by the Chief of Staff of the Air Force, which provides strategic direction, policy guidance, and recommendations to the Secretary of the Air Force and the President. 
The USAF itself is organized into multiple Major Commands, each responsible for specific functions or geographic regions. Air Combat Command (ACC), for example, is responsible for combat forces, while Air Mobility Command (AMC) focuses on airlift and refueling. Each of the 10 USAF MAJCOMs has its own command structures and bases and is led by either a three- or four-star general. 
Within MAJCOMs are Wings and Groups—the primary operational units within the USAF. Wings often consist of multiple squadrons and are responsible for executing the mission whereas are units within wings with specific functions.
It is worth noting that there are three agencies of the USAF that sit outside of the bounds of this organizational hierarchy: the Direct Reporting Units (DRUs). These units are the Air Force District of Washington (AFDW), the Air Force Operational Test and Evaluation Center (AFOTEC), and the United States Air Force Academy (USAFA). They sit exclusively and uniquely under the control of USAF headquarters rather than through a major command. 
Want to learn more about hierarchical and other organizational structures and their role in the business world? Here are some helpful blog resources that you can get started with:
Create this chart in Organimi! 
You can download the CSV file of United States Air Force's org structure, import it into Organimi and start editing this chart right away! Here's how:
 From your dashboard, select Data Import.
 Click the CSV tile.

 Click 

+Upload Your File

.  

 

Select an Excel file from your device.

 In the 

Organization

 field, click the down arrow to select an organization.

Click Create a New Chart

Click 

Next and select: Organization Chart
Select the auto-build tool to automatically build your chart.
Voila!
Download CSV file:


United States Air Force (17.96 KB)
Build better org charts with
Organimi.
A powerful, cloud-based platform that helps you create, connect, and collaborate with your colleagues wherever they work.