Unilever's Organizational Structure
Create this exact chart in Organimi! Scroll below to see how. 
Introduction
Unilever is a British multinational consumer goods company headquartered in London, England. Founded in September 1929 by the merger of the British soap maker Lever Brothers and the Dutch margarine producer Margarine Unie, it is now one of the world's largest companies and has a global reach with its extensive line of products. 
Unilever's main products include food, condiments, ice cream, cleaning agents, beauty products, and personal care. The company is the largest producer of soap in the world and its products are available in around 190 countries. Some of Unilever's largest brands include Ben & Jerry's, Hellman's, Axe, and Sunsilk. 
In its time, Unilever has made numerous corporate acquisitions of companies which include Lipton, Best Foods, and Dollar Shave Club. The company has a primary listing on the London Stock Exchange, is a constituent of the FTSE 100 Index, and also has a listing on the New York Stock Exchange.
In November 2020, Unilever's UK and Dutch arms merged to form a single London-based entity.
Unilever's Leadership Executive Team (ULE)
Unilever is led by a team of international C-level executives and presidents known as the 'Unilever Leadership Executive.
The C-level executives take the lead on areas like finance, supply chain, and legal while the company's presidents lead its five business groups: Beauty & Wellbeing, Personal Care, Home Care, Nutrition, and Ice Cream.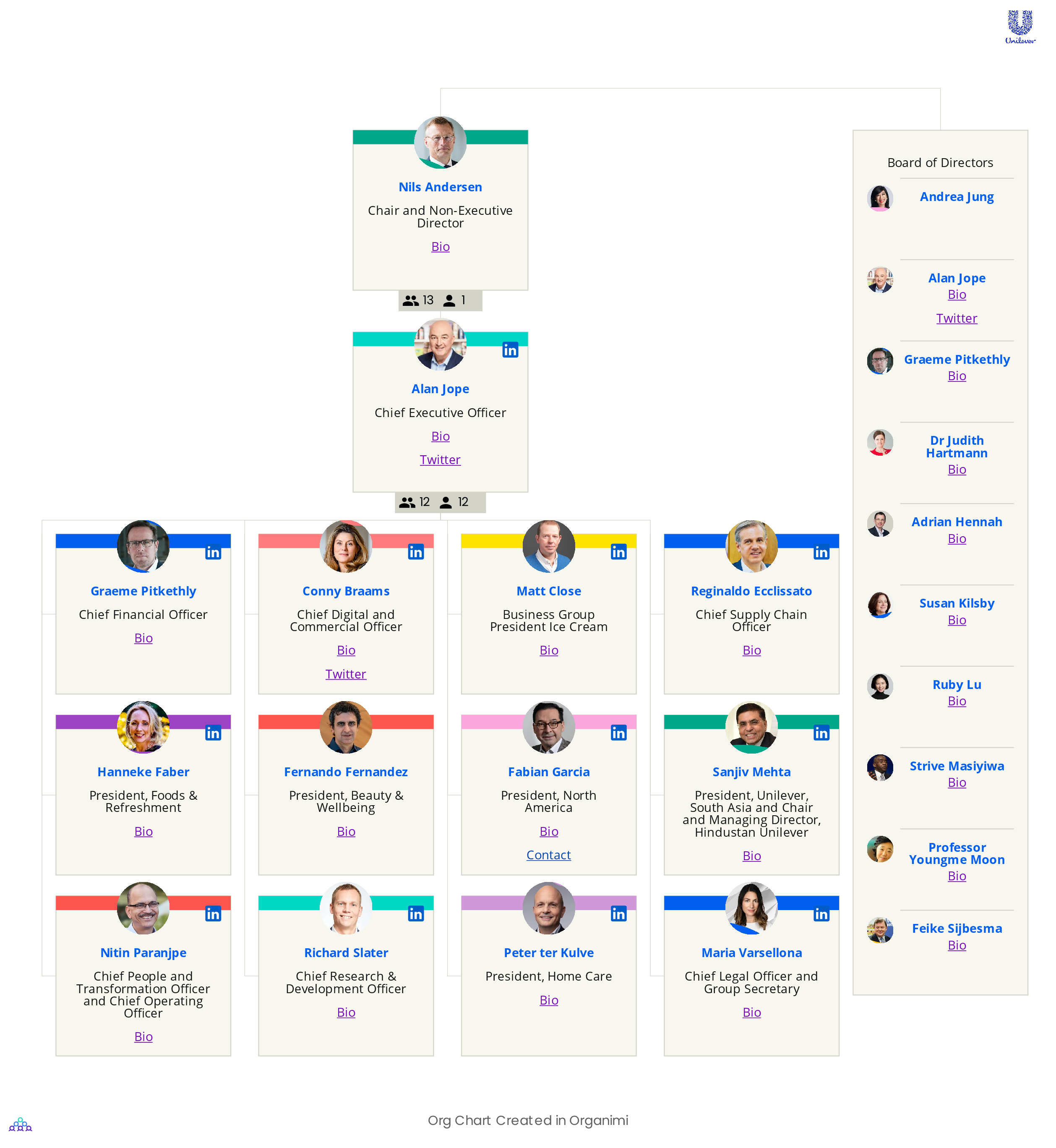 Unilever's Organizational Structure
In early 2022, Unilever announced huge changes to its organizational structure to make it a "simpler, more category-focused business". 
The company announced that it was to move away from its previous matrix structure and organize itself around the five Business Groups mentioned earlier. Each Unilever Business Group is fully responsible and accountable for its own strategy, growth, and profit delivery globally. 
This type of structure is known as a 'functional' or 'divisional' structure whereby an organization is divided up according to focus areas. In Unilever's case, the focus is on the Business Groups which cover key brand and product areas. Where a function or division doesn't fall into one of the Business Groups (i.e., legal) it is designated as a corporate team and falls under the responsibility of a C-level executive (i.e., the Chief Legal Officer). 
One of the primary advantages of a functional/divisional structure is its support for innovation and product development. As we highlighted, each Business Group at Unilever operates almost autonomously and is responsible for its own growth. This means that employees who fall within each Business Group are more determined to take ownership of their roles because they can more easily see the impact that their work has on the wider organization. 
One of the disadvantages of Unilever's approach is its lack of support at the regional level. Although there are some geographic elements to the company's organizational structure, the core focus of it is on its Business Groups and the brands and products that fall under them. This means that there's potentially limited support for market-specific operations depending on how each Business Group chooses to manage its operations. 
Want to learn more about organizational structures and the role that they play within modern organizations? Here are some helpful blog resources that you can get started with:
Create this chart in Organimi! 
You can download the CSV file of Unilever's org structure, import it into Organimi and start editing this chart right away! Here's how:
 From your dashboard, select Data Import.
 Click the CSV tile.

 Click 

+Upload Your File

.  

 

Select an Excel file from your device.

 In the 

Organization

 field, click the down arrow to select an organization.

Click Create a New Chart

Click 

Next and select: Organization Chart
Select the auto-build tool to automatically build your chart.
Voila!
Download CSV file:


Unilever (30.98 KB)
Build better org charts with
Organimi.
A powerful, cloud-based platform that helps you create, connect, and collaborate with your colleagues wherever they work.