Under Armour's Organizational Structure
Create this exact chart in Organimi! Scroll below to see how. 
Introduction
Under Armour is a well-known American sports clothing and accessories company founded on September 25, 1996, by Kevin Plank. The brand is recognized for its high-performance athletic wear, footwear, and sports equipment. Headquartered in Maryland, Under Armour employs a workforce of 17,500 as of December 2021 and serves a worldwide customer base.
Under Armour has been instrumental in the development of connected fitness platforms and apps. The company is responsible for developing apps like MapMyRun, MyFitnessPal, and Endomondo, which have become popular tools for athletes and individuals seeking to monitor their fitness and nutrition. 
Additionally, Under Armour has established itself as a prominent brand sponsor in the sports world, partnering with numerous professional athletes and teams, and contributing to its wide recognition in the sports and fitness industry.
Under Armour's Executive Officers
Under Armour's day-to-day operations are overseen by a relatively small team of C-level executive officers. 
Under Armour's founder Kevin A. Plank oversees this team as the company's Executive Chair and Brand Chief but, in theory, the person responsible is the President and CEO, which is a separate role. This relatively small executive team also includes typical C-level roles such as COO, CFO, Chief Consumer Officer, Chief People Officer, and the company's President for the Americas region.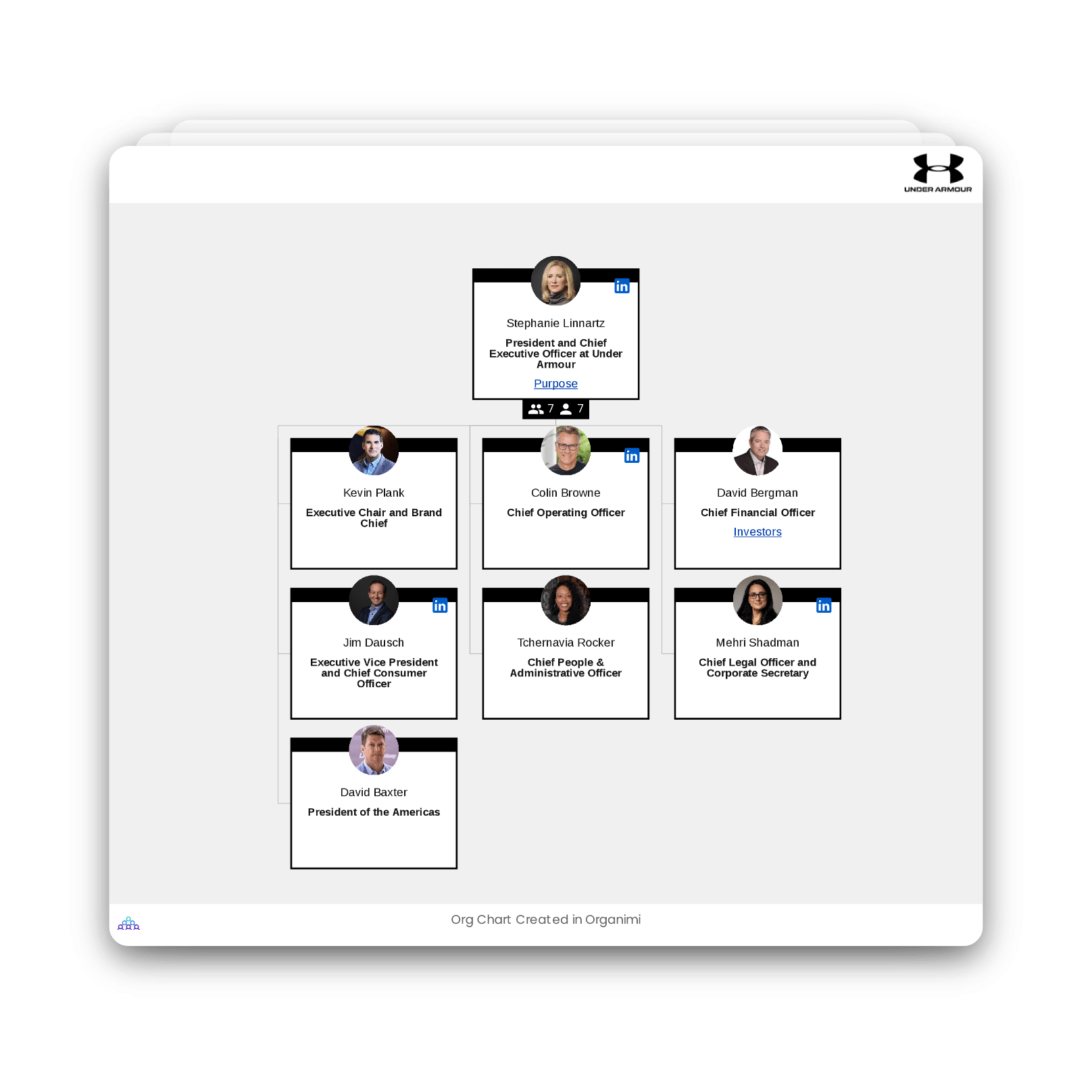 Under Armour, like many organizations, has a Board of Directors that works closely with the company's executive officers to set the company's strategic direction. The Board is also responsible for ensuring that the company adheres to regulatory requirements, as well as ethical and corporate governance standards. 
As with many boards, the Under Armour Board largely holds an advisory role. However, some do have wide-reaching powers, duties, and responsibilities as stipulated by corporate law and government regulations, particularly in heavily regulated industries such as finance and pharma.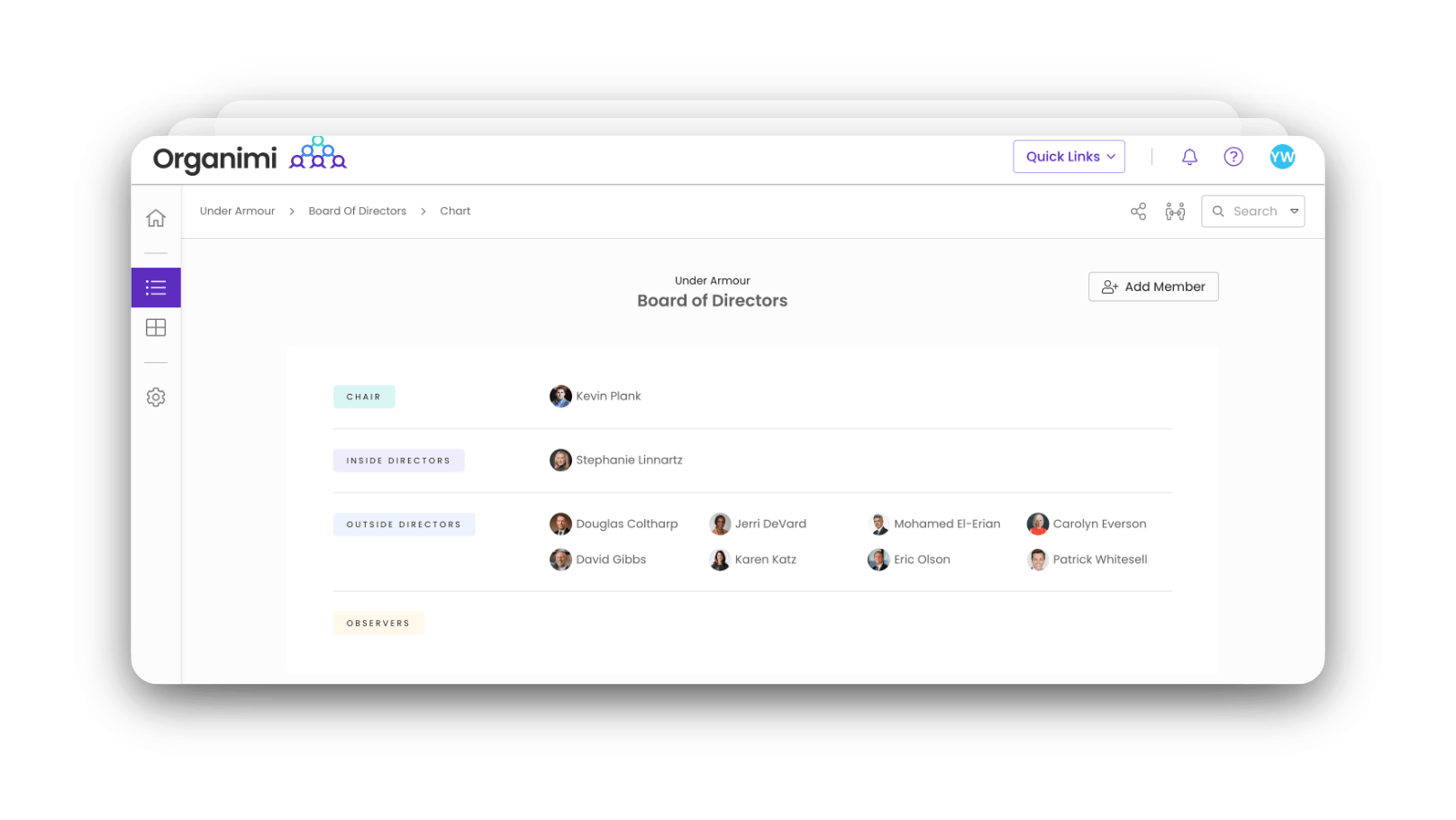 Under Armour's Organizational Structure
Under Armour appears to operate with a traditional organizational hierarchy. This is supported by the fact that the company is led by a team of executive officers who occupy broad roles such as People, Finance, and Consumer (i.e., product). These people, along with other senior executives, are responsible for leading the company and its people by setting the overall strategic direction and ensuring that its goals are met.
Despite Under Armour's overall org structure representing that of a traditional hierarchy, it does also have elements that are reflective of those seen in functional organizations. In a functional structure, the company is organized around different functions or departments, each focusing on specific aspects of the business. In the context of Under Armour, this can be seen through the presence of various functional departments, such as marketing, sales, and legal. 
Under Armour, given its global presence, also operates with regional divisions. The Americas, which is the company's biggest market, is represented by a dedicated executive on the Executive Officers team, however, the company also has geographic divisions for other major markets including EMEA and Asia Pacific. These geographic divisions have their own leadership and teams, enabling them to tailor strategies to the unique needs of their respective markets.
Want to learn more about organizational structures and the important role that they play in the business world? Here are some helpful blog resources that you can get started with:
Create this chart in Organimi! 
You can download the CSV file of Under Armour's org structure, import it into Organimi and start editing this chart right away! Here's how:
 From your dashboard, select Data Import.
 Click the CSV tile.

 Click 

+Upload Your File

.  

 

Select an Excel file from your device.

 In the 

Organization

 field, click the down arrow to select an organization.

Click Create a New Chart

Click 

Next and select: Organization Chart
Select the auto-build tool to automatically build your chart.
Voila!
Download CSV file:


Under Armour (9.75 KB)
Build better org charts with
Organimi.
A powerful, cloud-based platform that helps you create, connect, and collaborate with your colleagues wherever they work.