Target's Organizational Structure
Create this exact chart in Organimi! Scroll below to see how. 
Introduction
Target Corporation is an American retail company that was founded on June 24, 1902. With its headquarters in Minneapolis, Minnesota, Target operates as a chain of discount stores offering a wide range of products, including clothing, household essentials, electronics, and groceries. It has grown to become one of the largest retailers in the United States.
Target Corporation employs over 440,000 team members across its stores and corporate offices as of 2022. Its workforce is spread throughout the United States, with over 1,900 stores in various locations. In recent years, Target has been focused on expanding its presence in urban areas and enhancing its online shopping experience to cater to changing consumer preferences. Target was ranked No. 32 on the 2022 Fortune 500 list of the largest U.S. corporations by total revenue. 
The company has established several exclusive partnerships and collaborations with popular brands and designers, offering unique and stylish merchandise. Additionally, Target has made significant investments in sustainability initiatives, aiming to be a more environmentally friendly retailer by implementing energy-efficient practices and reducing its carbon footprint.
Target's Organizational Leadership
Target, despite its huge size, is led by a relatively small leadership team. At the helm is the Chair and Chief Executive Officer who is supported by several Executive Vice Presidents who have operational oversight and responsibility for a selection of areas within the company. 
These include EVPs for Growth, Food and Beverage, HR, and Communications. Each EVP holds a lateral C-level role.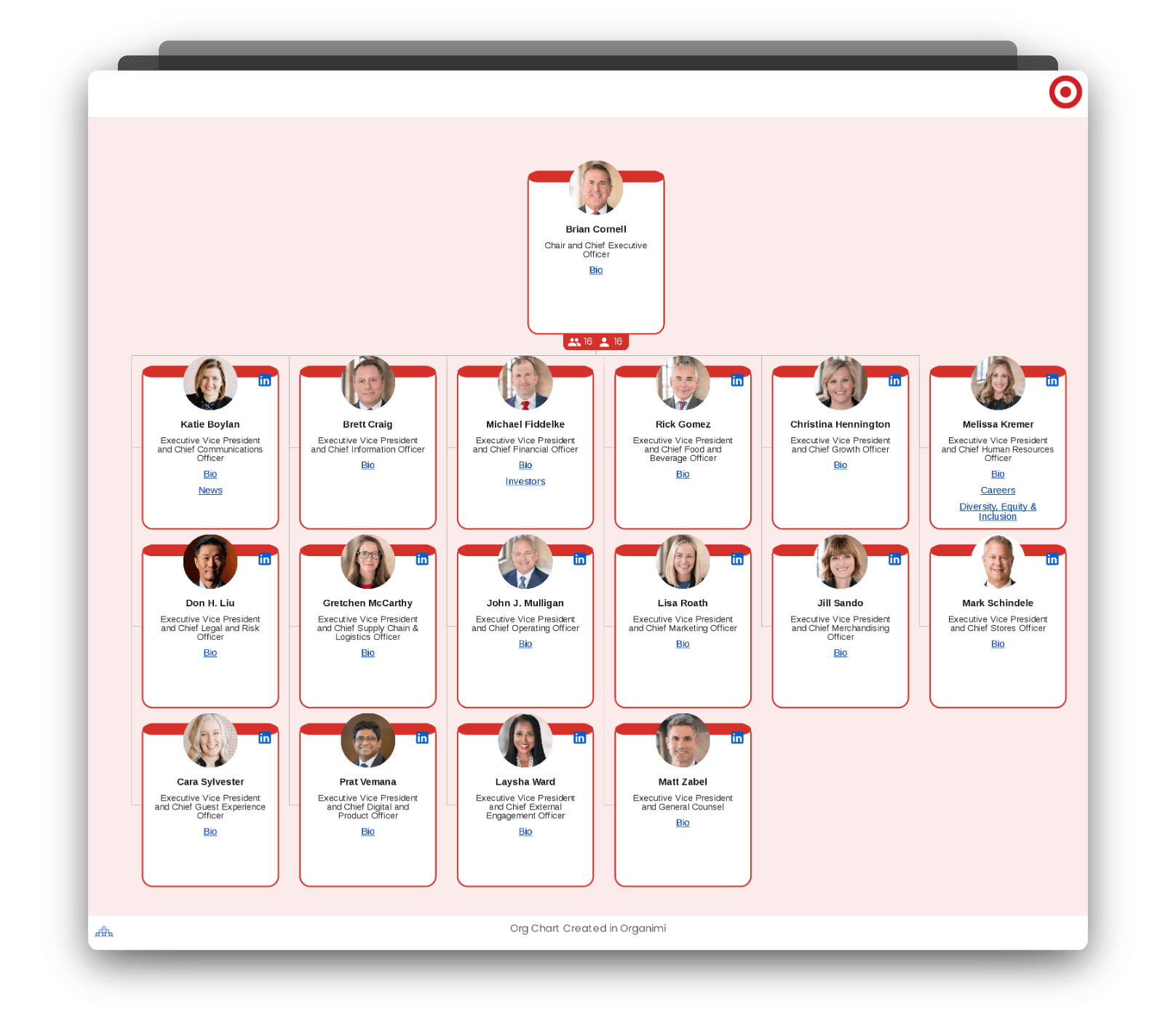 Target is also overseen by a board of directors, which is the governing body of the company. The board is elected by stockholders, with members often selected for their expertise in a particular area or their industry connections. 
Target's Board of Directors is responsible for overseeing the business and affairs of the company, which covers a wide range of activities. All of the members of the Board of Directors, other than Brian Cornell, are independent under the listing standards of the NYSE. 
As with many boards, the board at Target largely holds an advisory role, but some do have wide-reaching powers, duties, and responsibilities as stipulated by corporate law and government regulations, particularly in heavily regulated industries such as finance and pharma.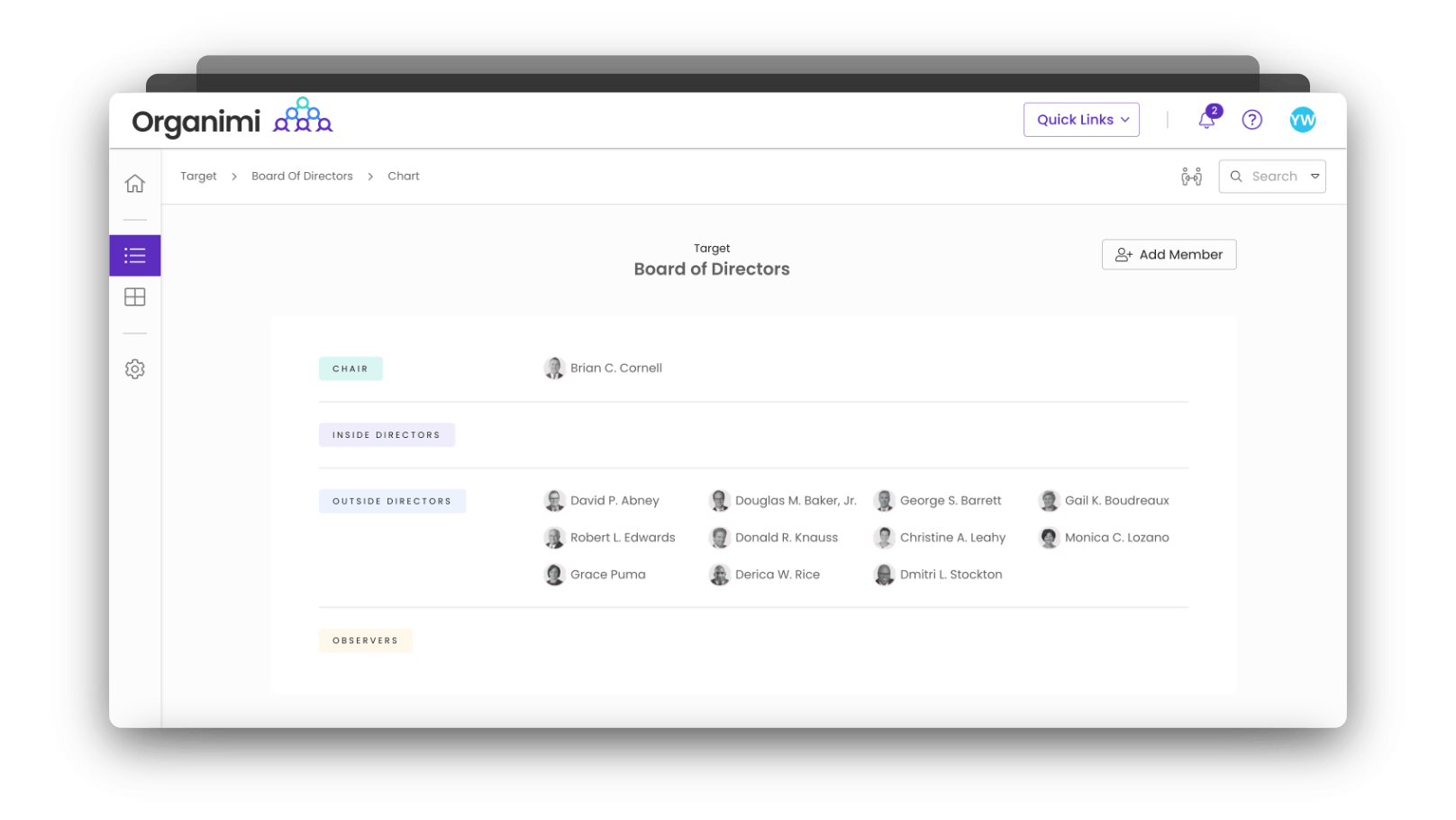 Target's Organizational Structure
Target Corporation operates with a matrix organizational structure. A matrix structure combines aspects of both functional and divisional structures, allowing for a dual reporting relationship and increased collaboration across different areas of the organization.
Executive Leadership Team: As we've already explored, Target's Executive Leadership Team consists of top-level executives who oversee the overall strategic direction and decision-making for the company. This team includes the Chief Executive Officer (CEO), and EVPs with lateral C-level roles such as Chief Financial Officer (CFO), Chief Marketing Officer (CMO), Chief Human Resources Officer (CHRO), and other key executives. They provide leadership and guidance to the divisions and functions.
Functions: Alongside the divisional structure, Target has functional departments that provide support and expertise across the entire organization. These functions include Finance, Marketing, Human Resources, Information Technology, Supply Chain, Store Operations, and others. Each function is headed by a department head who oversees the function's operations and reports to the executive leadership team.
Divisions: Target operates with various divisions, each responsible for a specific line of business or product category. Examples of divisions at Target include Apparel & Accessories, Beauty & Wellness, Home, Electronics, and more. Each division is headed by a divisional leader who oversees the division's operations and performance.
In the matrix structure, employees typically have a dual reporting relationship. They report to both their divisional leaders, who oversee their specific product category or line of business, and to their functional managers, who provide guidance and support based on their expertise.
The matrix structure allows Target to leverage the benefits of both divisional and functional structures. It promotes cross-functional collaboration, sharing of resources and expertise, and efficient decision-making. The divisional structure enables a focus on specific business areas, while the functional structure ensures specialized support and coordination across the organization.
Want to learn more about org structures and the important role that they play in the world of business? Here are some helpful blog resources that you can get started with:
Create this chart in Organimi! 
You can download the CSV file of Target's org structure, import it into Organimi and start editing this chart right away! Here's how:
 From your dashboard, select Data Import.
 Click the CSV tile.

 Click 

+Upload Your File

.  

 

Select an Excel file from your device.

 In the 

Organization

 field, click the down arrow to select an organization.

Click Create a New Chart

Click 

Next and select: Organization Chart
Select the auto-build tool to automatically build your chart.
Voila!
Download CSV file:


Target (4.83 KB)
Build better org charts with
Organimi.
A powerful, cloud-based platform that helps you create, connect, and collaborate with your colleagues wherever they work.