T-Mobile's Organizational Structure
Create this exact chart in Organimi! Scroll below to see how. 
Introduction
T-Mobile US is a telecommunications brand that is currently the second-largest wireless carrier in the United States, with an estimated 110 million subscribers as of Q2 2022. 
The company was founded in 1994 as VoiceStream Wireless before Deutsche Telekom purchased it in 2001 and renamed it after its existing T-Mobile brand. T-Mobile US provides wireless voice and data services in the United States under both T-Mobile and Metro by T-Mobile brands. The company also serves as the host network for many mobile virtual network operators. 
T-Mobile US merged with Sprint Corporation in 2020 following a two-year legal battle with U.S. competition authorities. As of August 2022, Deutsche Telekom AG holds 48.4 percent of T-Mobile US's common stock, making it the largest shareholder. 
On June 25, 2018, T-Mobile and Nokia completed their first bi-directional 5G NR transmission in the 28 GHz frequency compliant with 3GPP 5G standards. This was recognized as a huge step forward to building a nationwide 5G Network at the time. 
T-Mobile US's Executive Team & Organizational Structure Chart
T-Mobile US, as a subsidiary of Deutsche Telekom, has its own team of executives who oversee the company's day-to-day operations. This team is currently led by President & CEO Mike Sievert, who is supported in his role by 16 C-level executives, presidents, and executive vice presidents who take charge of functional areas of the business.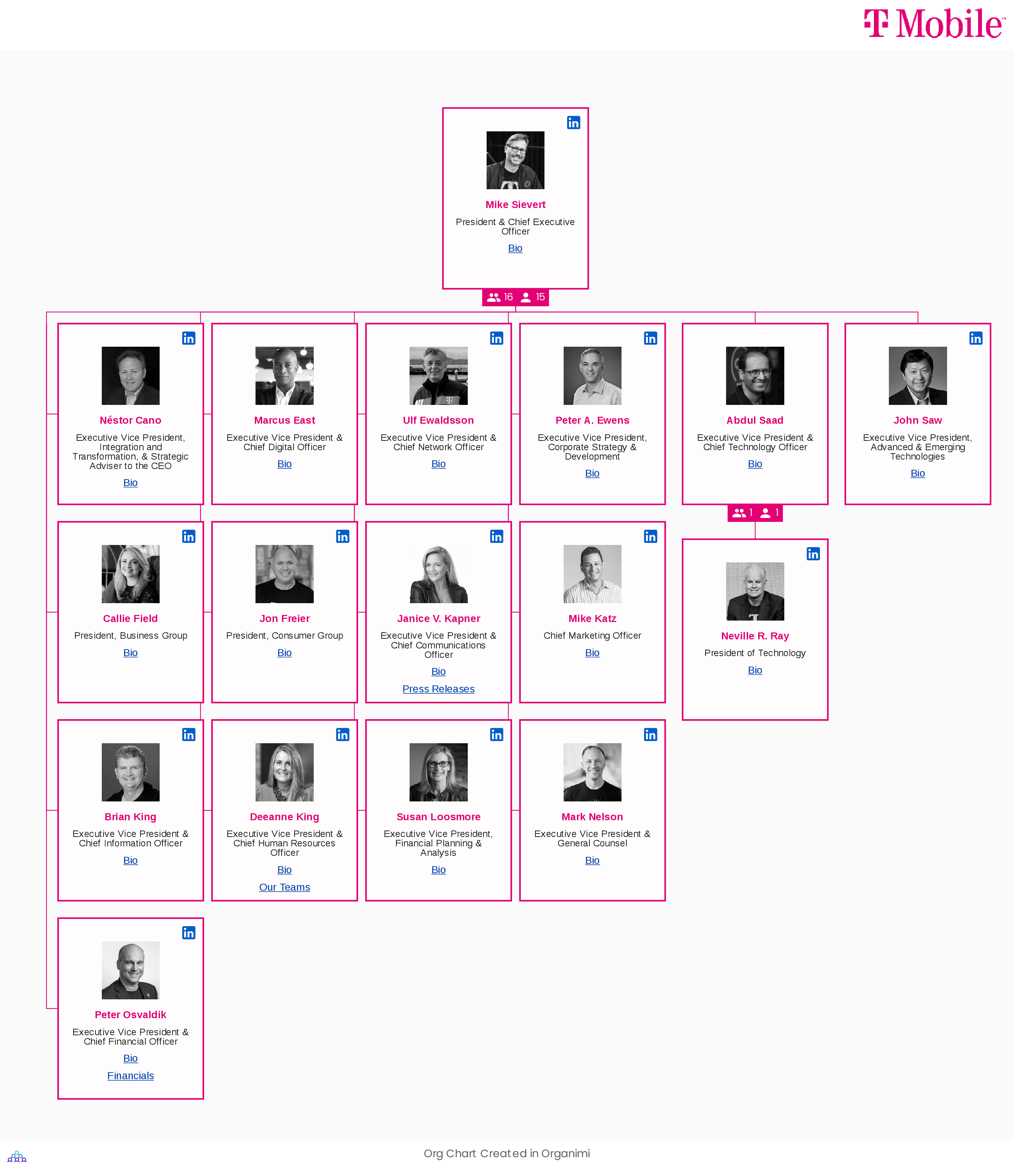 Most large organizations like T-Mobile US are also overseen by a board of directors. This is the governing body of a company that's elected by stockholders, with members often selected for their expertise in a particular area or their industry connections. 
A board typically holds an advisory role, but some boards do have wide-reaching powers, duties, and responsibilities as stipulated by corporate law and government regulations, particularly in heavily regulated industries such as finance and pharma. 
An organization can also elect to give its board supervisory powers and oversight through its own constitution and by-laws.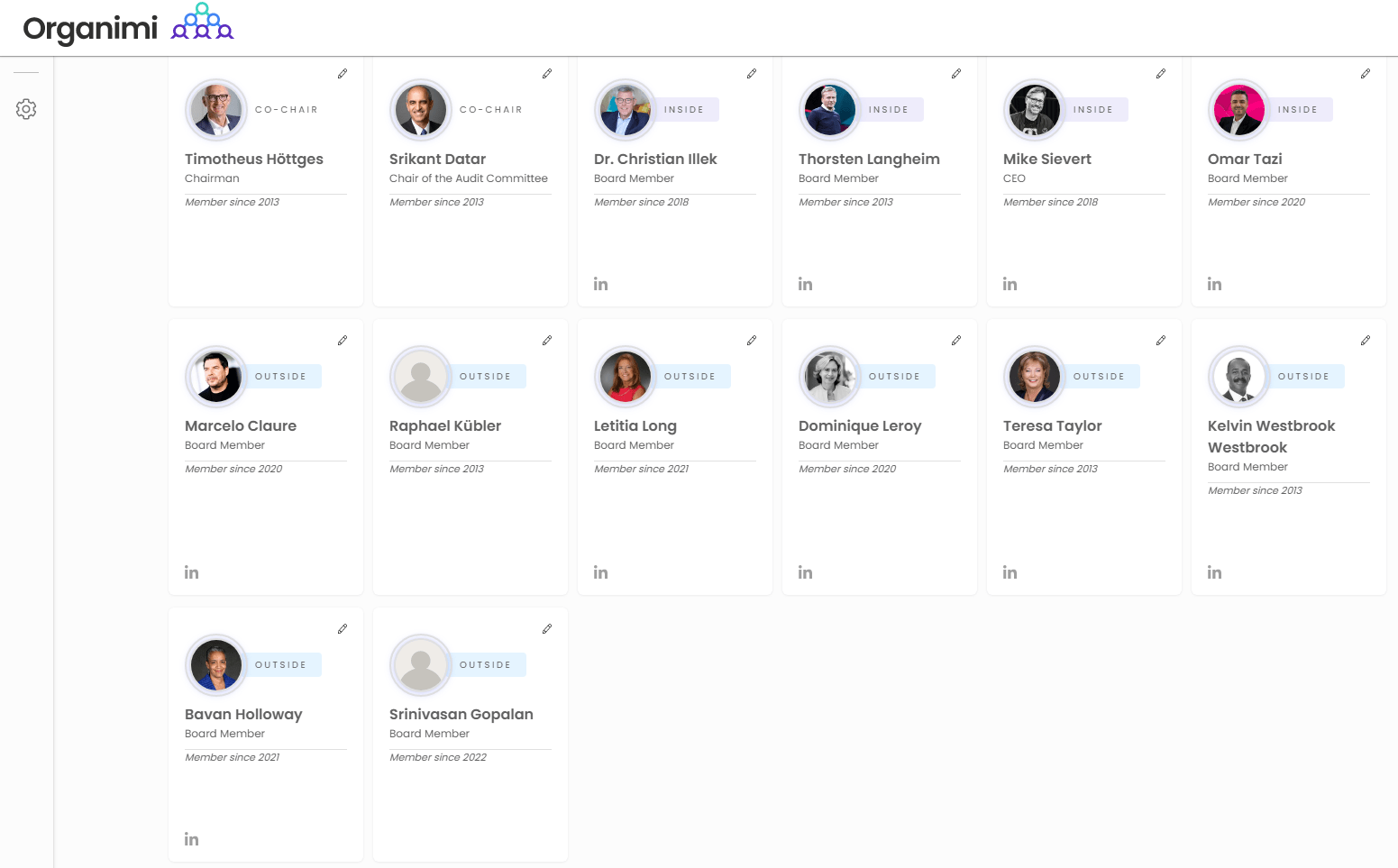 T-Mobile's Organizational Structure
T-Mobile US underwent a substantial restructuring following its merger with Sprint Corporation in 2020. "To create this future, we need to bring together the BEST of BOTH T-Mobile and Sprint – the best of our people and cultures," Legere and Sievert wrote in a letter to employees at the time of the merger. 
While some executives continued in their existing roles, some T-Mobile and Sprint executive roles were combined, and others took over new positions. Abdul Saad, then-SVP of technology at T-Mobile, for example, was promoted to CTO, while then-Sprint exec Deeanne King took on the role of EVP & chief human resources officer. 
Looking at T-Mobile US's current organizational chart, we can see that the company operates with a classic corporate hierarchy in terms of its organizational structure. A traditional hierarchy has many different layers of management and lines of authority, just like T-Mobile US with its large executive team, whereby information and decisions flow up and down a corporate chain of command until it reaches the relevant team, people, or person. 
At the top of T-Mobile US's hierarchy is the President and CEO, followed by the three Presidents of the company's three focus areas: Business Group, Consumer Group, and Technology. Immediately following these Presidents are the Executive Vice Presidents who are the C-level executives for functional areas, including HR, Finance, and Marketing. 
If you'd like to learn more about organizational structures and the critical role they play within modern organizations, here are some helpful blog resources to get you started:
Create this chart in Organimi! 
You can download the CSV file of T-Mobile's org structure, import it into Organimi and start editing this chart right away! Here's how:
 From your dashboard, select Data Import.
 Click the CSV tile.

 Click 

+Upload Your File

.  

 

Select an Excel file from your device.

 In the 

Organization

 field, click the down arrow to select an organization.

Click Create a New Chart

Click 

Next and select: Organization Chart
Select the auto-build tool to automatically build your chart.
Voila!
Download CSV file:


T-Mobile (20.7 KB)
Build better org charts with
Organimi.
A powerful, cloud-based platform that helps you create, connect, and collaborate with your colleagues wherever they work.