Spotify's Organizational Structure
Create this exact chart in Organimi! Scroll below to see how. 
Introduction
Spotify is a Swedish audio streaming provider founded in April 2006 by Daniel Ek and Martin Lorentzon. It quickly grew to become one of the world's largest music streaming service providers, with more than 433 million active users and 188 million paying subscribers as of June 2022. 
Spotify offers digital copyright restricted music and podcasts, including a library of more than 82 million songs from record labels and media companies. The service is currently available in more than 180 countries, including most of Europe, the Americas, and Oceania. 
Spotify is available on most devices, including Windows, macOS, and Linux computers, iOS and Android smartphones and tables, smart home devices such as Amazon Echo, and digital media players such as Roku. Unlike physical or download sales, which pay artists a fixed price per song or album sold, Spotify pays royalties based on the number of artist streams as a proportion of total songs streamed. The company distributes approximately 70% of its total revenue to artists and rights holders.
Spotify's Leadership
Spotify is led by a Board of Directors and a team of executives, known as 'Management', as is typical for larger organizations.
The company is currently led by Founder and CEO Daniel Ek, who is supported by eight key members of staff occupying C-level positions, such as chief financial officer and chief human resource officer.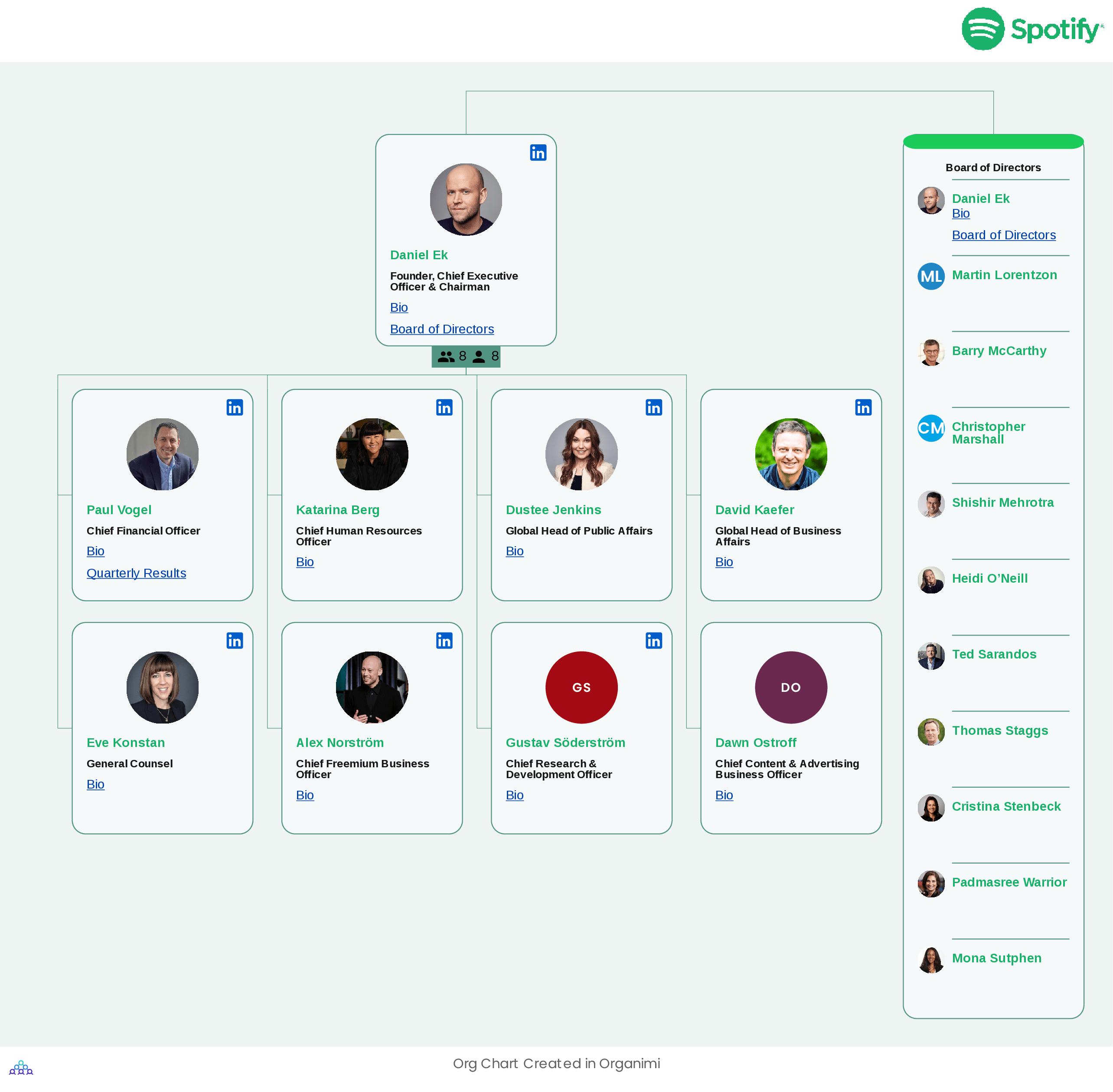 Spotify's Organizational Structure
Spotify is, at a fundamental level, a marketplace that allows customers to access music and other digital content from content creators via a network-like platform. This requires Spotify to have structural flexibility for it to grow quick while simultaneously competing with other large digital content distributors such as Amazon, Apple, and Google. 
A fundamental element of business development and design, Spotify's organizational structure enables it to expand rapidly, strengthening its competitive advantages over other companies.
In 2012, Henrik Kniberg and Anders Ivarsson wrote Scaling Agile @ Spotify, a white paper that sets out the company's approach to their organizational structure and culture. The paper introduced what is now known as the "Spotify model", a widely emulated way of structuring a company. It's described by Kniberg and Ivarsson as a people-driven, autonomous framework for "scaling agile". 
The Spotify model places a huge focus on the importance of culture and consists of "squads, tribes, chapters, and guilds". Squads are the unit at the "bottom" of the Spotify model and are designed to consist of between six and 12 people, operating much like a small start-up. 
"Each squad has a long-term mission such as building and improving the Android client, creating the Spotify radio experience, scaling the backend systems, or providing payment solutions," wrote Kniberg and Ivarsson in the white paper. 
Squads are given the freedom to be self-organizing and able to choose their own agile methodology. They're overseen by an "agile coach" and a product owner, who is responsible for prioritizing work that needs to be done—but not how it should be done. Product owners of different squads collaborate to maintain high-level alignment with Spotify's overall mission. 
As a result of this agile approach, it can be said that Spotify operates with an "N-form" organizational structure which prioritizes the sharing and integration of knowledge throughout. 
Want to learn more about organizational structures and the role that they play within modern organizations? Here are some helpful blog resources that you can get started with:
Create this chart in Organimi! 
You can download the CSV file of Spotify's org structure, import it into Organimi and start editing this chart right away! Here's how:
 From your dashboard, select Data Import.
 Click the CSV tile.

 Click 

+Upload Your File

.  

 

Select an Excel file from your device.

 In the 

Organization

 field, click the down arrow to select an organization.

Click Create a New Chart

Click 

Next and select: Organization Chart
Select the auto-build tool to automatically build your chart.
Voila!
Download CSV file:


spotify (21.16 KB)
Build better org charts with
Organimi.
A powerful, cloud-based platform that helps you create, connect, and collaborate with your colleagues wherever they work.