Sephora's Organizational Structure
Create this exact chart in Organimi! Scroll below to see how. 
Introduction
Founded in 1970 in Limoges by Dominique Mandonnaud, Sephora is a French multinational retailer of beauty and personal care products. Featuring almost 340 brands alongside its own Sephora Collection private label, Sephora offers products for skincare, haircare, fragrance, and cosmetics. 
Since 1997, the company has been owned by the French multinational holding corporation LVMH, which specializes in luxury goods and owns brands including Louis Vuitton, Tag Heuer, Moët & Chandon, and Hennessy. Following LVMH's acquisition of Sephora, the company opened its first stateside store in New York City in 1998, its first Canadian store in Toronto in 2004, and its first Australian store in 2014. In August 2016, Sephora opened its 400th location. 
Although Sephora began life prior to the dot-com boom of the 1990s, the brand was an early e-commerce player when it launched its first website in 1998. According to Julie Bornstein, Sephora's former Chief Digital Officer, the company's resounding success in the eCommerce space, which has helped it survive the retail apocalypse of the last decade or so, can be attributed to it establishing an in-house web development team early on in the information age.
Sephora's Leadership
Indeed, digital is very much embedded into Sephora's organizational structure. In 2013, the company combined its traditional marketing and digital marketing divisions into a single one led by a CDO, thus ensuring that digital is concentrated within organizational leadership. 
In addition to the CDO who oversees all things digital, Sephora is run by a core team of C-level executives and senior vice presidents who manage the functional areas of the business, such as eCommerce and retail.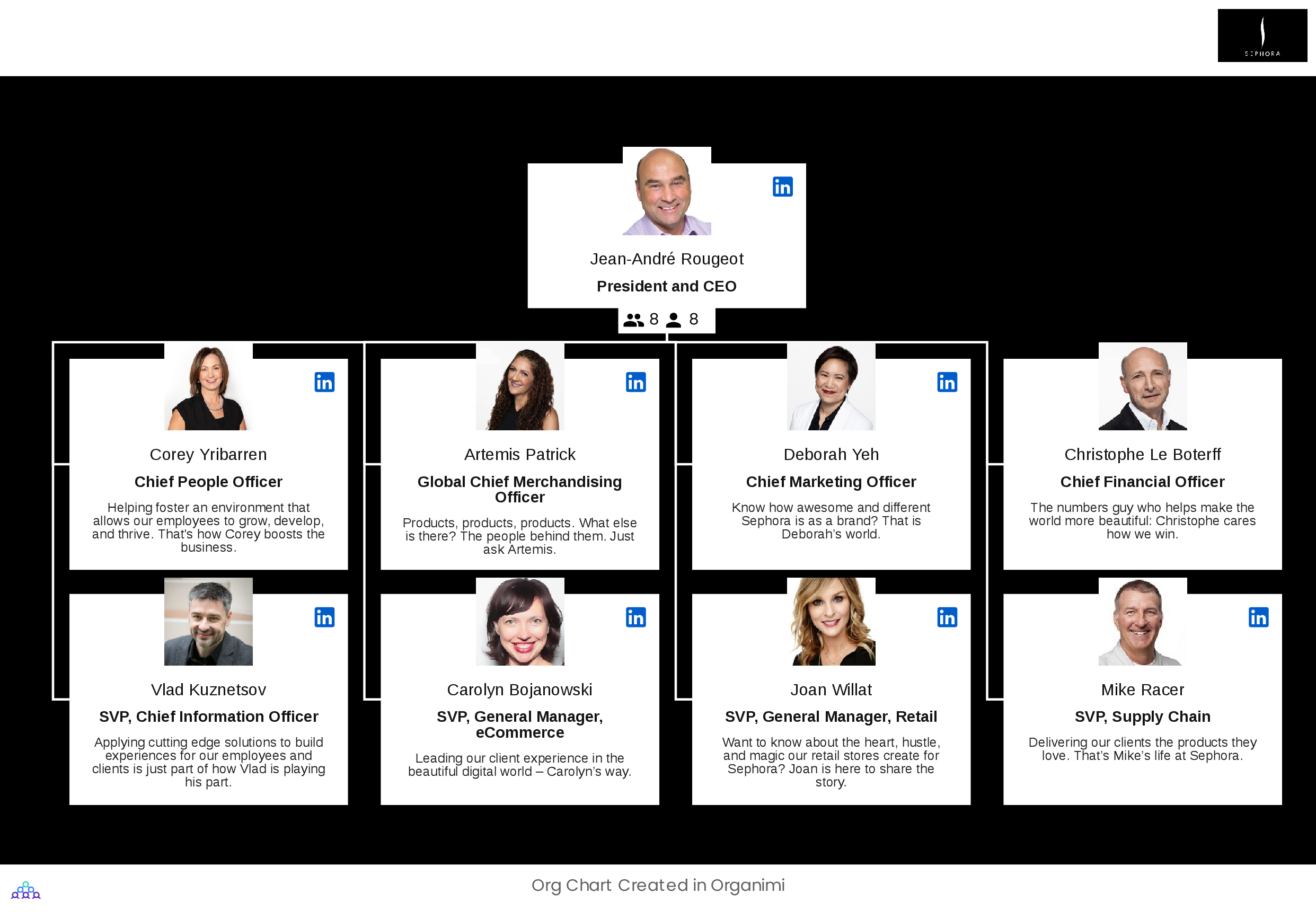 Other key roles include merchandising, marketing, finance, information, and supply chain.
Sephora's Organizational Structure
Sephora can be said to operate with a functional organizational structure, with the company mainly split into two areas: eCommerce and retail. 
As we mentioned earlier, it was the company's ability to identify the potential of eCommerce early on that led to it thriving when many other retailers were struggling to stay ahead of online competitors, and in many cases still are. 
A functional structure is knowledge-led, and it's used to organize and group employees based on their specific skills and expertise. The typical functional org structure is loosely based on a classic hierarchy, and individual departments will usually fall under the leadership of one or two executives or senior managers. 
Organizations with broad operations (i.e., Sephora) tend to use functional org structures because it makes it much easier to manage different business functions efficiently. Functional structures also enable employees to work together more cohesively because the functional org structure groups people together with complementary knowledge and skills. 
Want to learn more about organizational structures and charts? Here are some helpful blog resources that you can get started with:
Create this chart in Organimi! 
You can download the CSV file of Sephora's org structure, import it into Organimi and start editing this chart right away! Here's how:
 From your dashboard, select Data Import.
 Click the CSV tile.

 Click 

+Upload Your File

.  

 

Select an Excel file from your device.

 In the 

Organization

 field, click the down arrow to select an organization.

Click Create a New Chart

Click 

Next and select: Organization Chart
Select the auto-build tool to automatically build your chart.
Voila!
Download CSV file:


Sephora (19.72 KB)
Build better org charts with
Organimi.
A powerful, cloud-based platform that helps you create, connect, and collaborate with your colleagues wherever they work.