Scotiabank's Organizational Structure
Create this exact chart in Organimi! Scroll below to see how. 
Introduction
The Bank of Nova Scotia, also operating as Scotiabank, is a Canadian multinational bank founded on March 30, 1832. Headquartered in Toronto, Ontario, Scotiabank is one of Canada's "Big Five" banks and operates as a leading financial institution in North America and globally. It offers a wide range of banking and financial services, including personal and commercial banking, wealth management, investment banking, and more. As one of Canada's largest banks, Scotiabank employs around 90,000 people and reported a net income of CA$ 9.96 billion in 2021. 
Notably, Scotiabank has demonstrated a strong commitment to international expansion and diversification. It has strategically acquired and established a substantial presence in various emerging markets, particularly in Latin America and the Caribbean. This global approach has allowed Scotiabank to access new growth opportunities and cater to a diverse customer base. In addition, the bank actively engages in corporate social responsibility initiatives, supporting community development, education, and environmental sustainability projects through philanthropic efforts and partnerships.
Scotiabank's Organizational Leadership
Scotiabank has a relatively large top team, known as the Executive Management team. It is led by a President and CEO who is supported in his role by 29 C-level and V-level executives responsible for overseeing various areas of the bank's operations, such as Global Operations, Canadian Wealth Management, and Retail Customers.
Scotiabank's Executive Management team also has three Country Heads who serve as Executive Vice Presidents and lead the bank's operations outside of Canada: Scotiabank Chile, Scotiabank Mexico, and Scotiabank Peru.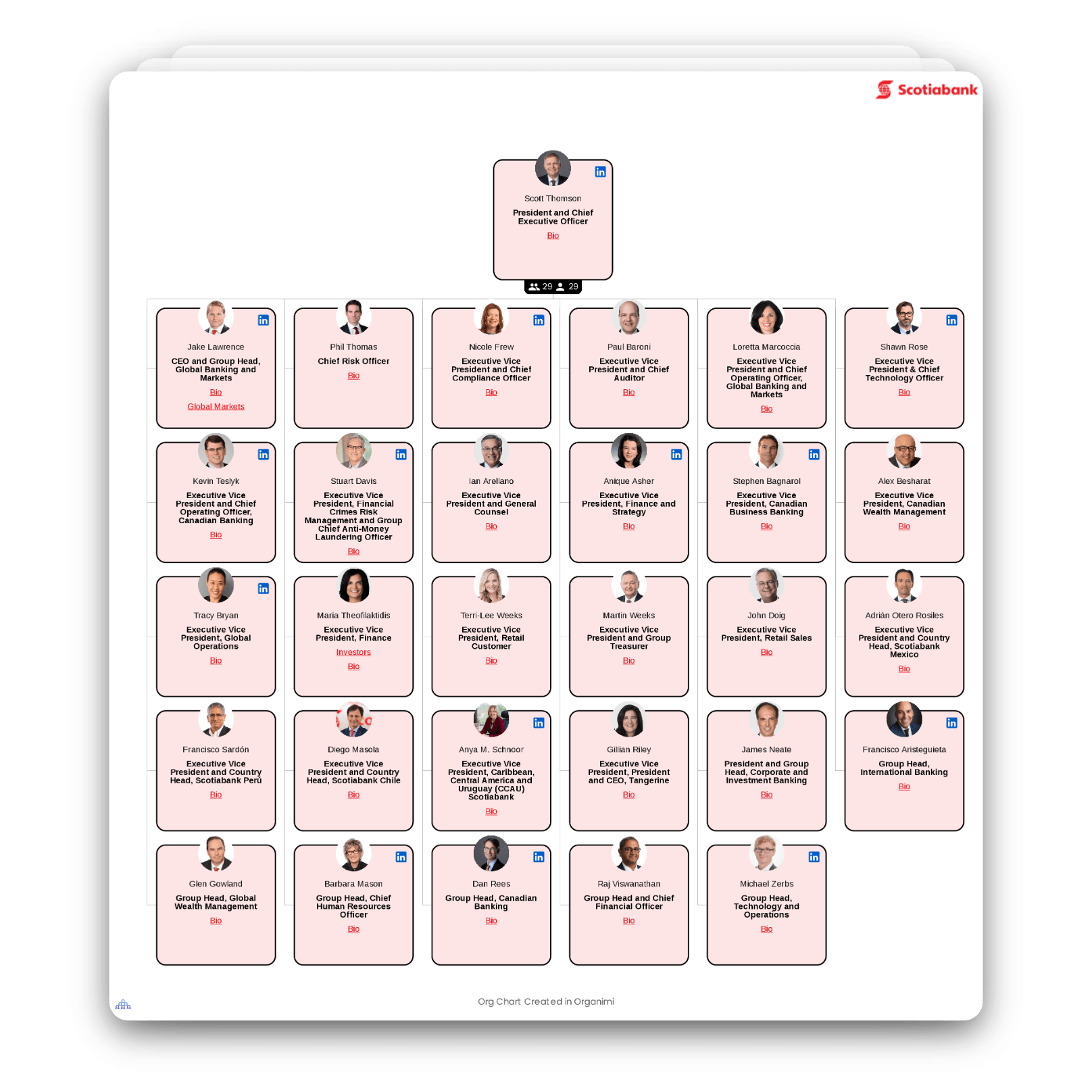 Scotiabank, as a publicly traded financial institution, also has a Board of Directors, illustrating that the bank recognizes the need to adhere to best practices in Canadian and international corporate governance. Boards are usually elected by stockholders, with members often selected for their expertise in a particular area or their industry connections. 
As with many boards, the Scotiabank Board largely holds an advisory role. However, some do have wide-reaching powers, duties, and responsibilities as stipulated by corporate law and government regulations, particularly in heavily regulated industries such as finance and pharma.
Scotiabank's board has four committees:
Audit and Conduct Review

Corporate Governance

Risk

Human Capital and Compensation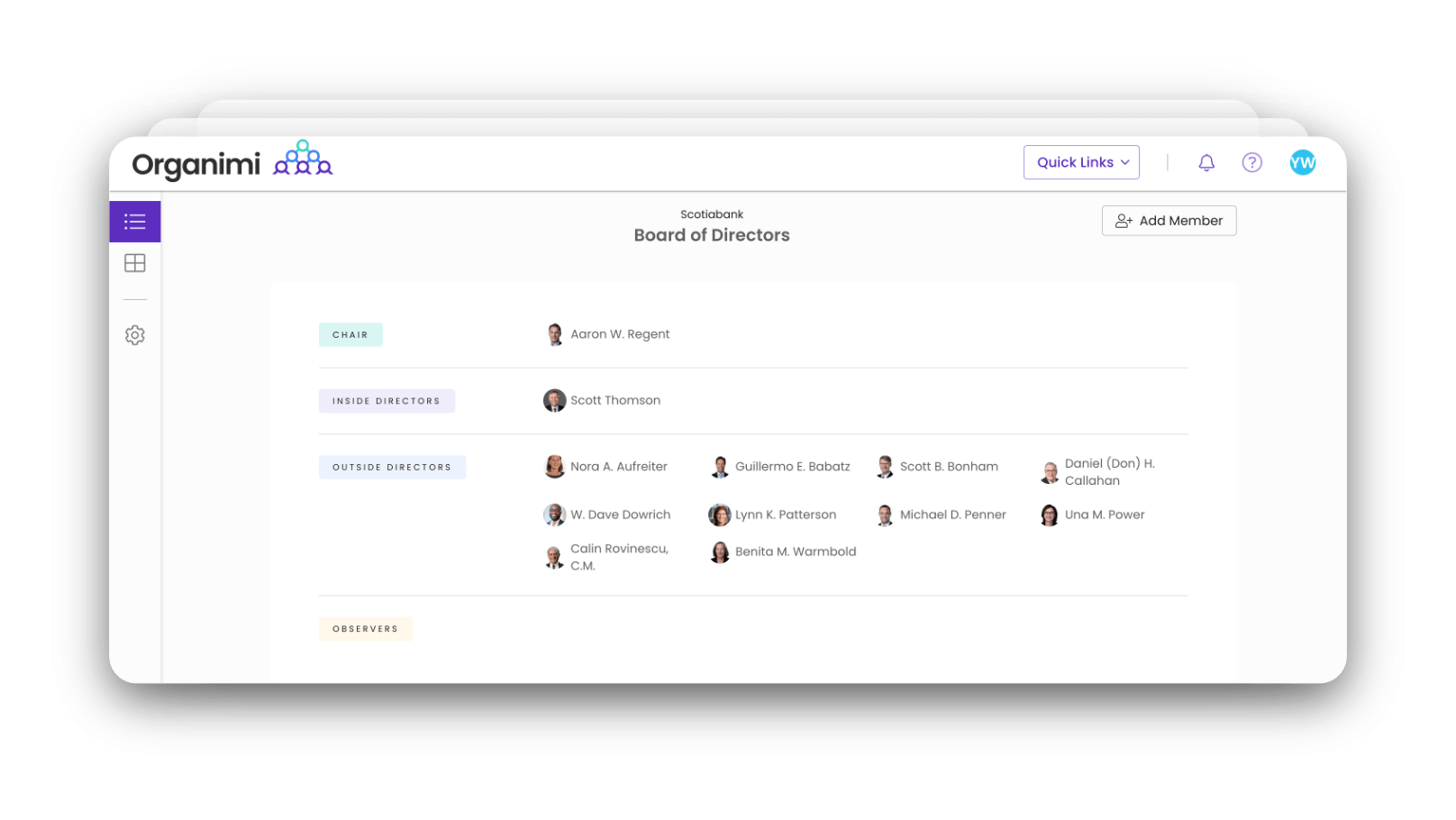 Scotiabank's Organizational Structure
Scotiabank operates with a hierarchical organizational structure that enables effective decision-making, coordination, and accountability. At the top of the structure is the Chief Executive Officer (CEO) who holds the ultimate authority and responsibility for the bank's overall operations and strategic direction. Reporting directly to the CEO are key executives, as you can see in the organizational chart above.  
Below the executive level, Scotiabank is divided into various divisions and business units, each with its own specific focus and responsibilities. These divisions include International Banking, Global Wealth Management, and Corporate and Investment Banking, among others. 
Within each division, there are further reporting relationships and managerial hierarchies. Managers oversee different functions such as sales, operations, risk management, marketing, and human resources. They are responsible for leading their teams and ensuring the execution of strategies and the achievement of objectives.
Scotiabank's organizational structure emphasizes clear lines of authority and communication, allowing for efficient management and alignment of activities across the bank's various divisions and departments. This structure facilitates coordination, collaboration, and delivering financial services to customers while maintaining effective governance and control.
Want to learn more about hierarchical and other organizational structures and the role that they play in the world of business? Here are some helpful blog resources that you can get started with:
Create this chart in Organimi! 
You can download the CSV file of Scotiabank's org structure, import it into Organimi and start editing this chart right away! Here's how:
 From your dashboard, select Data Import.
 Click the CSV tile.

 Click 

+Upload Your File

.  

 

Select an Excel file from your device.

 In the 

Organization

 field, click the down arrow to select an organization.

Click Create a New Chart

Click 

Next and select: Organization Chart
Select the auto-build tool to automatically build your chart.
Voila!
Download CSV file:


Scotiabank (7.71 KB)
Build better org charts with
Organimi.
A powerful, cloud-based platform that helps you create, connect, and collaborate with your colleagues wherever they work.