Roche's Organizational Structure
Create this exact chart in Organimi! Scroll below to see how. 
Introduction
Hoffman-La Roche (Roche) is a leading Swiss multinational healthcare company that operates worldwide in pharmaceuticals and medical diagnostics; it is 122 years old, is family owned, employs around 94,000 people in more than 100 countries, and is the world's largest biotech company.  Headquartered in Basel, Roche is also the world's fifth-largest pharmaceutical company in by revenue and the leading provider of cancer treatments globally.
Founded in 1986, the company gained early notoriety for producing various vitamin derivatives. In 1934, it was the first company to mass-produce synthetic vitamin C and in 1959, it developed the class of tranquilizers known as benzodiazepines, with Valium and Rohypnol being among its most-known members. 
More recently, in March 2020, the Roche Diagnostics division achieved a significant milestone its high-volume Sars-CoV-2 diagnostic test, capable of analyzing 1,400-8,800 samples within 24h on the proprietary cobas 6800/8800 molecular testing system, achieved approval from the U.S. Food and Drugs Administration.
Roche's Organizational Leadership
In keeping with most large organizations, Roche is led by both a board of directors, who are responsible for strategic and operational decision making, and a team of high-level executives known as the executive committee, which is collectively responsible for the day-to-day management of different areas of the business.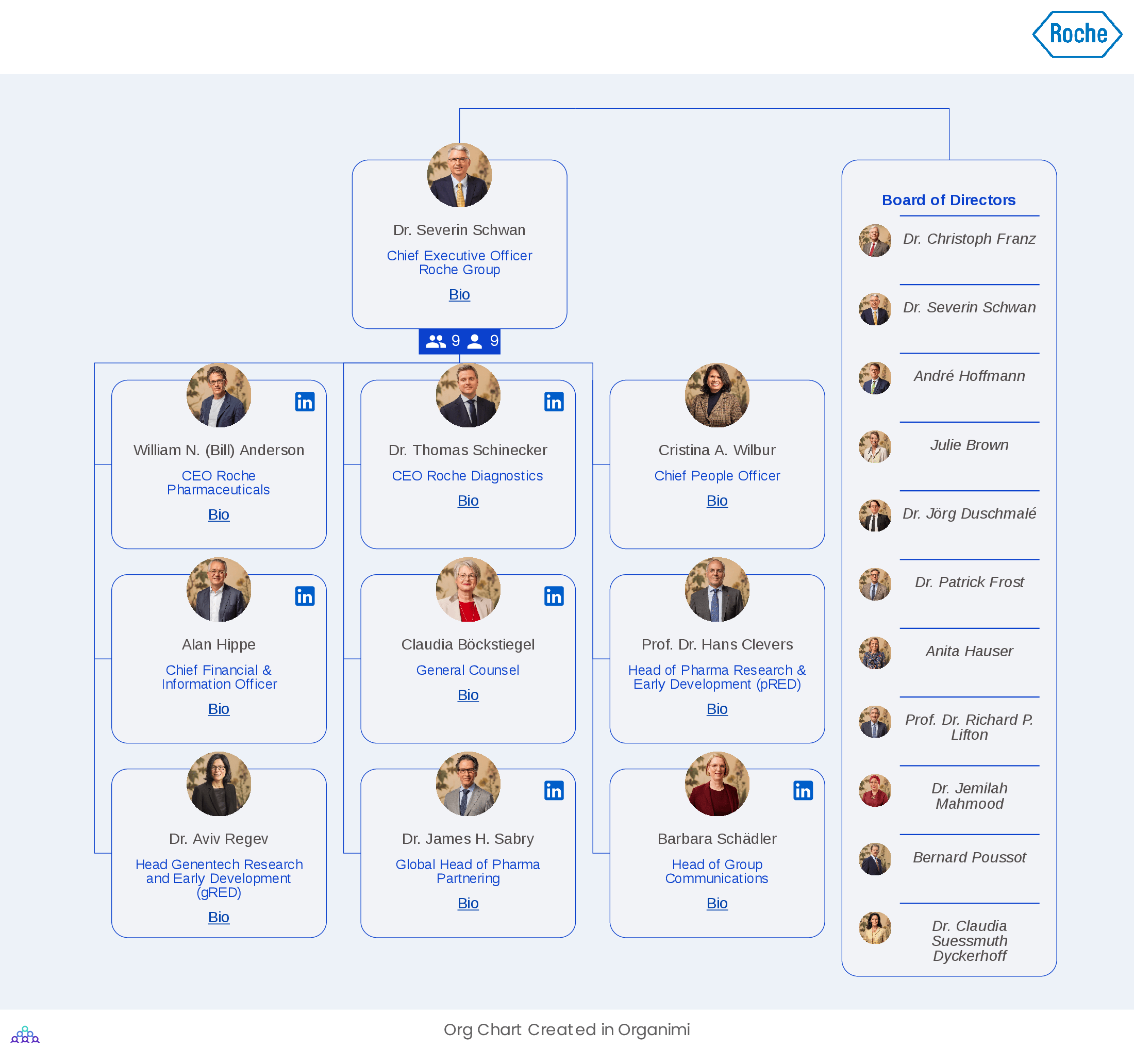 Overall, Roche Group is led by a Chief Executive Officer who is supported by the two CEOs of the Group's two main business divisions: Roche Pharmaceuticals and Roche Diagnostics. Immediately subordinate to Roche's three CEOs are a group of other C-level executives and the heads of the Group's higher-level functions, including Finance & Information, Pharma Research & Early Development (pRED), Pharma Partnering, and Group Communications.
Roche's Organizational Structure
Roche's organizational structure mirrors the divisional org structure type, one which many of the world's leading companies choose to manage their operations. 
In a divisional structure, people are grouped together based on the product or service they provide, not the work they do. In this case, Roche has two CEOs for both the Roche Pharmaceuticals and Roche Diagnostics business arms who oversee all operations within their respective divisions and report back to the overall Group CEO. This is necessary because the nature of Roche's operations is highly specialized, and the two different groups will have their own operations and operational requirements that differ vastly from one another. 
Because divisions have their own management groups to lead them, it's easier to hold individuals accountable for their actions. It also helps to provide the business with a competitive advantage in local markets by providing managers, and in some cases even employees, with more autonomy. Market share also benefits because divisional structures more easily accommodate expansion, innovation, product optimization, and more.  
Want to learn more about organizational structures and the role that they play within modern organizations? Here are some helpful blog resources that you can get started with:
Create this chart in Organimi! 
You can download the CSV file of Roche's org structure, import it into Organimi and start editing this chart right away! Here's how:
 From your dashboard, select Data Import.
 Click the CSV tile.

 Click 

+Upload Your File

.  

 

Select an Excel file from your device.

 In the 

Organization

 field, click the down arrow to select an organization.

Click Create a New Chart

Click 

Next and select: Organization Chart
Select the auto-build tool to automatically build your chart.
Voila!
Download CSV file:


Roche (3.43 KB)
Build better org charts with
Organimi.
A powerful, cloud-based platform that helps you create, connect, and collaborate with your colleagues wherever they work.