Riot Games' Organizational Structure
Create this exact chart in Organimi! Scroll below to see how. 
Introduction
Riot Games is an American video game developer and publisher. Founded in 2006 to develop the popular multiplayer online battle arena video game League of Legends, Riot has since gone on to develop several popular titles including spin-offs of the original League of Legends title and a popular first-person shooter, Valorant.
In addition to developing and publishing video games, Riot Games is also an e-sports tournament organizer and operates 12 international League of Legends e-sports leagues, known collectively as the League of Legends World Championship and the Valorant Champions Tour, both of which offer millions of dollars in prize money. 
Riot Games, which operates 19 offices worldwide as of 2022, also sells corporate sponsorships, merchandise, and streaming rights for its leagues. Today, more than 3,000 people work for the company, which has consistently won awards for being one of the world's leading employers.
Riot Games' Leadership 
Riot Games is led by individuals who form part of two teams: Company Leadership and Game Leads.
The Company Leadership team is made up of 11 individuals who occupy key C-level roles, such as chief executive officer and chief people officer, and the presidents of Riot Games' entertainment, e-sports, and publishing arms.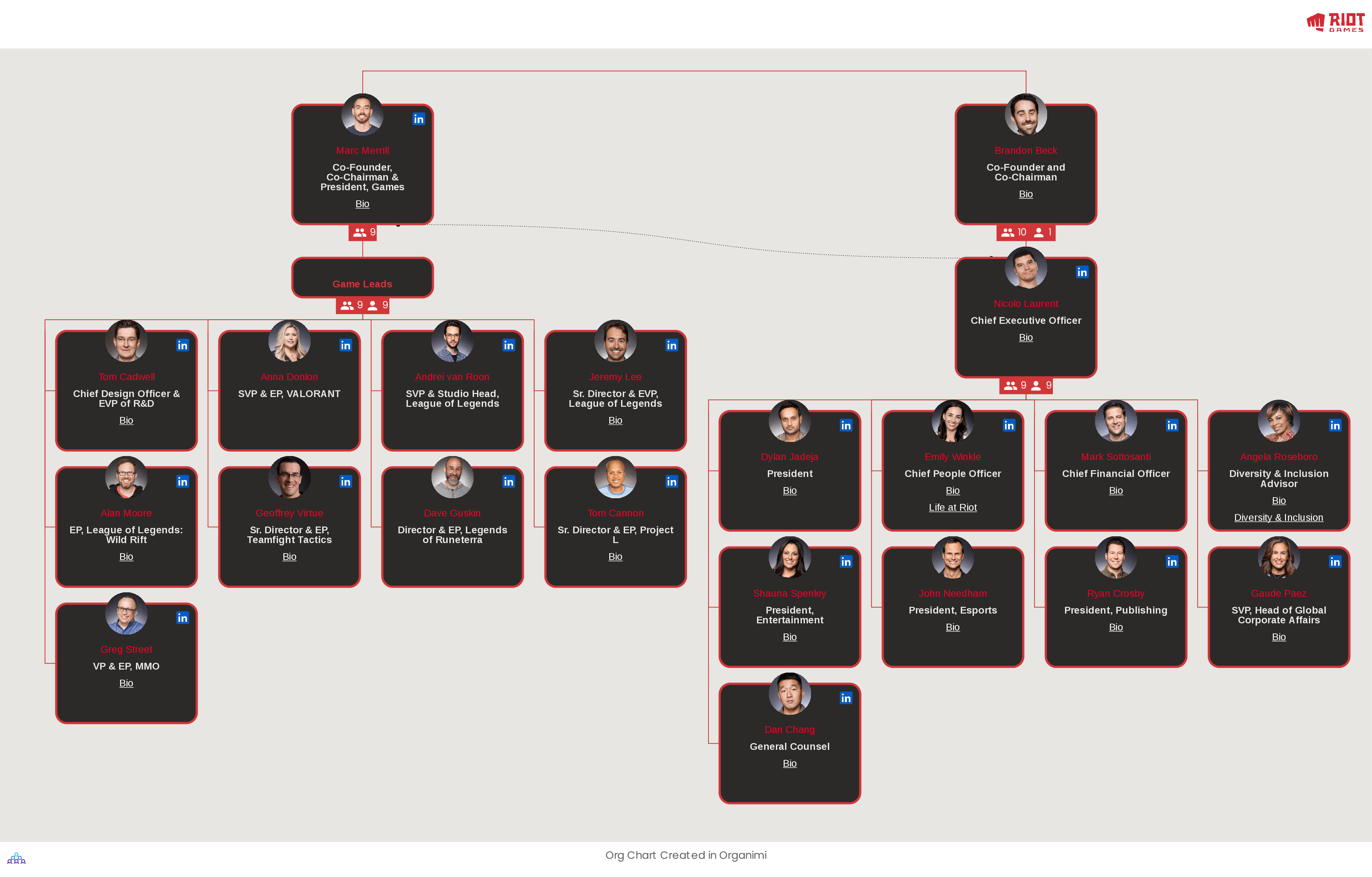 The Game Leads team is primarily made up of individuals occupying senior vice president roles where they oversee the vision, design, production, and development of Riot Games' main titles, such as League of Legends, Valorant, and Wild Rift. This team also includes the company's Chief Design Officer & EVP of R&D, who oversees all of Riot's game teams in its dedicated R&D office.
Riot Games' Organizational Structure
Riot Games appears to be a functional organization, which is an organization that is divided into smaller groups and divisions based on specialized function areas, such as marketing or finance. Or in the case of Riot, production, entertainment, publishing, and other areas that relate to the design and development of video games. 
These functional areas operate in their own bubbles and are generally disconnected from each other. If executed properly, however, a functional structure won't lead to teams that are completely siloed and incapable of collaborating with one another.
The lines of authority in a functional org structure will generally flow from the teams themselves to their own senior executive or functional head, and then on to the CEO. A great example of this in action is Amazon's corporate structure. 
Under Riot's functional structure, all teams are divided according to the functional role they play within the organizational structure. 
These functional teams include those whose work is focused on the design and development of the company's video games and their related operations, such as production, entertainment, e-sports, and publishing. They also include teams whose work focuses more on other corporate affairs, such as people, communications, legal, and D&I. 
All functional teams are overseen by the Company Leadership team, which is led by Riot Games' CEO Nicole Laurent, who is responsible for setting the vision, strategy, and direction for Riot. 
If you'd like to learn more about organizational structures and the critical role they play within modern organizations, here are some helpful blog resources to get you started:
Create this chart in Organimi! 
You can download the CSV file of Riot Games' org structure, import it into Organimi and start editing this chart right away! Here's how:
 From your dashboard, select Data Import.
 Click the CSV tile.

 Click 

+Upload Your File

.  

 

Select an Excel file from your device.

 In the 

Organization

 field, click the down arrow to select an organization.

Click Create a New Chart

Click 

Next and select: Organization Chart
Select the auto-build tool to automatically build your chart.
Voila!
Download CSV file:


RiotGames (29.75 KB)
Build better org charts with
Organimi.
A powerful, cloud-based platform that helps you create, connect, and collaborate with your colleagues wherever they work.