Reddit's Organizational Structure
Create this exact chart in Organimi! Scroll below to see how. 
Introduction
Reddit, stylized in lowercase as reddit, is an American social news aggregation and discussion website that's unofficially known as "the front page of the internet". 
On Reddit, registered users submit content to the website such as links, images, videos, and text posts, which are then voted up or down by other registered users. These posts are organized by subject into user-created boards known as "subreddits", with submissions that garner the most "upvotes" appearing at the top of their respective subreddits. Posts that receive enough upvotes ultimately appear on the site's front page.  
Founded by University of Virginia roommates Steve Huffman and Alexis Ohanian in 2005, along with Aaron Swartz, the site was acquired by Condé Nast Publications in October 2006. In 2011, Reddit became an independent subsidiary of Condé Nast's parent company, Advance Publications. As of March 2022, Reddit ranks as the ninth-most-visited website in the world and the sixth most-visited website in the United States according to SEMRush. 
Reddit's Organizational Leadership
Reddit's key management personnel include co-founder and CEO Steve Huffman alongside CTO Chris Slowe, the company's original lead engineer.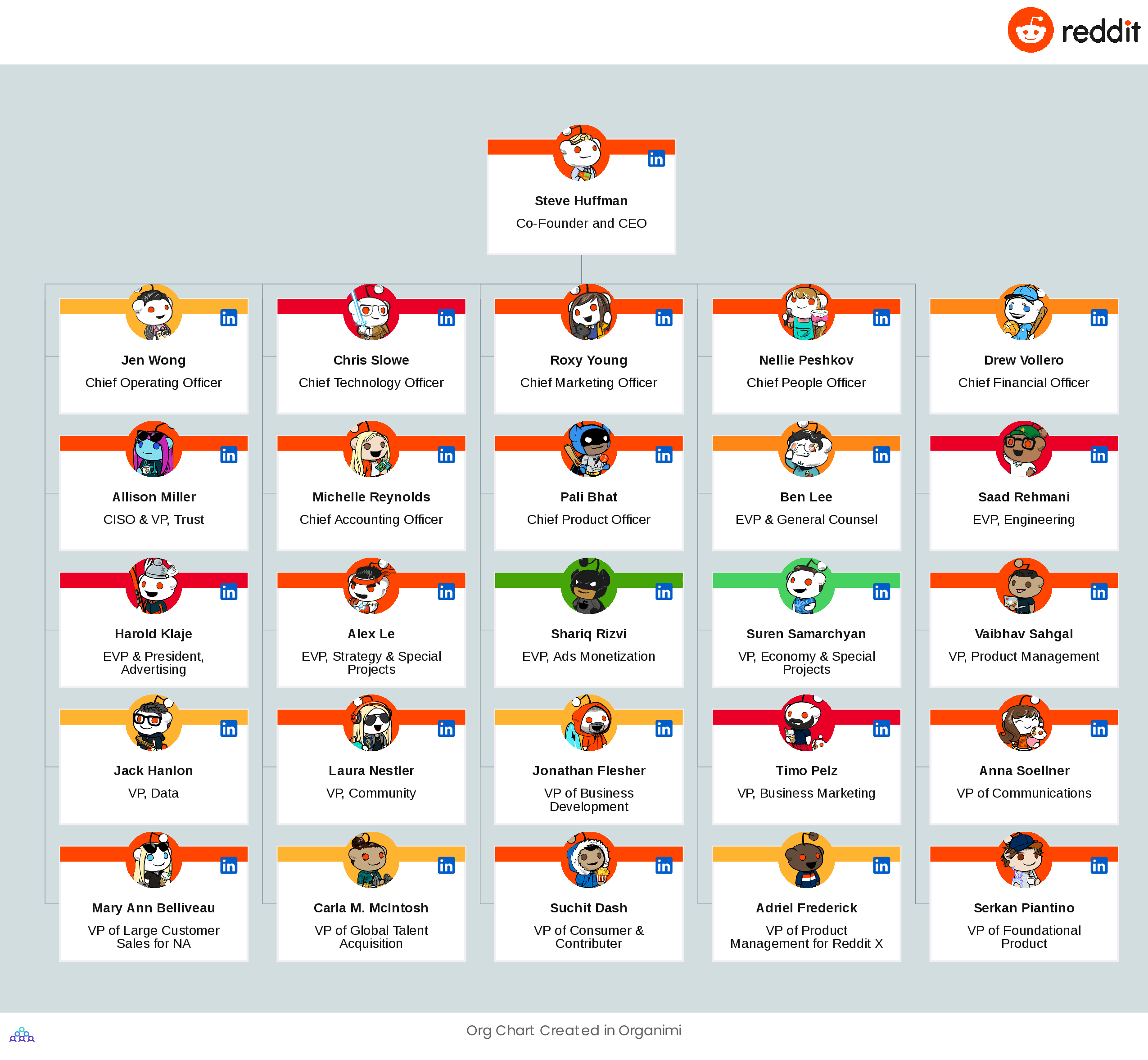 The CEO is supported by a team of C-level executives and vice presidents, including individuals responsible for Marketing, Product, People and Culture, and Finance. VPs include Global Talent Acquisition, Communications, North America Large Customer Sales, and Engineering.
Reddit's Organizational Structure
Reddit's organizational structure reflects that of a classic corporate hierarchy or chain of command. 
A hierarchical organizational structure is one that resembles a pyramid, where authority cascades down from a single person at the top, such as a CEO, to different levels of management and supervision. It's also commonly referred to as a company's "chain of command" where general employees sit at the bottom and executives sit at the top.
Although this once-popular structure is arguably falling out of favor among organizations and is in some cases being replaced by more "modern" alternatives such as the matrix structure, flat structure, and functional structure, the classic hierarchy does have its uses and benefits. 
In the case of Reddit, the company is relatively small in terms of its number of employees (c. 700) and the breadth of its operations, which are made up almost exclusively of the core reddit message board website alongside its advertising sales business. This means that a hierarchical organizational structure works much more efficiently in contrast to larger tech competitors with global diversified operations and thousands to tens of thousands of employees. 
Want to learn more about organizational structures and the role that they play within modern organizations? Here are some helpful blog resources that you can get started with:
Create this chart in Organimi! 
You can download the CSV file of Reddit's org structure, import it into Organimi and start editing this chart right away! Here's how:
 From your dashboard, select Data Import.
 Click the CSV tile.

 Click 

+Upload Your File

.  

 

Select an Excel file from your device.

 In the 

Organization

 field, click the down arrow to select an organization.

Click Create a New Chart

Click 

Next and select: Organization Chart
Select the auto-build tool to automatically build your chart.
Voila!
Download CSV file:


reddit (22.31 KB)
Build better org charts with
Organimi.
A powerful, cloud-based platform that helps you create, connect, and collaborate with your colleagues wherever they work.