Saudi Public Investment Fund's Organizational Structure
Create this exact chart in Organimi! Scroll below to see how. 
Introduction
The Public Investment Fund (PIF) is Saudi Arabia's sovereign wealth fund, one of the largest in the world with estimated total assets in excess of US$620 billion. The PIF was created in 1971 for the purpose of investing the Saudi government's funds into a diverse portfolio of international assets. Since 2015, the PIF has fallen under the control of Crown Prince Mohammed bin Salman, the country's de facto ruler.
The PIF has attracted controversy for, as described by some media sources, being one of the least transparent sovereign wealth funds in the world, in addition to the Saudi government's poor human rights record. The Wall Street Journal in 2016, for example, reported that none of the fund's investments were publicly named. It's also known that many of the fund's domestic investments are funneled to firms owned by individuals with long-standing personal connections to the Saudi state.
In recent years, under the direction of bin Salman, some of the PIF's assets have been publicly named, including a 36% stake in Posco Engineering, a 5% stake in Uber, and ownership of Newcastle United, an English football club. Many of the PIF's current assets were transferred to it in 2017 following the so-called "anti-corruption purge" whereby the assets of 400 of Saudi Arabia's richest people were seized by the state.
Saudi Public Investment Fund Executive Management
Many large organizations like the Saudi Public Investment Fund are overseen by a board of directors. This is the governing body of a company that's elected by stockholders, with members often selected for their expertise in a particular area or their industry connections. PIF's board is led by Crown Prince Mohammed bin Salman.
A board typically holds an advisory role, but some boards do have wide-reaching powers, duties, and responsibilities as stipulated by corporate law and government regulations, particularly in heavily regulated industries such as finance and pharma. Under bin Salman, the Board is responsible for overseeing PIF's long-term strategy, investment policy, and performance.
An organization can normally also elect to give its board supervisory powers and oversight through its own constitution and by-laws.

The governance model of the PIF cascades from the Board of Directors to the Executive Management team, which is responsible for reviewing strategic and operational activities and overseeing its five committees. These committees evaluate investment and non-investment proposals before submitting them to the Board of Directors and its committees to make relevant decisions.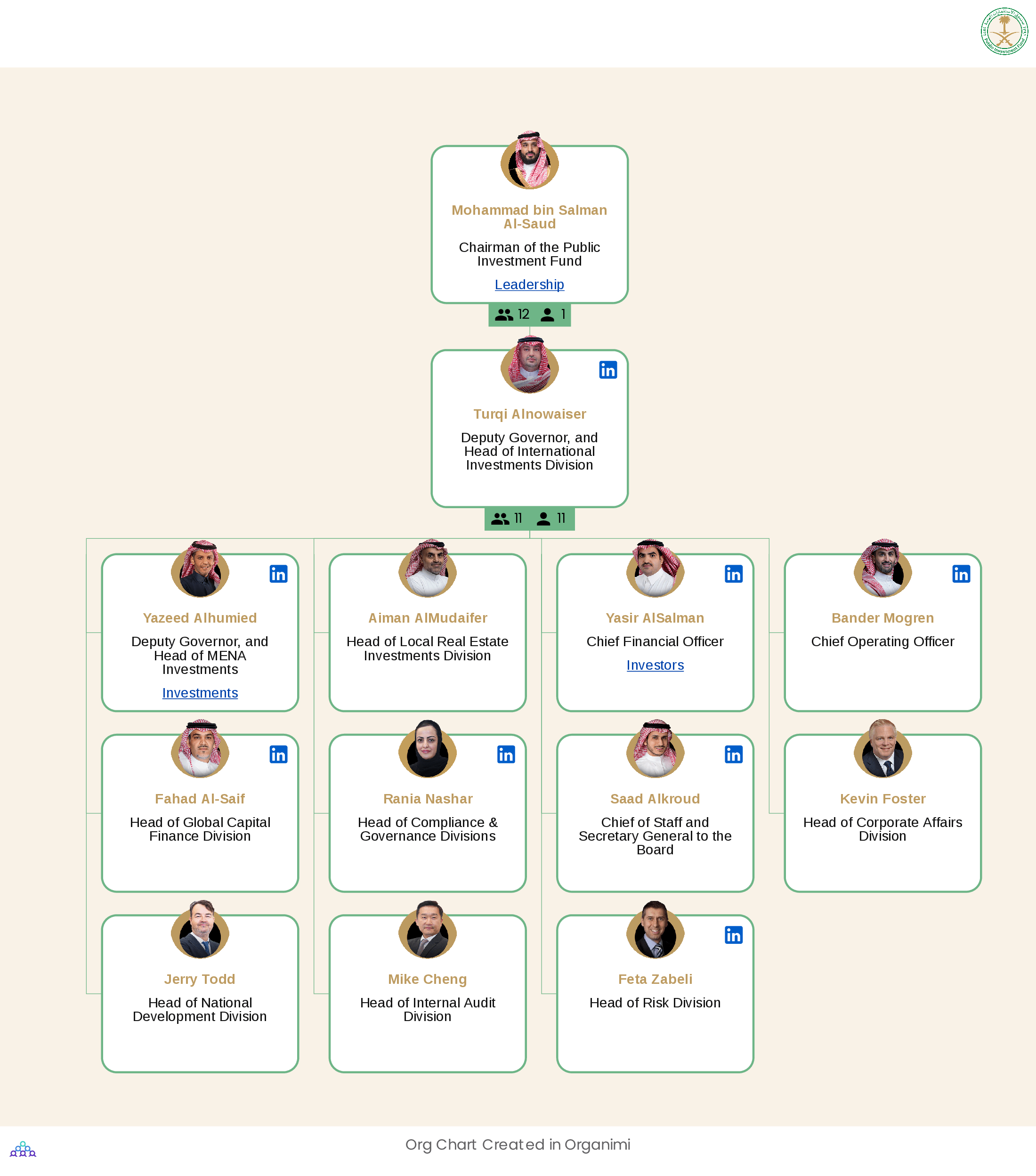 Saudi Public Investment Fund's Organizational Structure
Given the relatively opaque nature of the Saudi Public Investment Fund, it's not known for certain what sort of organizational structure it operates with.
We can, however, make a safe assumption that its structure reflects a traditional top-down hierarchy, with decision-making authority residing with the company's upper management and flowing down the organizational hierarchy.
Crown Prince Mohammed bin Salman sits at the top of PIF's hierarchy as its overall leader, with authority for day-to-day leadership seemingly passing down the chain from bin Salman to the Executive Management team where key individuals occupy key leadership roles. Authority and control then continue further down the chain of command to individuals who occupy junior managerial and non-managerial roles.
If you'd like to learn more about organizational structures and the critical role they play within modern organizations, here are some helpful blog resources to get you started:
Create this chart in Organimi! 
You can download the CSV file of Saudi Public Investment Fund's org structure, import it into Organimi and start editing this chart right away! Here's how:
 From your dashboard, select Data Import.
 Click the CSV tile.

 Click 

+Upload Your File

.  

 

Select an Excel file from your device.

 In the 

Organization

 field, click the down arrow to select an organization.

Click Create a New Chart

Click 

Next and select: Organization Chart
Select the auto-build tool to automatically build your chart.
Voila!
Download CSV file:


SPIF (19.86 KB)
Build better org charts with
Organimi.
A powerful, cloud-based platform that helps you create, connect, and collaborate with your colleagues wherever they work.