Penn State University's Organizational Structure
Create this exact chart in Organimi! Scroll below to see how. 
Introduction
Pennsylvania State University (PSU), also known as Penn State, is a public state-related land-grant research university with campuses that are spread throughout Pennsylvania. It was founded in 1855 as the Farmers' High School of Pennsylvania and became the country's only land-grant institution eight years later in 1863.
Though the university is not a member of the Ivy League, Penn State is a major research university and is sometimes referred to as one of the so-called "Public Ivies", a publicly-funded research institution that provides a comparable quality of education to Ivy League institutions. In addition to its land-grant designation, Penn State also participates in the sea-grant, sun-grant, and space-grant; one of only four institutions (alongside Cornell, Oregon State, and Hawai'I at Mānoa) to do so. 
Penn State is a "state-related" university and forms part of Pennsylvania's Commonwealth System of Higher Education. Although the university receives funding from the Commonwealth of Pennsylvania and is connected to the state via its board of trustees, it is entirely independent and does not fall under the control of the state.
Penn State's Leadership and President's Council
Penn State has three leadership groups: the Board of Trustees, the President's Council, and the University Faculty Senate. 
The Board of Trustees reviews and approves the budget of the University and guides general goals, policies, and procedures from a big-picture perspective while the President's Council is responsible for overall day-to-day leadership.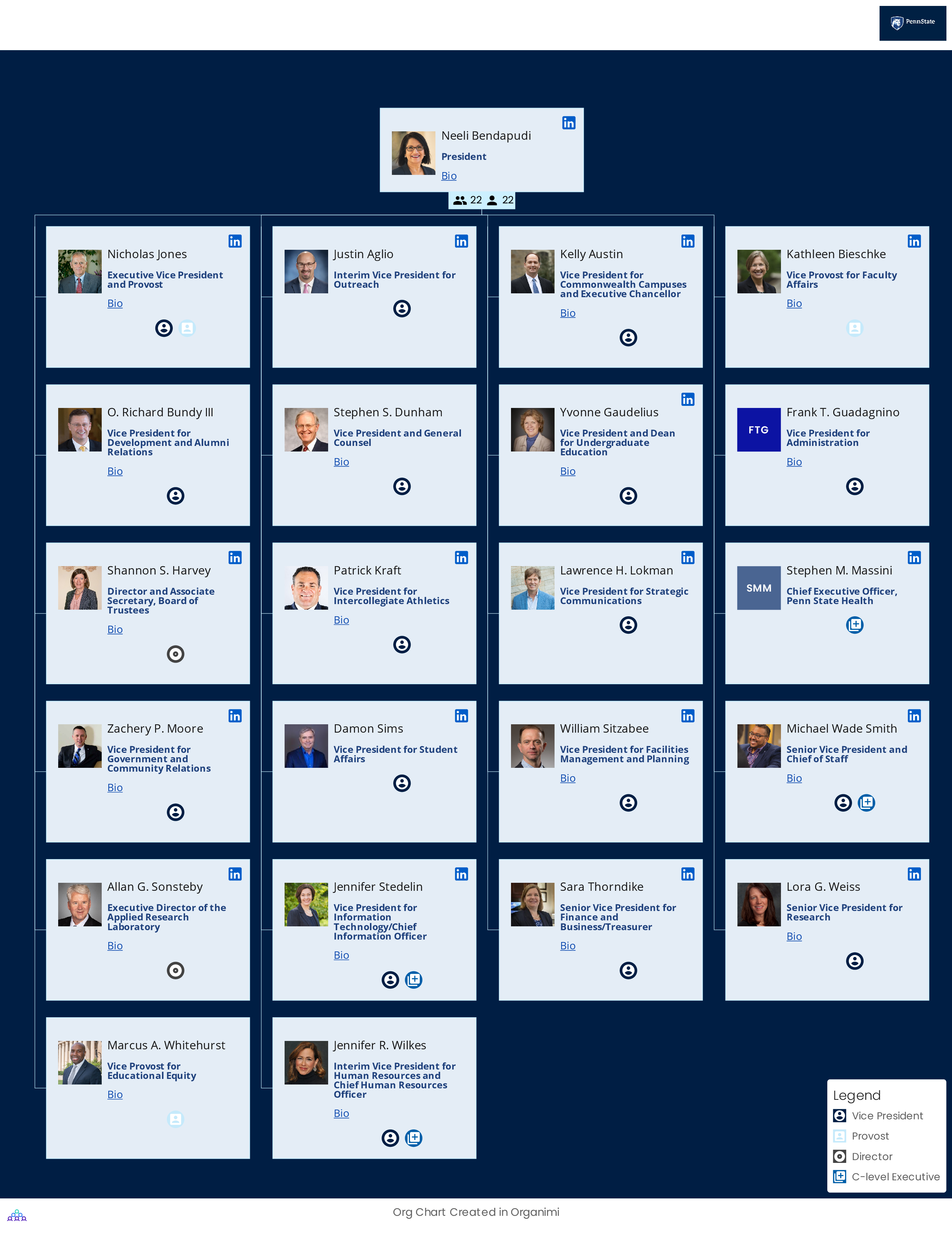 Meanwhile, the University Faculty Senate acts as a representative body of Penn State's faculty. It has legislative authority on all matters pertaining to the educational interests of the University and all educational matters that concern the faculties of more than one college. It is recognized by Penn State as an advisory body to the President on matters that relate to the attainment of educational objectives.
Penn State's Organizational Structure
Penn State is arguably one of the most complex higher education institutions in the United States. Its network of more than 20 campuses, spread out across Pennsylvania, ensure that the vast majority of the state's citizens have access to a Penn State education and other University outreach services. 
The University has a structural uniqueness in comparison to other U.S. institutions in that it's not a conventional "system" as regarded by U.S. higher education. In contrast to more traditional institutions, which represent a confederation of campuses each with autonomy and curricular independence, with leaders who report to a president or chancellor, Penn State functions as a single university that is geographically dispersed. 
Penn State has one governing Board of Trustees that establishes policy for all campus locations; there is one unified Faculty Senate that shares governance on academic matters; and the University has one administration, the President's Council, that serves all campuses. The President's Council is composed of several Senior Vice Presidential and Vice Presidential roles that cover areas including research, human resources, student affairs, facilities management, campuses, and faculty affairs, among others. 
The makeup of the President's Council is indicative of what is known as a divisional or functional organizational structure, whereby an organization is divided up according to focus areas with the person who leads each function having ultimate authority over it. 
The primary advantage of a functional org structure is that it more readily supports innovation because it's usually the case that each function operates autonomously and is responsible for its own success. This motivates employees within each individual function to take ownership of their roles and produce strong results. 
Want to learn more about organizational structures and the role that they play within modern organizations? Here are some helpful blog resources that you can get started with:
Create this chart in Organimi! 
You can download the CSV file of Penn State's org structure, import it into Organimi and start editing this chart right away! Here's how:
 From your dashboard, select Data Import.
 Click the CSV tile.

 Click 

+Upload Your File

.  

 

Select an Excel file from your device.

 In the 

Organization

 field, click the down arrow to select an organization.

Click Create a New Chart

Click 

Next and select: Organization Chart
Select the auto-build tool to automatically build your chart.
Voila!
Download CSV file:


PennState (22.9 KB)
Build better org charts with
Organimi.
A powerful, cloud-based platform that helps you create, connect, and collaborate with your colleagues wherever they work.