Procter & Gamble's Organizational Structure
Create this exact chart in Organimi! Scroll below to see how. 
Introduction
The Procter & Gamble Company (P&G) is an American multinational consumer goods corporation founded in 1837 by William Procter and James Gamble. It specializes in a wide range of personal health, consumer health, personal care, and hygiene products, which are organized into five segments: Baby, Feminine and Family Care; Beauty, Health Care; Grooming; and Fabric and Home Care. 
Prior to P&G's sale of Pringles to Kellogg's in 2012 for US$2.75 billion, the company's product portfolio also included a range of food, snacks, and beverages. P&G sold off its Iams pet food business in all markets except Europe in 2014 to Mars, Inc. for US$2.9 billion. The European Iams business was sold to Spectrum Brands in December of the same year. 
P&G has undergone several restructures in its long history. Most notably, in August 2014, P&G announced that it would streamline the company and drop 100 brands in the process. This decision was taken so that the company could better concentrate on the remaining 65 brands, which were producing 95% of the company's profits. 
In November 2018, P&G unveiled a simpler corporate structure with six business units that will be effective from July 2019. 
Procter & Gamble's Organizational Leadership
Procter & Gamble's day-to-day operations are overseen by a relatively large executive leadership team. 
The size of this team is of course illustrative of the company's vast global network of operations across various product categories, for which there are five individual chief executive officers. These five CEOs report directly to the ultimate Chairman, President, and Chief Executive Officer of P&G, Jon R. Moeller, who is supported by the chief operating officer.
Directly subordinate to the CEOs are 26 executives responsible for overseeing functional areas of the business, such as communications, sustainability, skin & personal care, and geographic areas—AMEA, Europe, North America, Latin America, and Greater China.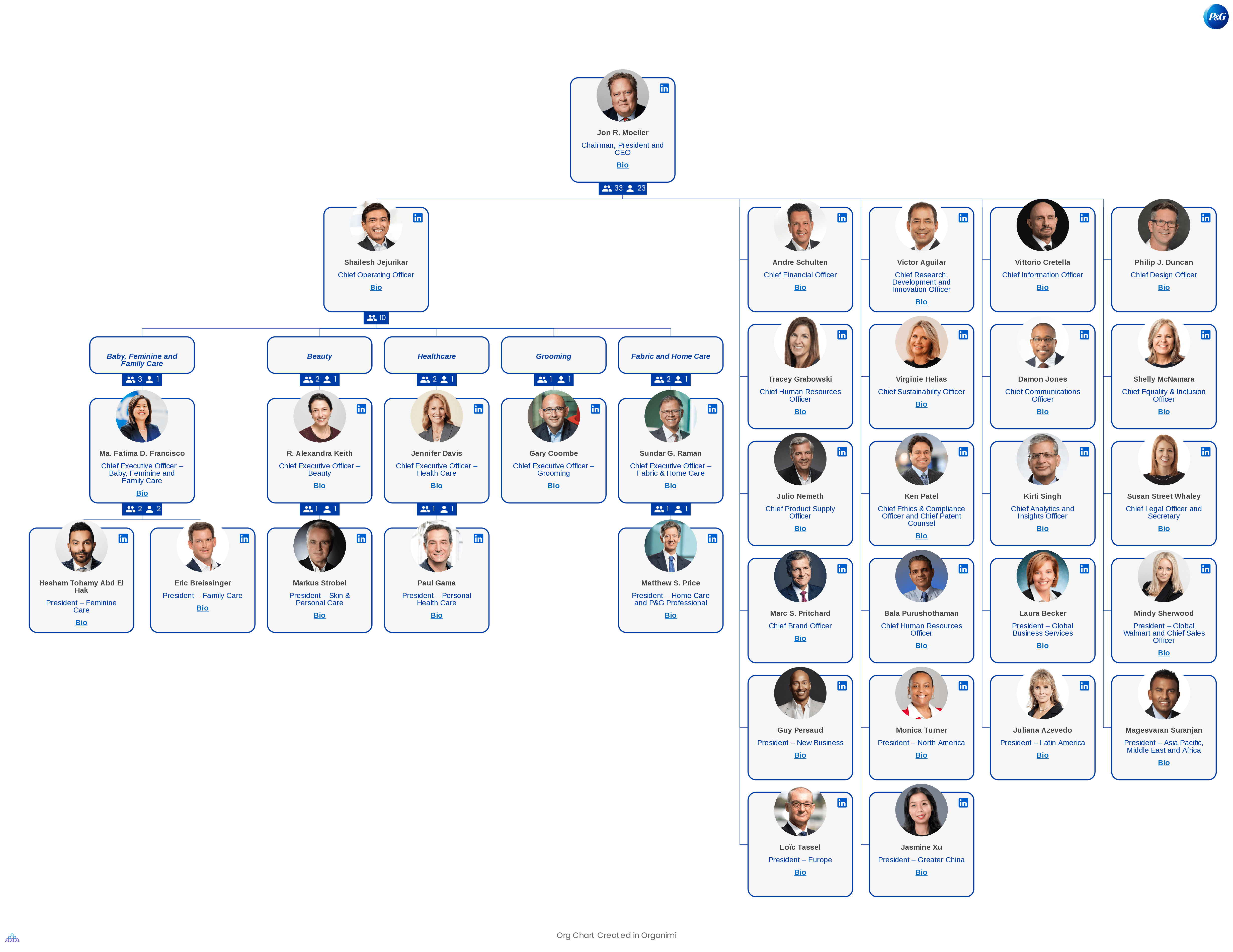 Many large organizations like P&G are also overseen by a board of directors. This is the governing body of a company that's elected by stockholders, with members often selected for their expertise in a particular area or their industry connections. 
A board typically holds an advisory role, but some boards do have wide-reaching powers, duties, and responsibilities as stipulated by corporate law and government regulations, particularly in heavily regulated industries such as finance and pharma. 
The P&G Board of Directors provides general oversight over and has responsibility for the Company's affairs pursuant to Ohio's General Corporation Law, the Company's Amended Articles of Incorporation and Code of Regulations, and the Board of Directors By-Laws. In exercising its fiduciary duties, the Board of Directors represents and acts on behalf of the Company's shareholders.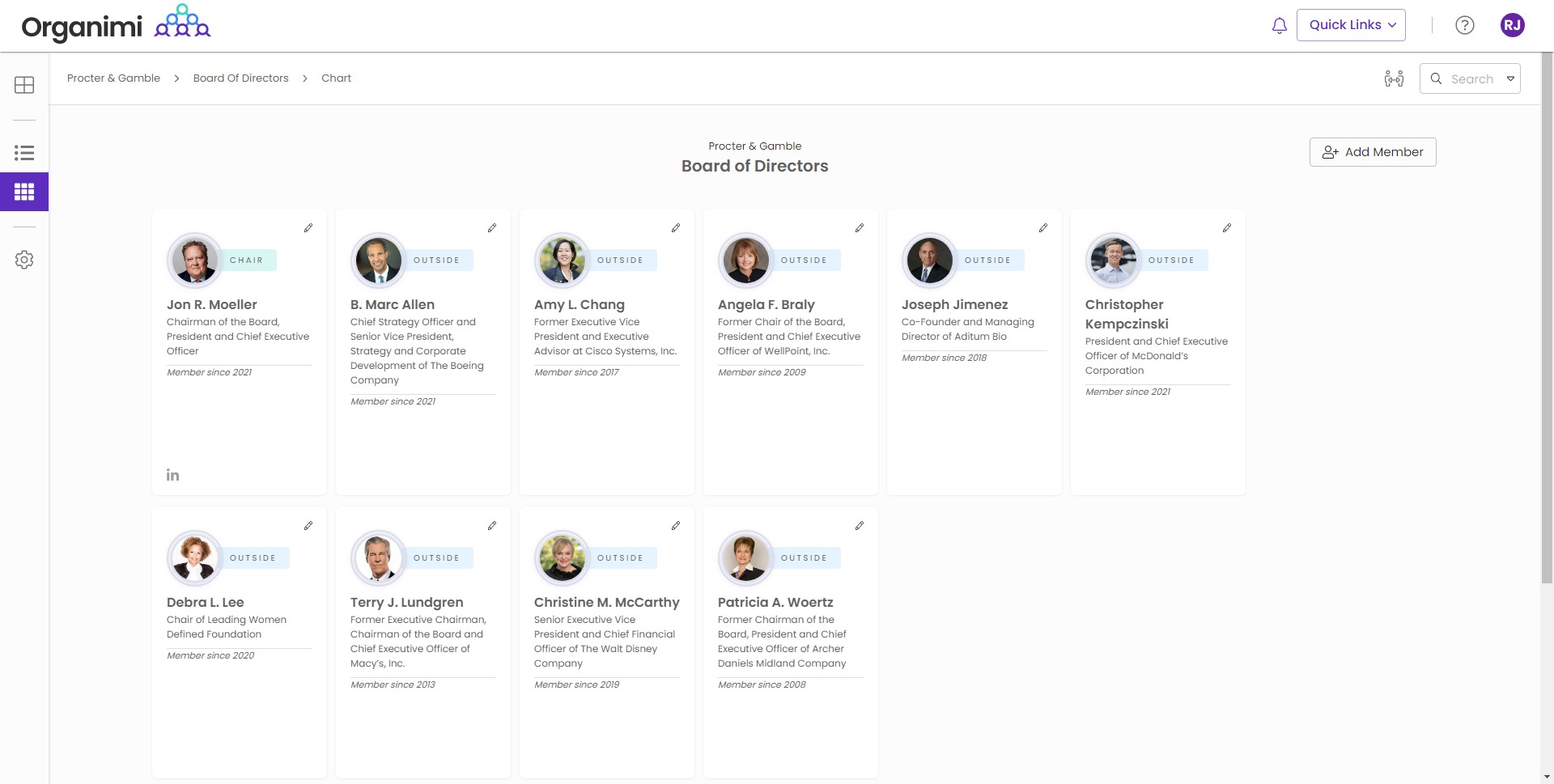 Procter & Gamble's Organizational Structure
Procter & Gamble's organizational structure is product-type divisional in nature, and the company is divided into five industry-based sector business units (SBUs). These are:
Baby, Feminine and Family Care

Beauty

Health Care

Grooming

Fabric and Home Care
Ten product categories are managed from within these SBUs. 
This product-type divisional structure means that decision-making, strategy, and management are determined by the five product-based divisions, each of which is led by an autonomous CEO. Each individual is reported to by several senior managers who oversee product categories that fall within these divisions. 
Product-type functional divisions enable P&G to effectively support its diverse interests and operations around the world and across its focus markets. Various Presidents and Chief Officers head functional groups related to human resources, product supply, branding, sustainability, finance, R&D, and communications. 
If you would like to learn more about organizational structures and the critical role they play within modern organizations, here are some helpful blog resources to get you started:
Create this chart in Organimi! 
You can download the CSV file of Procter & Gamble's org structure, import it into Organimi and start editing this chart right away! Here's how:
 From your dashboard, select Data Import.
 Click the CSV tile.

 Click 

+Upload Your File

.  

 

Select an Excel file from your device.

 In the 

Organization

 field, click the down arrow to select an organization.

Click Create a New Chart

Click 

Next and select: Organization Chart
Select the auto-build tool to automatically build your chart.
Voila!
Download CSV file:


PG (56.11 KB)
Build better org charts with
Organimi.
A powerful, cloud-based platform that helps you create, connect, and collaborate with your colleagues wherever they work.