Pinterest's Organizational Structure
Create this exact chart in Organimi! Scroll below to see how. 
Introduction
Pinterest is an image-sharing and social media service that is centered around the saving and discovery of "ideas" using images, GIFs, and videos in the form of pinboards. The website was created by Ben Silbermann, Paul Sciarra, and Evan Sharp, and launched as a closed beta in March 2010. Today, the website has more than 430 million global monthly active users. 
Described as a "catalogue of ideas" by its founders, Pinterest consists primarily of "pins" and "boards" where users can upload visual content. This content can then be re-pinned by other users to their own boards, which are collections of pins dedicated to a theme, such as travel. users can follow and unfollow other users as well as boards, with content from followed users making up a personalized home feed, much like other social media sites like Tumblr. 
Since its launch in 2010, Pinterest has undergone several rounds of funding. The company secured US$10 million in Series A financing in early 2011 and US$225 million in October 2013. In 2015, investors valued Pinterest at US$11 billion, officially making it a "unicorn" start-up. As of 2017, the company was valued at US$12 billion. 
Pinterest's Organizational Leadership
Day-to-day operations at Pinterest are overseen and managed by a team of executives. This team is led by CEO Bill Ready, a former president at Google and former executive vice president and COO of PayPal.
The CEO is supported by nine other executives, including co-founder and executive chairman Ben Silbermann. Roles within Pinterest's executive team are typical for organizations of its size and include chief marketing officer, head of product, and chief product officer.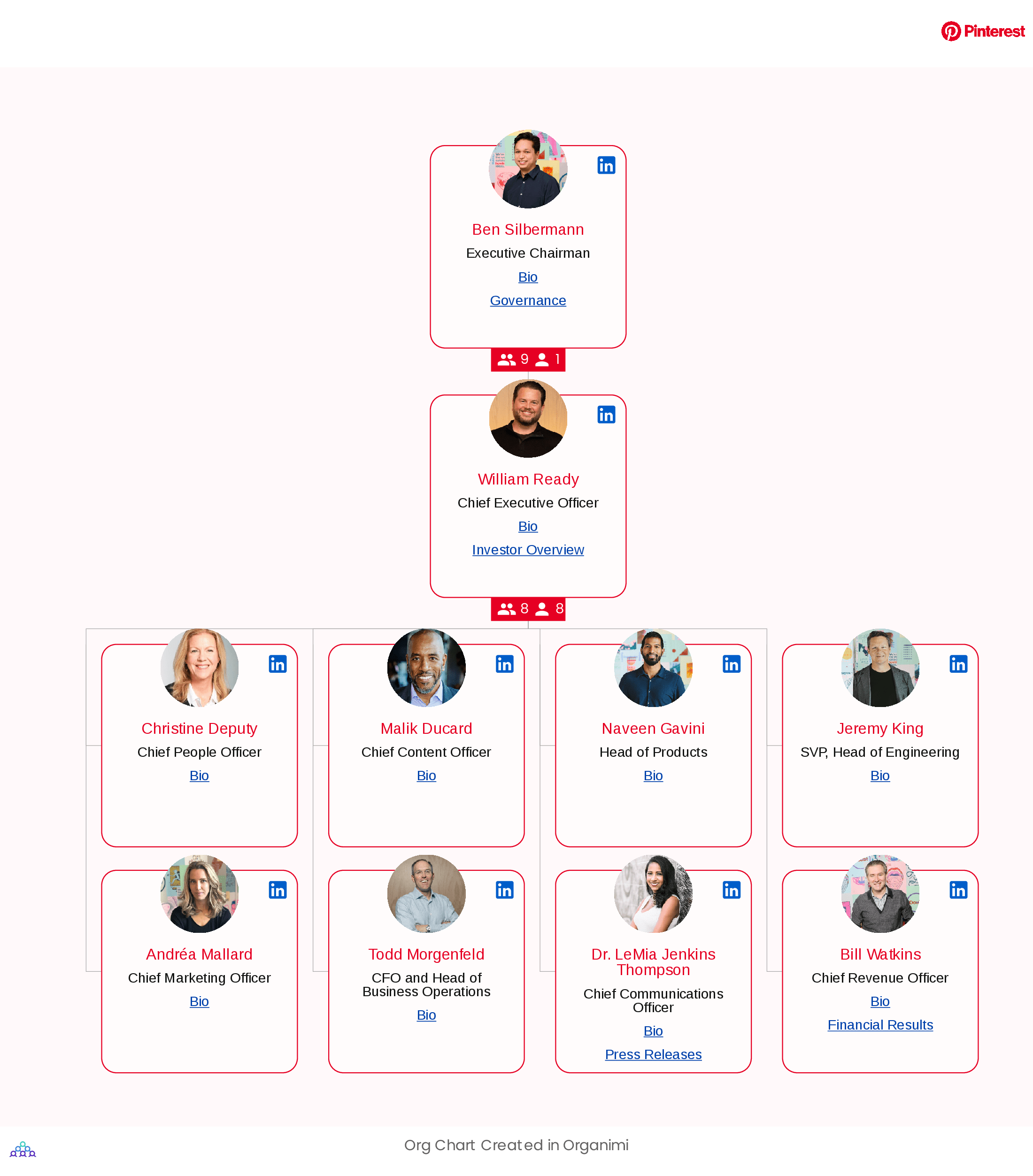 Many large organizations like Pinterest are also overseen by a board of directors. This is the governing body of a company that's elected by stockholders, with members often selected for their expertise in a particular area or their industry connections. 
A board typically holds an advisory role, but some boards do have wide-reaching powers, duties, and responsibilities as stipulated by corporate law and government regulations, particularly in heavily regulated industries such as finance and pharma. 
An organization can also elect to give its board supervisory powers and oversight through its own constitution and by-laws.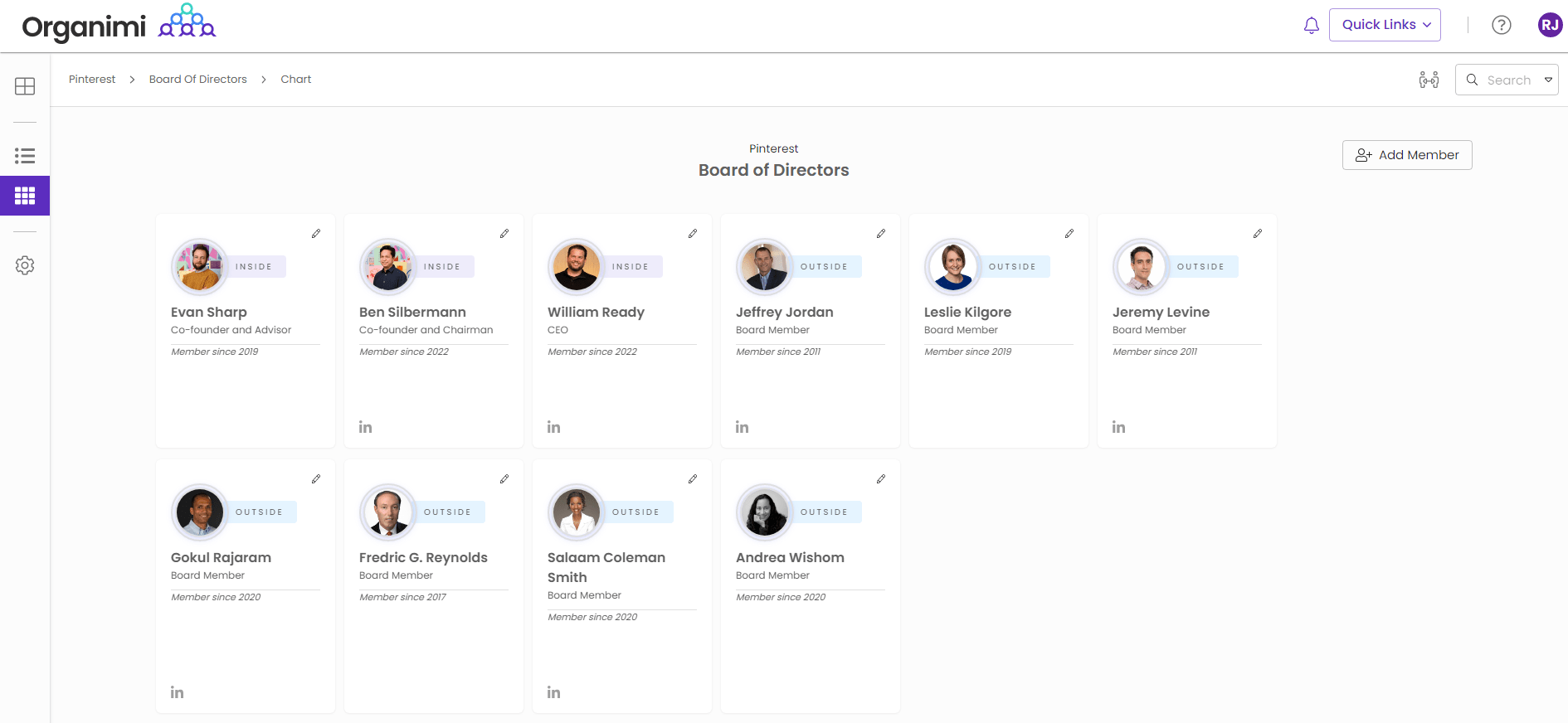 Pinterest's Organizational Structure
Pinterest has previously described its own organizational structure as "bottoms-up". In other words, ideas, and responsibilities flow throughout the organization in a way that provides employees with autonomy to work on the projects and problems that they wish to tackle. In essence, Pinterest's employees are at liberty to choose how they spend their time.
This approach to organizational management is nothing new; it's one of the hallmarks of modern tech firms. In these decentralized organizations where employees are given freedom and autonomy, there's a great deal of structural flexibility that allows for teams to make the right decisions quickly due to reduced executive oversight and control, pivot to focus on emerging problems, and develop new ideas that lead to organizational growth. 
Decentralized organizations like Pinterest tend to more on teams, with managerial responsibilities dispersed among these cross-functional teams. This type of approach helps to aid problem-solving, increases agility, and makes everything move faster—as has been seen with other tech "unicorns" such as Spotify, Netflix, and Airbnb. 
Want to learn more about organizational structures and the role that they play within modern organizations? Here are some helpful blog resources that you can get started with:
Create this chart in Organimi! 
You can download the CSV file of Pinterest's org structure, import it into Organimi and start editing this chart right away! Here's how:
 From your dashboard, select Data Import.
 Click the CSV tile.

 Click 

+Upload Your File

.  

 

Select an Excel file from your device.

 In the 

Organization

 field, click the down arrow to select an organization.

Click Create a New Chart

Click 

Next and select: Organization Chart
Select the auto-build tool to automatically build your chart.
Voila!
Download CSV file:


Pinterest (8.84 KB)
Build better org charts with
Organimi.
A powerful, cloud-based platform that helps you create, connect, and collaborate with your colleagues wherever they work.