PepsiCo's Organizational Structure
Create this exact chart in Organimi! Scroll below to see how. 
Introduction
PepsiCo, Inc. is a multinational food and beverage corporation that was founded on August 28, 1898. Headquartered in Purchase, New York, PepsiCo operates as one of the world's leading companies in the food and beverage industry. It offers a diverse portfolio of brands, including its namesake carbonated drink Pepsi, Mountain Dew, Lay's, Gatorade, Tropicana, Quaker, and many more.
The company has an annual worldwide workforce exceeding 315,000 as of 2022, with operations in more than 200 countries and territories around the world. These employees work across various divisions and locations, contributing to the company's global operations.
In recent years, PepsiCo. has made a clear commitment to sustainability, setting ambitious environmental goals, aiming to reduce its carbon footprint, conserve water, and minimize waste. PepsiCo also focuses on product innovation and offers a wide range of healthier options to meet evolving consumer preferences, including low-sugar and low-sodium beverages, baked snacks, and oat-based products. The company has a long history of marketing campaigns and collaborations with celebrities and athletes, contributing to its brand recognition and global appeal.
PepsiCo's Organizational Leadership
PepsiCo., like most large organizations, is ultimately led by a Chief Executive Officer (CEO) who is assisted in their role by a selection of other V-level executives who hold lateral C-level positions, such as the Executive Vice President and Chief Human Resources Officer. 
The company's executive leadership team also includes CEOs for PepsiCo's geographic regions: North America, Africa, Middle East, South Asia (AMSA), Latin America, and Europe.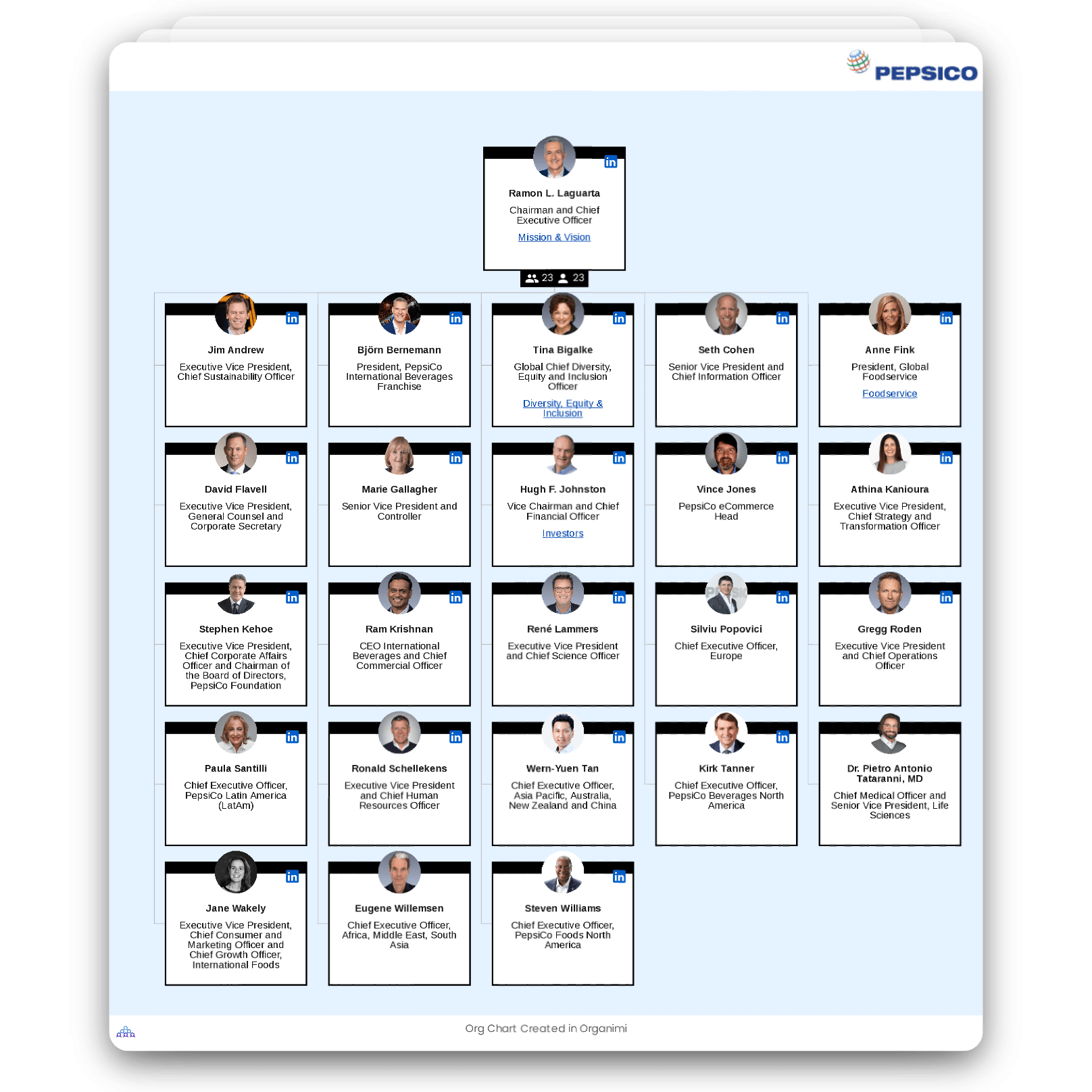 At PepsiCo., the CEO is also the Chairman of the Board of Directors, which is the governing body of the company. The board is elected by stockholders, with members often selected for their expertise in a particular area or their industry connections. 
PepsiCo's Board of Directors provides critical guidance to ensure its vision and strategy align with its mission. These dedicated individuals are responsible for overseeing the company's business strategy and affairs through four board committees: Audit; Compensation; Nominating and Corporate Governance; and Sustainability, Diversity, and Public Policy.
As with many boards, PepsiCo's Board largely holds an advisory role, but some do have wide-reaching powers, duties, and responsibilities as stipulated by corporate law and government regulations, particularly in heavily regulated industries such as finance and pharma.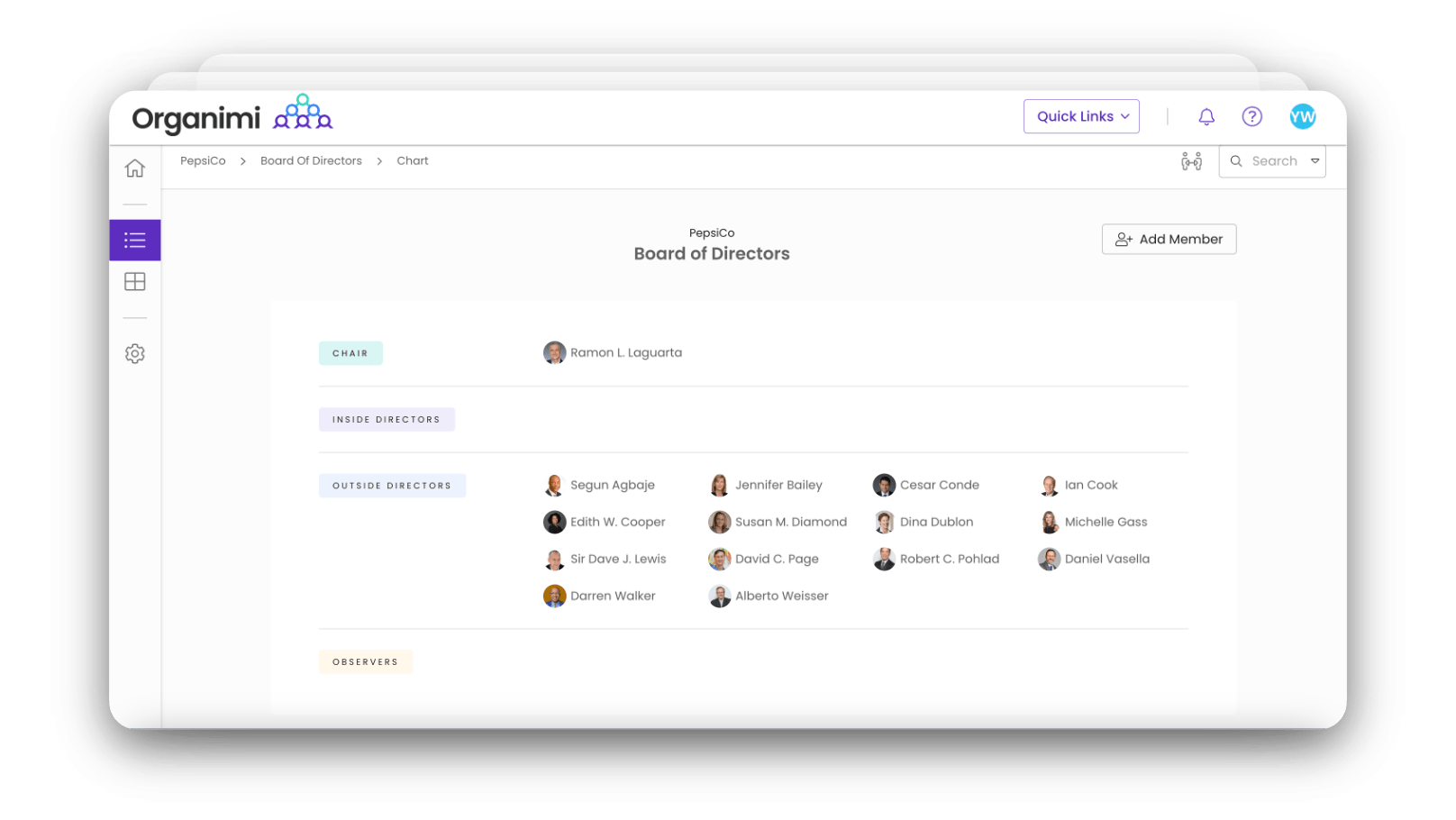 PepsiCo's Organizational Structure
PepsiCo's organizational structure is primarily a hierarchical one with various levels of management and reporting relationships. At the topmost level is the Chairman and Chief Executive Officer who oversees the entire company and sets the strategic direction. Reporting directly to the CEO are, as you can see in the above org chart, several key executives who hold leadership positions over functional areas within the business. These executives are responsible for overseeing these specific areas of the business and guiding their respective teams.
Beneath the top-level executives, there are several divisions and departments. Each one typically has its own President or General Manager who reports to one of the high-level executives. These divisional leaders are accountable for the performance of their specific business units and are responsible for driving growth and profitability within their respective areas.
Within each division, there are further reporting relationships and managerial hierarchies. Managers oversee various functions such as marketing, sales, operations, finance, and human resources, among others. They lead teams of employees and report to the divisional leaders, ensuring the execution of business strategies and achieving departmental goals.
PepsiCo's organizational leadership is structured to enable effective decision-making, communication, and coordination across the company's different divisions and departments. This hierarchical structure facilitates accountability, alignment, and the efficient flow of information throughout the organization.
Want to learn more about hierarchical and other organizational structures and the role that they play in the world of business? Here are some helpful blog resources that you can get started with:
Create this chart in Organimi! 
You can download the CSV file of PepsiCo's org structure, import it into Organimi and start editing this chart right away! Here's how:
 From your dashboard, select Data Import.
 Click the CSV tile.

 Click 

+Upload Your File

.  

 

Select an Excel file from your device.

 In the 

Organization

 field, click the down arrow to select an organization.

Click Create a New Chart

Click 

Next and select: Organization Chart
Select the auto-build tool to automatically build your chart.
Voila!
Download CSV file:


PepsiCo (63.85 KB)
Build better org charts with
Organimi.
A powerful, cloud-based platform that helps you create, connect, and collaborate with your colleagues wherever they work.