PayPal's Organizational Structure
Create this exact chart in Organimi! Scroll below to see how. 
Introduction
PayPal is an American multinational financial technology company that operates its online payments service in the majority of countries that support online money transfers, providing an electronic alternative to traditional paper methods such as checks and money orders. The company operates as a payment processor for online vendors, auction websites, and many other commercial uses in addition to non-commercial uses. 
PayPal is one of the Internet's earliest success stories, established in 1998 as Confinity. The company went public through an IPO in 2002 and became a wholly owned subsidiary of eBay later that year, valued at US$1.5 billion. In 2015, eBay spun off PayPal to its shareholders, and PayPal became an independent company again. 
In the 2022 edition of the Forbes Fortune 500, PayPal was ranked 143rd in terms of the largest U.S. corporations by revenue. 
PayPal's Executive Leadership
PayPal's day-to-day operations are overseen by the PayPal Executive Leadership Team, led by President and CEO Dan Schulman who is supported by 12 executive vice presidents who have oversight of areas including finance, global sales, product, technology, information, and more.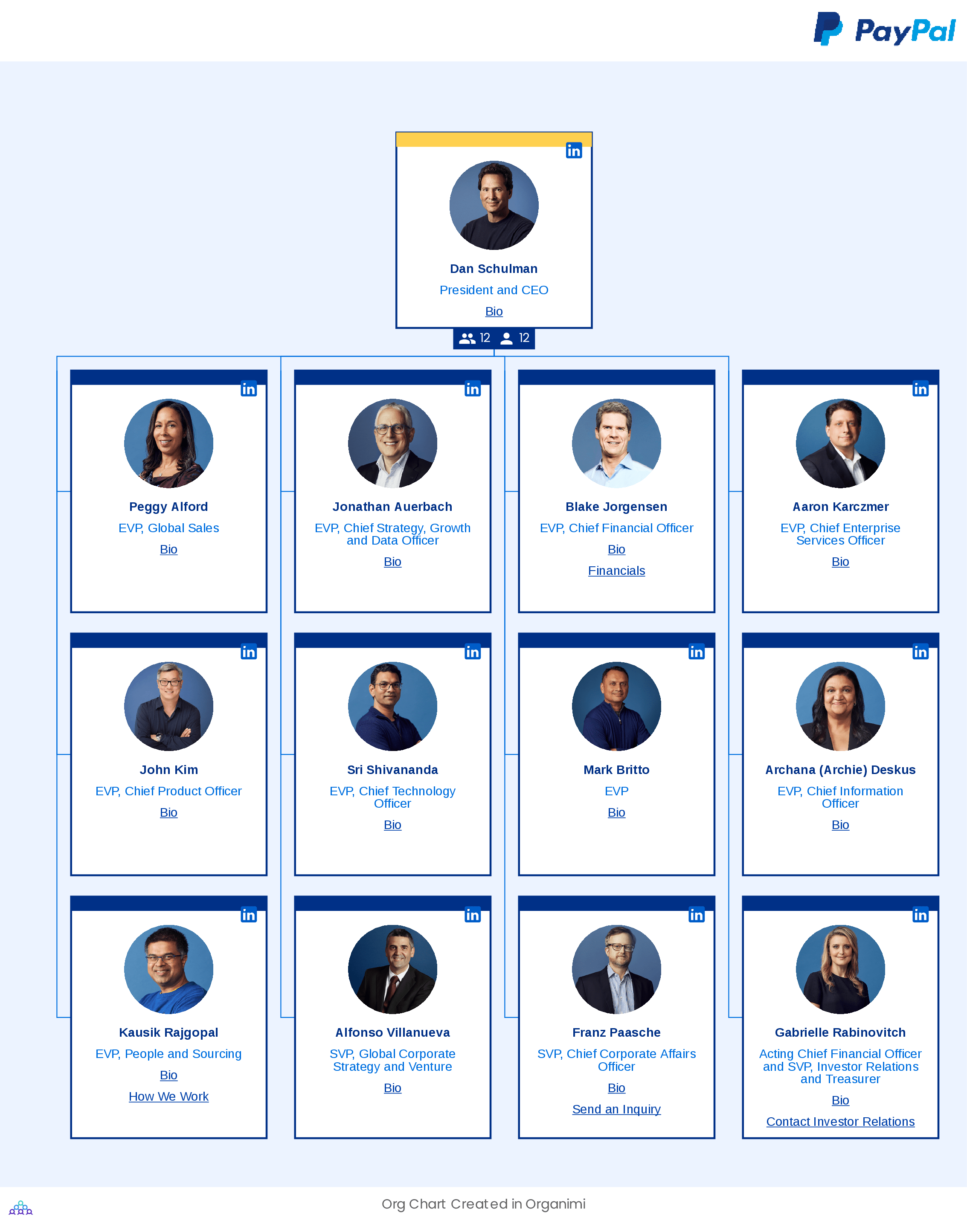 Many large organizations like PayPal are also overseen by a board of directors. This is the governing body of a company that's elected by stockholders, with members often selected for their expertise in a particular area or their industry connections. 
A board typically holds an advisory role, but some boards do have wide-reaching powers, duties, and responsibilities as stipulated by corporate law and government regulations, particularly in heavily regulated industries such as finance and pharma. 
An organization can also elect to give its board supervisory powers and oversight through its own constitution and by-laws.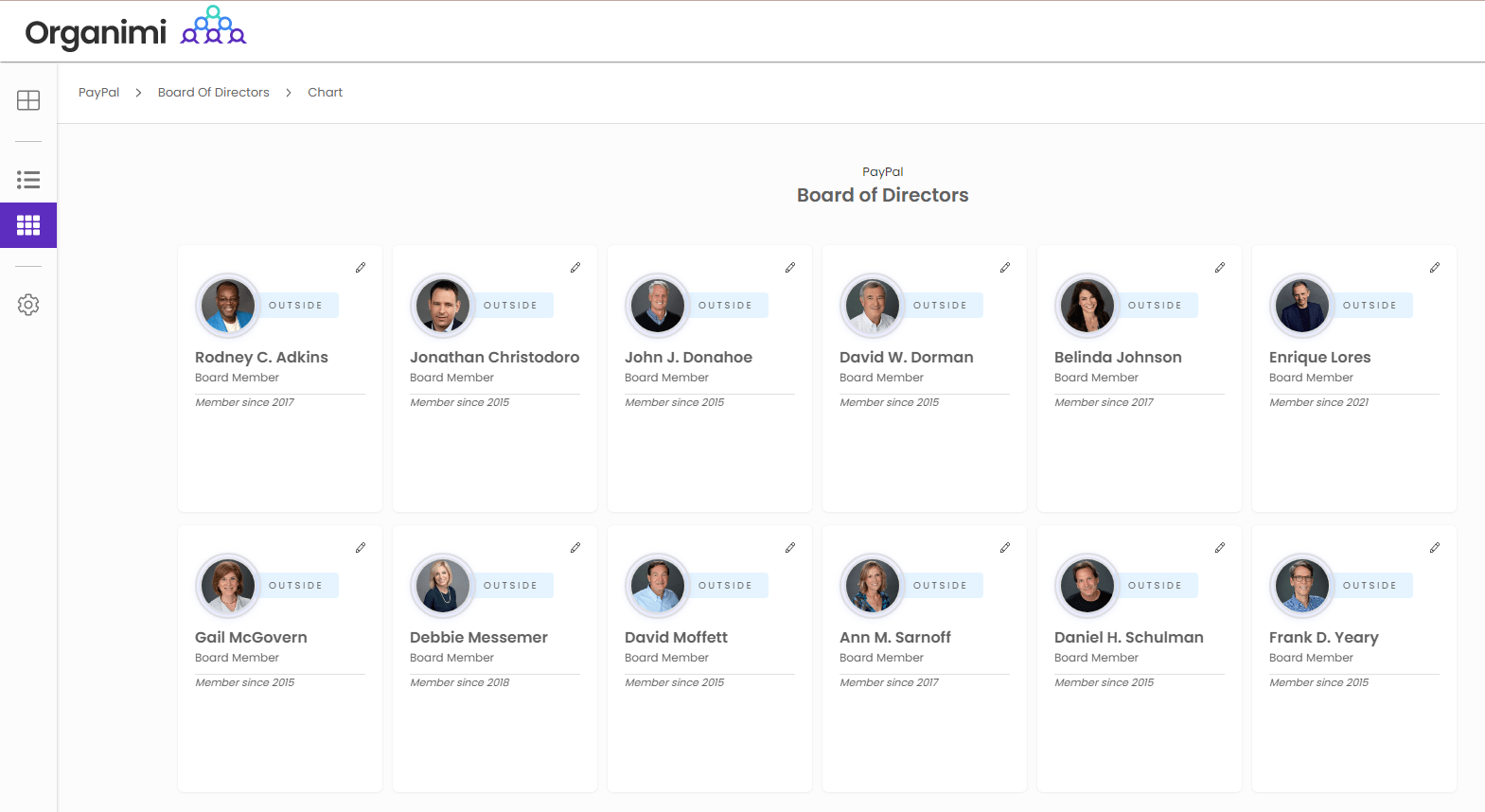 PayPal's Organizational Structure
PayPal has undergone several high-level structural changes in its time, particularly when the company was acquired by eBay in 2002 and sold off in 2015. 
Today, the makeup of PayPal's operations points to a traditional hierarchical org structure, reflective of the date of its founding in 1998, when the organizational hierarchy dominated. A traditional hierarchy has many different layers of management and lines of authority, with information and decisions flowing up and down the corporate chain of command until it reaches the relevant person. 
PayPal's hierarchy has the President and CEO Dan Schulman at the top. Below the CEO in the hierarchy are, as illustrated by the above org chart, several EVPs who manage the following functional areas for PayPal:
Global Sales

Strategy, Growth and Data

Finance

Enterprise Services

Product

Technology

Information

People and Sourcing
Want to learn more about organizational structures and the role that they play within modern organizations? Here are some helpful blog resources that you can get started with:
Create this chart in Organimi! 
You can download the CSV file of PayPal's org structure, import it into Organimi and start editing this chart right away! Here's how:
 From your dashboard, select Data Import.
 Click the CSV tile.

 Click 

+Upload Your File

.  

 

Select an Excel file from your device.

 In the 

Organization

 field, click the down arrow to select an organization.

Click Create a New Chart

Click 

Next and select: Organization Chart
Select the auto-build tool to automatically build your chart.
Voila!
Download CSV file:


PayPal (27.53 KB)
Build better org charts with
Organimi.
A powerful, cloud-based platform that helps you create, connect, and collaborate with your colleagues wherever they work.