Optus' Organizational Structure
Create this exact chart in Organimi! Scroll below to see how. 
Introduction
Singtel Optus Pty Limited (widely known as simply 'Optus') is an Australian information and communications technology (ICT) company that's headquartered in New South Wales, Australia. 
Optus was founded in 1981 as 'AUSSAT' and today is a wholly-owned subsidiary of Singapore Telecommunications Limited ('SingTel'), a Singaporean telecommunications conglomerate. The company is Australia's second-largest wireless carrier and had 10.5 million subscribers in 2019.
Brief History of Optus
Optus's history can be traced back to the formation of AUSSAT at the end of the 1970s and the beginning of the 1980s. 
AUSSAT was a government-owned national satellite company and was one of the first national communications satellite systems in the world. AUSSAT later became a publicly-owned company, AUSSAT Pty Ltd, and delivered satellite, television, telephone, and other communication services. 
While AUSSAT successfully deployed several satellites and was credited with establishing a reliable service to residents of the Australian outback, the company was ultimately operating at a loss. With pressure to deregulate telecommunications growing stronger towards the end of the 1980s, the Australian Government decided to sell AUSSAT along with a telecommunications license to Optus in December 1991. 
Since then, Optus has grown through several key mergers, acquisitions, and restructures that have diversified its operations and its service offering. Highlights for Optus include:
Building an interstate fiber optic cable network for residential & business customers.

Its 2001 takeover by SingTel. 

A A$25.9 million takeover of Alphawest Ltd in 2005.

A U$22.6 million takeover of Virgin Mobile Australia, giving Optus 100% control. 
In 2013, Optel underwent a major organizational restructure to change from a network and telecommunications company to a "single ICT organization." 
At the time of the reorg, Optel said that this was to move Optel away from being a set of disparate organizations with strengths in either telecommunications or ICT, but not both. In the years preceding the reorg, Optel had gone through several key acquisitions that saw the company diversity and transform its product and service offerings.
Optus' Organizational Structure and Why It's So Effective
The 2013 reorg of Optus saw the firm undergo significant structural change. 
Rather than being led by a traditional hierarchy consisting of the C-level who oversee departments that fall somewhat within their remit, Optus was instead split into key functional divisions. These are:
Acting Networks

Television & Content

Business Risk

Marketing & Revenue

Business (Enterprise) 

Small and Midsize Business (SMB)

Wholesale, Satellite, & Strategy

Digital

Human Resources

Regulatory & Public Affairs
Each functional division is led by a managing director who is a specialist in their respective field. Above these functional groups is Kelly Bayer Rosman, the CEO of Optus since April 2020. She is assisted by key C-level executives including CIO Mark Potter and CFO Michael Venter. 
Functional organizational structures make sense for companies like Optus that have diversified business operations. Other examples of functional org structures can be seen in other large companies including Amazon and Disney. 
The benefit of functional structures is that they give teams strategic control across their own business segments, enabling the smooth day-to-day running of larger businesses that often operate on a global scale. In the case of Optus, the company has major interests in both the United Kingdom and the United States through its subsidiaries.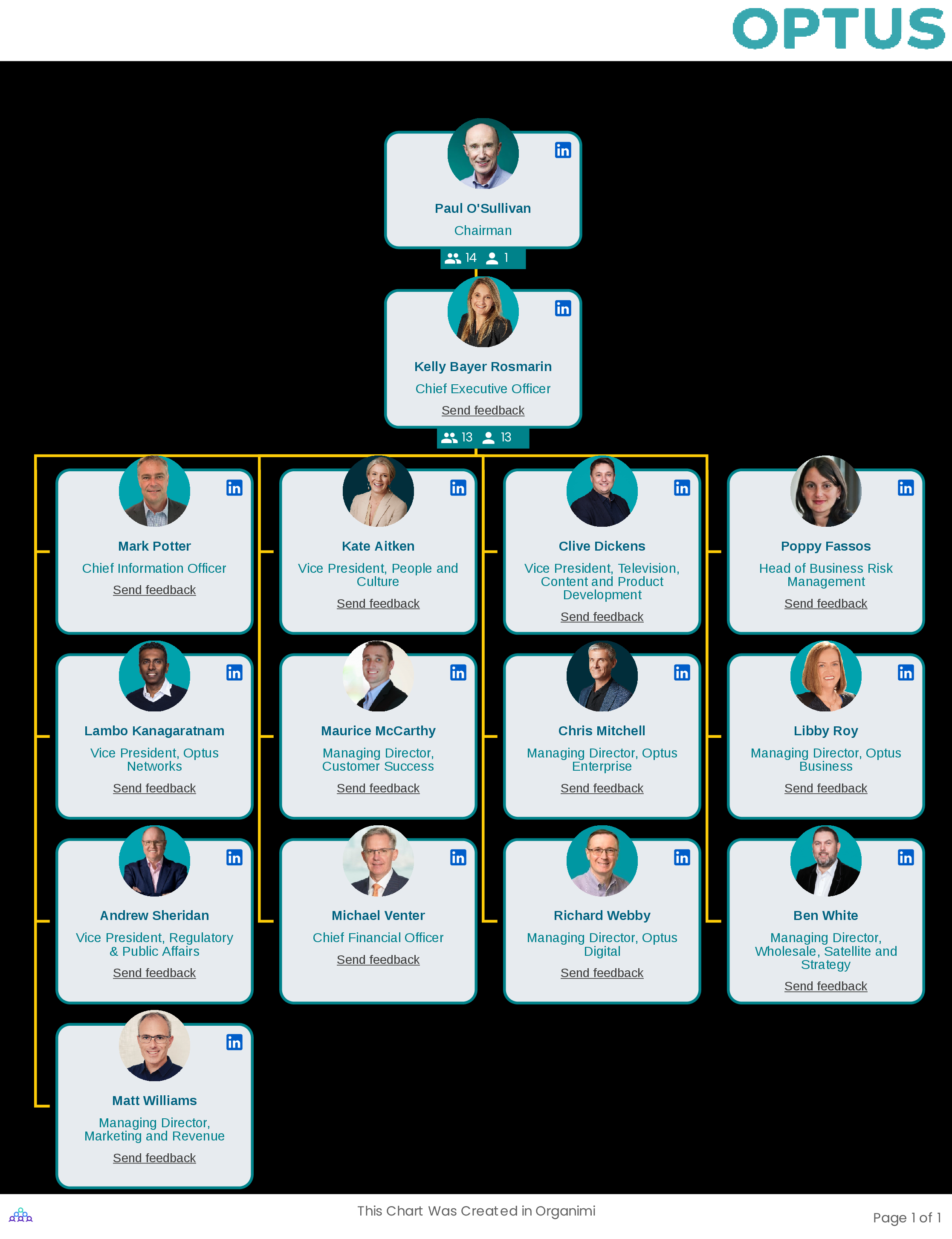 Learn more about organizational charts:
Want to learn more about organizational charts? They play a bigger role in organizational success than you might think!  
Here are some helpful blog resources that you can start with:
Create this chart in Organimi! 
You can download the CSV file of Optus' org structure, import it into Organimi and start editing this chart right away! Here's how:
 From your dashboard, select Data Import.
 Click the CSV tile.

 Click 

+Upload Your File

.  

 

Select an Excel file from your device.

 In the 

Organization

 field, click the down arrow to select an organization.

Click Create a New Chart

Click 

Next and select: Organization Chart
Select the auto-build tool to automatically build your chart.
Voila!
Download CSV file:


Optus (22.1 KB)
Build better org charts with
Organimi.
A powerful, cloud-based platform that helps you create, connect, and collaborate with your colleagues wherever they work.